Podiatry Management is the premier national practice management and business magazine for the podiatric profession, reaching more than 16,800 DPMs. PM publishes articles and features of interest to the podiatric community. In addition, PM conducts an annual survey of fees, expenses and pharmaceutical usage. PM also features a low-cost, high-quality CPME-approved program.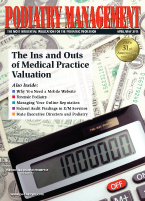 INSIDE THIS ISSUE:
The Ins and Outs of Medical Practice Valuation

Why You Need a Mobile Website

Forensic Podiatry

Managing Your Online Reputation

Federal Audit Findings in E/M Services

State Executive Directors and Podiatry

PM NEWS
A daily interactive e-mailed newsletter now reaching 14,217 podiatrists.

PM News disseminates topical news articles as well as billing and coding information.
PM News readers send in queries and comments for other podiatrists to answer.
Subscribe
Unsubscribe
Current and Back Issues

Coming in June/July:
Safety in Numbers: Podiatric Super Groups
Coming in August:
Wound Care