Browse PMNews Issues
Previous Issue | (This is the most recent issue)
PM News
The Voice of Podiatrists

Serving Over 14,000 Podiatrists Daily

May 20, 2013 #4,774

Publisher-Barry Block, DPM, JD

A partner of Podiatry Management http://www.podiatrym.com
E-mail us by hitting the reply key.
COPYRIGHT 2013- No part of PM News can be reproduced without the
written permission of Barry Block
PODIATRISTS IN THE NEWS
Cosmetic Foot Surgery Too Risky - NC Podiatrist
Casually called 'stiletto surgery' or cosmetic foot surgery, the procedure involves removing a cylinder of bone from the toe, slimming down its length, or injecting fillers into the foot to add padding. "The toes are being squished together and it's irritating, particularly the pinky toe," says Dr. Kevin Molan, a podiatrist and owner of Carmel Foot Specialists located in Charlotte, North Carolina. Molan does not provide this type of cosmetic foot surgery to his patients. In fact, he says no shoe is worth all the risks associated with this procedure.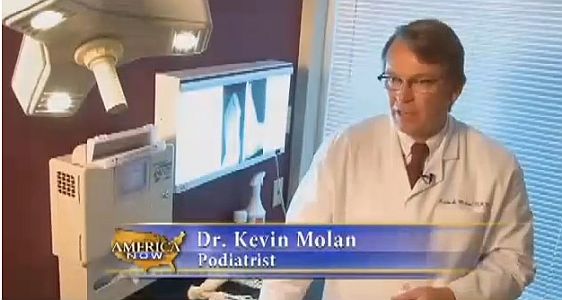 Dr. Kevin Molan
Molan says foot bones could be damaged during surgery or become infected, requiring additional bone removal. If a toe is shortened too much, the bones may not fuse. "You don't want to have a floppy toe, a toe that has no integrity, it just wiggles around," Molan says.
Source: Casey Roman, KOLD-TV [5/16/13]
PODIATRISTS IN THE NEWS - PART 2
Slow Healing Wounds Put Seniors at Risk: PA Podiatrist
According to the National Center for Biotechnology Information, non-healing wounds affect about 3 to 6 million people in the United States, with persons 65 years and older accounting for 85 percent of these events.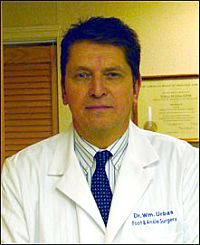 Dr. William Urbas
"In older persons, the rate of wound healing is decreased, so it takes longer for an open sore or wound to heal properly," stated podiatrist William Urbas, DPM who also serves as medical director of the Advanced Wound Care Center at Mercy Fitzgerald Hospital. "Slow healing wounds can severely disrupt an individual's quality of life, putting them at a greater risk for serious infections and even amputation."
Source: Havertown News [5/16/13]
PM NEWS QUICK POLL
PM News has begun a new weekly feature called Quick Poll. Each week, we will post a new poll based on some of the controversial issues discussed in our Comments/Responses section.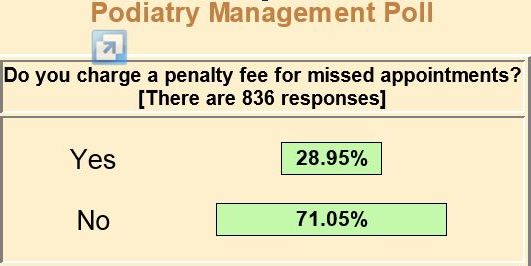 Last Week's Poll Results
PODIATRISTS IN THE COMMUNITY
Barbershops are Ideal For Screening of Black Men: CA Podiatrist
With the highest rates of heart disease, diabetes, high blood pressure, and prostate cancer, African-American men suffer the worst health outcomes of any other racial group in the U.S. Dr. Bill Releford, an L.A. podiatrist who six years ago started the Black Barbershop Health Outreach Program, says healthcare advertising and federal health programs overwhelmingly target women and children. "If you don't market to me, you are telling me you have no value," Releford said. "When we go into barber shops, people are like, 'Wow, you care.' We have not demonstrated that we care about black men's health."
Dr. Bill J. Releford
After starting in 2007 with volunteers visiting barber shops in L.A., Releford's outreach program has spread to 42 cities nationwide. Nearly 30,000 men have been screened for diabetes and blood pressure. The program came to St. Louis more than a year ago, organizing volunteers to visit about a dozen barber shops, and another effort is planned in St. Louis some time this fall, Releford said.
Source: Michele Munz, St. Louis Post Dispatch
PODIATRISTS AND POLITICS
PA Podiatry Runs for Re-Election to School Board
Frugal spending, securing schools, and boosting education are catch-phrases used by candidates seeking election to the Freeport Area School Board. Five people, including three incumbents and a former school director, are running for four available board seats in Tuesday's primary election. All five candidates are running on both Democratic and Republican tickets.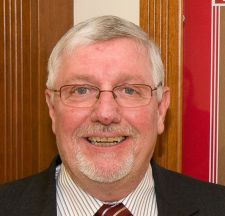 Dr. John Marty
The incumbents, all from Buffalo Township, include current board President Daniel Lucovich; South Butler County Spanish teacher Christine Davies; and podiatrist Dr. John A. Marty.
Source: Liz Hayes, The Valley News-Dispatch [5/18/13]
PRACTICE MANAGEMENT TIP OF THE DAY
Check Your Caller ID Log
If you're not checking your caller ID log, you may be missing out on some lost opportunities. Often, patients call your office to make an appointment but do not leave a message. Your staff should monitor calls registered on your caller ID and return these calls. Although many of these calls will be wrong numbers or solitications, some will be potential patients. Promptly returning these calls will result in your office scheduling patients who might otherwise be lost.
QUERIES (EMR)
Query: Medisoft Upgrade
Does anybody have any experience using Medisoft for EMR program (positive or negative)?
David Wolf, DPM, Houston, TX
RESPONSES / COMMENTS - (CLINICAL)
RE: Painful Bunion in a 12 Year Old
From: Don Peacock, DPM

I think your patient will require surgical intervention. A lateral x-ray would be beneficial. In the AP x-ray, the patient appears to have significant metatarsus adductus. Also, the medial cuneiform appears to be trapezoidal shaped and is a significant x-ray finding.

She has metatarsus adductus with associated met primus adductus. In this case, you do not have a short first ray. This could complicate your correction. An open wedge osteotomy/Cotton procedure of the medial cuneiform should correct the met adductus primus. This could lead to over-lengthening of the first ray/medial column. So, a closed wedge osteotomy of the cuboid may be in order along with the Cotton. This would depend on whether your deformity is flexible or rigid.

If your objective is only to correct the met primus component, then a distal first metatarsal osteotomy may be an option. Although 12 years old is young, it is unlikely that orthotics will provide relief for her if this is an ongoing problem. It may be worth a try anyway.

Don Peacock, DPM, Whiteville, NC, peacockdpm@gmail.com
RESPONSES / COMMENTS - (SPORTS MEDICINE) - PART 1A
RE: Biomechanics of Barefoot Running (Jefferson J. Mennuti, DPM)
From: Kevin A. Kirby, DPM
First of all, let's set things straight. The scientific literature to date has found no decrease in injury rate with barefoot or with shod running. In other words, we simply don't know for sure whether barefoot running produces fewer injuries than running in minimalist shoes or in conventional training shoes.The prospective research has not yet been done on this subject.
However, it is clear that running barefoot or running in minimalist shoes can cause...
Editor's note: Dr. Kirby's extended-length letter can be read here.
RESPONSES / COMMENTS (SPORTS MEDICINE) - PART 1B
RE: Biomechanics of Barefoot Running (Jefferson J. Mennuti, DPM)
From: Brad Makimaa, DPM
I would like to clarify some of the ideas of this principle. I would also like to call for someone in one of our "podiatric educational institutions" to create a revolutionary road map for the prescription of the proper shoes based on speed and patient makeup. We are the shoe gurus and there should be no second place on this issue. If you want to run in any style, you must see a podiatrist first; just like a school physical for sports is mandatory.
This is not a black and white issue. Everyone will or can run on the forefoot. Just speed up. Therefore, simply asking the patient how fast they run will...
Editor's note: Dr. Makimaa's extended-length letter can be read here.
MEETING NOTICES - PART 1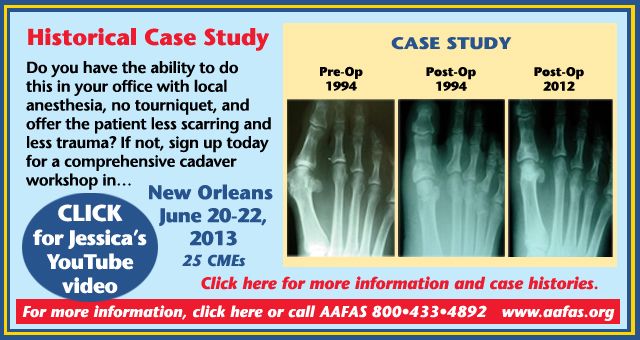 RESPONSES / COMMENTS (NEWS STORIES)
RE: We Walk in a Tripod Fashion: CA Podiatrist
From: Randall Brower, DPM
It's frustrating to hear a fellow colleague, Dr. Sung (no personal offense) perpetuate the same mistake as Wikipedia (and about the first 10 Google search results) when stating the number of bones in the human foot. There are 28, not 26. Those poor sesamoids get discriminated against all the time. I vote for equal representation and reparations for our blessed and extremely valuable sesamoids. I stand with you twins.
Randall Brower, DPM, Avondale, AZ, footdoctor33@yahoo.com
MEETING NOTICES - PART 2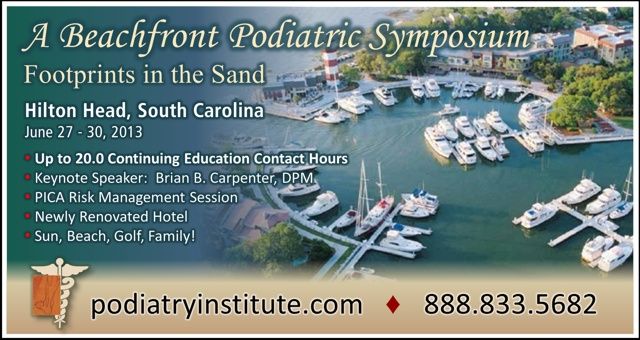 CLASSIFIED ADS
PRACTICE FOR SALE IN CENTRAL FLORIDA
33 year old practice grossing $550k seeing an average of 40 patients per day. Possible owner financing for both practice and large office building. Five year average profit margin of 35%. New Listing. For more information call Chas Smith at 863-688-1725 or email Chas@cpalliance.com
PRACTICE FOR SALE - BROOKLYN, NY
28 year old practice in a desirable part of Brooklyn. EHR certified with stage 1 criteria successfully met. Practice has room to grow. Good mix of Medicare hazardous foot care; surgery and wounds. Low overhead. Priced to sell. Email Inquires to: brooklynpracticeforsale@gmail.com
PRACTICE FOR SALE - CALIFORNIA
Unique opportunity to purchase a very busy 50 year old practice in Coronado Ca. Large and stable patient and referral base with consistent new patient growth. Low overhead. Priced to sell. Great staff. Hospital privileges available. Willing to stay on for transition. Inquiries please email foothold@msn.com
ASSOCIATE POSITION - WASHINGTON, DC/ MD SUBURBS
Prominent, established two office practice seeking well rounded, personable, ethical individual with sharp medical and surgical skills. Must be 24/36 month trained, ABPS qualified or certified. Partnership opportunity with ownership potential. Competitive salary with benefits package. Please send CV to ponyrunner66@gmail.com
ASSOCIATE POSITION - HAMPTON ROADS VIRGINIA
Needs to be highly motivated, INDEPENDENT and surgically-trained to join a successful 40+ year practice surrounded with water sports, beaches and hiking. PSR24/36; well versed in forefoot and rearfoot surgery, diabetic wound care, sports medicine and diagnostic ultrasound. Please email CV & cover letter to fixafoot@cox.net
ASSOCIATE POSITION - LAS VEGAS, NV
Need a Nevada licensed podiatrist to cover IN OFFICE for month of June 2013. Starting Date June 1, surgical experience not a requirement. Salary is negotiable. doctor@viawest.net
FT OR PT ASSOCIATE - SOUTH JERSEY
Great opportunity for FT or PT associate starting July 2013 in established practice in South Jersey. EMR, FDA-approved Lasers for fungus. Will work with Board Certified/Qualified podiatrist. Must have New Jersey License. Diverse practice in a nice area with a pleasant environment. e-mail CV at hhfootdoctor@gmail.com
ASSOCIATE POSITION - MASSACHUSSETS
Located near Boston. Busy multi-office podiatry practice looking to expand. Need extremely energetic dedicated individual. Must be PSR 12-24 trained, EMR, laser, vascular testing the works. Must have sense of humor. MA License, NH License A+! Surgery, sports medicine, pediatrics, shoe store. Please send resumes to resumesent11@comcast.net.
ASSOCIATE POSITION - CALIFORNIA

Established foot and ankle specialty group looking for an experienced podiatrist. This position entails making rounds at local hospitals, skilled nursing facilities and having scheduled office appointments. Must be comfortable with all aspects of podiatric care and will be doing no less than the hiring partners. Full-time position with a competitive salary. Looking for someone with a great bedside manner, energetic and will to go the extra mile to make a positive difference. Send CV to administrator@footnankledoc.com
ASSOCIATE POSITION - NEW YORK
Large established podiatry practice 30+ years in New York Hudson Valley/Capital District area seeking associate/partner to eventually take over practice. Also would entertain reasonable offer to purchase one of the two offices. Serious Inquiries may contact: Podiatrygroupny@gmail.com
PODIATRIST FOR NURSING HOME CARE - MASSACHUSETTS
Excellent Opportunity. Seeking independent physician for growing nursing home podiatry care Work independently, make your own hours. Must do own billing. YOU KEEP 100% OF PROFITS. Must be personable and have good patient skills. Acquisition fee based position. Please e-mail CV and short bio to: americanmobile@verizon.net
PODIATRIST WANTED - PENNSYLVANIA
Multi-specialty physician group seeking part-time or full-time to join our Johnstown, PA facility offering on-site x-ray, vascular ultrasound and other services. Patient base already established. Experienced or recent graduates considered. Applicants send resume to cfleegle@atlanticbbn.net or call 814-288-1418 ext. 7.
ASSOCIATE POSITION - UPSTATE NY
Busy multi-specialty practice of PCPs, general surgeons, OB-GYN, podiatric surgeons looking for a full-time podiatric associate in Upstate NY, Binghamton, Finger Lake Region. Great Benefits, opportunity for partnership. Must be highly motivated, personable and be Board qualified/eligible. Our podiatrists have over 100 years combined experience. Please send CV to associateinfoot@yahoo.com or fax 607-723-1567.
INDEPENDENT CONTRACTOR POSITION-LAS VEGAS, NV
Looking for personable, professional and motivated podiatrist for busy house call practice. Must have NV podiatry license & malpractice insurance. Pay is 45% of collections. Send CV to stuartfeldmandpm@yahoo.com
ASSOCIATE POSITION - VIRGINIA
Well-established practice in Arlington Virginia looking for first year associate DPM perhaps leading to purchase of office. Office is one block from metro and has onsite private parking for patients. Present owner is retiring but will aid with smooth transition. This practice has been in the same location for the 40 years and has an excellent referral base. Must be licensed to practice in the state of Virginia. Please contact drmichaelfine@aol.com. Cell Phone 703-582-5999.
PODIATRISTS NEEDED - LOS ANGELES, CA

Home Foot Care, Inc. Is looking for motivated podiatrists to provide quality mobile care to our home-bound patients. Flexible schedule, independence, great compensation. If interested, please email resume to homefootcare@hotmail.com
ASSOCIATE POSITION - NEW JERSEY
Looking for full time/part time associate in busy 3 office practice. Offices are located in Union, Hudson, and Bergen counties. Competitive salary with benefits. Excellent growth opportunity. Please send C.V. to njpodiatry33@gmail.com
ASSOCIATE POSITION - WASHINGTON, DC/ MD SUBURBS
Prominent, established two office practice seeking well rounded, personable, ethical individual with sharp medical and surgical skills. Must be 24/36 month trained, ABPS qualified or certified. Partnership opportunity with ownership potential. Competitive salary with benefits package. Please send CV to ponyrunner66@gmail.com
ASSOCIATE POSITION - MARYLAND, DC, PA
A podiatrist is needed for the Baltimore, Washington, Pennsylvania area. Partner for the corporation. Surgery center, emergency room call and a hospital location. All areas of podiatry. Established practice. Salary and commission. Fax resume 410-857-4227 or email at butler@qis.net
ASSOCIATE POSITION – MISSOURI
Podiatric medical group seeks PSR24-36 individual who is interested in working with former residency director who can enhance your already strong training. Full scope practice with the cases to fast track to board certification. Four hospital affiliations, certified surgical suite in office, ultrasound, EHR Certified Stage 2. We are located close to St. Louis for day use. Exceptional school system in a low crime, low cost of living area. E-mail resume to: drfootski@hotmail.com
SPACE AVAILABLE - NYC & LI
Office to sublet and share - East 60th Manhattan, and Plainview, Long Island. access to an MRI, Joint Commission certified operating rooms, digital x-ray, diagnostic ultrasound, and access to a multi-specialty ambulatory surgical center. Also availability E 22nd between 2nd and 3rd and E 70th off 3rd. Turn-key operation - no investment needed PODO2345@AOL.COM 516-476-1815.
EQUIPMENT FOR SALE - NEW AEROLASE YAG LASER
Brand new Aerolase Yag Laser Bought Feb 2013- Never Used Paid $35,000. Will sell for $25,000. Contact Kathy (352) 867-1155 or Michael after 7pm (352) 816-1155.
PURCHASE NOW OR LATER IN DALLAS, TX
Turnkey in Dallas' beautiful and prestigious Uptown neighborhood: modern, fully furnished office in 24/7 security high rise and large patient base. There is tremendous growth potential in this affluent and diverse area. Perfect for new practitioner, to share, or second office. afc1dfw@gmail.com
PM News Classified Ads Reach over 14,000 DPMs and Students
Whether you have used equipment to sell or our offering an associate position, PM News classified ads are the fastest, most-effective way of reaching over 14,000 DPMs. Write to:bblock@podiatrym.com or call (718) 897-9700 for details. Weekly ad rates start as low as $115 for a 50-word ad. THIS OFFER DOES NOT APPLY TO BUSINESSES PROVIDING PRODUCTS OR SERVICES. Note: For commercial or display ads contact David Kagan at (800) 284-5451.
Disclaimers
Acceptance and publication by this newsletter of an advertisement, news story, or letter does not imply endorsement or approval by Kane Communications of the company, product, content or ideas expressed in this newsletter. Any information pertaining to legal matters should not be considered to be legal advice, which can only be obtained via individual consultation with an attorney. Information about Medicare billing should be confirmed with your State CAC.
---
THIS MESSAGE IS INTENDED ONLY FOR THE USE OF THE INDIVIDUAL OR ENTITY TO WHICH IT IS ADDRESSED AND MAY CONTAIN INFORMATION THAT IS PRIVILEGED, CONFIDENTIAL AND EXEMPT FROM DISCLOSURE.
---
If the reader of this message is not the intended recipient or an employee or agent responsible for delivering the message to the intended recipient, you are hereby notified that any dissemination, distribution, or copying of this communication is strictly prohibited. If you have received this communication in error, please immediately notify me and you are hereby instructed to delete all electronic copies and destroy all printed copies.
---
DISCLAIMER: Internet communications cannot be guaranteed to be either timely or free of viruses.
Guidelines
To Post a message, send it to: bblock@podiatrym.com
Notes should be original and may not be submitted to other publications or listservs without our express written permission.
Notes must be in the following form:
RE: (Topic)
From: (your name, DPM)
Body of letter. Be concise. Limit to 250 words or less). Use Spellchecker
Your name, DPM City/State
Subscribers are reminded that they have an ethical obligation to disclose any potential conflicts of interest when commenting on any product, procedure, or service.

Barry H. Block, DPM, JD
---
Browse PMNews Issues
Previous Issue | (This is the most recent issue)