Browse PMNews Issues
Previous Issue | Next Issue
PM News
The Voice of Podiatrists

Serving Over 13,500 Podiatrists Daily

January 13, 2012 #4,357

Publisher-Barry Block, DPM, JD

A service of Podiatry Management http://www.podiatrym.com
E-mail us by hitting the reply key.
COPYRIGHT 2012- No part of PM News can be reproduced without the
express written permission of Kane Communications, Inc.
APMA NEWS
APMA and HealthFusion Partner to Deliver EHR Benefits to APMA Members
The American Podiatric Medical Association (APMA) and HealthFusion® have entered into a membership benefit agreement to promote the adoption of electronic health records (EHRs) within the podiatric medical community. The use of certified EHRs advances quality of care and allows medical providers to qualify for Medicare and Medicaid EHR incentive stimulus funds.
"Selecting an EHR that is cloud-based, HIPAA compliant, native to the Apple iPad®, and can be used on any PC or laptop, was important in our decision to enter into this exciting agreement. HealthFusion's MediTouch® is an EHR that is easy to use, adapts to the doctor's workflow, and has achieved the APMA Seal of Acceptance. The APMA serves its members in many ways, including researching the latest state-of-the art technology to improve patient care, and introducing special benefits to our members," said Michael King, DPM, president of APMA.
AT THE COLLEGES
CSPM Names New Research Room after Biomechanical Pioneer
Samuel Merritt University (SMU) is looking toward the future with a new research focus to achieve national recognition as a health sciences institution in clinical education. Next year, a new state-of-the-art Motion Analysis and Research Center (MARC) lab will open with new avenues of research. A matching grant from Root Lab, Inc. has made possible the renovation and technological upgrade of the MARC. One of the research rooms inside the lab will be named after the company founder, Merton L. Root, DPM.
Dr. Root is known as a biomechanical pioneer. He graduated from the California College of Podiatric Medicine (CCPM), now known as CSPM. He served as chair of biomechanics at CCPM from 1961 until 1968 where he returned to teaching part-time. Root is considered one of the most influential educators in the profession. His theories laid the groundwork for the modern orthotic industry which has contributed to the fields of sports medicine and podiatry.
Source: Elizabeth Valente
NM Podiatrist Elected Chief of Surgical Staff
Fritz A. Moeller, DPM has been elected Chief of the surgical staff at Socorro Presbyterian hospital. Dr. Moeller recently completed his term as the Chairman of the Board of the Texas Longhorn Breeders Association of America. Dr. Moeller lives a quiet life here in the middle Rio Grande valley having semi-retired from his full time practice in urban Albuquerque. Being on call 24/7 in a rural area, is quite interesting .
Dr. Fritz A. Moeller
Since he has been in rural New Mexico, he has removed objects like railroad ties and fishing poles from lower limbs . He has treated gunshot wounds, rattlesnake bites, fractures from horse and cow kicks, and tractor accidents. Dr. Moeller clearly remembers the time when he had to fight for the most minor of surgical privileges at his local hospital and is very proud to represent podiatry in his new position.
E-HEALTH NEWS
Podiatrists High on List of Specialists Receiving EHR Stimulus Money
It has been said that physicians are unlikely to receive the promised incentive funds for adopting electronic health records (EHR) technology and attesting to meaningful use. This, however, clearly is not the case. In October alone, the government paid out more than $36,500 in EHR adoption funds to qualified physicians.
In 2011, more than $104,490 was paid out to just 5,805 healthcare providers. This amount doesn't even include Medicare-only hospitals or Medicare/Medicaid hospitals. This amount covers payments to individual healthcare providers working in family practice (1,216), internal medicine – cardiovascular disease (1,198), cardiology (517), podiatry (378), gastroenterology (232), orthopedic surgery (201), general surgery (197), urology (197), nephrology (174), and neurology (148).
Source: Medical Economics [1/10/12]
MEDICARE NEWS
Hiking Medicare Age Would Trim Outlays: CBO
Raising the eligibility age for Medicare would reduce the federal healthcare program's outlays by about $148 billion from 2012 through 2021, according to estimates released Tuesday by the Congressional Budget Office.
The CBO expects that most people affected by an increase in the Medicare eligibility age would move to other forms of healthcare insurance, but there also would be a "slight" increase in the number of uninsured. Of the 5.4 million people affected by the higher eligibility age in 2021, about 5% would become uninsured, and about half of the group would obtain insurance from either their employers or former employers, or their spouses' employers or former employers.
Source: Jessica Zigmond, Modern Healthcare [1/10/12}
PRACTICE MANAGEMENT TIP OF THE DAY
Interview Question 
The standby interview question "Tell me about yourself" is so broad that it can cause problems. You may hear so much information that you lose control of the interview, or the overwhelmed candidate, unsure how much information to provide, can panic.
Better: Tell candidates "Take five minutes to give me an overview of your career." That keeps their response work-focused, and the five-minute guideline conveys your expectations.
Source: Adapted from Managing People, Jane Churchouse and Chris Churchouse, Gower Publishing Ltd.via Communications Briefings
QUERIES (NON-CLINICAL)
Query: Charging for Paperwork
We are considering charging for the completion of disability paperwork, FMLA notices, etc. I would like to hear from other offices that are charging for this service how they feel it has gone. Has there been significant backlash from patients? Are there other concerns we should be aware of before implementing this?
Michael J. Hodos, DPM, Wake Forest, NC
ANATOMY FACULTY POSITION
12 Month Basic Science faculty appointment at the rank of Assistant or Associate Professor. Responsibilities will be to teach Anatomy in the School of Podiatric Medicine. Additional duties will include research, student advisement, and committee work. A doctorate in Anatomy or a related discipline is required and a minimum of two years full-time teaching experience at a college, preferably graduate level, is highly recommended.
Review of applications will begin immediately. Interested candidates should submit a letter of application, curriculum vitae, statement of teaching philosophy, and three letters of recommendation sent to Sanjay Sesodia, Ph.D., Chair, Anatomy Faculty Search Committee, Barry University, 11300 NE 2nd Ave, Miami Shores, FL 33161 ssesodia@mail.barry.edu Electronic applications are encouraged. U.S. citizenship or permanent residency required.
QUERIES (DME)
RE: Study Showing Efficacy of Therapeutic Diabetic Shoes
From: Charles Perry, DPM
I have a primary care doctor who refuses to sign the documents for his part of the paperwork required to dispense diabetic shoes, stating that he thinks the shoes don't help. I thought I would present him with some data showing the efficacy of the theraputic shoe program. When I looked, all I could find was a paper published in Diabetes Care in 2004 which concluded "no statistically significant benefit was observed between control patients wearing their own footwear and intervention patients wearing study footwear." Can anyone direct me to a study that shows this program is actually working by saving amputations or preventing ulcerations?
Charles Perry, DPM, Cambridge OH
RESPONSES/COMMENTS (CLINICAL )
From: Tip Sullivan, DPM
I have used cimetadine as an ancillary treatment for warts for at least 15 years in children and adults (20mg/kg/day in children, and up to 40mg/kg/day in adults). Anecdotally, I have seen varied responses from resolution within one month of multiple warts, to no effect. I have not been able to differentiate between who will be helped and who will not. Since it is a relatively benign drug, and it requires daily dosing which may add to the placebo effect, I use it just about routinely.
I can say that I see a better resolution rate in children than adults, but of course, this may or may not be associated with the medication. The use of it in conjunction with other "immunomodulators" sounds like a good idea, but I have not braved those waters yet. See: Pediatr Dermatol. 2001 Jul-Aug;18(4):349-52.Has anyone else tried this?
Tip Sullivan, DPM, Jackson, MS, tsdefeet@MSfootcenter.net
RESPONSES/COMMENTS (EMR )
From: Erika TC Huston, DPM
My understanding from the quality measures is that you could not be excluded from any of them, but that CMS does not actually care about the results of the numbers, only that you are providing them. The report provided by our EMR indicated several measures that actually had denominators, but with a numerator of 0. So, those were the numbers we entered. Confirmation that is correct would be nice.
Erika TC Huston, DPM, Tucson, AZ, ohioetch81@gmail.com
MEETING NOTICES
RESPONSES/COMMENTS (NON-CLINICAL )
From: Ira M. Baum, DPM
Before Medicare and the development and progression of health insurance, patients used to pay doctors for services. Then, for-profit, third-party payers came into the picture, and the insurance companies paid for the provider services. Then, for-profit, third-party payers used basic economics "supply and demand" theory and developed managed care (health maintenance organizations. Health maintainance, what maintainance? This was a thinly-veiled method to increase profits.
Outraged by this method, physicians' backlash contributed to growth of a new product, PPOs (preferred provider organizations) - a morsel to appease the physicians. Then, organization of single specialties and pseudo ACOs, multi-specialty groups and hospital organizations evolved to improve reimbursements. On and on and on. This is a financial battle for the healthcare dollar. It is not about evidence-based medicine, or quality of care. Where does the compromise end? Who knows? But it doesn't look promising for the healthcare provider.
Ira M. Baum, DPM, Miami, FL, ibaumdpm@bellsouth.net
Codingline & PM News
In conjunction with AAPPM Present
The Greenbrier Coding & Practice Management Workshop
(Following the 2012 APMA Annual Meeting in Washington, DC) August 20-22, 2012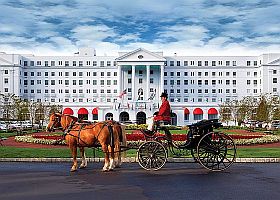 The Greenbrier, White Sulphur Springs, WV
Earlybird Bonus Save $50
PODIATRY MANAGEMENT'S

AFFORDABLE

ONLINE CME
You can Earn 50 CPME-Approved CME Contact Hours Online
Earn 15 Contact Hours for only $149
(Less than $10 per credit)
http://www.podiatrym.com/cme.cfm
NJ and OH Podiatrists can fulfill all CMEs online
Choose any or ALL (50 CME Contact Hours) from the 30+ CME Category 1 articles posted
You Can Now Take Tests and Print Your CME Certificates Online
CODINGLINE CORNER
CURRENT TOPICS BEING DISCUSSED ON CODINGLINE'S LISTSERV INCLUDE:
o Hallux Varus Repair with TightRope
o Hammertoe Modifier
o Meaningful Use Core Measure #8
o Uncooperative MD/DOs - Therapeutic Shoes
o PQRS & Medicare Advantage Plans

Codingline subscription information can be found here
APMA Members: Click here for your free Codingline Silver subscription
CLASSIFIED ADS
PRACTICE FOR SALE - SOUTHERN CALIFORNIA (ORANGE COUNTY)
Strong & diverse local economy, in a beautiful beach community. Well rounded, established since 1983, fully equipped. Consistently grossing over $600K. Many types of insurance, reimbursement and revenue sources.  Local hospitals allow full scope of podiatric care. Terms available. Contact josephdpm@gmail.com
SPACE AVAILABLE - NYC & LI
Office to sublet and share - East 60th Manhattan, and Plainview, Long Island. access to an MRI, Joint Commission certified operating rooms, digital x-ray, diagnostic ultrasound, and access to a multi-specialty ambulatory surgical center. Also availability E 22nd between 2nd and 3rd and E 70th off 3rd. Turn-key operation - no investment needed 516 476-1815 PODO2345@AOL.COM
EQUIPMENT FOR SALE – LASER SYSTEM 
Laserscope Model Lyra i YAG Laser system with 3 hand pieces, eyewear sets, calibration unit, complete manual foot control and video information, for fungus nails, vein therapy and hair removal. The unit has the attached cooling system and all accessories $8,750.00. flpodiatrist@tampabay.rr.com
ASSOCIATE POSITION - PHILADELPHIA, SOUTHERN NEW JERSEY 
 Seeking motivated, independent foot & ankle surgeon to join large practice. Our multi office practice covers all aspects of foot and ankle pathology, including heavy limb salvage/ hospital volume. Offering competitive salary and benefit package. Send CV and two references to bleich5252@yahoo.com
ASSOCIATE POSITION - SOUTHWEST FLORIDA
Immediate position for associate to partnership for a surgeon that is BQ/BC by ABPS. Must be PSR-24 or PM&S-36 trained. Excellent salary w bonus. Must be ethical, self-starter, hard worker. Willingness to learn/work as part of a team. Surgery Block time. Must be proficient in rearfoot/ankle surgery. Email CV, photo, LOI to: susmitad86@yahoo.com
ASSOCIATE POSITION - HAWAII (OAHU)
Full-time position available. Join this fantastic practice in paradise. Diagnostic ultrasound, Digital X-Ray, EHR, Surgical Privileges, Competitive Salary plus benefits package. Send CV to:  yoleven316@yahoo.com.
PART-TIME PODIATRIST NEEDED - LOS ANGELES, CALIFORNIA 
Busy podiatrist looking for assistance with patients located in facilities, homes, office, etc. Flexible hours, independence, and great compensation. If interested email CV to homefootcare@hotmail.com or call Terri at 323-353-8103. 
ASSOCIATE POSITION - LAS VEGAS/HENDERSON, NV
Well-established 22 year practice in Las Vegas/Henderson, Nevada seeking full-time associate. General podiatric care with moderate amount of surgery to be done in local hospital or surgery center. Competitive salary and benefits. Modern office in new area. Please respond by email to:lvfootandankle@gmail.com
ASSOCIATE NEEDED - NORTHERN CINCINNATI, OHIO (FAIRFIELD)
Lead to partnership &/or buy practice. Well-established, reputable & successful (700K collection annual) 25+ year practice. Newer 2k sq.ft office condo & w/5 tx rooms, Aver.80 new patients monthly, full hospital privileges, DME, Padnet, digital x-rays. Inquires to email:gsherwood1@cinci.rr.com
ASSOCIATE POSITION - EAST TENNESSEE

30 year old practice with 5 offices in greater Knoxville area seeking ethical, personable, hardworking, team player. $160,000 base salary with bonus incentives and benefits. Post-residency experience a plus. Please send resume to ddavidphawk@yahoo.com
ASSOCIATE POSITION - TAMPA BAY

Well-established, dynamic multi-doctor practice in the Tampa Bay, high-tech with EMR and digital x-rays. Sports medicine, surgery and potential partnership. No NH/ HMOs. Excellent hospital privileges. Choose an area of practice concentration that you are passionate about and enjoy a lifestyle second to none. C.V. to flpodiatrist@tampabay.rr.com 
ASSOCIATE POSITION - NEW YORK
Well established, well rounded, hospital based podiatry practice, looking for well trained podiatrist. Large number of new patients monthly, digital x-rays, EMR, and vascular and nerve testing. One partner is Chair of Pod Dept, other is involved in wound center. Two offices 75 miles north of New York City, in the beautiful Hudson Valley. More affordable cost of living than Westchester County; it's a great place to live. Looking to hire a personable individual with strong ethics and high motivation. Seeking an associate leading to potential partnership. Must have PM & S- 36 training. Please call (845) 471-2243 or email eriksims@hotmail.com.
ASSOCIATE POSITION - NAPLES, FLORIDA
Great opportunity for PSR- 24/36 BE/BC podiatrist with strong surgical skills to join multi-office practice. Hospital privileges available at 648 bed hospital system, 200 bed hospital system and multiple surgical centers. Candidate should have the skills and desire to perform rearfoot/ankle surgery. Florida has a great scope of practice law and we rotate for ER call. Candidate needs to be ethical and motivated. Established practitioner or new practitioner. In a cover letter tell me why you should be selected for the team. Email cover letter and CV with subject line "I am your new team member." to:  Drgordon@gulfcoastfootcare.com
ASSOCIATE POSITION - MARYLAND
Looking for 3rd associate. Must be personable, well trained and highly motivated. Great locations in Southern Maryland, including an Ambulatory Surgical Center. We currently have EHR, digital radiography, dispensing center and PADNet. Looking for immediate hire! Please send CV to: myfeetfeet@aol.com
ASSOCIATE POSITION - LONG ISLAND, NY
Full time associate position available with well rounded multi-office group on Long Island. Ideal position for July 2012 graduating third year resident who wants to practice and live on Long Island. Candidates must be board qualified or board certified, and well trained in all phases of podiatry including surgery, biomechanics, wound care and palliative care. Compensation includes salary,malpractice insurance, paid vacations and surgical incentives, with a future partnership opportunity available for the right candidate. Interested doctors are encouraged to submit their CV's in response to: mets724@gmail.com.
PM News Classified Ads Reach over 13,500 DPM's and Students
Whether you have used equipment to sell or our offering an associate position, PM News classified ads are the fastest, most-effective way of reaching over 13,500 DPM's. Write to bblock@podiatrym.com or call (718) 897-9700 for details. Weekly ad rates start as low as $115 for a 50-word ad. THIS OFFER DOES NOT APPLY TO BUSINESSES PROVIDING PRODUCTS OR SERVICES. Note: For commercial or display ads contact David Kagan at (800) 284-5451.
Disclaimers
Acceptance and publication by this newsletter of an advertisement, news story, or letter does not imply endorsement or approval by Kane Communications of the company, product, content or ideas expressed in this newsletter. Any information pertaining to legal matters should not be considered to be legal advice, which can only be obtained via individual consultation with an attorney. Information about Medicare billing should be confirmed with your State CAC.
---
THIS MESSAGE IS INTENDED ONLY FOR THE USE OF THE INDIVIDUAL OR ENTITY TO WHICH IT IS ADDRESSED AND MAY CONTAIN INFORMATION THAT IS PRIVILEGED, CONFIDENTIAL AND EXEMPT FROM DISCLOSURE.
---
If the reader of this message is not the intended recipient or an employee or agent responsible for delivering the message to the intended recipient, you are hereby notified that any dissemination, distribution, or copying of this communication is strictly prohibited. If you have received this communication in error, please immediately notify me and you are hereby instructed to delete all electronic copies and destroy all printed copies.
---
DISCLAIMER: Internet communications cannot be guaranteed to be either timely or free of viruses.
Guidelines
To Post a message, send it to: bblock@podiatrym.com
Notes should be original and may not be submitted to other publications or listservs without our express written permission.
Notes must be in the following form:
RE: (Topic)
From: (your name, DPM)
Body of letter. Be concise. Limit to 250 words or less). Use Spellchecker
Your name, DPM City/State
Subscribers are reminded that they have an ethical obligation to disclose any potential conflicts of interest when commenting on any product, procedure, or service.

Barry H. Block, DPM, JD
---
Browse PMNews Issues
Previous Issue | Next Issue