Browse PMNews Issues
Previous Issue | Next Issue
PM News
The Voice of Podiatrists

Serving Over 13,500 Podiatrists Daily

January 24, 2012 #4,366

Publisher-Barry Block, DPM, JD

A service of Podiatry Management http://www.podiatrym.com
E-mail us by hitting the reply key.
COPYRIGHT 2012- No part of PM News can be reproduced without the
express written permission of Kane Communications, Inc.
INTERNATIONAL PODIATRISTS IN THE NEWS
Barefoot Running Benefits Can be Achieved Without Ditching Shoes: NZ Podiatrist
Podiatrist Bruce Baxter first noticed the surge in barefoot running about 18 months ago. "My practice is right on the riverbank in Christchurch. I was seeing all these middle-aged men. It was bloody funny because you could still see their sock marks. You see them picking their way across the road; then they get on to the grass. They kind of run funny, like it hurts. Over the weeks, you start to see them get a little bit more comfortable with it."
Bruce Baxter
Baxter concedes that many podiatrists reject the barefoot movement because it threatens their orthotics business. But he takes a different view. Barefoot running promotes landing underneath your center of gravity, and that's good running technique. But Baxter argues that you can also change your running posture without ditching the shoes, by a combination of video analysis and simple drills.
Source: Nikki MacDonald, The Dominion Post [1/22/12]
PODIATRISTS AND EDUCATION
CT Podiatrist Named Director of New Healthcare Graduate Program
Sacred Heart University will introduce a new graduate program in Healthcare Information Systems during the 2012-2013 academic year. The program will target health professionals with a bachelor's degree from an accredited college or university and at least two years of practical experience in the healthcare or information technology fields.
Dr. Stephen Burrows
Stephen C. Burrows, DPM, MBA, will assume the role of director of the new program. He comes to Sacred Heart from New Milford Hospital, where he serves as assistant director of Management of Information Systems. In that role, he has been responsible for the day-to-day operations of the hospital's technology options including clinical applications, financial suite, the data center, and the help desk. Dr. Burrows holds a bachelor's degree (cum laude) in health and nutrition sciences from Brooklyn College of the City University of New York, a doctor of podiatric medicine degree from Barry University School of Podiatric Medicine, and a master's degree in business administration from Sacred Heart University.
Source: Newsblaze [1/21/12]
PODIATRIST AND HUMANITARIAN CAUSES
MN Podiatrist to Focus on Wound Healing in Cameroon
Drs. Hans and Martha Aas have an oversized suitcase filled with duct tape, medical items, and other goods they'll leave in Cameroon on their latest trip to the western Africa nation this month. They'll spend a month this time, along with Dr. Glen Holt, 79, a retired obstetrician; Linda Finn, 63, a physical therapy assistant; and Dr. Kirsten Moore, 43, a podiatrist who will focus on wound care.
Dr. Kirsten Moore
Dr. Moore was name a Top Doc by Duluth Superior Magazine in both 2010 and 2011. She is a graduate of the California College of Podiatric Medicine and completed her residency at St. Clare's Hospital in New York City. She is board certified by the American Board of Podiatric Surgery in Foot Surgery.
Source: John Lundy, Duluth News Tribune [1/21/12]
OUTSIDE INTERESTS
FL Podiatrist and Wife Run Successful Restaurant
Whether you stop in for tapas or cocktails, Morgan House blends a variety of price levels and flavors that have won it a loyal following. Patti and Dr. Michael Price have seen their restaurant blossom since they first purchased it in May of 2007.
Dr. & Mrs. Michael Price (C) with staff (Photo: Todd Stubing)
The restaurant is their first entry into the food business and Price still works as a podiatrist and has other business interests related to real estate and the medical industry. But his wife, Patti, is a regular at the restaurant.
Source: Yvonne Ayala McClellan, News-Press [1/21/12]
SUCCESS TIPS FROM THE MASTERS
Editor's Note: PM News is proud to present excerpts from Meet the Masters.
Bret Ribotsky: What are the steps necessary to bring a new idea or invention to market?
Dr. Michael Graham
Michael Graham: First, do a patent search. Hire an attorney to do this, as you want to make sure you can protect your intellectual property. Next, determine if there is a market for this product. Decide if you're going to license this out or develop your own company. If this is a medical product, then you have to get the FDA involved, but there are many "hoops" to jump through. You'll then need to develop prototypes, packaging, and develop a marketing strategy. This means hiring consultants and obtaining liability insurance. Fortunately, you don't need to spend all the money at the same time, as it's a pay as you go process.
Dr. Robert Spalding
Meet the Masters is broadcast each Tuesday Night at 9 PM (EST). This week's guest is Dr. Robert Spalding, author of Death by Pedicure. You can register for future events by clicking here
QUERIES (CLINICAL)
Query: Red Spot on Foot and Calves?
My patient is a 54 year old female. The spots have been present for 3-4 months.
Unidentified Red Spots
She reports no itching. Any ideas?
Daniel Klein, DPM, Fort Smith, AR
RESPONSES / COMMENTS (CLINICAL)
RE: Achilles Tendon Problem (Michael J Felicetta, DPM)
From: Jeffrey Kass, DPM
I think that no matter what the treatment plan is, the most important part is that the patient will have to "scale down his activity." How can an injured body part heal if it is continually being used? I explain to the patient that if he loves his hiking, etc., it would be prudent to get better ASAP. I warn patients that if they continue on their current path, they risk totally tearing the tendon which potentially can "put them out of service" for a lengthy period of time. I explain how important the Achilles tendon is in terms of foot function.
I have had good experience immobilizing patients by using CAM walkers for this particular problem. The patient is still able to walk (though, I would imagine hiking would be difficult). They can remove the boot to shower and to sleep. I have not used PRP for this condition, but it certainly is plausible. If the patient has the time, physical therapy is always an option.
Jeffrey Kass, DPM, Forest Hills, NY jeffckass@aol.com
RESPONSES / COMMENTS (SPORTS MEDICINE)
RE: Keeping Toes Warm During Antarctica Marathon (Ayne Furman, DPM)
From: Brian Kiel, DPM, Robert Scott Steinberg, DPM
I recommend a fleece and neoprene sock. Gator makes one (Gator fleece-lined neoprene sock). It is available at Bikewagon.com. I am sure other sites have them as well.

Brian Kiel, DPM, Memphis, TN, Footdok4@gmail.com
Keeping feet warm and dry requires a whole body approach. Start with a tights-type base layer, top and bottom (against the skin). Your best bet is to go to a winter ski shop. Base layers must wick moisture and allow it to evaporate through additional layers that do not trap moisture. Nothing, and I mean nothing, should have even a single thread of cotton. The number of layers, or the loft weight of additional layer, will depend on race day conditions. Windproof and breathable outer layers are a must. Patagonia makes some of the finest cold weather clothes. Their layering systems are very well proven.
Head protection is very important. If you get too hot, head coverings are the easiest to...
Editor's note: Dr. Steinberg's extended-length letter can be read here.
RESPONSES / COMMENTS (NON-CLINICAL) - PART 1
RE: Fast, Reliable Scanner (Mark Ray, DPM)
From: Marc Garfield, DPM, Richard Wolff, DPM
Fujitsu makes the best business-friendly scanners. I have a 6130 which can scan in TIFs, PDFs, and a few other formats; and runs around $900. The Scan Snap is also excellent and much less expensive, but only scans in PDF format. Many EMRs require TIF, BMP or JPEG. Both scan double-sided with one pass. I have had both for a few years, so model numbers and prices may differ now. But Fujitsu holds up well and turn a small stack of paper into an electronic document in under a minute. The organization software with the Scan Snap is also excellent. The 6130 scans go directly into my EMR. Hospitals in this area use the same scanners at work stations.

Marc Garfield, DPM, Williamsburg, VA, mgarfield1@cox.net
I have been very happy with Xerox Documate 162 and 272. Both have been great in my practice. Scanning is fast and without misfeeds. Initially, I was hesitant to spend several hundred dollars on a scanner, but it was money well spent. I have had the 272 for 3 years and the 162 for 1.5 years. No problems. The 272 has a card scanner for insurance cards and drivers' licenses. Both scanners are duplex.
Richard Wolff, DPM, Oregon, OH, wolffie@sbcglobal.net
RESPONSES / COMMENTS (NON-CLINICAL) - PART 2
RE: Our Challenges: Innovate, Grow, or Wither Away? (Michael M. Rosenblatt, DPM)
From: Robert Kornfeld, DPM
Drs. Markinson and Rosenblatt inject a rationale that the entire profession needs to pay attention to - specifically, the reference by Dr. Rosenblatt to lifestyle-induced degenerative diseases. This is exactly what the focus of integrative medicine is - to intervene on behalf of epigenetic influences on health and then support the body to heal itself.
There are many income streams that are available when practicing this way and...
Editor's note: Dr. Kornfeld's extended-length letter can be read here.
MEETING NOTICES - PART 1
RESPONSES / COMMENTS (NEWS STORIES)
RE: Podiatry Management Celebrates 30th Anniversary
From: Ben Pearl, DPM, Gayle S. Johnson
Congrats to Dr. Barry Block on raising the bar to our profession and the commitment to cranking out the PM News daily blasts (sometimes past the stroke of midnight).
Podiatry Management has also supported the development of new voices and new ideas within our profession, as well as continuing the legacy of being one of the pillars of our podiatry community.

Ben Pearl, DPM, Arlington, VA, abenpearl@netscape.net
Congratulations to Dr. Block and Podiatry Management staff on your 30th anniversary! Your hard work produces a wonderful resource for the podiatric community, and we are so fortunate to have both the magazine and PM News to educate and inform us. Thanks so much for all you do.
Gayle S. Johnson, Edmonds, WA, gaylejohnson@footzine.com
MEETING NOTICES - PART 2
Codingline & PM News
In conjunction with AAPPM Present
The Greenbrier Coding & Practice Management Workshop - August 20-22
(Following the 2012 APMA Annual Scientific Meeting in Washington, DC)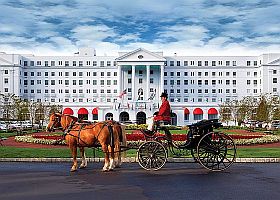 The Greenbrier, White Sulphur Springs, WV
Earlybird Bonus Until March 1 - Save $50
PODIATRY MANAGEMENT'S

AFFORDABLE

ONLINE CME
You can Earn 50 CPME-Approved CME Contact Hours Online
Earn 15 Contact Hours for only $149
(Less than $10 per credit)
http://www.podiatrym.com/cme.cfm
NY Podiatrists can take up to 25 credits per three-year cycle
Choose any or ALL (50 CME Contact Hours) from the 30+ CME Category 1 articles posted
You Can Now Take Tests and Print Your CME Certificates Online
CLASSIFIED ADS
ASSOCIATE POSITION
- NEW YORK
WORK SMARTER NOT HARDER. Join a modern, well-established 42-year-old podiatric medical/surgical practice within a multi-specialty office. Located just 20 minutes from NYC. Must be responsible, compassionate, driven, and self-starter. Enjoy cross-referrals from other specialists and support of medical assistants, office managers, and medical billers with over 50 years combined experience. Utilize modern technology: state-of-the-art diagnostic ultrasonography, fluoroscopy, ESWT (machine is owned by practice), physical therapy, x-ray, circulation testing, NCV, and in-office operatory suite. Very strong and effective advertising/marketing program. No nursing homes, No HMOs, No Medicaid, No Medicare. Must be licensed for podiatry in New York. Send cover letter/CV to:

linchpindpm@yahoo.com.
ASSOCIATE POSITION - LONG ISLAND, NY
Full time associate position available with well rounded multi-office group on Long Island. Ideal position for July 2012 graduating third year resident who wants to practice and live on Long Island. Candidates must be board qualified or board certified, and well trained in all phases of podiatry including surgery, biomechanics, wound care and palliative care. Compensation includes salary,malpractice insurance, paid vacations and surgical incentives, with a future partnership opportunity available for the right candidate. Interested doctors are encouraged to submit their CV's in response to: mets724@gmail.com.
PART-TIME PODIATRIST NEEDED - LOS ANGELES, CALIFORNIA
Busy podiatrist looking for assistance with patients located in facilities, homes, office, etc. Flexible hours, independence, and great compensation. If interested email CV to homefootcare@hotmail.com or call Terri at 323-353-8103.
ASSOCIATE POSITION - LAS VEGAS/HENDERSON, NV
Well-established 22 year practice in Las Vegas/Henderson, Nevada seeking full-time associate. General podiatric care with moderate amount of surgery to be done in local hospital or surgery center. Competitive salary and benefits. Modern office in new area. Please respond by email to: lvfootandankle@gmail.com
ASSOCIATE NEEDED - NORTHERN CINCINNATI, OHIO (FAIRFIELD)
Lead to partnership &/or buy practice. Well-established, reputable & successful (700K collection annual) 25+ year practice. Newer 2k sq.ft office condo & w/5 tx rooms, Aver.80 new patients monthly, full hospital privileges, DME, Padnet, digital x-rays. Inquires to email: gsherwood1@cinci.rr.com
ASSOCIATE POSITION - NEW YORK
Well established, well rounded, hospital based podiatry practice, looking for well trained podiatrist. Large number of new patients monthly, digital x-rays, EMR, and vascular and nerve testing. One partner is Chair of Pod Dept, other is involved in wound center. Two offices 75 miles north of New York City, in the beautiful Hudson Valley. More affordable cost of living than Westchester County; it's a great place to live. Looking to hire a personable individual with strong ethics and high motivation. Seeking an associate leading to potential partnership. Must have PM & S- 36 training. Please call (845) 471-2243 or email eriksims@hotmail.com
ASSOCIATE POSITION - NEW JERSEY
Well established, well rounded podiatry practice, looking for well trained podiatrist. Large number of new patients monthly, digital x-rays and EMR. Doctor is Chair of Podiatry Department and involved in hospital wound healing center. Offices 75 miles west of New York City in the Lehigh Valley. Looking to hire a personable, highly motivated individual with strong ethics. Seeking an associate leading to potential partnership. Please send resume to: leannetitus@warrenhospital.org
ASSOCIATE POSITION - PHILADELPHIA, SOUTHERN NEW JERSEY
Seeking motivated, independent foot & ankle surgeon to join large practice. Our multi office practice covers all aspects of foot and ankle pathology, including heavy limb salvage/ hospital volume. Offering competitive salary and benefit package. Send CV and two references to: bleich5252@yahoo.com
ASSOCIATE POSITION - SOUTHWEST FLORIDA
Immediate position for associate to partnership for a surgeon that is BQ/BC by ABPS. Must be PSR-24 or PM&S-36 trained. Excellent salary w bonus. Must be ethical, self-starter, hard worker. Willingness to learn/work as part of a team. Surgery Block time. Must be proficient in rearfoot/ankle surgery. Email CV, photo, LOI to: susmitad86@yahoo.com
PRACTICE FOR SALE - SOUTHERN CALIFORNIA (ORANGE COUNTY)
Strong & diverse local economy, in a beautiful beach community. Well rounded, established since 1983, fully equipped. Consistently grossing over $600K. Many types of insurance, reimbursement and revenue sources. Local hospitals allow full scope of podiatric care. Terms available. Contact: josephdpm@gmail.com
SPACE AVAILABLE - NYC & LI
Office to sublet and share - East 60th Manhattan, and Plainview, Long Island. access to an MRI, Joint Commission certified operating rooms, digital x-ray, diagnostic ultrasound, and access to a multi-specialty ambulatory surgical center. Also availability E 22nd between 2nd and 3rd and E 70th off 3rd. Turn-key operation - no investment needed 516 476-1815 PODO2345@AOL.COM
PODIATRIC BILLER WANTED - LOS ANGELES COUNTY
Podiatry office in Los Angeles county looking for part-time biller experienced in podiatry Workman's Comp. Please fax or e-mail resume to 661-265-1877 or avfootdoc@mail.com
EQUIPMENT FOR SALE – LASER SYSTEM
Laserscope Model Lyra i YAG Laser system with 3 hand pieces, eyewear sets, calibration unit, complete manual foot control and video information, for fungus nails, vein therapy and hair removal. The unit has the attached cooling system and all accessories $8,750.00
.
flpodiatrist@tampabay.rr.com
PM News Classified Ads Reach over 13,500 DPM's and Students
Whether you have used equipment to sell or our offering an associate position, PM News classified ads are the fastest, most-effective way of reaching over 13,500 DPM's. Write to bblock@podiatrym.com or call (718) 897-9700 for details. Weekly ad rates start as low as $115 for a 50-word ad. THIS OFFER DOES NOT APPLY TO BUSINESSES PROVIDING PRODUCTS OR SERVICES. Note: For commercial or display ads contact David Kagan at (800) 284-5451.
Disclaimers
Acceptance and publication by this newsletter of an advertisement, news story, or letter does not imply endorsement or approval by Kane Communications of the company, product, content or ideas expressed in this newsletter. Any information pertaining to legal matters should not be considered to be legal advice, which can only be obtained via individual consultation with an attorney. Information about Medicare billing should be confirmed with your State CAC.
---
THIS MESSAGE IS INTENDED ONLY FOR THE USE OF THE INDIVIDUAL OR ENTITY TO WHICH IT IS ADDRESSED AND MAY CONTAIN INFORMATION THAT IS PRIVILEGED, CONFIDENTIAL AND EXEMPT FROM DISCLOSURE.
---
If the reader of this message is not the intended recipient or an employee or agent responsible for delivering the message to the intended recipient, you are hereby notified that any dissemination, distribution, or copying of this communication is strictly prohibited. If you have received this communication in error, please immediately notify me and you are hereby instructed to delete all electronic copies and destroy all printed copies.
---
DISCLAIMER: Internet communications cannot be guaranteed to be either timely or free of viruses.
Guidelines
To Post a message, send it to: bblock@podiatrym.com
Notes should be original and may not be submitted to other publications or listservs without our express written permission.
Notes must be in the following form:
RE: (Topic)
From: (your name, DPM)
Body of letter. Be concise. Limit to 250 words or less). Use Spellchecker
Your name, DPM City/State
Subscribers are reminded that they have an ethical obligation to disclose any potential conflicts of interest when commenting on any product, procedure, or service.

Barry H. Block, DPM, JD
---
Browse PMNews Issues
Previous Issue | Next Issue