Browse PMNews Issues
Previous Issue | Next Issue
PM News
The Voice of Podiatrists

Serving Over 12,500 Podiatrists Daily

February 25, 2011 #4,093

Publisher-Barry Block, DPM, JD

A service of Podiatry Management http://www.podiatrym.com
E-mail us by hitting the reply key.
COPYRIGHT 2011- No part of PM News can be reproduced without the
express written permission of Kane Communications, Inc.
EDITOR'S NOTE
Call for Nominations - Podiatry Management's 2011 VIP List
Every five years, Podiatry Management Magazine publishes its "Most Influential Podiatrists" list. This list is compiled by the editorial board of PM. We invite nominations of individuals for this prestigious honor. Please send nominations along with a brief statement of why this podiatrist belongs on the VIP list to bblock@podiatrym.com. Self nominations will be accepted.
DOX PODIATRY – Electronic Medical Records
START OFF THE NEW YEAR RIGHT: 1st MONTH FREE
Over 500 Podiatry Offices and Growing
Call 877-270-3518
PRACTICE LIKE THE BEST
MAKE MORE MONEY - SAVE TIME - DOX PODIATRY
DOX Podiatry is the leading web-based EMR solution designed by Podiatrists for Podiatrists that enables you to make more money in less time. Let us show you how in a quick, 40 minute, web-based demonstration.
• COMPLETE PODIATRY SPECIFIC MEDICAL DATABASE
• NO CUSTOMIZATION REQUIRED • EVERYWHERE ACCESS
• READY TO USE DAY ONE • CERTIFIED SAFE & SECURE
http://www.DoxEmr.com
$44,000 Economic Stimulus Article at: http://doxemr.wordpress.com/
CALL 1-877-270-3518 OR EMAIL INFO@DOXEMR.COM
PODIATRISTS IN THE NEWS
AZ Podiatrist Turns Amputation Instrument into Limb-Saving Device
In a first of its kind procedure for the Southwest, University of Arizona surgeons used pinhole techniques and modified instrumentation originally designed for opening skulls and performing amputations to save the limb of an Arizona woman. Gloria Olmedo, an Arizonan who suffers from diabetic Charcot foot syndrome, developed a tremendous deformity in her foot nearly two years ago that caused a massive wound. The foot was slated for amputation. After her visit to the University of Arizona's Southern Arizona Limb Salvage Alliance (SALSA), all that changed.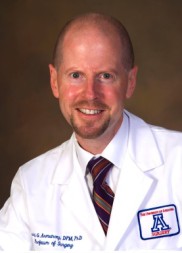 Dr. David G. Armstrong
David G. Armstrong, DPM, MD, PhD, professor of surgery and director of SALSA, said, "Prior to this technique, the alternatives would have been a high level amputation, bone grafting, and up to a year of rehabilitation. Now, she can literally walk out of the hospital with incisions not much larger than a punch biopsy." The technique married two types of technologies-- a state-of-the art external fixation device designed to transfer weight onto an external frame (allowing for walking) and a 100-year-old bone cutting device most commonly used to remove limbs. Armstrong went on to say, "It's kind of benevolently subversive to modify an instrument of amputation to be an instrument of limb salvage." The technique, first described in Baltimore by Dr. Bradley Lamm, is being adopted and modified by SALSA surgeons.
PODIATRISTS AND SPORTS
PA Podiatrist To Appear With Michael Vick on Oprah Show
Michael Vick will be appearing on Oprah Winfrey's TV show instead of the Piers Morgan show, according to a report on Fox 29. Dr. Lee Cohen, a podiatrist who works with Unequal Technologies, a local company that makes protective gear for Vick and DeSean Jackson from the Philadelphia Eagles, hinted at the bombshell in an interview this morning with Jennaphr Frederick. Cohen confirmed he is part of an Oprah Winfrey show featuring Vick that was taped on Feb. 22.
Dr. Lee Cohen
Unequal Technologies is the first company to sign Vick to an endorsement deal after his comeback with the Eagles. Cohen said the company designed a flak jacket and other pads for Vick using Kevlar, the material used in bullet-proof vests. "Mike is the comeback kid; he had a great year," Cohen said. That year almost ended when Vick hurt his ribs in the Redskins game.
Source: Daily Times (Delaware County, PA)
PODIATRISTS IN THE COMMUNITY
NY Podiatrist, St. Patrick's Parade Grand Marshall, Celebrates Early
The St. Patrick's Parade won't step off until March 6, but the adrenaline is already flowing in West Brighton, the neighborhood that hosts Staten Island's salute to everything Irish. On Feb. 12, organizers held a fund-raiser in Sacred Heart School. The festivities opened with a band called the Urban Ramblers and the introduction of the parade's Grand Marshall, West Brighton resident Dr. Craig Campbell, a podiatrist and a true neighborhood native son.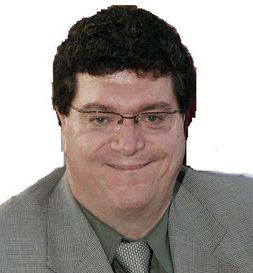 Dr. Craig Campbell
A cake was rolled out for Dr. Campbell who had recently celebrated a birthday. The candles were lit, "Happy Birthday" was sung — and the crowd was invited to eat every crumb.
Source: Marjorie Hack, SILive.com [2/22/11]
HEALTHCARE NEWS
States Advance on Setting Up Exchanges
In late January, an increasing number of states led by Democratic and independent governors were moving forward to create state-based health insurance exchanges as required under the federal reform law. And several, including Maryland and Rhode Island, introduced bills to set up governing structures and the like. At the same time, some states with Republican governors, including Wisconsin, continue to consider the viability of using as a model Utah's state-run exchange, which is housed within the governor's Office of Economic Development.
The Obama administration has said it expects 16.9 million Americans to choose coverage options through states' individual and small-employer group exchanges in 2014, their first year of operation. By 2019, the administration says, the national enrollment in exchanges is expected to reach 31.6 million. Yet to date, California is the only state to have enacted exchange-related legislation. Most states remain in the strategic planning phase, with many expected to pass exchange-related bills during their 2011 legislative sessions.
Source: Judy Packer Tursman, Health Business Daily [2/22/11]
PRACTICE MANAGEMENT TIP OF THE DAY
Admit Errors
Whoops—you blew it. You are wrong and you know it. What should you do now?
Own up to your error. It is okay to change your opinion as you gain new information or perspective. As a matter of fact, doing so is a sign of wisdom and maturity. Remember: You have been wrong in the past, even when you thought you were right. Acknowledge that you could be wrong this time too.
Source: Adapted from "How to Never Lose an Argument," Chris Witt, Witt Communications via Communication Briefings [February 2011]
QUERIES (NON-CLINICAL)
Query: Jamshidi Disposable Bone Biopsy Needles
Does anyone know where I can purchase Jamshidi disposable bone biopsy needles or the equivalent?
Brent Rubin, DPM, Bradenton, FL
Editor's note: A Google search reveals alibaba.com as a source.
RESPONSES / COMMENTS (NON-CLINICAL) - PART 1
RE: The High Price of Medical Equipment (Simon Young, DPM)
From: Tip Sullivan, DPM
I did a case on 11/30/10 which was an STJ arthroeresis, Kidner procedure with tendon anchor, Lapidus procedure with locking plate, McBride procedure, and 5th metatarsal osteotomy with 2.0 screw. The bill to my surgery center from the implant suppliers was $6,454.59. The facility fee was paid at $1,856.72 The expected (not verified) reimbursement for the hardware is $4,193.
Reimbursement expected from the surgery totals $6,049.73. Cost of implants---$6,454.59 Oops! Who pays:...

Editor's note: Dr. Sullivan's extended-length letter can be read here.
RESPONSES / COMMENTS (NON-CLINICAL) - PART 2
RE: A Call for Unity and Action Against Insurance Companies (Denis LeBlang, DPM)
From: Gregory M Birch, DPM
In response to a PM News letter by my dear friend and colleague Dr. Denis LeBlang, I praise him for his comments. After receiving a letter in February from HIP stating that the HIP VIP Medicare plan, which was fee-for-service, was no longer in existence and was being replaced by an HMO market share plan which required a referral, I decided to make my feelings known as Dr. LeBlang did.
When is enough, enough? How much more do we as podiatrists have to take before we are all driven out of practice? When was the last time you...
Editor's note: Dr. Birch's extended-length letter can be read here.
MEETING NOTICES - PART 1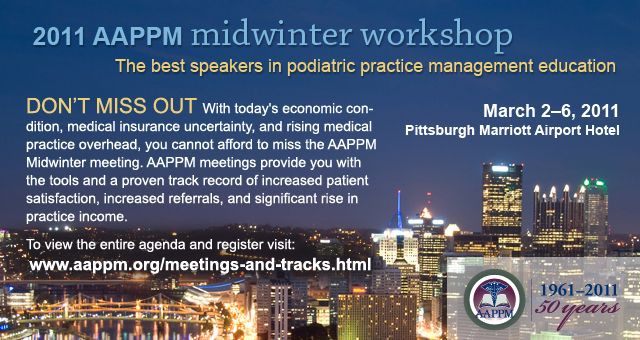 RESPONSES / COMMENTS (NON-CLINICAL) - PART 3
RE: EHR/EMR Gouging (Alan Bass, DPM)
From: Stephen Kominsky, DPM
Dr. Bass' insight as to the financial benefits of electronic records could not be more poignant. His comments regarding the increased efficiency in his practice are correct. I implemented EMR into my practice ten years ago at a cost of over $100,000. Crazy? No way! I was spending between $6,000-$7,000 per month on transcription. The staff was spending ridiculous amounts of time filing transcriptions, labs, radiology reports, not to mention the time spent looking for charts.
At that time, the company that we went with did not have any templates for podiatry, which meant that I had to create them. Initially, it was incredibly time-consuming and fraught with headaches. Imagine spending that amount of money AND having to create your own templates.
Now, literally being paperless for ten years, I can honestly tell you that it was the best business decision that I have ever made. From top to bottom, the benefits from this have been endless. There are the obvious cost savings, and efficiency of the office, but there are many intangibles as well. My suggestion to any practice that is considering this path is not to consider it, but to do it. Do your research and due diligence, and then do it. You won't regret it.
Stephen Kominsky, DPM, Washington, DC, sjkom120@aol.com
MEETING NOTICES - PART 2
RESPONSES / COMMENTS (NON-CLINICAL) - PART 4
RE: H&Ps for Podiatrists (Barry Mullen, DPM)
From: Robert Bijak, DPM
Dr. Mullen differentiates between an H&P and "clearing" a patient. If a DPM H&P isn't sufficiently competent and comprehensive to "clear" a patient, why do them, only to have the service duplicated by an MD? Or, are we taking about a PODIATRIC H&P? As for the opinion that MDs that aren't cardiologists, internists, or PCPs can't do a competent H&P, I say, tell that to the medical schools. I guess they are wasting their time teaching it to ALL medical students because according to Dr. Mullen, only internists, etc. should be doing them.
Maybe, courses in physical diagnosis and USMLE Clinical Skills II should be dropped from the MD license exam. I'm sure the MDs will appreciate podiatrists advising them on their curriculum. Perhaps with the new extra time the MDs could take a course in biomechanics. Can't podiatrists see it's all or none? Be schooled, licensed and expected to do the job right the first time. MDs start doing history and physicals in hospitals actively in their second year of medical school, not residency.
Robert Bijak, DPM, Clarence Center, NY, rbijak@aol.com
MEETING NOTICES - PART 3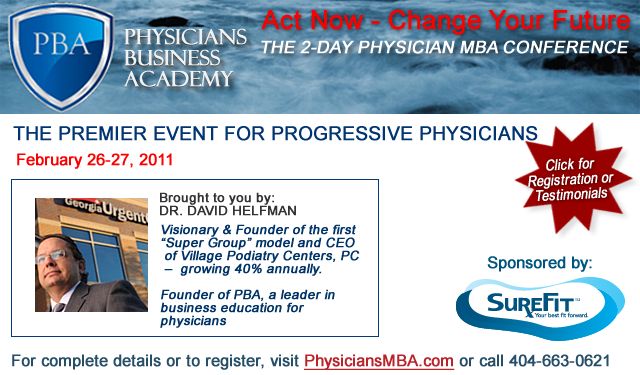 RADICAL PROFESSIONAL PODIATRIC SELF-ESTEEM
Join the thousands of MD's and DO's leading the charge and the change in our medical paradigm.

Increase revenue on every patient.

Come and learn integrative medicine for podiatry.

Sponsored by The Institute for Integrative Podiatric Medicine and Robert Kornfeld, DPM

Miami March 12 - 13, 2011 and NY/NJ March 19 - 20, 2011

Create a niche practice - increase revenue dramatically while improving outcomes.

E-mail Holfoot153@aol.com for seminar invitation and syllabus.
CLASSIFIED ADS
ASSOCIATE POSITION - NE GEORGIA SUBURB
Immediate opening for PSR24/36, ABPS Qualified or Certified individual. Hosp/Amb. Surg. Ctn privileges available. Good chance of partnership or practice purchase in foreseeable future. Send resume/CV to gramps395@yahoo.com
TWO ASSOCIATE POSITIONS - WEST CENTRAL FLORIDA
One in general podiatry, second with surgical residency. Good diagnostician, compassionate, hard-working individuals needed for high-tech group practice. flpodiatrist@tampabay.rr.com
ASSOCIATE POSITION - KENTUCKY

Very well-established podiatry practice in Louisville, KY seeks a motivated, ethical practitioner trained in all phases of podiatry including routine care, surgery and wound care to join 2 other podiatrists. By joining our practice you will receive a competitive salary with a bonus structure and benefits. Our practice is equipped with DME, PadNet, Gait Scanner and on site retail store. There is a huge potential to grow your practice with our ideally located facility that has strong affiliation with leading area hospitals as well as 2 local residency programs. For immediate consideration, please forward CV to Samuel10530@yahoo.com
ASSOCIATE POSITION AVAILABLE - NY
Busy Midtown Manhattan state-of-the-art practice with 2 locations seeking part time/full time associate. Must be in-network Empire BC/BS. Looking for a personable doctor with immediate availability. Residents Need not apply. DrB@myfcny.com
ASSOCIATE POSITION - WEST CENTRAL FLORIDA

A great opportunity to join a very busy, well-established, diversified practice in Clearwater, FL. Seeking an associate who has the drive and desire to work hard, has strong work ethics, and is very personable. BC/BE and minimum PSR24 +. We offer competitive salary and benefits. Send resume to Jaye@fdn.com
IMMEDIATELY AVAILABLE- ASSOCIATE POSITION - DAYTON, OHIO
Join a well-established modern practice with an excellent reputation and referral base. Base salary $100,000 and benefits with a bonus structure. EMR, diagnostic ultrasound, all aspects of DME, Padnet vascular studies, and CO2 lasers. We seek a surgeon that is well trained, personable and motivated to join our group of 3 Podiatric Surgeons. Would like this individual to buy in the practice eventually. Please send resume to ohiodoctors@aol.com
ASSOCIATE POSITION/PARTNERSHIP - CHICAGO
Chicago Podiatric Surgeons, one of Chicago's leading podiatric practices, is searching for a FT podiatric surgeon. Applicant must be a personable and confident surgeon with ability to manage surgical patients independently and be at least board qualified. High compensation. Will be working in new 7000 sf state of the art office in AN upscale Chicago neighborhood. Ownership/partnership opportunities. Send letter of intent and CV to drcarr@chicagopodiaty.com
ASSOCIATE/OPPORTUNITY - PHOENIX

Established practice seeking motivated min. PSR24+ personable, ethical, motivated person to join state-of-the-art multi-office locations. Partnership/Ownership opportunity in practice, real estate, surgical center. Also interested in existing practitioner to merge or work part time. Contact AZPODAssociate@aol.com Must be pursuing or have AZ license.
PART-TIME/FULL-TIME PODIATRIST NEEDED - INDIANA
Part-time full-time Podiatrist needed for our Indiana offices. Must have Indiana license. Must have completed two years of surgical residency. If qualified email to f-massuda@footexperts.com
PART-TIME / FULL-TIME PODIATRIST NEEDED ASAP - CHICAGO
Part-time podiatrist needed for 2 offices in Chicago with an average of 20 hours/week. Must have Illinois license. Must have completed 2 years of surgical residency. If qualified, email to: A-Storjohann@footexperts.com
FELLOWSHIP OPPORTUNITY

Applications are being accepted for the Central Kentucky Diabetes Management Fellowship. Dr. Jonathan Moore, former UTHSC Diabetes Fellow, OCPM adjunct faculty, AAPPM board member and national lecturer and author on diabetes and practice management related topics is director and founder. Don't miss out on the most unique, dynamic fellowship in Podiatric medicine. Learn latest advances in Diabetes management/surgery along with knowledge to run and grow a successful practice. Generous stipend, full benefits and free housing in resort setting. Email CV and letter of interest to: jmoore@aappm.org Visit our website
PRACTICE FOR SALE - BOSTON SUBURB
A 12+ year practice, including all equipment is for immediate sale. Average gross is $100K while being open only one day weekly. The ability for increased growth potential is obviously excellent with increased hours. Doctor is looking for serious offers only. Reply to shop@thefootdoctor.com
PRACTICE FOR SALE - MARYLAND, DC SUBURBS

Great opportunity. Well established and equipped practice for sale. Office includes state licensed Ambulatory Surgical Center. Present owner is retiring but will stay on as needed for smooth transition. Average gross over past 3 years is $575 K. dpmpracticeforsale@yahoo.com
SPACE AVAILABLE- NYC & LI
Office to sublet and share with DPM and chiropractor, East 60th Manhattan, and Plainview long island. access to an MRI, Joint Commission certified operating rooms, digital x-ray, diagnostic ultrasound, and access to a multi-specialty ambulatory surgical center. Turn-key operation - no investment needed 516 476-1815 PODO2345@AOL.COM
PM News Classified Ads Reach over 12,500 DPM's and Students

Whether you have used equipment to sell or our offering an associate position, PM News classified ads are the fastest, most-effective way of reaching over 12,500 DPM's. Write to bblock@podiatrym.com or call (718) 897-9700 for details. Weekly ad rates start as low as $109 for a 50-word ad THIS OFFER DOES NOT APPLY TO BUSINESSES PROVIDING PRODUCTS OR SERVICES. Note: For commercial or display ads contact David Kagan at (800) 284-5451.
Disclaimers
Acceptance and publication by this newsletter of an advertisement, news story, or letter does not imply endorsement or approval by Kane Communications of the company, product, content or ideas expressed in this newsletter. Any information pertaining to legal matters should not be considered to be legal advice, which can only be obtained via individual consultation with an attorney. Information about Medicare billing should be confirmed with your State CAC.
---
THIS MESSAGE IS INTENDED ONLY FOR THE USE OF THE INDIVIDUAL OR ENTITY TO WHICH IT IS ADDRESSED AND MAY CONTAIN INFORMATION THAT IS PRIVILEGED, CONFIDENTIAL AND EXEMPT FROM DISCLOSURE.
---
If the reader of this message is not the intended recipient or an employee or agent responsible for delivering the message to the intended recipient, you are hereby notified that any dissemination, distribution, or copying of this communication is strictly prohibited. If you have received this communication in error, please immediately notify me and you are hereby instructed to delete all electronic copies and destroy all printed copies.
---
DISCLAIMER: Internet communications cannot be guaranteed to be either timely or free of viruses.
Guidelines
To Post a message, send it to: bblock@podiatrym.com
Notes should be original and may not be submitted to other publications or listservs without our express written permission.
Notes must be in the following form:
RE: (Topic)
From: (your name, DPM)
Body of letter. Be concise. Limit to 250 words or less). Use Spellchecker
Your name, DPM City/State
Subscribers are reminded that they have an ethical obligation to disclose any potential conflicts of interest when commenting on any product, procedure, or service.

Barry H. Block, DPM, JD
---
Browse PMNews Issues
Previous Issue | Next Issue