Browse PMNews Issues
Previous Issue | Next Issue
PM News
The Voice of Podiatrists

Serving Over 13,500 Podiatrists Daily

February 25, 2012 #4,394

Publisher-Barry Block, DPM, JD

A service of Podiatry Management http://www.podiatrym.com
E-mail us by hitting the reply key.
COPYRIGHT 2012- No part of PM News can be reproduced without the
express written permission of Kane Communications, Inc.
PODIATRISTS IN THE NEWS
High Heels Have Long-term Effect on Neck, Lower Back, and Spine: FL Podiatrist
High heels are sexy, sleek and make you feel more than fierce, but with two to five inch heel platforms and pointed toes, are these shoes really made for walking? "The high heels look nice but they are not nice to your feet and can cause a lot of problems," said podiatrist Kevin Derickson.
Dr. Kevin Derickson
Dr. Derickson says that the long-term effects to your neck, lower back, and spine are alarming. Derickson says your best bet is to wear sneakers but still, despite the dangers, we all know women will do what they want.
Source: Mika Highsmith, WTXL 27TV ABC [2/23/12]
INTERNATIONAL PODIATRY IN THE NEWS
UK Podiatry Society to Run 'Feet for Life Month' Campaign
The Society of Chiropodists and Podiatrists (SCP) has appointed PR agency Ceres to run a six-month campaign to raise awareness of foot health during 'Feet for Life Month' in June. The focus of the campaign will be specifically on foot care in sports. Issues such as sprains, torn ligaments and joint and muscle problems will be addressed with information on common complaints, symptoms, prevention, and treatment.
The Society of Chiropodists and Podiatrists
The campaign will have access to leading sports podiatrists who treat some of the best-known athletes. 7,500 practicing podiatry members of SCP will help spread the foot health message and encourage people to visit their local chiropodist or podiatrist.
Source: Laura Monks, FeaturesExec Media Bulletin [2/23/12]
PODIATRISTS TRAGEDIES IN THE NEWS
Colorado Cantaloupe Listeria Outbreak Claims Podiatrist's Life
The Colorado cantaloupe listeria outbreak claimed another victim Tuesday with the death of Dr. Mike Hauser after a long illness, raising an estimate of the toll to 34 adults. Hauser, profiled in The Denver Post in December, died Tuesday at age 68 after first falling ill in September. The Centers for Disease Control and Prevention's December report said all the deaths resulted from eating cantaloupe grown at Jensen Farms in southeastern Colorado.
Dr. Mike Hauser
A formerly robust retired podiatrist, Hauser was left with seizures and in a coma as a result of the listeriosis. When he awoke, he was largely unresponsive for weeks. The big Hauser family had hope recently, with Mike finally out of rehabilitation hospitals. But an apparent infection sent Hauser back to the hospital this week, where he died Tuesday morning.
Source: Michael Booth, Denver Post [2/22/12]
MEDICAL ECONOMICS
Orthopedic Surgeons' Hourly Income Found Lagging
Orthopedic surgeons are well paid, but the profession is less lucrative than some other career choices, making orthopedics training a "poor financial investment," researchers reported here at the American Academy of Orthopaedic Surgeons 2012 Annual Meeting. When the researchers calculated hourly income for the 5 professions, lawyers came out on top, at $130; dentists were next at $99, followed by nurse anesthetists at $93. Orthopedic surgeons came in fourth, with a relatively modest $88, although still well ahead of nurse practitioners, who made $49.
"If this continues over time, we may lose qualified individuals in our field, and this may reduce access to good quality orthopedic care, orthopedic research, and orthopedic management," warned Suneel B. Bhat, MD, an orthopedic surgery resident at Thomas Jefferson University Hospital in Philadelphia, Pennsylvania.
Source: Laird Harrison, Medscape News [2/21/12]
QUERIES (CLINICAL)
Query: 2.5 Year Old With an In-toe Gait
My patient is a 2.5 year old male with a mild in-toe gait. His mother says that the birth was normal. I would not worry except his mother says several adults in her family have it, so family history suggests that this condition might not self-correct. An exam showed no evidence of dislocated or dislocate-able hip. There is more internal rotation than external available at the hip. There is no visible discomfort with gait, but the feet are very pronated.
Treatment initially has been a demonstration to the mother of the use of external rotation stretches; and the application of an external forefoot lateral wedge to shoes and an internal medial heel wedge. These have resulted in immediate noticeable improvement. Any other suggestions?
Larry Aronberg, DPM, Lake Worth, FL
CODINGLINE CORNER
Query: Opting Out of eRx
I write very few prescriptions for my Medicare patients (except post-op pain meds - which I cannot eRx here in Indiana). I opted out or exempted myself last year for that reason - a paucity of Medicare prescriptions. Does that carry over and remain permanent? Do I need to op-out each year? If so, can someone link me to that site?
David Gurvis DPM, Avon, IL
Response: The exemption ("opt out", as you put it) is not permanent. There is no link for an exemption for this year at the moment.
Michael L. Brody, DPM, Commack, NY
Editor's Note: Dr. Brody will be lecturing at the upcoming Greenbrier Coding & Practice Management Seminar, August 20-22 (following the APMA National Meeting. For details click here.
Codingline subscription information can be found here
APMA Members: Click here for your free Codingline Silver subscription
RESPONSES / COMMENTS (CLINICAL)
RE: Hallux Rotation S/P Bunionectomy (Scott Hughes, DPM)
From: Nathan Clark, DPM
The frontal plane rotational deformity of the hallux is definitely an underappreciated problem with severe bunions. A multiplanar distal metatarsal osteotomy in and of itself is not sufficient for correction. My experience has been to use a complete lateral release, biplanar Akin osteotomy (I use a K-wire and angle slightly lateral to dorsiflex and de-rotate distal fragment) and relocation of the abductor from its plantar position to more dorsal position during capsular closure. If none of that works, I have occasionally used a piece of the EHB and transferred it distal medial into the capsule with closure.
Nathan Clark, DPM, Gallipolis, OH, nnclark11@gmail.com
PM News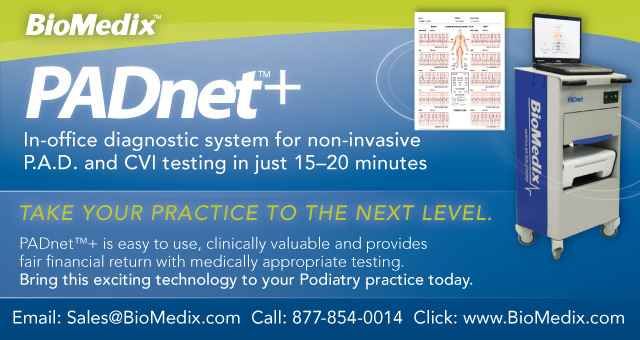 RESPONSES / COMMENTS (MEDICAL LEGAL)
RE: Staple in Diabetic Shoe (Jonathan Michael, DPM)
Elliot Udell, DPM
What needs to be determined is whether this is a result of a manufacturing defect which might be present in other diabetic shoes made by that same company or something that the patient placed there in order to create an incident so that he or she can then press for compensation. Regardless of the manufacturer, before dispensing any shoe, it's important to make sure there are no other sharp objects which could cause a diabetic patient to develop a serious injury.
Elliot Udell, DPM, Hicksville, NY, Elliotu@aol.com
RESPONSES / COMMENTS (SPORTS MEDICINE)
RE: Do Runners Need Orthotics? (Kevin Kirby, DPM)
From: Robert Bijak, DPM
In response to Dr. Kirby's query, I feel running shoe selection is more important than custom orthotics. Most shoes have intrinsic built-in characteristics for runners and their environments. I have found the orthotic that comes with the shoe or an OTC has been satisfactory in the majority of the cases. Although a small percentage may benefit from a so-called "custom" support, I believe the primary motive for prescribing is financial. In all honesty, if you took the profit motive away from "custom orthtotics", many podiatrists wouldn't go through all the trouble attendant with them.
Robert Bijak, DPM, Clarence Center, NY rbijak@aol.com
RESPONSES / COMMENTS (NON-CLINICAL) - PART 1
RE: Overburdened by Paperwork (Joseph Borreggine, DPM)
From: Pete Harvey, DPM
Our office has not had this specific response, but there are grumblings among the patients. Almost every office in my area has experienced some type of unhappy patient response to the increase to the government's request for more and more personal information. Most unhappy are my patients who are the surviving members of the Greatest Generation who fought in WWII. They have specifically told me their friends died at Normandy, Hawaii, Iwo Jima, and many other places to protect our individual freedoms. Chief among these is the right to privacy, including social security numbers and medical information.

The need for this information is now entrenched and will not be reversed. These unhappy patient responses will become fewer as people become resigned to fact that these freedoms are now lost or they just don't care anymore. Let us all hope we do not look back and say, " We were just following orders." "We didn't know." " We thought they were showers."

On the bottom of my Social Security card there is this statement, "For Social Security Purposes..Not For Identification." These same cards issued today do not have that statement.

Pete Harvey, DPM, Wichita Falls, TX, pmh@wffeet.com
RESPONSES / COMMENTS (NON-CLINICAL) - PART 2
RE: Switching to Comcast for Phones and Internet (Barrett Sachs, DPM)
From: David Hettinger, DPM
I switched to Comcast a couple of years ago and have not had any problems at all. The phone service is good with a flat rate for unlimited calls in the U.S. (check your specific provider though). The Internet is VERY fast, but again, this depends on how many people are using it, and how far you are from the main hub. The main hub at my office happens to be on the roof right above my back door. It's still faster that anything I ever got from AT&T. All I can tell you is that I personally recommend it.

David Hettinger, DPM, Wheaton, IL, davidhett@msn.com
MEETING NOTICES - PART 1
YOU CAN'T MAKE THESE THINGS UP
RE: Mrs. Malaprops Returns
I had a patient present with pain in the ball of her foot who wanted to know where she could get a "magical pad?" It took me a minute, but then I realized she meant a metatarsal pad. I wish I had a magical pad.
Jack A. Reingold, DPM, Solana Beach, CA
MEETING NOTICES - PART 2
CLASSIFIED ADS
EQUIPMENT FOR SALE - COOL BREEZE COOT TOUCH VARIA
Cool Breeze Coot Touch Varia. Very low use. You won't find a laser at this price. $39,500. Has about 19 hours of use of it. E-mail for photos, and ask any questions. Will go fast. David Zuckerman DPM 856-229-2939 footcare@comcast.net
SPACE AVAILABLE - NYC & LI
Office to sublet and share - East 60th Manhattan, and Plainview, Long Island. access to an MRI, Joint Commission certified operating rooms, digital x-ray, diagnostic ultrasound, and access to a multi-specialty ambulatory surgical center. Also availability E 22nd between 2nd and 3rd and E 70th off 3rd. Turn-key operation - no investment needed 516 476-1815 PODO2345@AOL.COM
ASSOCIATE POSITION – ALBANY, NEW YORK
Solo practitioner looking to wind down after 29 years. Immediate position available in a well- established diversified practice. Must be ethical, hardworking and committed to quality patient care. Must have good communication and surgical skills. Patient base established with additional growth present. Excellent salary & benefits. Please send cover letter and resume to McBride719@aol.com
ASSOCIATE POSITION - KANSAS CITY, MISSOURI
I'm not just looking for an associate. I am looking for a doctor who wants to build a highly successful career with a doctor who is as committed to their success as he is to his own. Go towww.YourFutureInPodiatry.com to find out about this opportunity.
ASSOCIATE POSITION - EAST CENTRAL NEW JERSEY
Well established practice needs a career-minded podiatrist for associate position leading to Fast Track Partnership. Competitive salary/benefits. Busy practice. Great location. Board Certification a plus. Part-time or full-time. Immediate availability, but will wait for best candidate. GardenStateDPM@aol.com
ASSOCIATE POSITION - NORTHEAST GA
Well-established 18 year practice in Northeast Georgia seeking full-time associate leading to partnership. General podiatric care with moderate amount of surgery to be done in local hospital or surgery center. Competitive salary and benefits. Please respond by email to: Fivetoes1946@aol.com
ASSOCIATE POSITIONS - MULTIPLE STATES
Podiatrist Needed in Missouri, Nebraska, Iowa, Minnesota, North Dakota, South Dakota, Ohio, Texas, Colorado, Oregon, Washington, Arizona, Massachusetts, Rhode Island, Wisconsin, Indiana, Oklahoma, Connecticut and Vermont. Expanding multi-state medical practice seeking podiatrists to service long-term care community residing in nursing homes and assisted living facilities. We offer an established patient base, scheduling, equipment allowance and cover travel expenses. Provide generous compensation, bonus opportunities, disability, health insurance benefits, malpractice coverage and flexible scheduling. Looking for a Podiatrist with excellent skills, able to provide expert and compassionate care to patients. Email CV to: careers@aggeus.org or call 773-770-0140 x300/x305.www.aggeus.org
ASSOCIATE POSITION - MARYLAND
Looking for 3rd associate. Must be personable, well trained and highly motivated. Great locations in Southern Maryland, including an Ambulatory Surgical Center. We currently have EHR, digital radiography, dispensing center and PADNet. Looking for immediate hire! Please send CV to:myfeetfeet@aol.com
PART-TIME PODIATRIST NEEDED - LOS ANGELES, CALIFORNIA
Busy podiatrist looking for assistance with patients located in facilities, homes, office, etc. Flexible hours, independence, and great compensation. If interested email CV to or call Terri at 323-353-8103 homefootcare@hotmail.com
ASSOCIATE POSITION - CENTRAL NEW JERSEY
Associate Wanted for Central NJ offices. Looking for highly motivated self starter to build/expand practice locations. Great part-time opportunity for the right candidate. Email your CV with references to ejema@aol.com
ASSOCIATE POSITIONS - TEXAS
TEXAS licensed podiatrists needed in San Antonio and Austin. Great paying positions for full or part-time. Well-established, unique mobile podiatry practice servicing senior living facilities. Business office location with excellent support staff for your assistance and scheduling. Check us out before looking elsewhere. Find us at www.footmobile.com. Reply with cover letter and CV to doctor.cohen@yahoo.com with a cc: to lisa.schulze@yahoo.com or call us at 210-495-6477.
ASSOCIATE POSITION - SOUTHERN CALIFORNIA
Full-Time Associate needed for busy multi-office locations in LA, Orange, San Bernardino and Riverside counties. SIX FIGURE SALARY PLUS BENEFITS!! Knowledge of Spanish is helpful. Good mix of office patients, house calls, some surgery, etc. NO NURSING HOMES!! Needed in July, 2012 or sooner. If interested, please send contact information and CV to scpodgroup@yahoo.com
ASSOCIATE POSITION - UPSTATE NEW YORK
Outstanding Opportunity. Our medical surgical group is recruiting a well-trained licensed podiatric physician. Located in Beautiful upstate NY. Full hospital privileges, as well as working with two residency programs. Must be highly motivated and great with patients. Opportunity for growth. Competitive salary and benefit package. Please send CV to associateinfoot@yahoo.com
SOUTHEAST GEORGIA- SAVANNAH & SURROUNDING AREAS
Beautiful weather year round & near the Coast. Opportunity for Early Buy-in. Seeking podiatrist looking to build a career & long-term relationship. Either established practicing physician or new residency graduate. Must be PSR-24/36 trained. Multiple locations. Full range of services with new facilities. E-mail cover letter & CV to melissafoot@pol.net
ASSOCIATE POSITION - SOUTHERN KENTUCKY
Available in beautiful southern Kentucky in progressive, multi-office practice with 6 providers. Excellent base salary, malpractice, full benefit package with 2-year track to partnership. Looking for someone that wants to grow with our practice, work hard and develop relationships with local hospitals and surrounding communities. Strong communication skills, bedside manner and willingness to learn a must. Narrow window for interviews: email CV and letter of interest before March 1: footdocky@gmail.com
PRACTICE FOR SALE - BALTIMORE, MARYLAND
Established 40+ year old well-rounded practice of both surgical and non-surgical care with special emphasis on sports medicine. Medicare and BS/private insurance base, no Medical assistance. Needs to transition to a confident well trained individual. Purchase can include building. Contact:podiatrypracticesale@gmail.com
PM News Classified Ads Reach over 13,500 DPM's and Students
Whether you have used equipment to sell or our offering an associate position, PM News classified ads are the fastest, most-effective way of reaching over 13,500 DPM's. Write to bblock@podiatrym.com or call (718) 897-9700 for details. Weekly ad rates start as low as $115 for a 50-word ad. THIS OFFER DOES NOT APPLY TO BUSINESSES PROVIDING PRODUCTS OR SERVICES. Note: For commercial or display ads contact David Kagan at (800) 284-5451.
Disclaimers
Acceptance and publication by this newsletter of an advertisement, news story, or letter does not imply endorsement or approval by Kane Communications of the company, product, content or ideas expressed in this newsletter. Any information pertaining to legal matters should not be considered to be legal advice, which can only be obtained via individual consultation with an attorney. Information about Medicare billing should be confirmed with your State CAC.
---
THIS MESSAGE IS INTENDED ONLY FOR THE USE OF THE INDIVIDUAL OR ENTITY TO WHICH IT IS ADDRESSED AND MAY CONTAIN INFORMATION THAT IS PRIVILEGED, CONFIDENTIAL AND EXEMPT FROM DISCLOSURE.
---
If the reader of this message is not the intended recipient or an employee or agent responsible for delivering the message to the intended recipient, you are hereby notified that any dissemination, distribution, or copying of this communication is strictly prohibited. If you have received this communication in error, please immediately notify me and you are hereby instructed to delete all electronic copies and destroy all printed copies.
---
DISCLAIMER: Internet communications cannot be guaranteed to be either timely or free of viruses.
Guidelines
To Post a message, send it to: bblock@podiatrym.com
Notes should be original and may not be submitted to other publications or listservs without our express written permission.
Notes must be in the following form:
RE: (Topic)
From: (your name, DPM)
Body of letter. Be concise. Limit to 250 words or less). Use Spellchecker
Your name, DPM City/State
Subscribers are reminded that they have an ethical obligation to disclose any potential conflicts of interest when commenting on any product, procedure, or service.

Barry H. Block, DPM, JD
---
Browse PMNews Issues
Previous Issue | Next Issue