Browse PMNews Issues
Previous Issue | Next Issue
PM News
The Voice of Podiatrists

Serving Over 11,000 Podiatrists Daily

March 24, 2009 #3,501

Publisher-Barry Block, DPM, JD

A service of Podiatry Management http://www.podiatrym.com
E-mail us by hitting the reply key.
COPYRIGHT 2009- No part of PM News can be reproduced without the
express written permission of Kane Communications, Inc.
DOX PODIATRY - Electronic Medical Records
Please visit our NEW Website
DoxEmr.com
March Show Special – Free Tablet PC*
PRACTICE LIKE THE BEST
MAKE MORE MONEY - SAVE TIME - DOX PODIATRY
DOX Podiatry is the leading web-based EMR solution designed by Podiatrists for Podiatrists that enables you to make more money in less time. Let us show you how in a quick, 40 minute, web-based demonstration.
• COMPLETE PODIATRY SPECIFIC MEDICAL DATABASE
• NO CUSTOMIZATION REQUIRED • EVERYWHERE ACCESS
• READY TO USE DAY ONE • CERTIFIED SAFE & SECURE
DoxEmr.com
CALL 1-877-270-3518 OR EMAIL INFO@DOXEMR.COM
* Call for details
APMA NEWS
Jensen Installed as New APMA President
Ronald Jensen, DPM of California was installed today as The American Podiatric Medical Association's new president. Jensen stated, "I believe that the success of one podiatrist adds to the success of all podiatrists. We are a dynamic profession in a changing world. It is critical that podiatry maintains the strong presence on Capitol Hill that we have maintained for the past few years."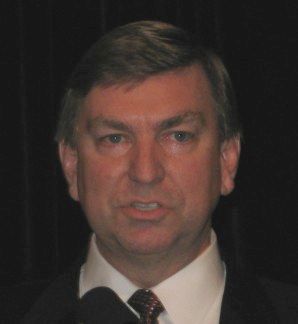 Dr. Ronald Jensen delivers inaugural address
Jensen also commented on the creation of APMA's new affiliate, the American Society of Podiatric Surgeons (ASPS) saying, "ASPS will guarantee that quality surgical education will be available to every APMA member.

Jensen succeeds Ross Taubman, DPM who reminded the APMA House of Delegates that "challenges bring opportunities." APMA Executive Director Glenn Gastwirth, DPM declared, "It is time for podiatry to stand up and face any discrimination based on our degree."
Revolutionary Tie-Less Lacing System
Orthofeet's innovative, patent-pending system combines laces with a hook and loop strap that eliminates the need for lacing up. Additional comfort features include: Breathable, stretchable upper; Soft, seamless fabric lining, padded with foam; Washable. For more information click here.
Get the Best - For Much Less!!! Orthofeet offers unparalleled diabetic shoe program: • The ultimate comfort & protection • Seamless fabric lining • The fastest fulfillment rate. • No back orders. • New great looking designs. • The best prices: Shoes - $42 to $52; Prefab Inserts - $8.95; Toe-Filler - $75.00;
Try & compare. Get the first 10 pairs at 50% Discount!!!
orthofeet.com 800-524-2845
PODIATRISTS IN THE NEWS
"Toe and Flow" Pairs Podiatrists with Vascular Surgeons: Armstrong
Los Angeles has one of the highest diabetes-related amputation rates in the country. Yet vascular surgeon Dr. George Andros can't seem to draw enough attention to the problem, which has skyrocketed not just here, but nationally. Andros is among hundreds of health professionals internationally who say that's simply too high and are trying to figure out what to do about it. They concluded a three-day meeting on diabetic feet Saturday in Los Angeles.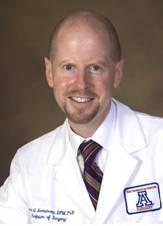 Dr. David G. Armstrong
Dr. David G. Armstrong, a podiatrist and director of the Southern Arizona Limb Salvage Alliance who co-chaired the conference with Andros said that simple visual foot exams (conducted regularly) and use of protective socks and shoes could preserve many limbs. "It seems so simple," Armstrong says. "But this area gets such a short shrift."
"The problem with diabetic foot care is that it hasn't had its own specialty," Armstrong says. "The care in this area is so fragmented." At last week's meeting, experts preached the "toe and flow" approach -- pairing a podiatrist and a vascular surgeon. "Almost immediately these amputation rates begin to drop" with such coordination, Armstrong says.
Source: Shari Roan, Los Angeles Times [3/22/09]

S.O.S to the Rescue!
In these times of economic difficulty, you need now, more than ever before, to keep your office running smooth and your patients satisfied. Your bottom-line depends on it. That means maximizing practice efficiency, improving management and operations systems and (critical to the process)…employing the team efforts of a productive, well-trained, staff! Lynn Homisak, PRT, Coordinator/Trainer of "SOS Podiatric Medical Staff Training Workshop" is bringing her one-day exclusive educational program for assistants, managers and doctors to:
♦ Embassy Suites Hotel – Ft. Lauderdale, FL – April 17th
♦ Oak Brook Renaissance Hotel – Oak Brook, IL – May 1st
To register or for more information contact: Lynn Homisak @ lynn@soshms.com or 1.866.832.6767 or visit soshms.com. Register today…Limited seating!
APMA HOUSE OF DELEGATES MEETING NEWS
APMA HOD Off to a Smooth Start
The 89th Annual Meeting of the American Podiatric Medical Association's House of Delegates (HOD) is underway in Washington, DC. Resolutions Chair Timothy Tillo, DPM smoothly handled 17 resolutions, of which 10 were forwarded to the full house with a "do pass" recommendation. Among the notable resolutions passed by the full HOD were ones establishing an APMA Litigation Center, and encouraging APMA state component societies to include young members on their boards.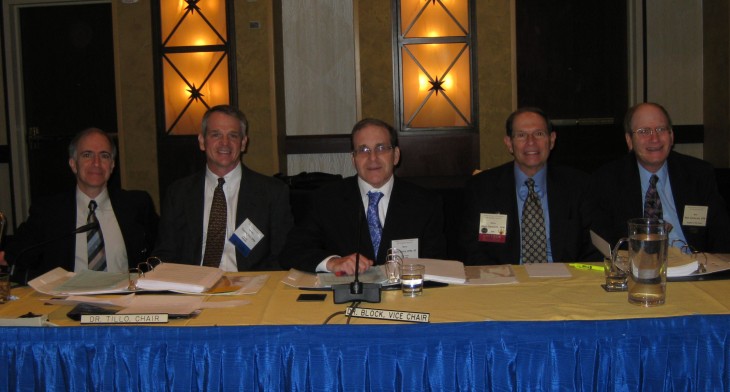 Drs. Jay Levrio (Parlimentarian), Tim Tillo (Chair), Barry Block (Vice Chair), Glenn Gastwirth (Executive Director, and Mark Schilansky (Speaker of the House) at Resolutions Committee.
Distinguished Service Citations were presented to Kenneth E. Burke, Phd (posthumously), Ronald Lepow, DPM, and William Munsey, DPM. The American Podiatric Medical Students Association (APMSA) presented its Kenison Award to Ira Kraus, DPM, and names ProLab Orthotics as its Company of the Year.
Several guests addressed the HOD, including William Hazlet, Jr., MD of the American Medical Association, Robert Chelin, DPM, President of the Internation Federaation of Podiatrists, and Janet McInnes, President of the Society of Chiropodists and Podiatrists.
PRESENT for BOARD REVIEW
PASS THE BOARDS !
Study at your own pace from your home or office, using state of the art online technology, for certification or recertification exams. Comprehensive curriculum of 138 lectures by the most well respected teachers in the country. Get your best chance of passing the Boards. Includes Boards by the Numbers at no additional cost, and mentoring lectures that teach effective strategies for answering difficult oral and text questions.
• Maximize the efficiency of your Board Review efforts utilizing state-of-the-art rich e-learning technology
• Instant CME credit for all lectures
• Most comprehensive board review available
Call 888 802-6888 or go to our website and join the many of your colleagues who are already using this revolutionary teaching tool
MEETING NEWS
DFCON 09 Marks Record Attendance and Support
There's no recession in diabetic foot care, if attendance and corporate support at DFCon 09 Global Diabetic Foot Conference are any indicators. The sixth DFCon meeting, held March 19-21, 2009, in Los Angeles, attracted a record of more than 1,000 physicians and other clinicians, researchers, scientists and limb salvage experts from all 50 U.S. states and more than 42 foreign countries to hear 40 international faculty discuss the latest developments in diabetic foot research and care. Corporate support also set a record, with more than 70 pharmaceutical and medical device exhibitors.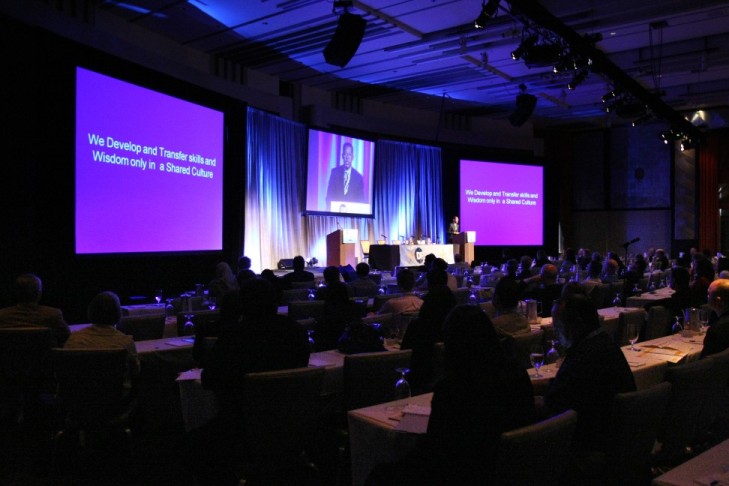 Dr. Larry Harkless Presents at DFCon 09 Global Diabetic Foot Conference
"DF Con, the largest annual diabetic foot meeting is unique because it brings together people from all over the world with the goal of reducing amputations," said David G. Armstrong, DPM, PhD, co-chairman of DFCon. Dr. Armstrong is professor of surgery and director of the Southern Arizona Limb Salvage Alliance (SALSA) at the University of Arizona College of Medicine in Tucson, AZ. The next DFCon meeting is set for March 18-20, 2010, again at the Renaissance Hollywood Hotel in Los Angeles.

Premium Web Sites that Generate New Patients!
"...1,269 new patients!" — Greg Renton, Orlando, FL
"...1,213 new patients!" — Dr. Robert J. Abrams, Newhall, CA
"...724 new patients!" — Dr. Mitchell Waskin, Richmond, VA
Officite has built over 4,000 Web sites worldwide. We have Podiatric specific content, experience with search engine marketing for a podiatry practice, and we make the process of setting up a site easy.
PM News Special: $1,000 OFF practice web site.
Click here for details or call Officite at (866) 889-4067.

Current Clients…upgrade to a new site design & our site editor…call for details!
RESPONSES / COMMENTS (CLINICAL)
RE: Nomir Hopes for Fall FDA Clearance of Laser For Oncyhomycosis
From: Richard A. Simmons, DPM
I have read with much interest about LASERs curing onychomycosis. I would imagine that this technology is being directed against our standard dermatophytes. I have submitted almost all of my patients' toenail specimens to an independent podiatric laboratory. What has astounded me is how few of my patients' "mycotic" toenails were caused by a dermatophyte....
Editor's note: Dr. Simmons' extended-length note can be read at: http://www.podiatrym.com/letters2.cfm?id=25312&start=1
MICROMAT NAIL-DRILL SYSTEM
FOR PATIENT COMFORT
Med-Pro Corporation features the Micromat 3000 Nail Drill System for debriding patients' nails by using a controlled water and alcohol combination spray. The spray also keeps the dust away from the doctor and down on the patient's feet, to be wiped away with a piece of gauze. Patients will love this drill as the combination of water and alcohol reduces the friction heat, allowing the doctor to work more aggressively. The Micromat features include variable speed control, spray adjustment, forward and reverse and a foot control. The nail drill system is manufactured in Switzerland. Med-Pro Corp. includes a two-year warranty on both parts and labor and a 30-day, money-back guarantee. All service is performed by Med-Pro Corp in the USA. We have just introduced a new line of autoclavable burrs to be used with the Micromat. However, the Micromat will also accept most standard podiatry burrs. For further information, go onto our website at medprocorp.com or phone us at 800-633-7761.
RESPONSES / COMMENTS (NON-CLINICAL) - PART 1
RE: PM News Marks Issue #3,500 & 15th Anniversary
From: Mike Rosenblatt, DPM, Alan Sherman, DPM
Congratulations on this wonderful milestone! Very few people understand how much work and how difficult it is to start and maintain a successful professional periodical. It is a tribute to not only Dr. Block's superb editorial skills, but also a description of thousands and thousands of hours in front of a computer screen, of pure tenacity...

PM News has given me and many others an opportunity to be heard. I am so grateful for that honor and opportunity. My hat's off to Dr. Block!

Mike Rosenblatt, DPM, San Jose, CA
Kudos and congratulations to Barry Block, DPM for providing so valuable a service to the podiatry profession and the industry that supports it. Thousands look forward to seeing PM News in their inbox each day and rely on it to stay connected to what is happening with the profession at large.
Alan Sherman, DPM, CCMEP, CEO, PRESENT e-Learning Systems
MEETING NOTICES
REGISTER NOW FOR THE OCPM SOUTHERN EXPOSURE SEMINAR!
The 4th Annual Southern Exposure Seminar, presented by The Ohio College of Podiatric Medicine, will be held Thursday – Sunday, April 23 – 26, 2009 at its new location, the Great Wolf Lodge Convention Center in Cincinnati, Ohio. With a new, expanded venue and an all-star lineup of guest speakers including Allen Jacobs, DPM; Warren Joseph, DPM; Doug Richie Jr., DPM; Bradley Bakotic, DO; and Stephen Pomerantz, MD, this year's Southern Exposure Seminar offers 26 CME hours.
To register for Southern Exposure or for more information, please visit ocpm.edu/SE2009 or call (216) 916-7547.
RESPONSES / COMMENTS (NON-CLINICAL) - PART 2
RE: Associate Compensation (David Zuckerman, DPM)
From: Steven Goldstein, DPM, Randy Bernstein, DPM
I totally disagree with the comments of the doctors who previously posted responses. You get what you pay for. I paid my associate 40% of what was collected. Her skills were excellent. When I was out for two months due to illness, she ran the entire office and kept income coming in. Her loyalty was worth every dollar. I also recommended giving the associate 50% of any income generated from patients he/she brings into the practice. When you give less, you get less.
Steven Goldstein, DPM, Royal Palm Beach, FL, Stevefootdr1@cs.com
In regard to paying associates more than 40%, are you crazy? Have you looked at your overhead lately? My overhead runs about 65% to 70%. I keep a close eye on my expenses and think that unless you pay almost nothing for rent, little for malpractice insurance, minimum wage to your employees, no health insurance for your staff, do no advertising, and sit in the dark with a one line telephone and no computers, you are going to have at least a 50% overhead. With a possible 21% cut coming from Medicare in the near future, I say 40% is being way too generous. Your associate should thank you for being so generous in the first place or he could go rent an office at $1,500 a month, pay $75,000 to build it out, buy power chairs, instruments, surgical equipment, medical supplies, office supplies, advertising, his own malpractice insurance and health insurance, software for billing, x-ray equipment, and put up with staff and associates that think they are worth a lot more than they really are. I'm all for being a fair man, but, your associate needs to get real.
Randy Bernstein, DPM, Dearborn Heights, MI, foottdude@aol.com
RESPONSES / COMMENTS (NON-CLINICAL) - PART 3
RE: Central Vacuum Attachment for Handpiece (Scott Evans, DPM)
From: Richard D Wolff, DPM, Jack Ressler DPM DPM
Here is what I did in my office: I bought a simple adaptor for keyboard cleaning from Allegro vaccuum systems. It costs $15. Here is a link to the product. allegrovacuums.com/new/index.php?form=product_view&id=113. I then connected a clear vinyl hose that I got from the hardware store (I think it was a dishwasher hose). It clamped right on to the adaptor. It cost a few dollars.
I bought a Dremel sheath made for my old canister vacuum from Jan L. I think it was about $125. Here is link to the product: janlinc.com/100A.htm#sheath The hose was just a little bigger than the sheath, so I wrapped electrical tape around the sheath to increase the size. Then it clamped right on with a hose clamp.

I have had the system for 16 months and it has been priceless.

Richard D Wolff, DPM, Oregon, OH, wolffie@sbcglobal.net

The central vacuum systems are very quiet and sleek-looking, but pose major drawbacks with upkeep and customer support. I remember seeing this system displayed at a seminar just a few years ago. I would hate to have invested thousands of dollars for this system, only to discover the company is no longer in business. Dr. Evans has a very good point with regard to the diameter of the hose. Decreasing the diameter in any part of the system makes the vacuum work much harder, greatly reducing the life of the vacuum. When designing my system, I tried to keep the diameter as large as possible in the adapter to allow the vacuum to run efficient and prolong its life. Even with this design, I advise keeping a low-power setting on the vacuum.
Jack Ressler DPM, Fort Lauderdale ,FL, jvacsystem@gmail.com

CODINGLINE CORNER
CURRENT TOPICS BEING DISCUSSED ON CODINGLINE'S LISTSERV INCLUDE:
o Taking Over Fracture Care
o Consultation Webinar
o Qualified Routine Foot Care Returns
o Checks Going to Associates - Not Group
o Modifier *-79*
Codingline subscription information can be found here
RESPONSES / COMMENTS (OBITUARIES)
RE: Mitch Pokrassa, DPM
I was shocked and saddened to hear that Mitch passed away. The time I spent with him as a resident was a fantastic and wonderful learning experience. I remember driving with him in his red Blazer around L.A. listening to the Doors, his favorite group, and eating at Versailles. The Baja x-ray conferences were always interesting with his participation. The days of heated educated discussion in Tijuana and Mexicali among Carl, Marc, Stan, Steve, Robert, Igor, and Mitch were the best experiences in my education. Even though I had not seen Mitch in over 15 years, the time with him will be cherished.
Howard Kimmel, DPM, MBA, Cleveland, OH

PODIATRY MANAGEMENT'S AFFORDABLE ONLINE CME
You can Earn 30 CPME-Approved CME Contact Hours Online
Earn 15 Contact Hours for only $139
(Less than $14 per credit)
http://www.podiatrym.com/cme.cfm
Choose any or ALL (30 CME Contact Hours) from the 20 CME articles posted
You Can Now Take Tests and Print Your CME Certificates Online
CLASSIFIED ADVERTISING
ASSOCIATE WANTED - FLORIDA
Associate needed for a dynamic multi-doctor practice in the Tampa Bay area. Partnership opportunity for the right candidate. Preference given to a PSR 24+ resident completing their education this spring/summer, and must have a Florida license. Well-established practice, high tech with EMR and digital x-rays, with specialties in sports medicine, surgery and wound care. No nursing homes or HMO's. Excellent hospital privileges available. Choose an area of practice concentration that you are passionate about and enjoy a lifestyle for yourself and your family that is second to none. E-mail: kimvelez@tampabay.rr.com

ASSOCIATE POSITION - CHANDLER/GILBERT/PHOENIX, ARIZONA
Seeking a well-trained, ethical and hard working graduate of a PSR 24+/36 Residency to join our growing multi-location practice. This is a practice with a nice mix of 35% surgery/trauma, 20% diabetic/wounds, 25% biomechanics, 20% pediatric. ER Call. Opportunity for partnership at 2 surgery centers. Very modern offices with EMR, U/S, Digital X-Ray, ESWT, Vascular Testing Machine. Excellent referral base, and a well-trained staff. Board eligible/certified a plus. Competitive salary, bonus structure, benefits. Please e-mail CV and references to FootAnkleAZ@aol.com
OFFICE SPACE/ MRI RENTAL – NYC, LI

Turn-key space available, daily, monthly; East 60th off Park Ave, East 22nd St. off 3rd Ave, and Plainview Long Island. JACHO-certified operating rooms available, as well as all surgical equipment and anesthesia. Extremity MRI Rental. Stark compliant. All exams read by board certified radiologist. Call for details. 516 476-1815
ASSOCIATE POSITION - CHICAGO AREA
Join one of the most successful, long-established podiatry practices in the Chicago area, with excellent salary and benefits. We have an immediate opening for a full-time podiatrist in a multi practice location in Chicago. Must have two years of surgical residency. Please e-mail resume to f-massuda@footexperts.com
CASE CONSULTING
Dennis Shavelson, DPM is now accepting referrals of difficult cases involving biomechanics, surgical complications, non-healing wounds diagnostic and treatment dilemma's and subtalar stenting from DPM'S. Full reporting with second opinion only, rapid return after care and assumption of care options. Medicare and Out-of-Network Only. (212) 288-3668 or drsha@lifestylepodiatry.com
PRACTICE FOR SALE - CENTRAL FL
Practice sale, in beautiful, high quality of life, growing area; 2000 sf bldg. fully equipped/ designed for podiatry; excellent location, features & exposure; near hospital, wound and HBO center. Great opportunity for expansion; good insurance climate. 352-357-7499 / E-mail: windnwave@earthlink.net
PRACTICE FOR SALE-SOUTHEAST MICHIGAN-BRIGHTON
Great opportunity. Established 11 years. Excellent location. Large illuminated sign on busy main road. Mid to high income growth area. Supplies, furniture, and equipment included: X-Cell X-Ray w Hope Autoprocessor, Pelton-Crane Autoclave, Parks Lab, Bircher, Burton Floor Light, OR with Lighting, bone instruments and power equipment, Midmark Chairs. Quality 1,350 sf build-out. convenient parking. Must sacrifice. Call (248) 565-5266. Docpod@aol.com
NEEDED CHICAGO -- NW IND & BALTIMORE/WASHINGTON, DC PODIATRISTS
Home Physicians, a medical group specializing in house calls is looking to hire podiatrists in Chicago, Northwest Indiana, and Baltimore, MD. Full and part-time positions are available. Competitive Compensation including malpractice. Contact Scott Schneider. Phone-773-342-4201 FAX 773-486-3548-E-Mail sschneider@homephysicians.com Visit our website
PRACTICE FOR SALE – FLORIDA
Who wants to continue making good money in a down economy, and would like to live in Florida on the coast? I have been working for 45 years and have had enough. My business grosses over $900,000 a year and nets over S250,000. I see approx. 40 patients a day and am sitting on a little gem. Office space is approx. 2,000 Sq. Ft. Hospital surgical center very close. If you are seriously interested, I help you get qualified for a loan. Large scope of practice in Florida. $525,000. Contact me at Hagen5644@yahoo.com
PRACTICE FOR SALE - FLORIDA—CENTRAL/SOUTH
Turn-key operation grossing $570,000 annually based on one full-time doctor. Great opportunity for growing the top-line. Surgery is only 14% of the professional man-hours; it can significantly increase income. Medicare makes up 64% of revenues. Seller will assist with transition. Call 863-688-1725, ask for Chas.

PM Classified Ads Reach over 11,500 DPM's and Students
Whether you have used equipment to sell or our offering an associate position, PM News classified ads are the fastest, most-effective way of reaching over 11,500 DPM's. Write to bblock@podiatrym.com or call (718) 897-9700 for details. THIS OFFER DOES NOT APPLY TO BUSINESSES PROVIDING PRODUCTS OR SERVICES. Note: For commercial or display ads contact David Kagan at (800) 284-5451 Ext 110.
Disclaimers
Acceptance and publication by this newsletter of an advertisement, news story, or letter does not imply endorsement or approval by Kane Communications of the company, product, content or ideas expressed in this newsletter. Any information pertaining to legal matters should not be considered to be legal advice, which can only be obtained via individual consultation with an attorney. Information about Medicare billing should be confirmed with your State CAC.
---
THIS MESSAGE IS INTENDED ONLY FOR THE USE OF THE INDIVIDUAL OR ENTITY TO WHICH IT IS ADDRESSED AND MAY CONTAIN INFORMATION THAT IS PRIVILEGED, CONFIDENTIAL AND EXEMPT FROM DISCLOSURE.
---
If the reader of this message is not the intended recipient or an employee or agent responsible for delivering the message to the intended recipient, you are hereby notified that any dissemination, distribution, or copying of this communication is strictly prohibited. If you have received this communication in error, please immediately notify me and you are hereby instructed to delete all electronic copies and destroy all printed copies.
---
DISCLAIMER: Internet communications cannot be guaranteed to be either timely or free of viruses.
Guidelines
To Post a message, send it to: bblock@podiatrym.com
Notes should be original and may not be submitted to other publications or listservs without our express written permission.
Notes must be in the following form:
RE: (Topic)
From: (your name, DPM)
Body of letter. Be concise. Limit to 250 words or less). Use Spellchecker
Your name, DPM City/State
Subscribers are reminded that they have an ethical obligation to disclose any potential conflicts of interest when commenting on any product, procedure, or service.

Barry H. Block, DPM, JD
---
Browse PMNews Issues
Previous Issue | Next Issue