Browse PMNews Issues
Previous Issue | Next Issue
PM News
The Voice of Podiatrists

Serving Over 11,000 Podiatrists Daily

March 31, 2009 #3,507

Publisher-Barry Block, DPM, JD

A service of Podiatry Management http://www.podiatrym.com
E-mail us by hitting the reply key.
COPYRIGHT 2009- No part of PM News can be reproduced without the
express written permission of Kane Communications, Inc.
DOX PODIATRY - Electronic Medical Records
Please visit our NEW Website
DoxEmr.com
March Show Special – Free Tablet PC*
PRACTICE LIKE THE BEST
MAKE MORE MONEY - SAVE TIME - DOX PODIATRY
DOX Podiatry is the leading web-based EMR solution designed by Podiatrists for Podiatrists that enables you to make more money in less time. Let us show you how in a quick, 40 minute, web-based demonstration.
• COMPLETE PODIATRY SPECIFIC MEDICAL DATABASE
• NO CUSTOMIZATION REQUIRED • EVERYWHERE ACCESS
• READY TO USE DAY ONE • CERTIFIED SAFE & SECURE
DoxEmr.com
CALL 1-877-270-3518 OR EMAIL INFO@DOXEMR.COM
* Call for details
PODIATRISTS IN THE NEWS
VA Podiatrist Discusses Treatment for Gout
The causes of gout can vary, said Dr. Michael Donato, a podiatrist at Rappahannock Foot and Ankle Specialists as well as a spokesperson for the American College of Foot and Ankle Surgeons. "A person having a crab-fest cookout and a few beers on the weekend--that's the classic way we think of gout, but it's not the only way," Donato said.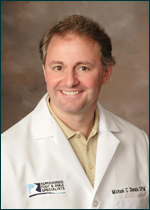 Dr. Michael Donato
People always come down with gout because of an imbalance of uric acid in the body, but that imbalance can come from secreting either too much or too little uric acid, Donato said. Donato initially prescribes colchicine for treatment until the swelling goes down. However, he said the drug has some nasty gastrointestinal side-effects such as severe nausea and diarrhea.
"Literally, when we prescribe it, we say that a patient should use a certain amount every few hours either until the pain goes away or until they can no longer put up with the gastrointestinal side effects," he said. For people who can't stand to use colchicine, an alternative treatment is to use large doses of painkillers such as ibuprofen.
Source: Lauren Orsini, The Free Lance-Star [3/29/09]
Get the Best - For Much Less!!!
Fit your diabetic patients with the FINEST SHOES & INSERTS, and SAVE:
• The Best Protection: Soft, seamless fabric lining with extra foam padding; Non-binding forefoot upper design (with no overlays, or stiff materials at the forefoot area).
• Innovative Designs: including revolutionary Tie-Less shoes, Slip-On shoes, and many great looking designs with stretchable uppers. For nore information click here
• The Best Prices: Shoes - $42 to $52; Prefab Inserts (with Arch-Filler) - $8.95; Toe-Filler - $75.00;
• The Best Service: The fastest fulfillment rate, and the lowest in back orders. Since Orthofeet owns a shoe factory overseas, it allows it to insure the highest quality and unsurpassed service. In the rare case that a shoe is missing, Orthofeet will pay for international air delivery to keep all products in stock.
Try & compare. Get the first 10 pairs at 50% Discount!!! orthofeet.com 800-524-2845
AT THE COLLEGES
CSPM Announces New Surgical Textbook
The Department of Podiatric Surgery at the California School of Podiatric Medicine (CSPM) at Samuel Merritt University has produced a new surgical textbook, Lesser Forefoot Surgery, published by Data Trace. This textbook is a compilation of 30 years of experiences by the members of the surgery department in evaluating and determining the most effective surgical therapies for the more common problems of the lesser forefoot.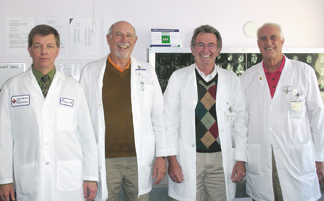 (L-R) Drs. Albert Burns, Joshua Gerbert (editor), William Jenkin (chairman), and Joel Clark
Lesser Forefoot Surgery presents the pathomechanics and evaluation of the most common lesser forefoot pathologies in a problem-specific manner that cannot be found in any currently published textbook. It also presents in a "cookbook" format the indications and contraindications for the common surgical procedures utilized to correct lesser forefoot pathology, along with a detailed description of the surgical techniques. Each chapter involving the surgical procedures also discusses the recommended post-operative management and the inherent complications associated with the procedure.

Birkenstock Custom-made Orthotic Sandals Are Back!
Giving your patient's what they want AND what they need
Just in time for the spring and summer months, the exceptionally popular Custom Orthotic Sandal and Clog Program from Langer is back. And it's better than ever. We have expanded our product line to include sixteen styles from Birkenstock, Naot and Bite. Patients appreciate being able to wear fashionable footwear, and podiatrists are confident that the compliance with their orthotic therapy is enhanced. As a direct pay product, it's a benefit for the practice as well. To find out more or to order your starter kit, call 800-645-5520 or click here.
Langer Biomechanics – Where knowledge makes the difference and technology makes it work
MEETING NEWS
Podiatry Shines at NAP National Meeting
The 2009 National Academy of Practice (NAP) forum was held in Alexandria, VA March 27 and 28. The Podiatry Academy, led by Rosaria LaBarbera, DPM and Harold Glickman, DPM, both past APMA Presidents, organized a special session in conjunction with the Psychology Academy entitled "Head to Toe: Patient Centered Care." The session generated much interdisciplinary conversation that kicked off the NAP Forum.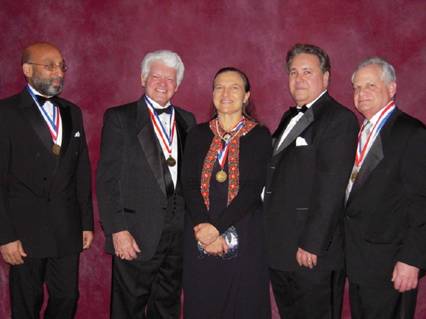 (L-R) Drs. Lester Jones, Rosario LaBarbera, Janet Simon, Mark Dollard, and Harold Glickman
The Podiatry Academy featured John Steinberg, DPM from Georgetown University Medical School who led the case study presentation by relating how podiatry in the management of chronic disease patients utilizes an interdisciplinary management model. The NAP has earned the ear of important policy makers and is spearheading dialogue on the need for interdisciplinary collaboration in health policy reform efforts.
The Podiatry Academy welcomed its newest inductee Mark Dollard, DPM who practices in Sterling, VA and is a clinical instructor at Georgetown University and with the Inova Fairfax Podiatric Residency Program. Additional information about NAP and its health policy initiatives can be found at NAPractice.org.
Biofreeze® Pain Relievers 2009 Spring Promo
HURRY! Only 4 Days left.
Order patient-size products today!
SAVE 20%!
Buy 20 Tubes, Roll-ons or Sprays and get 4 FREE
PLUS
Get a sample of our NEW 2 oz. travel-friendly size Spray
New Biofreeze® Pain Relieving Spray
This new formula provides improved performance
and longer lasting pain relief for those hard-to-reach areas.
CALL YOUR AUTHORIZED DEALER NOW TO ORDER.
Call 1-800-246-3733 to locate a Dealer near you.
Don't forget to request your Patient Education brochures
customized with your name and phone number,
with a sample of Biofreeze Gel attached at NO CHARGE.
HEALTHCARE INSURANCE NEWS
Wellpoint Sued for Underpaying for Out-Of-Network Services
The American Medical Association (AMA) and several medical societies filed a class-action lawsuit against WellPoint, Inc., accusing it of underpaying physicians for out-of-network medical services, resulting in patients paying an excessive portion of the medical bill. The suit, filed March 25 in Los Angeles federal court, follows similar class-action lawsuits last month against Aetna Health, Inc. and CIGNA Corp.
The three AMA lawsuits claim that each insurance company conspired with Ingenix, a unit of UnitedHealth Group, on a price fixing scheme that relied on an obscure database to set artificially low reimbursement rates for out-of-network care. An investigation by New York Attorney General Andrew Cuomo (D) found that the Ingenix database was intentionally rigged to allow insurers to shortchange reimbursements. WellPoint said in a statement that it was committed to providing appropriate reimbursement for out-of-network services. The company said it was reviewing the suit and had no further comment.

Source: Health Plan Week [3/30/09]
MedTemps© EASY-TO-USE, Speech Recognition enabled EMR for $799
Trigram Technology MedTemps© enables rapid patient charting, document creation right in Microsoft Word. A podiatrist can create any type of medical report in Microsoft Word, save it to a secure industry standard SQL database, and any authorized member of your staff can retrieve the report at the moment it is needed. Copy-forward clinical data from past visits into the current session to speed charting. Assign, track, and respond to tasks in any busy office setting made more efficient by intuitive staff inter-communications right in Microsoft Office.
Combine MedTemps© with Vista speech recognition or Dragon NaturallySpeaking and a Trigram Technology medical language model and you will be creating documents in minutes and eliminating transcription costs! Contact Trigram Technology to setup a live online demo. Call 714-379-2191 or email joe@trigramtech.com Free Installation and Training for PM News users THIS MONTH ONLY!!!
PRACTICE MANAGEMENT TIP OF THE DAY
Build Influence Through Mentoring
Look around you at all the well-meaning and talented yet inexperienced people on your staff. Take them under your wing and you will build strong relationships that can buoy your career. Here are some easy ways to mentor others:
• Schedule "sit-ins." Invite them to observe silently while you hold interviews, attend important meetings and the like. Afterward, discuss why you said and did certain things.
• Talk about your problems. When you face a workplace dilemma, tell employees about the options you are weighing and the factors you are considering. They will hone their own instincts, especially after you share what you decided and why.
• Increase their responsibilities. Assign tasks that are just beyond their comfort level. Stay available to guide them, helping them determine their approach. Then discuss their results.
• Spotlight their goals. Seek ways to realize progress. Provide honest feedback to allow employees to see what more they are capable of.
Source: Adapted from "The 8 Best Ways to Mentor Someone," by Alison Green via Communication Briefings
Provider Resources
Wanted! Qualified podiatrists for outstanding practice opportunities. Join us at Booths 500 and 502 - Don't find a job, find your career. Visit with us at the MIDWEST Conference April 2, 3, and 4, 2009. We will be interviewing candidates for practices across the United States. Please bring your C.V. We will meet with you and discuss a potential match.
If you can't attend, you can contact us at consulting@providerresources.com, visit us on the web at www.providerresources.com, or call (888) 776 2430 ext 2.
Visit our website at www.providerresources.com
QUERIES (CLINICAL)
Query: Hyperuricemia Management
From: Dean Clement, DPM

I had a rep in my office talking about a new drug for managing hyperuricemia. I was a little surprised that she was calling on me, as my recollection of school and residency was that we let the PCPs manage hyperuricemia and we deal with acute gouty episodes.

Is anybody out there medically managing hyperuricemia, and if so, what has been your experience with scope of practice challenges, etc.?

Dean Clement, DPM, Chandler, AZ
Premium Web Sites that Generate New Patients!
"...1,269 new patients!" — Greg Renton, Orlando, FL
"...1,213 new patients!" — Dr. Robert J. Abrams, Newhall, CA
"...724 new patients!" — Dr. Mitchell Waskin, Richmond, VA
Officite has built over 4,000 Web sites worldwide. We have Podiatric specific content, experience with search engine marketing for a podiatry practice, and we make the process of setting up a site easy.
PM News Special: $1,000 OFF practice web site.
Click here for details or call Officite at (866) 889-4067.

Current Clients…upgrade to a new site design & our site editor…call for details!
RESPONSES / COMMENTS (CLINICAL) - PART 1
RE: Chronic Calluses and Skin Fissures (James M. Petko, DPM)
From: Multiple Respondents
When I have a heel with chronic skin fissures, I treat it like a chronic wound and I debride the callused skin until it is bleeding (acute wound) and then I place Steri-strips across the fissures and place a 4 inch piece of Elastoplast over the site and have them PWB with no showering foe three days - usually it heals them up and then they start with the urea lotions after showering.
Joel Morse, DPM, Washington, DC, foxhallfoot@aol.com
If other parts of her body are affected (hands, tongue, etc.), you may want to consider a diagnosis of pachyonichia congenta. This a rare autosomal dominant palmoplantar keratoderma. More information can be found at: PC-project.org
David L. Nielson, DPM, Roanoke, VA, drdavidnielson.com
Debride the fissure. An exfoliate ointment under occlusion, such as Keralac qhs is indicated. Open back shoe wear should be avoided. A rubber heel cup in closed shoes reduces friction, and pain if present. Double check her thyroid levels to ensure the cutaneous manifestation isn't a variant of thyroid acropachy, which is not uncommon in the heels of people w/ hypothyroidism.
Barry Mullen, DPM, Hackettstown, NJ, yazy630@aol.com
Dr. Comfort Shoes: The Finest Quality Diabetic Footwear Period!
When you put your patients in Dr. Comfort Shoes, you're giving them the highest quality footwear available and adding significant value to your practice.
Here are some of the reasons why Dr. Comfort is the best value in diabetic shoes:
• Free returns
• We provide marketing for you, with over 20,000 discrete referrals every year.
• We advertise in over a dozen diabetic and consumer publications each month.
• There's no need for a large inventory – our fitting center contains every size and style.
Call 800-556-5572 or email Dr. Comfort now to experience exceptional quality and profitability with our exclusive turn-key program.
RESPONSES / COMMENTS (CLINICAL) ACTIVE PART 2
RE: Heel Pad Stabilization (Calvin Britton, DPM)
From: Tip Sullivan, DPM
If your conservative efforts fail, I would certainly try the thick GraftJacket and pull it across the entire heel so that it can incorporate around the edges and stay there. Also, I might see if she was willing to use a posterior rocker bottom @20 degrees. If she has the other things that you say — pronated calcaneal position -- I would inform her of potential structural changes that may likely occur in the future, and offer her some options of treatment--- i.e.,-see if she wants to treat the problem at hand or the whole ball of wax.

Tip Sullivan, DPM, Jackson, MS, tsdefeet@msfootcenter.net
MEETING NOTICES
DON'T COME TO THE CHERRY BLOSSOM DERMATOLOGY SEMINAR JUST TO EARN THE CREDITS. COME FOR THE EXCEPTIONAL UNIQUE LECTURES

THIS IS NOT YOUR TYPICAL PODIATRY SEMINAR
April 18 – 19, 2009 WASHINGTON, DC 12 CME'S
Pigmented Streaks in Nails • Dermoscopy • Non Mechanical keratotic lesions • Verruca • Burns/ Frostbite tx • Structure and Function of skin • Flaps and grafts – learn how to excise lesions and close skin • Injection therapy • Melanoma and how to differentiate • Ethnic Skin Dermatology • Skin lesions based on color • Skin disease as a mirror of systemic disease • Compounding – the cutting edge information • Dermatopathology basics • How to read a pathology report • Eczema, rashes and high potency steroids • Case Review Panel
Go to www.dermfoot.com and register for program online with Paypal Or contact Joel Morse, DPM at foxhallfoot@aol.com or 202-966-4811.
---
For a list of all meetings go to: www.podiatrym.com/meetings.pdf
RESPONSES / COMMENTS (NON-CLINICAL)
RE: Should I Keep My DEA Number Active? (Name Withheld)
From: Joel Lang, DPM
Rather than taking advice from various practitioners who may or may not know the right answer, call the DEA and get to the office that issues these licenses.
Get the right answer from them. Government agencies are not the "enemy." On the contrary, they are anxious to help people do the right thing and give good advice when you get to the right person.
Joel Lang, DPM, Cheverly, MD, langfinancial@verizon.net
PODIATRY MANAGEMENT'S AFFORDABLE ONLINE CME
You can Earn 30 CPME-Approved CME Contact Hours Online
Earn 15 Contact Hours for only $139
(Less than $14 per credit)
http://www.podiatrym.com/cme.cfm
Choose any or ALL (30 CME Contact Hours) from the 20 CME articles posted
You Can Now Take Tests and Print Your CME Certificates Online
CLASSIFIED ADS
PRACTICE FOR SALE - FLORIDA—CENTRAL/SOUTH
Turn-key operation grossing $570,000 annually based on one full-time doctor. Great opportunity for growing the top-line. Surgery is only 14% of the professional man-hours; it can significantly increase income. Medicare makes up 64% of revenues. Seller will assist with transition. Call 863-688-1725, ask for Chas.
ASSOCIATE POSITION - CHANDLER/GILBERT/PHOENIX, ARIZONA
Seeking a well-trained, ethical and hard working graduate of a PSR 24+/36 Residency to join our growing multi-location practice. This is a practice with a nice mix of 35% surgery/trauma, 20% diabetic/wounds, 25% biomechanics, 20% pediatric. ER Call. Opportunity for partnership at 2 surgery centers. Very modern offices with EMR, U/S, Digital X-Ray, ESWT, Vascular Testing Machine. Excellent referral base, and a well-trained staff. Board eligible/certified a plus. Competitive salary, bonus structure, benefits. Please e-mail CV and references to FootAnkleAZ@aol.com
OFFICE SPACE/ MRI RENTAL – NYC, LI
Turn-key space available, daily, monthly; East 60th off Park Ave, East 22nd St. off 3rd Ave, and Plainview Long Island. JACHO-certified operating rooms available, as well as all surgical equipment and anesthesia. Extremity MRI Rental. Stark compliant. All exams read by board certified radiologist. Call for details. 516 476-1815
ASSOCIATE POSITION - CHICAGO AREA
Join one of the most successful, long-established podiatry practices in the Chicago area, with excellent salary and benefits. We have an immediate opening for a full-time podiatrist in a multi practice location in Chicago. Must have two years of surgical residency. Please e-mail resume to f-massuda@footexperts.com
ASSOCIATE NEEDED - MIAMI DADE FLORIDA
Partnership/buy out opportunity for the right candidate. Well-established modern practice. EMR , digital x-rays, gait scan etc. Excellent hospital privileges. SALARY...two options. $50,000 starting, 40% of everything you generate over $120,000, 50% over $200,000, 55% over 250,000 and 60% of everything you generate over $350,000. Want a fixed salary instead? $80,000 a year. I feed you patients and provide an excellent well-trained staff. Contact doctorinhialeah@aol.com
PRACTICE FOR SALE - CENTRAL FL
Practice sale, in beautiful, high quality of life, growing area; 2000 sf bldg. fully equipped/ designed for podiatry; excellent location, features & exposure; near hospital, wound and HBO center. Great opportunity for expansion; good insurance climate. 352-357-7499 / E-mail: windnwave@earthlink.net
PRACTICE FOR SALE-SOUTHEAST MICHIGAN-BRIGHTON
Great opportunity. Established 11 years. Excellent location. Large illuminated sign on busy main road. Mid to high income growth area. Supplies, furniture, and equipment included: X-Cell X-Ray w Hope Autoprocessor, Pelton-Crane Autoclave, Parks Lab, Bircher, Burton Floor Light, OR with Lighting, bone instruments and power equipment, Midmark Chairs. Quality 1,350 sf build-out. convenient parking. Must sacrifice. Call (248) 565-5266. Docpod@aol.com
NEEDED CHICAGO -- NW IND & BALTIMORE/WASHINGTON, DC PODIATRISTS
Home Physicians, a medical group specializing in house calls is looking to hire podiatrists in Chicago, Northwest Indiana, and Baltimore, MD. Full and part-time positions are available. Competitive Compensation including malpractice. Contact Scott Schneider. Phone-773-342-4201 FAX 773-486-3548-E-Mail sschneider@homephysicians.com Visit our website
PODIATRIST NEEDED FOR MIAMI-DADE COUNTY
Multi office practice needs doctor of podiatry for full time and/or part time for private office, clinics, and nursing homes. Great opportunity to grow with and unlimited income potential. Offices in Miami, Hialeah, Westchester, and Cutler Ridge. Email to feetdoctor@aol.com
ASSOCIATE POSITION – VICTORIA, CANADA
Beautiful Victoria, B.C. Canada on the ocean, fast growing area. Associate for multi-office full scope practice. Licenser exam to be given in June 2009. Reply to dr.cole@shaw.ca
ASSOCIATE NEEDED - MIAMI DADE FLORIDA
Partnership/buy out opportunity for the right candidate. Well-established modern practice. EMR , digital x-rays, gait scan etc. Excellent hospital privileges. SALARY...two options. $50,000 starting, 40% of everything you generate over $120,000, 50% over $200,000, 55% over 250,000 and 60% of everything you generate over $350,000. Want a fixed salary instead? $80,000 a year. I feed you patients and provide an excellent well-trained staff. Contact doctorinhialeah@aol.com
PM Classified Ads Reach over 11,500 DPM's and Students
Whether you have used equipment to sell or our offering an associate position, PM News classified ads are the fastest, most-effective way of reaching over 11,500 DPM's. Write to bblock@podiatrym.com or call (718) 897-9700 for details. THIS OFFER DOES NOT APPLY TO BUSINESSES PROVIDING PRODUCTS OR SERVICES. Note: For commercial or display ads contact David Kagan at (800) 284-5451 Ext 110.
Disclaimers
Acceptance and publication by this newsletter of an advertisement, news story, or letter does not imply endorsement or approval by Kane Communications of the company, product, content or ideas expressed in this newsletter. Any information pertaining to legal matters should not be considered to be legal advice, which can only be obtained via individual consultation with an attorney. Information about Medicare billing should be confirmed with your State CAC.
---
THIS MESSAGE IS INTENDED ONLY FOR THE USE OF THE INDIVIDUAL OR ENTITY TO WHICH IT IS ADDRESSED AND MAY CONTAIN INFORMATION THAT IS PRIVILEGED, CONFIDENTIAL AND EXEMPT FROM DISCLOSURE.
---
If the reader of this message is not the intended recipient or an employee or agent responsible for delivering the message to the intended recipient, you are hereby notified that any dissemination, distribution, or copying of this communication is strictly prohibited. If you have received this communication in error, please immediately notify me and you are hereby instructed to delete all electronic copies and destroy all printed copies.
---
DISCLAIMER: Internet communications cannot be guaranteed to be either timely or free of viruses.
Guidelines
To Post a message, send it to: bblock@podiatrym.com
Notes should be original and may not be submitted to other publications or listservs without our express written permission.
Notes must be in the following form:
RE: (Topic)
From: (your name, DPM)
Body of letter. Be concise. Limit to 250 words or less). Use Spellchecker
Your name, DPM City/State
Subscribers are reminded that they have an ethical obligation to disclose any potential conflicts of interest when commenting on any product, procedure, or service.

Barry H. Block, DPM, JD
---
Browse PMNews Issues
Previous Issue | Next Issue