Browse PMNews Issues
Previous Issue | Next Issue
PM News
The Voice of Podiatrists

Serving Over 12,500 Podiatrists Daily

April 07, 2011 #4,128

Publisher-Barry Block, DPM, JD

A service of Podiatry Management http://www.podiatrym.com
E-mail us by hitting the reply key.
COPYRIGHT 2011- No part of PM News can be reproduced without the
express written permission of Kane Communications, Inc.
DOX PODIATRY – Electronic Medical Records
START OFF THE NEW YEAR RIGHT: 1st MONTH FREE
Over 500 Podiatry Offices and Growing
Call 877-270-3518
PRACTICE LIKE THE BEST
MAKE MORE MONEY - SAVE TIME - DOX PODIATRY
DOX Podiatry is the leading web-based EMR solution designed by Podiatrists for Podiatrists that enables you to make more money in less time. Let us show you how in a quick, 40 minute, web-based demonstration.
• COMPLETE PODIATRY SPECIFIC MEDICAL DATABASE
• NO CUSTOMIZATION REQUIRED • EVERYWHERE ACCESS
• READY TO USE DAY ONE • CERTIFIED SAFE & SECURE
http://www.DoxEmr.com
$44,000 Economic Stimulus Article at: http://doxemr.wordpress.com/
CALL 1-877-270-3518 OR EMAIL INFO@DOXEMR.COM
PODIATRISTS IN THE NEWS
IL Podiatrist Discusses Prevention of Corns and Calluses
Calluses can form in various places on the foot – but corns always appear on top. What causes them? Pressure on the skin caused by the way you walk, structure of your foot, and non-supportive or ill-fitting shoes. Pronation – rotating your foot in and down as you walk – is another factor. It can trigger calluses on the sides of the big toes and bottom of your feet, says Chicago podiatrist, Dr. Marlene Reid.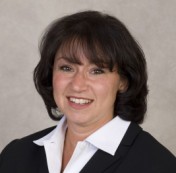 Dr. Marlene Reid
"Hammertoes" – crooked toes that stem from too-high heels or too short or narrow shoes – "are also notorious for causing corns because they make the top of the toes rub against the shoe," she says. Although those bumps are unattractive, calluses and corns are the body's defense mechanism. "The body produces callus material to protect itself from irritation," Reid explains. "Prevention is really the goal," Reid says. "It's much harder to deal with the problems after they've developed." Creams with urea can help too, she says.
Source: Peacefm.com [4/5/11]
AT THE COLLEGES
CSPM Students Provide Free Foot Care at California's Border Town
Sunscreen, check. Camera and sunglasses, check. Scalpels, gloves, and reference books, check. The last items may seem peculiar for a spring break vacation, but for a small group of students from the California School of Podiatric Medicine (CSPM), and the School of Nursing, two schools within Samuel Merritt University (SMU) based in Oakland, California, packing diagnostic and medical instruments will help provide foot care to uninsured residents of San Ysidro, a community in San Diego County.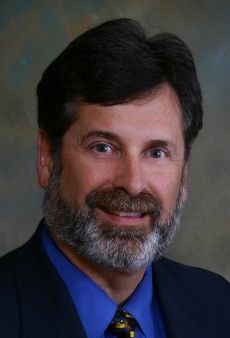 Dr. Tim Dutra
San Ysidro is home to the world's busiest border crossing, where U.S. Interstate 5 crosses into Mexico at Tijuana. "We wanted to focus on migrant population coming from border towns, because research shows those are places where healthcare is an issue," says Tim Dutra, DPM, CSPM assistant professor.
PODIATRISTS IN THE COMMUNITY
Richmond Magazine Recognizes CT Podiatrists as "Top Docs"
In conducting our 2011 survey, we asked local physicians to tell us whom they would recommend in 53 categories. We sent letters to more than 3,700 doctors, asking them to complete our online survey. From that list of licensed practitioners obtained from the Virginia Department of Health Professions, a confidential panel of well-established physicians also reviewed the list and gave input; however, Richmond Magazine's editors made the final decisions.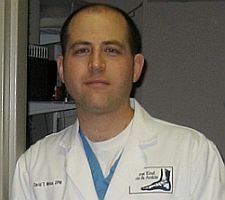 Dr. David Weiss
The top voter-getter among podiatrists was Dr. David Weiss. Also recognized as "Top Docs" (in alphabetical order) were Drs. Jeffrey Frost, Simon Mest, Scott Vantre, and Mitchell Waskin.
Source: Tina Eshleman, Richmond Magazine, [April 2011]
PODIATRISTS AND THE LAW
VA Podiatrist Arrested on Felony Charges
The Loudoun County sheriff's office has arrested Dr. Mehul J. Shah, 39, a podiatrist who practices in Ashburn at the Dulles Foot and Ankle Institute. Shah reportedly enlisted the services of a Fairfax-based agency called Elite Angels. An Angel and her bodyguard arrived, but, apparently "highly intoxicated" according to the sheriff's office, Shah demanded more than just dancing from the Angel, who demurred. Shah allegedly responded by pulling out his shotgun.
The Angel, a 29-year-old Fairfax woman, fled, followed by Shah, who allegedly fired off one round in the direction of her and her bodyguard. A neighbor promptly appeared with his own weapon. Rather than a duel in the parking lot, the neighbor was able to convince Shah to put his gun down, Investigator Vince Dibenedetto said, and deputies arrived to take him to jail.
Source: Tom Jackman, The Washington Post [4/5/11]
Billing is the most important part of your practice. You deserve to get paid for what you do. Are you? Revenue Solutions is a podiatry specific billing company. Call our office at 615-810-5660. Click here to visit our website
QUERIES (NON-CLINICAL)
Query: Platform for Orthopedic Exam Table
Is there a platform available that could be placed caddie corner to a traditional orthopedic exam table so that podiatric procedures could be performed more comfortably? I presently have patients with their backs against a wall with their legs straight out. I am looking for something high enough to place under patients' calves or ankles to hold them straight out and not bent at the knee. If anyone has a product or a source that fits this description, I would appreciate this information.
Alan Berman, DPM, Carmel, NY
RESPONSES / COMMENTS (CLINICAL) - PART 1a
RE: Chronic Stasis Dermatitis Draining Lymph Fluid (Frank J. DiPalma, DPM)
From: Evan F. Meltzer, DPM, Roody Samimi, DPM
I am currently treating three patients with symptoms similar to those of Dr DiPalma's patient. Profore (Smith & Nephew) is a four-layer compression dressing that comes in a box. It is superior to an Unna boot, and the compression applied is reproducible with the third layer. You might also give serious consideration to applying a bio-engineered product to the ulcerated area. I recommend Apligraf (Organogenesis) or Dermagraft (Advanced Biohealing) in this case. I believe several weekly applications of either of these materials to the ulcer under Profore will rapidly clear up your patient's condition. Follow this with compression stockings and skin care after healing.
Disclaimer: I have no financial relationship with any of these companies.
Evan F. Meltzer, DPM, Jackson, MS, Evan.Meltzer@va.gov
Try concomitant pump therapy -- is your patient already on that?
Roody Samimi, DPM, Cincinnati, OH, roody.samimi@gmail.com
RESPONSES / COMMENTS (CLINICAL) - PART 1b
RE: Chronic Stasis Dermatitis Draining Lymph Fluid (Frank J. DiPalma, DPM)
From: Jeffrey Kass, DPM
Consider using Vac therapy. Kalypto makes a very nice portable unit that is extremely easy for a patient to walk with. I also recommend sending the patient for an ultrasound to rule out a DVT.
I am curious what the thought process is for having the patient on Augmentin for a month. Consider taking a wound C&S of the drainage and sending it out. With ulcers, you want to get a deep specimen and not something superficial, but in certain circumstances, you have to deal with what you have.
Augmentin is broad spectrum and will cover Gram (+) organisms, (as one would likely suspect a staph causing cellulitis) but, if your clinical picture has not changed after being on the Augmentin, I might look for a different antibiotic, maybe to empirically cover MRSA ( i.e, doxycycline 100mg bid). These chronic venous insufficiency patients are often very challenging. Compression therapy is also a mainstay of treatment in these cases, but be careful to make sure the patient has adequate arterial perfusion and that you don't apply too much compression. Finally, make sure the patient has adequate nutrition and all co-morbidities have been accounted for.
Jeffrey Kass, DPM, Forest Hills, NY jeffckass@aol.com
RESPONSES / COMMENTS (NON-CLINICAL) - PART 1a
RE: 1st Providers Choice (Len Sanchez, DPM)
From: Adnan Shariff, DPM
I am using IMS from 1st Providers Choice. 1st Providers Choice is a third-party reseller of IMS by Meditab. You get support from Meditab directly and from 1st Providers Choice. The billing software is really good. The software handles both my tax IDs well. The EMR involves a lot of work. There are no good podiatry templates; you have to make your own or use Dragon Pro. Training is not very good. They are a new company and sometimes can't handle all the training, etc.
Their support doesn't respond to e-mails in a timely fashion. You have to call, then wait for someone to call you back. Support is okay. Many times we go directly to Meditab-support because either we can't reach 1st Providers Choice or they can't get back to us soon enough. I'm still waiting for two months to get eRx through 1st Providers Choice. They have recently hired more staff to handle all their new clients. I think the price is good though.
Adnan Shariff, DPM, Fort Pierce, FL, adnanshariff@yahoo.com
RESPONSES / COMMENTS (NON-CLINICAL) - PART 1b
RE: EMR/EHR and Practice Management Software (Len Sanchez, DPM)
From: Dale Hall, DPM
I recently read various statements about the electronic medical records program. I have used Medinotes since I met Scott Leum who developed that program originally as POD notes. Needless to say, Scott was a podiatrist before he developed the programs. For those looking to jump into the electronic medical record program, I suggest BE AWARE.
The program I am using is Medisoft Clinical. We were initially only requested to purchase their accounting system. However, as good salesmen as they were, they dangled the carrot of the government $44,000 rebate from the stimulus program of Bush/Obama (the tax payers' money). Whether I ever see this money-only time will tell.
For those looking for a program to use in the future, there a few things I would recommend...
Editor's note: Dr. Hall's extended-length letter can be read here.
RESPONSES / COMMENTS (NON-CLINICAL) - PART 2
RE: Advertisements for Laser Treatment of Onychomycosis (Bryan C. Markinson, DPM)
From: Perry K. Geistler, DPM
I am very puzzled by the whole genre of laser care for fungal nails presently. Supposedly, the Pinpointe laser has had "FDA clearance" for the temporary clearing of some or all of the nail plate" for, at most, the last several months.
However, where I live, there are groups who have been advertising the laser with "84% success rates" for at least two years. Advertisements have been in the form of radio and newspaper adds. If advertising a product for a specific use that is not FDA-cleared is such a problem, then why is it not enforced? Also, even with the present FDA clearance, doesn't the qualifying statement of "temporary clearing" need to be included?
Quite frankly, the PinPointe laser has been a boon to my practice and many of my colleagues, but...
Editor's note: Dr. Geistler's extended-length letter can be read here.
MEETING NOTICES - PART 1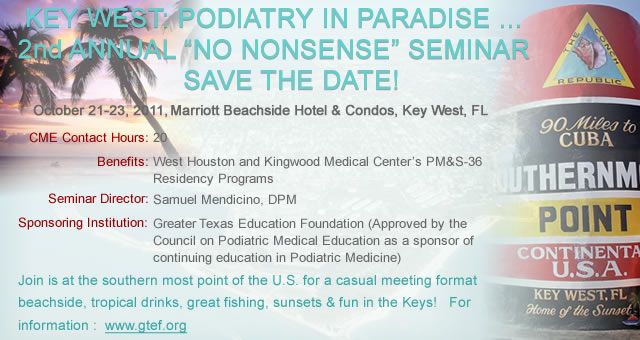 RESPONSES / COMMENTS (NON-CLINICAL) - PART 3
RE: Difficulty Passing National Boards Section (Name Withheld)
From: Jeffrey Kass, DPM
I would like to commend Dwight L Bates, DPM for his Skype tutorial offer to Name Withheld. I don't know Dr. Bates. I do know that if there were more podiatrists with his attitude, the profession would be better off.
Jeffrey Kass, DPM, Forest Hills, NY jeffckass@aol.com
MEETING NOTICES - PART 2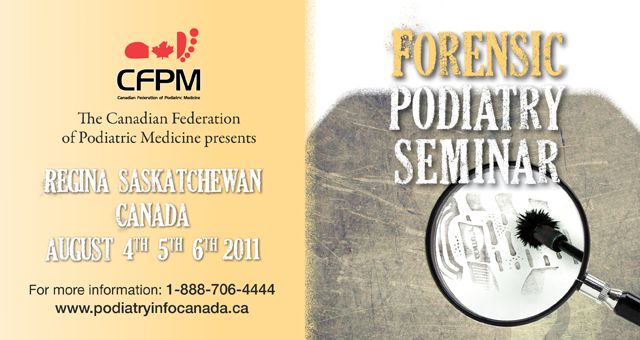 CLASSIFIED ADS
ASSOCIATE POSITION - TEXAS
Looking for podiatrist to see patients in nursing facilities in East Texas and two nursing facilities in El Paso. AVAILABLE IMMEDIATELY. Please contact me at doconcall02@aol.com
ASSOCIATE POSITION - NEW YORK CITY & QUEENS
One of the fastest growing podiatry practices in New York City and Queens seeks a podiatrist who participates with HealthFirst, Fidelis, and other Medicaid plans. Preferably a Spanish speaking podiatrist. Contact me at Podocare@aol.com
ASSOCIATE POSITION - MICHIGAN
Entry level DPM needed to join an established, full service, group podiatry practice in Monroe, MI. A generous salary and future partnership opportunity will be offered to the right applicant. Check out our website at www.monpod.com Send CV and cover letter to info@monpod.com
ASSOCIATE POSITION - TEXAS
Are you looking for a busy, well-rounded practice experience?" Group practice in DFW area looking for a 3-year surgically-trained associate with a sports medicine background. Needs to be as comfortable making orthotics as fixing a complex flat foot. Email CV to crane@faant.com
ASSOCIATE POSITIONS - NW INDIANA, CHICAGO AREA
2 Full-Time positions open - One for Northwest Indiana and one for the Chicagoland area. Must have 2-year surgical residency. Must be motivated and a self-starter. State License required. If interested email: f-massuda@footexperts.com
ASSOCIATE POSITION - CT - (FAIRFIELD AND NORTH HAVEN)
Join one of the largest podiatric groups in Connecticut. Well-established and progressive offices, including EMR, digital x-ray, vascular and NCV studies, Pinpointe and CO2 lasers, diagnostic ultrasound and electrical stimulation therapy. You can expect a full schedule of patients the day you start, and a very competitive salary. For more info www.greatfootcare.com. Send resume to Dr.Kassaris@yahoo.com
EQUIPMENT FOR SALE - COOL TOUCH LASER

Cool Breeze Cool Touch CT3 plus laser used for ugly, unsightly, toe nail infections. Less than six months old. Great price won't last long. Considering a laser? We also have the Q- Clear Q- switch laser too. This laser is perfect for you. Also a used Lumix 2 laser, best price today. Dr. Zuckerman is in the Fort Lauderdale area and will demo these lasers on your patients. E-mail footcare@comcast.net
GROWING PRACTICE FOR SALE- PHOENIX ARIZONA
Part of the largest multi-specialty group in Phoenix comprised of approximately 30 referral sources. Selling 50% share in practice grossing 600K. Gross is based on part-time practice but easily expandable to full-time if desired. Active, healthy client population, excellent surgical base, very minimal palliative care. PSR-36 required. Inquire at drlaurel@cox.net
PRACTICE FOR SALE - HOUSTON, TEXAS

28 year old busy, progressive practice for sale with an excellent reputation and well established referral base. Well-trained, dedicated, supportive staff. Excellent cash flow $475K income after overhead. EMR, digital x-ray, diagnostic ultrasound. Free standing building also available with large outdoor sign. Also available are two transferable surgical center partnerships(with distributions). Owner retiring and willing to stay part time during transition. Cover letter/CV to softechpodiatrist@gmail.com
PRACTICE FOR SALE - MARYLAND, DC SUBURBS
Great opportunity. Well established and equipped practice for sale. Office includes state licensed Ambulatory Surgical Center. Present owner is retiring but will stay on as needed for smooth transition. Average gross over past 3 years is $575 K. dpmpracticeforsale@yahoo.com
OFFICE TO SHARE- NYC GREAT OPPORTUNITY
6 rooms (1000 sq. feet), Gramercy Park area. Newly renovated, painted, fully equipped and wired. Good for all situations. Available for immediate occupancy. Rental terms are competitively priced based on need. Please contact 157629@gmail.com for more information.
SPACE AVAILABLE- NYC & LI
Office to sublet and share - East 60th Manhattan, and Plainview long island. access to an MRI, Joint Commission certified operating rooms, digital x-ray, diagnostic ultrasound, and access to a multi-specialty ambulatory surgical center. Turn-key operation - no investment needed 516 476-1815 PODO2345@AOL.COM
PM News Classified Ads Reach over 12,500 DPM's and Students

Whether you have used equipment to sell or our offering an associate position, PM News classified ads are the fastest, most-effective way of reaching over 12,500 DPM's. Write to bblock@podiatrym.com or call (718) 897-9700 for details. Weekly ad rates start as low as $109 for a 50-word ad THIS OFFER DOES NOT APPLY TO BUSINESSES PROVIDING PRODUCTS OR SERVICES. Note: For commercial or display ads contact David Kagan at (800) 284-5451.
Disclaimers
Acceptance and publication by this newsletter of an advertisement, news story, or letter does not imply endorsement or approval by Kane Communications of the company, product, content or ideas expressed in this newsletter. Any information pertaining to legal matters should not be considered to be legal advice, which can only be obtained via individual consultation with an attorney. Information about Medicare billing should be confirmed with your State CAC.
---
THIS MESSAGE IS INTENDED ONLY FOR THE USE OF THE INDIVIDUAL OR ENTITY TO WHICH IT IS ADDRESSED AND MAY CONTAIN INFORMATION THAT IS PRIVILEGED, CONFIDENTIAL AND EXEMPT FROM DISCLOSURE.
---
If the reader of this message is not the intended recipient or an employee or agent responsible for delivering the message to the intended recipient, you are hereby notified that any dissemination, distribution, or copying of this communication is strictly prohibited. If you have received this communication in error, please immediately notify me and you are hereby instructed to delete all electronic copies and destroy all printed copies.
---
DISCLAIMER: Internet communications cannot be guaranteed to be either timely or free of viruses.
Guidelines
To Post a message, send it to: bblock@podiatrym.com
Notes should be original and may not be submitted to other publications or listservs without our express written permission.
Notes must be in the following form:
RE: (Topic)
From: (your name, DPM)
Body of letter. Be concise. Limit to 250 words or less). Use Spellchecker
Your name, DPM City/State
Subscribers are reminded that they have an ethical obligation to disclose any potential conflicts of interest when commenting on any product, procedure, or service.

Barry H. Block, DPM, JD
---
Browse PMNews Issues
Previous Issue | Next Issue