Browse PMNews Issues
Previous Issue | Next Issue
PM News
The Voice of Podiatrists

Serving Over 12,500 Podiatrists Daily

April 21, 2011 #4,140

Publisher-Barry Block, DPM, JD

A service of Podiatry Management http://www.podiatrym.com
E-mail us by hitting the reply key.
COPYRIGHT 2011- No part of PM News can be reproduced without the
express written permission of Kane Communications, Inc.
DOX PODIATRY – Electronic Medical Records
START OFF THE NEW YEAR RIGHT: 1st MONTH FREE
Over 500 Podiatry Offices and Growing
Call 877-270-3518
PRACTICE LIKE THE BEST
MAKE MORE MONEY - SAVE TIME - DOX PODIATRY
DOX Podiatry is the leading web-based EMR solution designed by Podiatrists for Podiatrists that enables you to make more money in less time. Let us show you how in a quick, 40 minute, web-based demonstration.
• COMPLETE PODIATRY SPECIFIC MEDICAL DATABASE
• NO CUSTOMIZATION REQUIRED • EVERYWHERE ACCESS
• READY TO USE DAY ONE • CERTIFIED SAFE & SECURE
http://www.DoxEmr.com
$44,000 Economic Stimulus Article at: http://doxemr.wordpress.com/
CALL 1-877-270-3518 OR EMAIL INFO@DOXEMR.COM
PODIATRISTS IN THE NEWS
IL Podiatrist Provides After-Winter Foot Care Advice
"In the winter, personal grooming seems to stop at the ankle. Most people really don't pay much attention to their feet when they're encased in heavy shoes and boots. It's only when they slip on a pair of sandals for the first time that they realize what a toll the winter has taken on their feet," said Dr. Megan Leahy, a podiatrist who practices at the Illinois Bone and Joint Institute in Chicago. Dry, cracked skin, discolored toenails and pesky corns and calluses are just some of the indignities the feet can suffer from being cooped up for months in heavy shoes and socks.

Dr. Megan Leahy
Leahy suggests pampering your feet by using an over-the-counter exfoliating scrub with a sand base to eliminate dry, flaky winter skin. Follow this with a moisturizer containing urea or lactic acid, two ingredients that hydrate the skin and increase circulation. "But never moisturize between the toes," she cautions. "These areas tend to retain the moisture and that can lead to athlete's foot."
Source: Jean Guarino, Chicago Sun-Times [4/19/11]
AT THE COLLEGES
SMU and UC Davis Students Team to Help Patients in Sacramento
When Thanh Hua, a podiatry student in the Doctor of Podiatric Medicine (DPM) program at California School of Podiatric Medicine (CSPM), a school within Samuel Merritt University (SMU), set out to create a new healthcare option for the uninsured, she turned to her undergraduate school, UC Davis. In a conversation with friends, Hua learned that UC Davis School of Medicine has a free community health clinic in the city of Sacramento, Clínica Tepati.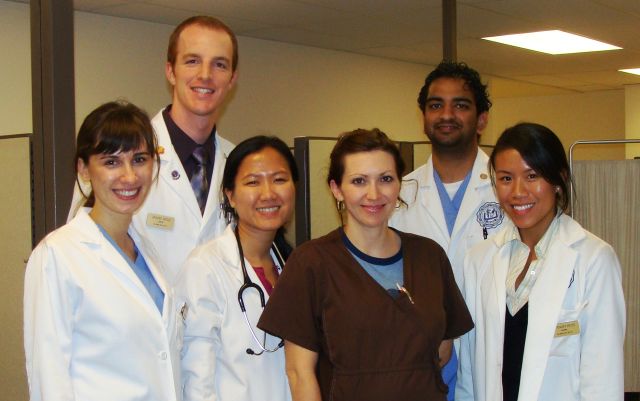 DPM students Martha Golidk, James Wilk, Thanh Hua, Dr. Amy Duckwolf, Anup Patel, and Tiffany Hoh at the Clinica Tepati in Sacramento.
Clínica Tepati is a student-run clinic, located off of 18th and J Street, staffed by medical and student volunteers of UC Davis School of Medicine. But none of the student volunteers specialized in podiatric medicine. This inspired Hua with the idea to create the "Podiatry Clinic" staffed by DPM students from SMU with the mission to provide free podiatric care and diabetic foot care education to the uninsured and underinsured community living in the Greater Sacramento Area.
Source: Elizabeth Valente, SMU
"Quick Turn-Around Time And Excellent Service"
"Orthofeet has become our company of choice for diabetic footwear. Their shoes fit very well, look great, and our patients just love them. Our staff likes the quick turn around time and the excellent service that the company offers. We would highly recommend Orthofeet to all our colleagues!"
Jason Weber, DPM, Michael Michetti, DPM, Brent Tabor, DPM
Orthofeet Shoes = Superior Patients Care + Better Bottom Line:
Shoes - $45 to $55; Prefab Inserts - $9.95; Custom Inserts - $23; Toe-Filler - $75.00;
Try & compare: Get the first 10 pairs at Half Price!!!
www.orthofeet.com 800-524-2845
ON THE INTERNATIONAL LECTURE CIRCUIT
WA Podiatrists Lecture in the Netherlands
The International Foot & Ankle Foundation was recently represented in the Netherlands at the Foot and Ankle Surgery Congress (Voet-en Enkelchirurgie Congres) hosted by Hallux Academy on April 17th. Dutch podiatrist and Hallux Academy Director, Mano de Kok, invited Dr. Dock Dockery and Dr. Mary Crawford to speak to the 170 podiatrists from the Netherlands and Belgium at the Zonheuvel Hotel and Conference Center, Doorn, Utrecht, in Central Netherlands.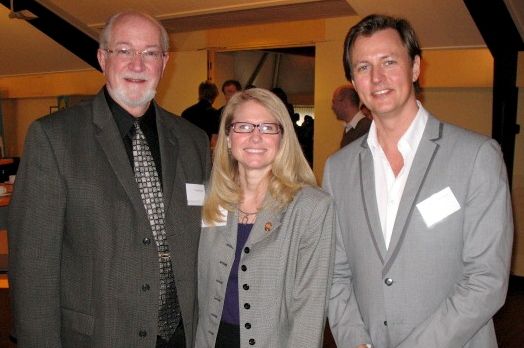 IFAF Director, Dr. Dock Dockery; IFAF Chair of Medical Advisors, Dr. Mary Crawford; and, Hallux Academy Director, Mano de Kok.
Dr. Dockery spoke on "Fifth Digit Surgery" and "Digital Mucoid Cysts." Dr. Crawford spoke on "Radiographic Techniques of the Foot and Ankle" and "Subluxing 2nd Toe and Plantar Plate Injuries."
RETIRED PODIATRISTS IN THE NEWS
IA Podiatrist Honored as World War II Veteran
All around Iowa's halls of power on Monday afternoon, living history walked. Eighty or so Iowa veterans of World War II filled the gallery and the floor of the Iowa House of Representatives for a proclamation that honors all World War II veterans and commemorates 70 years since the attack on Pearl Harbor - Dec. 7, 1941.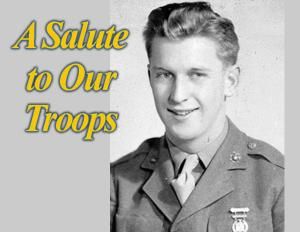 Dr. James Campbell
For these men, the memories are still fresh. Dr. James Campbell, a retired podiatrist from Clarinda, was there with his daughter, Marilyn Bayless of Shenandoah. He had been a flamethrower with the Marines in the Pacific theater. His daughter said her dad is proud of his military service, and still gets emotional when he talks about it. "I appreciate what they're doing, very thoughtful," Campbell said. Then he paused: "I don't know what I can say, or else I'll break down."
Source: Reid Forgrave, Des Moines Register [4/19/11]
QUERIES - (MEDICAL/LEGAL)
Query: Insurance Grandfathering
We recently received our annual renewal notice for our office health insurance (i.e., for my employees and myself). In the cover letter from the insurance company, it was mentioned that we have the right to be "grandfathered in" if we keep the same coverage and submit a written request to that effect. I've had two conversations with the rep and I still don't fully understand the significance or insignificance of this option. I was told that if we change any part of our healthcare policy, we could not opt to be grandfathered in under the new federal law. We're not sure how important it is to have grandfathered status at the expense of being able to pick another more cost-effective policy. If anyone understands this stuff, some clarification would be helpful.
James M. Petko, DPM, Falls Church, VA
QUERIES - (NON-CLINICAL)
Query: Pecos Registration
Has anyone used a good service for PECOS registration? I sent in the paper forms with the documentation back in October and have been unable to get any information on where my application is in this process. I have had my Medicare number for 30+ years and have been dispensing DME with the proper registration for years. I would like to hire a service now to shepherd my application for PECOS registration, since now, I am completely frustrated with this process. It's time to get someone who has more patience than me to figure out this Byzantine process.
Richard Rees, DPM, Bellaire, TX
RESPONSES / COMMENTS (CLINICAL) - PART 1
RE: Post-op Nail Complication (Brent Rubin, DPM)
From: Jon Purdy, DPM, Jennifer Ryder, DPM
I had a similar patient who came to me after someone attempted total permanent removal of both hallux nails. All four proximal corners continued to "weep" many months after the procedure. After ruling out infection, I curetteted and phenolized the borders to no avail.
She did mention that she knew she was a "picker" and could not stop messing with her wounds. I'm not sure today if this was something she was doing that prevented the healing. I took her to surgery and excised the borders. She picked at them after surgery, resulting in two successes and two failures. I took her back again, and this time she did her best not to pick at them and finally healed completely.
Jon Purdy, DPM, New Iberia, LA, jpurdy@mindspring.com
Try Nizoral 2% cream. I've had a few P&As with delayed healing that had tinea in them, and this worked well.
Jennifer Ryder, DPM, Rapid City, SD, RyderJB@rcmed.net
RESPONSES / COMMENTS (CLINICAL) - PART 2
RE: Uric Acid Crystals, Post-op
From: Gary S Smith, DPM
The previous letters discussed the treatment of gout very well. To treat the acute post-op uric acid crystals, you should soak the foot three times a day in lukewarm water. Remember, these crystals are a salt. A low purine diet has never really been proven to have a huge effect on preventing gout. In a nutshell, gout is a disease of dehydration. When a person has chronic dehydration either from salted drinks, fluid pills, or beer, they tend to be good candidates for an attack.
The uric acid salts are dissolved in your bloodstream just like sugar in your coffee. When the person gets dehydrated the salt precipitates out as a crystal just like sugar in the bottom of a coffee cup when you put too much in it. Besides soaking, you should have your patient drink plenty of water. Guard against infection, and with adequate circulation, this should resolve in three weeks.
Gary S Smith, DPM, Bradford, PA, penndoc@verizon.net
RESPONSES / COMMENTS (NON-CLINICAL) - PART 1
RE: Cryoprobe (Mark Aldrich, DPM)
From: Harold Koehler, DPM, Mohammad Sharif, DPM
I had the original version for about $2,000 and have since abandoned using it. I had nothing but problems with it constantly malfunctioning. The cartridges are expensive and are basically the same ones used in dispensers making whipped cream that cost 50 cents apiece at Bed Bath and Beyond. The only reason I couldn't use the cheap cartridges was that you need a filter with it that you can only get from the Cryoprobe supplier. I was told that upgrading to the newer version for $3,000 more would eliminate all my problems. Once burned, twice shy. I would consider alternatives like the Cryopen.
Harold Koehler, DPM, Auburn Hills, MI, hmkdpm@comcast.net
I have been using the Cryoprobe for about one year and I must say that I'm not too impressed. Most importantly, it has NOT worked well for plantar verrucae which is the reason why I purchased it. It works well on raised lesions on the dorsal foot, but this constitutes the minority of cases. I've had some success with small poros on the plantar aspect of thinned skin individuals. In addition to the starting cost, the cartridges are also expensive. I find myself returning to cantharidine for its ease of use, predictability, and cost-effectiveness.
Mohammad Sharif, DPM, Atlanta, GA, msharif@villagepodiatrycenters.com
MEETING NOTICES - PART 1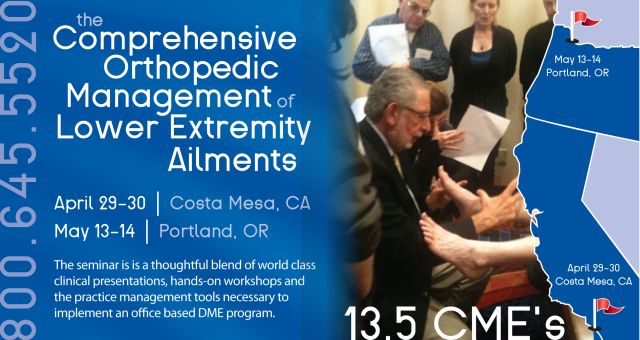 RESPONSES / COMMENTS (NON-CLINICAL) - PART 2
RE: Exogen Bone Healing System (Tip Sullivan, DPM)
From: Simon Young, DPM, Kenneth Meisler, DPM
If Dr. Sullivan or any surgeon thinks that they need a bone stimulator post-operatively, then the procedure should never be done! The only potential reason for post-op use of a bone stimulator, in my opinion, would be in Charcot foot reconstruction, Jones fracture, or repair of a non-union.
Simon Young, DPM, NY, NY, simonyoung@juno.com
Dr. Sullivan said that he is thinking of using a bone stimulator on all osteotomies, even low risk ones to get people walking more quickly. It is a waste of healthcare dollars to use a bone healing system on low risk osteotomies. I use them only on cases such as Jones Fractures, with or without ORIF, because of their high risk of non-union. I also would consider using one on a Lapidus where you do not feel you had "perfect" fixation, or perhaps on a patient with an unstable metatarsal fracture that I think will have significant difficulty being non-weight-bearing.

Also, when you prescribe a bone stimulator, you usually have to write a note to justify its use. Sometimes, I have had it written by the bone stimulator company based on my note and they ask me to sign it. Read what you are signing because it may be an exaggeration. There are many indicated uses for these devices, however, stable osteotomies are not one of them. We shouldn't waste thousands of dollars unnecessarily and then complain that the fees we get for our surgeries are too low.
Kenneth Meisler, DPM, NY, NY, kenmeisler@aol.com
MEETING NOTICES - PART 2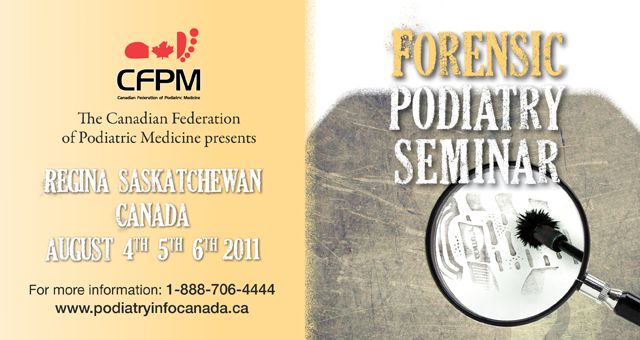 YOU CAN'T MAKE THESE THINGS UP
RE: More Malapropisms
Our son is a paramedic, and on one call, he was going over a patient's meds which included "peanut butter ball." When she mentioned that she had seizures, he figured out that the mysterious medication was phenobarbital.
Paul Busman DPM, RN, Clifton Park, NY
Recently, I had a patient who filled out her history form in her own handwriting, and her chief complaint was "a binon and kones on my right foot." She also stated that she had "ingrown nails" but she cured it with Neosperm. We all got a laugh out of it until we saw her occupation - principal of a middle school. And we wonder why our children aren't being educated?

Burton Katzen, DPM, Temple Hills, MD
CLASSIFIED ADS
EQUIPMENT FOR SALE - COOL TOUCH LASER

Cool Breeze Cool Touch CT3 plus laser used for ugly, unsightly, toe nail infections. Less than six months old. Great price won't last long. Considering a laser? We also have the Q- Clear Q- switch laser too. This laser is perfect for you. Also a used Lumix 2 laser, best price today. Dr. Zuckerman is in the Fort Lauderdale area and will demo these lasers on your patients. E-mail footcare@comcast.net
PRACTICE FOR SALE - HOUSTON, TEXAS

28 year old busy, progressive practice for sale with an excellent reputation and well established referral base. Well-trained, dedicated, supportive staff. Excellent cash flow $475K income after overhead. EMR, digital x-ray, diagnostic ultrasound. Free standing building also available with large outdoor sign. Also available are two transferable surgical center partnerships(with distributions). Owner retiring and willing to stay part time during transition. Cover letter/CV to softechpodiatrist@gmail.com
PRACTICE FOR SALE - MARYLAND, DC SUBURBS
Great opportunity. Well established and equipped practice for sale. Office includes state licensed Ambulatory Surgical Center. Present owner is retiring but will stay on as needed for smooth transition. Average gross over past 3 years is $575 K. dpmpracticeforsale@yahoo.com
SPACE AVAILABLE- NYC & LI
Office to sublet and share - East 60th Manhattan, and Plainview long island. access to an MRI, Joint Commission certified operating rooms, digital x-ray, diagnostic ultrasound, and access to a multi-specialty ambulatory surgical center. Turn-key operation - no investment needed 516 476-1815 PODO2345@AOL.COM
ASSOCIATE POSITION AVAILABLE - THE BRONX
Excellent hospital based opportunity. Inpatient & Outpatient Care. Busy clinics. Large diabetic population. Practice all aspects of Podiatric Medicine & Surgery. Requires Surgical Skills. CV to nealblitz@yahoo.com
ASSOCIATE POSITION – NEW JERSEY
Associate wanted full-time, for practice in East Orange NJ PSR 24-36 trained. Must be motivated to grow practice, especially build wound care and surgical services. Buy-in possible after the 1st year. send CV to Drfoot44@gmail.com
ASSOCIATE POSITIONS - NW INDIANA, CHICAGO AREA
2 Full-Time positions open - One for Northwest Indiana and one for the Chicagoland area. Must have 2-year surgical residency. Must be motivated and a self-starter. State License required. If interested email: f-massuda@footexperts.com
ASSOCIATE POSITION - CT - (FAIRFIELD AND NORTH HAVEN)
Join one of the largest podiatric groups in Connecticut. Well-established and progressive offices, including EMR, digital x-ray, vascular and NCV studies, Pinpointe and CO2 lasers, diagnostic ultrasound and electrical stimulation therapy. You can expect a full schedule of patients the day you start, and a very competitive salary. For more info www.greatfootcare.com. Send resume to Dr.Kassaris@yahoo.com
ASSOCIATE POSITION - NEW YORK CITY & QUEENS
One of the fastest growing podiatry practices in New York City and Queens seeks a podiatrist who participates with HealthFirst, Fidelis, and other Medicaid plans. Preferably a Spanish speaking podiatrist. Contact me at Podocare@aol.com
PODIATRIST NEEDED - NY/QUEENS/LI
Must be min. PSR-3 with excellent training. Experienced in billing, selling non-covered services, products, Patient medical and surgical exp. with good rapport/comm. skills necessary. Unique position working in offices, clinics, hospital with orthopedist, podiatrist, P. therapists. P/T, F/T available. Growth, income potential and partnership opportunity excellent. A chance to use all your skills; foot, ankle and more. Please respond with cover letter and CV to hansfeet@aol.com
ASSOCIATE POSITION - SOUTH CAROLINA
Upstate, two-office practice seeking PSR-24/36 trained associate. Full-time position with partnership opportunity. Must be ethical, highly-motivated with strong surgical and medical skills. Please send CV to palpodiatry@att.net
PART TIME PODIATRIST NEEDED- LOS ANGELES, CALIFORNIA
Busy podiatrist looking for assistance with treating home-bound patients. Flexible hours, independence, and great compensation. If interested, email CV to homefootcare@hotmail.com
PM News Classified Ads Reach over 12,500 DPM's and Students
Whether you have used equipment to sell or our offering an associate position, PM News classified ads are the fastest, most-effective way of reaching over 12,500 DPM's. Write to bblock@podiatrym.com or call (718) 897-9700 for details. Weekly ad rates start as low as $109 for a 50-word ad THIS OFFER DOES NOT APPLY TO BUSINESSES PROVIDING PRODUCTS OR SERVICES. Note: For commercial or display ads contact David Kagan at (800) 284-5451.
Disclaimers
Acceptance and publication by this newsletter of an advertisement, news story, or letter does not imply endorsement or approval by Kane Communications of the company, product, content or ideas expressed in this newsletter. Any information pertaining to legal matters should not be considered to be legal advice, which can only be obtained via individual consultation with an attorney. Information about Medicare billing should be confirmed with your State CAC.
---
THIS MESSAGE IS INTENDED ONLY FOR THE USE OF THE INDIVIDUAL OR ENTITY TO WHICH IT IS ADDRESSED AND MAY CONTAIN INFORMATION THAT IS PRIVILEGED, CONFIDENTIAL AND EXEMPT FROM DISCLOSURE.
---
If the reader of this message is not the intended recipient or an employee or agent responsible for delivering the message to the intended recipient, you are hereby notified that any dissemination, distribution, or copying of this communication is strictly prohibited. If you have received this communication in error, please immediately notify me and you are hereby instructed to delete all electronic copies and destroy all printed copies.
---
DISCLAIMER: Internet communications cannot be guaranteed to be either timely or free of viruses.
Guidelines
To Post a message, send it to: bblock@podiatrym.com
Notes should be original and may not be submitted to other publications or listservs without our express written permission.
Notes must be in the following form:
RE: (Topic)
From: (your name, DPM)
Body of letter. Be concise. Limit to 250 words or less). Use Spellchecker
Your name, DPM City/State
Subscribers are reminded that they have an ethical obligation to disclose any potential conflicts of interest when commenting on any product, procedure, or service.

Barry H. Block, DPM, JD
---
Browse PMNews Issues
Previous Issue | Next Issue