Browse PMNews Issues
Previous Issue | Next Issue
PM News
The Voice of Podiatrists

Serving Over 13,500 Podiatrists Daily

April 28, 2012 #4,448

Publisher-Barry Block, DPM, JD

A service of Podiatry Management http://www.podiatrym.com
E-mail us by hitting the reply key.
COPYRIGHT 2012- No part of PM News can be reproduced without the
express written permission of Kane Communications, Inc.
PODIATRISTS IN THE NEWS
Limb Lengthening by CA Podiatrist Enables Woman to Walk Down Aisle
Jennifer Sanchez thought she would never walk again, until Arcadia-based surgeon Dr. Alireza Khosroabadi performed a unique procedure that lengthened one of her legs. In 2002, she was involved in an auto accident which left her with one leg almost two inches shorter than the other. Then she met Khosroabadi who performed surgery which employs an external fixation device to gradually lengthen bones. Pins were attached to struts which gradually pull apart the leg bones in small increments.
Dr. Alireza Khosroabadi
"We move the bone one millimeter a day, so the new bone regrows. When the bone reaches its desired length, we hold it there for about six to eight weeks. Then the bone consolidates or hardens and actually becomes as strong as a normal bone," says Khosroabadi. After three months, Jennifer's legs were nearly even, and she could walk without a limp. That made it possible for her to fulfill a lifelong dream - walking down the aisle.
Source: Bruce Hensel, NBC News [4/25/12]
PODIATRISTS IN THE NEWS - PART 2
VA Podiatrist Volunteers to Reconstruct Zambian Boy's Feet
By the time the surgeon repairs Anderson Mambwe's severely deformed feet Friday, the 17-year-old Zambian boy already will have traversed a vast landscape of pain. His feet were so misshapen that the best that Congo doctors could offer him was to amputate both legs above the knee. Roanoke nurse Karen ReMine, co-founder of a medical mission called Orphan Medical Network International, spoke to Roanoke podiatrist Dr. Chuck Zelen, who agreed "sight unseen" to donate the series of surgeries it would take to get the boy walking comfortably again.
Dr. Charles Zelen and Anderson Mambwe's severely deformed feet
"When he arrived, he was barely able to walk at all," said Zelen, the podiatrist. But the upcoming surgeries will reduce his feet to a size 12, giving him a more normal gait. "I hope that it may alleviate some of his shyness and enable him to assimilate better into his community," Zelen said. "He just wants to go to school and not look like he's sick."
Source: Beth Macy, The Roanoake Times [4/26/12]
HOSPITAL PODIATRISTS IN THE NEWS
MA Podiatrist Joins Hospital Wound Care Center
Dr. Georgios P. Poniros will join the physician panel at The Wound Care Center at Harrington Physician Services in Charlton. Dr. Poniros received his degree in medicine from the New York College of Podiatric Medicine. He completed his residency at St. Vincent's Hospital in Worcester. He is currently employed at Auburn Podiatry, which has offices in Auburn and Webster, directly across from Harrington HealthCare at Hubbard campus.
Dr. Georgios P. Poniros
Dr. Poniros is board certified in podiatric surgery. The Wound Care Center at Harrington is part of Harrington HealthCare at Charlton and is the site of the only Wound Care Center in the region with hyperbaric oxygen chambers.
Source: Worchester Telegram and Gazette [4/26/12]
PODIATRISTS IN THE COMMUNITY - PART 1
OH Podiatrist to Compete on Local Dancing With The Stars Fundraiser
Mayor Tim Theaker, News Journal reporter Jami Kinton, Colonel Gary McCue and wife Molly McCue, arts advocate Phyllis Hire, podiatrist Dr. Jeffrey Schwein, and active community supporter Susie Sawyer will join Neos Dance Theatre onstage May 4 for the fourth annual Neos Dances with the Stars fundraiser.
Dr. Jeffrey Schwein
Dr. Jeffrey Schwein received his Doctor of Podiatric Medicine degree in 1990, graduating as class salutatorian from the Ohio College of Podiatric Medicine. He completed his surgical residency under the direct supervision of renowned foot and ankle surgeon, Dr. Raymond Suppan, in Orrville, Ohio. He is a core pro-staff member of the popular hunting show, "Blitz TV", which airs on the Pursuit Channel.
Source: Mansfield News Journal [4/26/12]
PODIATRISTS IN THE COMMUNITY - PART 2
IL Podiatrist Offers Free Screening to Seniors in May
In older adults, foot pain may be the first sign of age-related conditions, such as arthritis, diabetes, and circulatory disease. It can impair balance and function in this age group. Even though some foot problems are inevitable, their progress can be slowed with early detection. "Screening is preventive," says Dr. David F. Hettinger, a board certified podiatrist who has been successfully running his foot care clinic in Wheaton since 1992.
Dr. David F. Hettinger
In recognition of Older Americans Month in May, Hettinger is encouraging senior citizens to get free foot screenings at his clinic. "Often times, relatively simple treatments can give patients a great deal of relief. It's all a matter of having the right advice," adds Dr. Hettinger. He views foot screening as an opportunity to discuss foot-related problems with senior citizens and arm them up with the necessary information to treat common foot problems.
Source: Aishwarya Sharma, Trib Local Naperville [4/26/12]
QUERIES (CLINICAL)
RE: Nerve Compression Vs. Fictitious Injury
From: Jeffrey Smith, DPM
I have a Worker's Comp case that I would like an opinion on.
CC: A 45 yo white female was referred by a local urgent care for left foot pain and deformity.
HPI: The patient states her left foot was run over by a buggy where she was working as a cashier for a "big box" retailer. She states having pain, cramping, pins and needles, and numbness since the injury. She immediately treated with ice and elevation. She was sent to the local "Dr. In A Box". X-rays taken were negative. She was placed in a CAM walker, prescribed Motrin and RICE. The pain got worse and an MRI was ordered, which was negative. She had difficulty with weight-bearing, which improved with CAM walker...
Editor's note: Dr. Smith's extended-length query can be read here.
CODINGLINE CORNER
Query: External Fixator Placement Coding
Is there a separate procedure code for placement of a mini-rail external fixation device used in conjunction with a Lapidus procedure (CPT 28297), or would it be bundled together under the Lapidus code?
PM News Subscriber
Response: The use of fixation is generally included in the allowance for the procedure. There are exceptions, primarily for the use of external fixators such as in reconstruction cases. In these cases, the medical necessity for external fixation is clearly documented.
For a procedure like a Lapidus-type bunionectomy, it is not customary nor is it typically necessary to use an external fixation device (over surgical screws, plates, etc.)
Tony Poggio, DPM, Alameda, CA
Codingline subscription information can be found here
APMA Members: Click here for your free Codingline Silver subscription
RESPONSES / COMMENTS (NON-CLINICAL) - PART 1
RE: Satellite Office Build-Out (Jack Ressler, DPM)
From: Jason Cohen, DPM
Our practice (two doctors) has a main office and five satellite locations. We have found it best to rent space from internists or medical centers. The time spent at these locations varies from half a day, twice per week, to an hour or two every other week. The patients are usually scheduled in a condensed block time, which allows us to visit the location, see the patients, and then leave. There is not too much down time. We bring our employees with us, since they know exactly how we work. This also minimizes the impact we have on the office we are visiting.
The overhead is low; you do not need to maintain a full office (e.g., rent, full-time staff, utilities, telephone, etc.). The internists are happy because they are collecting a rent check, and they can offer their patients more services under one roof. You also have access to a steady stream of new patients. You may want to contact a healthcare attorney to set up the lease and other specifics.
The expenses involved to start a satellite office like this are minimal, since the office will already be set up for you to work. Make sure they have an examining table or chair that you can utilize, some storage space, and you are good to go. All of these offices are stocked with the necessary equipment, supplies, and DME items.
Jason Cohen, DPM, Bronx, NY, Phootdr@optonline.net
RESPONSES / COMMENTS (NON-CLINICAL) - PART 2
RE: Sterilizing Bits Between Debridements (Alan Meyerberg, DPM)
From: Bryan C. Markinson, DPM
The recent discourse on the hazards of nail drilling leaves me perplexed at the seemingly large degree of ignorance on this subject.
At the recent Council for Nail Disorders annual scientific conference, I had the opportunity to present some data on workplace exposure to bioaerosols in nail dust. A large study of 15 podiatry clinics in Ireland revealed the following bad and mediocre news:
Coggins, et al., Workplace Exposure to Bioaerosols in Podiatry Clinics, Ann. Occup. Hyg., pp 1-8 on behalf of British Occupational Hygienic Society, December 2011
• Respirable aerosols (80%) of the dust contained yeasts and molds (65%) and fungi (87%)...
Editor's Note: Dr. Markinson's extended-length letter can be read here.
OBITUARIES - PART 1
RE: The Passing of James A. Williamson, Jr. DPM
On April 18th, Dr. James A. Williamson, Jr., 60, died of complications related to renal cell carcinoma. In 1979, Dr. Williamson became the first black member of the North Carolina Foot and Ankle Society, and in 1997 became the first podiatrist on staff at the Durham Veterans Affairs Medical Center.
Dr. James A Williamson, Jr.
He participated in healthcare for the homeless offered by Lincoln Community Health Center and presented numerous outreach projects and workshops.
Starletta Williamson
RESPONSES / COMMENTS (OBITUARIES) - PART 2
RE: The Passing of Lawrence Mandel, DPM
From: Mark K. Johnson, DPM
I became acquainted with Larry in the late 1980's while working with some podiatry residents in Kansas City, Missouri. His passion for teaching residents, sharing his knowledge, and promoting our profession were very apparent. I last saw Larry briefly a few years ago. A shining light in podiatric surgery has gone out. My condolences to his family, friends, and colleagues in K.C.
Mark K. Johnson, DPM, West Plains, MO
MEETING NOTICES - PART 1
YOU CAN'T MAKE THESE THINGS UP
RE: Outrageous Shoe of the Day
'59 Cadillac Pradarados
Source: Submitted by Dr. Keith Gurnick
MEETING NOTICES - PART 2
Codingline & PM News In conjunction with AAPPM Present
The Greenbrier Coding & Practice Management Workshop - August 20-22
(Following the 2012 APMA Annual Scientific Meeting in Washington, DC)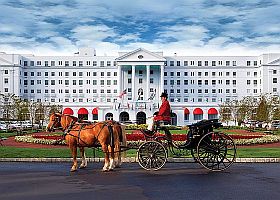 The Greenbrier, White Sulphur Springs, WV
Coming to Washington D.C. for the National? Don't miss out on being treated like a President and First Family. Enjoy world class amenities including golf, tennis, spa, casino and children's programs.
Speakers: Harry Goldsmith, John Guiliana, Barry Block, Michael Brody, Paul Kesselman, Jonathan Moore, Rem Jackson, Chad Schwarz, and other nationally-known authorities in morning-only presentations.
RESERVE YOUR UPGRADED ROOM NOW
CLASSIFIED ADS
PRACTICE FOR SALE - AUSTIN TEXAS
Great opportunity for new practitioner or an additional office. 18 year practice with large patient base. Current physician transitioning to part time then retiring to pursue another business opportunity. Start turn-key without need for a bank loan. Great area to live and work. Susieintx@aol.com (512) 565-6634
ASSOCIATE POSITION - KANSAS CITY, MISSOURI
Kansas City may be the perfect move for you and your family. I am looking for an entrepreneurial minded associate who wants to grow and then own part of an already successful practice. If you are the right candidate for this associate position, you will enjoy a competitive compensation package and you will be working with a doctor who is as committed to your success as he is to his own. Go to:www.YourFutureInPodiatry.com for full details.
ASSOCIATE POSITION - NEW YORK
Full-time position available immediately in Capital District multiple doctor practice. Good salary with percentage. All phases of podiatry. NYS license required. Email resume to Lchittenden68@gmail.com or call Lori at 518-577-6171
ASSOCIATE POSITION - MANHATTAN
Podiatrist needed for busy state-of-the-art offices in Manhattan. Offices are located near Penn and Grand Central Station. 10+ years experience only and an out-of-network doctor for most insurances. Please forward your information and CV to: roni@myfcny.com
ASSOCIATE POSITION - SENIOR CARE DIVISION - ATLANTA, GEORGIA
Village Podiatry Centers, LLC: Immediate openings for physicians who are interested in caring for the elderly in nursing homes throughout Georgia. Full time position. Excellent salary, benefits, and opportunity for growth. Must understand the coding/billing process and have excellent documentation skills. You don't have to be board certified in foot or ankle surgery for this position. If interested, please contact Dr. Helfman at dhelfman@vpcenters.com
ASSOCIATE POSITION - ATLANTA, GEORGIA AND SURROUNDING COUNTIES
Village Podiatry Centers, LLC: Immediate openings for board eligible or certified, 3-4 year trained surgical physicians. Equity based model, Excellent salary and benefits to start depending on qualifications. (Average physician salary is 2-3 times industry median salary).Full benefits included. Access to practice owned surgery centers, pathology lab, imaging center(s), and other in house ancillaries. Very selective process: must be flexible, well trained, and must participate in our "Physician Training Program." You live off income and retire off wealth! Serious inquiries only! E-mail: David N. Helfman, DPM, FACFAS atdhelfman@vpcenters.com
PHYSICIAN FOR CLINICAL RESEARCH DIVISION - ATLANTA, GEORGIA
Village Podiatry Centers, LLC: If you have experience in running clinical research trials and would like a full time position in managing and overseeing multiple clinical research trials for our growing group, please contact Dr. Helfman @ dhelfman@vpcenters.com. Excellent salary, benefits and equity opportunity for the right individual.
ASSOCIATION POSITION - FLORIDA
Progressive practice with 4 locations and 5 Board Certified Physicians in Tampa Bay. Looking for a PSR 36 trained candidate to join our group. Practice areas include reconstructive foot and ankle surgery, trauma, wound care, limb salvage, biomechanics, sports medicine and diabetic care. Hospital based training a necessity. If you are a hard working, motivated and fun loving person, come and enjoy our profession with us. Benefits and partnership are available. Send CV to: countrysidefoot@yahoo.com
ASSOCIATE POSITION - TENNESSEE/NORTH GEORGIA
Multi-physician, Multi-office practice looking for motivated new associate leading to partnership. We are a busy practice with state of the art technology: EHR, Digital X-ray, Diagnostic Ultrasound, PADnet, EPAT machine. Applicant should be PMS 36/Board Qualified/Certified. Applicant should be ethical, personable, hard working and interested in providing all aspects of podiatric care to our patients. Competitive Salary and benefits. All interested candidates please send a CV with two letters of reference to: mybestnewjob@gmail.com
ASSOCIATE POSITION - SE FLORIDA
Growing practice in SE Florida (Palm Beach Co.) seeks personable, hard working 3-year trained Podiatric surgeon for associate position. Rearfoot/Ankle trauma & reconstruction experience preferable. Competitive salary and benefits. Reply to: sflfootandankle@yahoo.com
ASSOCIATE POSITIONS - MULTIPLE STATES
Podiatrist Needed in Arkansas, Kansas, Missouri, Nebraska, Iowa, Minnesota, North Dakota, South Dakota, Texas, Colorado, Wisconsin, and Oklahoma. Expanding multi-state medical practice seeking podiatrists to service long-term care community residing in nursing homes and assisted living facilities. We offer an established patient base, scheduling, equipment allowance and cover travel expenses. Provide generous compensation, bonus opportunities, disability, health insurance benefits, malpractice coverage and flexible scheduling. Looking for a Podiatrist with excellent skills, able to provide expert and compassionate care to patients. Email CV to: careers@aggeus.org or call 773-770-0140 x300/x305.www.aggeus.org
SPACE AVAILABLE - NYC & LI
Office to sublet and share - East 60th Manhattan, and Plainview, Long Island. access to an MRI, Joint Commission certified operating rooms, digital x-ray, diagnostic ultrasound, and access to a multi-specialty ambulatory surgical center. Also availability E 22nd between 2nd and 3rd and E 70th off 3rd. Turn-key operation - no investment needed 516 476-1815 PODO2345@AOL.COM
PM News Classified Ads Reach over 13,500 DPM's and Students
Whether you have used equipment to sell or our offering an associate position, PM News classified ads are the fastest, most-effective way of reaching over 13,500 DPM's. Write to bblock@podiatrym.com or call (718) 897-9700 for details. Weekly ad rates start as low as $115 for a 50-word ad. THIS OFFER DOES NOT APPLY TO BUSINESSES PROVIDING PRODUCTS OR SERVICES. Note: For commercial or display ads contact David Kagan at (800) 284-5451.
Disclaimers
Acceptance and publication by this newsletter of an advertisement, news story, or letter does not imply endorsement or approval by Kane Communications of the company, product, content or ideas expressed in this newsletter. Any information pertaining to legal matters should not be considered to be legal advice, which can only be obtained via individual consultation with an attorney. Information about Medicare billing should be confirmed with your State CAC.
---
THIS MESSAGE IS INTENDED ONLY FOR THE USE OF THE INDIVIDUAL OR ENTITY TO WHICH IT IS ADDRESSED AND MAY CONTAIN INFORMATION THAT IS PRIVILEGED, CONFIDENTIAL AND EXEMPT FROM DISCLOSURE.
---
If the reader of this message is not the intended recipient or an employee or agent responsible for delivering the message to the intended recipient, you are hereby notified that any dissemination, distribution, or copying of this communication is strictly prohibited. If you have received this communication in error, please immediately notify me and you are hereby instructed to delete all electronic copies and destroy all printed copies.
---
DISCLAIMER: Internet communications cannot be guaranteed to be either timely or free of viruses.
Guidelines
To Post a message, send it to: bblock@podiatrym.com
Notes should be original and may not be submitted to other publications or listservs without our express written permission.
Notes must be in the following form:
RE: (Topic)
From: (your name, DPM)
Body of letter. Be concise. Limit to 250 words or less). Use Spellchecker
Your name, DPM City/State
Subscribers are reminded that they have an ethical obligation to disclose any potential conflicts of interest when commenting on any product, procedure, or service.

Barry H. Block, DPM, JD
---
Browse PMNews Issues
Previous Issue | Next Issue