Browse PMNews Issues
Previous Issue | Next Issue
PM News
The Voice of Podiatrists

Serving Over 12,500 Podiatrists Daily

May 07, 2011 #4,154

Publisher-Barry Block, DPM, JD

A service of Podiatry Management http://www.podiatrym.com
E-mail us by hitting the reply key.
COPYRIGHT 2011- No part of PM News can be reproduced without the
express written permission of Kane Communications, Inc.
PODIATRISTS IN THE NEWS
NE Podiatrist Provides Tips on Summer Foot Care
Getting your feet healthy and pretty for summer can be easy. A local expert who knows all about feet weighed in with tips on everything from the best lotions to do-it-yourself-pedicures. Flat-heeled winter boots like UGGs are trendy and comfortable but lack support, which can cause foot pain and aggravate existing foot problems, said Omaha podiatrist Dr. Glenn York.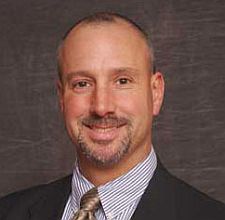 Dr. Glenn York
York also sees dry, scaling skin on patients' feet because of dry winter weather, home heating systems, and hard water. Frequent hot baths aren't advised. Hot water washes away your body's natural oils and leaves skin dry. To moisturize, York recommends Cetaphil or Eucerin lotions.
Source: Alissa Skelton, World-Herald [5/5/11]
PM PODIATRY HALL OF FAME LUNCHEON
July 28, 2011 – Boston, MA
Honoring Brad Bakotic, DPM, DO
Betsy Herman
Sponsored by Pinpointe USA, Inc and The Tetra Corporation
PM News subscribers are invited to see Dr. Bakotic and Ms. Herman inducted in the PM Podiatry Hall of Fame, including roasts by special guests .
All ticket proceeds go to the APMA Educational Foundation Student Endowment Fund. Reserve your tickets now by sending $50 per ticket to: APMA Educational Foundation, 9312 Old Georgetown Road, Bethesda, MD 20814.
APMA COMPONENT NEWS
CSPM Student Wins APMWA Student Writing Competition
Daniel Jones, a third-year student at College of Podiatric Medicine and Surgery has been named the winner of the 25th Annual American Podiatric Medical Writers Association Student Writing Competition. His paper was entitled, "Continuing Education: Unlocking the Door of Opportunity." This is the second consecutive year that he has won this competition.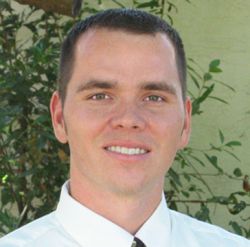 Daniel Jones
Jones will receive a one thousand dollar honorarium from a special endowment by Dr. and Mrs. Steven Berlin to the APMA Educational Foundation.
The award for Honorable Mention went to Brian Schmidt, a third-year student at the Scholl College of Podiatric Medicine for his paper, "A Microcosm of Customer Service and Customer Care."
PODIATRISTS IN THE COMMUNITY
Village Podiatry Centers Listed Among Top 25 Atlanta Practices
Another milestone has been accomplished by Village Podiatry Centers. The practice has just been recognized by Atlanta Business Chronicle as among the Top 25 Physician Practices in the metro Atlanta region, ranked by number of physicians. The 2011 list includes both primary care and specialists with Village Podiatry Centers ranking 21 in size.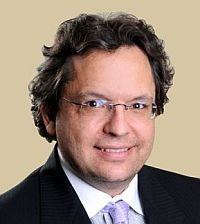 Dr. David Helfman
"We have experienced a 60% growth in our physician staff in the past three years as our group model has rapidly expanded," said Dr. David Helfman, Village Podiatry Centers CEO. "Currently, we employ 34 physicians in 22 metro Atlanta offices with a total of 26 offices in Georgia. Our goal is to continue growing to meet the increased demand for foot and ankle healthcare while delivering the highest quality and operational efficiencies." Village Podiatry Centers has more than 120,000 patient visits annually. In addition to physicians, the practice employs 200 clinical and support staff. The corporate office in Atlanta manages operations, finance, and marketing functions.
E-HEALTH NEWS
Study Outlines Docs' eRx Barriers
Clunky data-management tools and the juice not being worth the squeeze in obtaining information were cited as the two main barriers to the use of electronic prescribing systems in a Center for Studying Health System Change study of 24 physician medical-group practices. The research, funded by the Agency for Healthcare Research and Quality, found that physicians in most of the survey group's medical practices had access to patient formulary information, but just slightly more than half could access patient medication histories using their e-prescribing systems. The researchers found that many physicians "did not routinely review these sources of information when making prescribing decisions."
Respondents cited two key barriers to use of e-prescribing systems, according to the report: cumbersome tools to view and import data into patient records, and data "not always perceived as useful enough to warrant the additional time to access and review them, particularly during time-pressed patient visits."
Source: Joseph Conn, Health IT Strategist [5/5/11]
HEALTHCARE LEGISLATION
Bill Would Exempt Podiatrists from Antitrust Laws
On April 7, Rep. John Conyers (D-MI) introduced H.R. 1409, the Quality Health Care Coalition Act of 2011. This bill would exempt from federal antitrust laws any healthcare professional engaged in negotiations with a health plan regarding the terms of any contract. Currently, the insurance industry, including any healthcare insurance company, is immune from federal antitrust laws under the McCarran-Ferguson Act. In contrast, healthcare providers can presently be prohibited from collectively negotiating with insurance companies.
H.R. 1409, if enacted, would give healthcare providers the ability to collectively negotiate contractual terms with insurers, including provisions that affect the quality of patient care, and would put them on the same footing as other collective bargaining units immunized under the National Labor Relations Act.
Source: APMA News Brief [5/5/11]
SUPERGROUP MANAGEMENT TIP OF THE WEEK
Tips from Adam Smith - Part 1
Adam Smith (1723-1790): Father of Modern Economics, wrote in Wealth of Nations, "All increase in wealth comes from the division of labor - organizing work so that those who are best at a particular task can focus on just that." As physicians, we can each relate to this phrase as we evaluate how we run our practices. Start by asking yourself the following question:
What is the most important thing you are doing now that someone else can do better? As you evaluate what you do well and don't do well, this is a great question to ask yourself and/or your staff. Put a list together on what you are doing now and what you can delegate to someone who does it better. This will drive your productivity.
Source: David Helfman, DPM
QUERIES (NON-CLINICAL)
Query: Implant Selection
I would like to open a dialogue concerning preferences in the selection of implants for the great toe joint. There are many on the market. I am interested in the reasons for selecting one over another. Please limit the discussion to implant selection, and let's not debate arthrodesis versus implant surgery in these threads.
Jack A. Reingold, DPM, Solana Beach, CA
RESPONSES / COMMENTS (CLINICAL)
RE: Recurrence of Club Foot (Sean S. Ravaei, DPM)
From: Mike Boxer, DPM
This appears to be a case of focal dystonia rather than a recurrent club foot. Focal or segmental dystonia usually will affect a single body region as opposed to generalized dystonia. Dystonia can start in childhood with inversion and plantarflexion of the foot. The picture submitted is rather characteristic of the typical deformity. The pathology is involuntary muscle contractions, and one form of treatment is the use of Botulinum toxin injections into affected muscle groups.
Mike Boxer, DPM, Woodmere, NY, MCBDPM@aol.com
RESPONSES / COMMENTS (MEDICAL LEGAL)
RE: Obligation to Report Proposed Insurance Fraud (Name Withheld)
From: Michael M. Rosenblatt, DPM
Name Withheld has a patient who wishes to come a few "additional times" and strike an agreement with the podiatrist to not be charged or pay co-insurance. Two issues come to light here: The first, "unnecessary treatment", and second, Medicare/insurance fraud. The doctor carefully documented this and wants to know whether the patient should be "discharged" from the practice. If he is elderly, there is also a possibility that he has dementia.
Putting that issue aside, Name Withheld can count on being "turned in" by the patient who...
Editor's note: Dr. Rosenblatt's extended-length letter can be read here.
RESPONSES / COMMENTS (NON-CLINICAL) - PART 1
RE: Sgarlato Snap Fixation Pin Substitute (Mark H. Sugar, DPM)
From: John Moglia, DPM
A simple inexpensive substitute for the snap pin is a threaded K-wire. After driving to the appropriate depth (C-arm assisted), the K-wire can be snapped flush to bone using a suction tip placed over the K-wire and bending it side to side 2-3 times. Be sure to confirm placement because removal is a problem (You must use cannulated drill bit). I prefer screws for easy removal in case of complications.
John Moglia, DPM, Berkeley Hts NJ, drjohnmoglia@aol.com
MEETING NOTICES - PART 2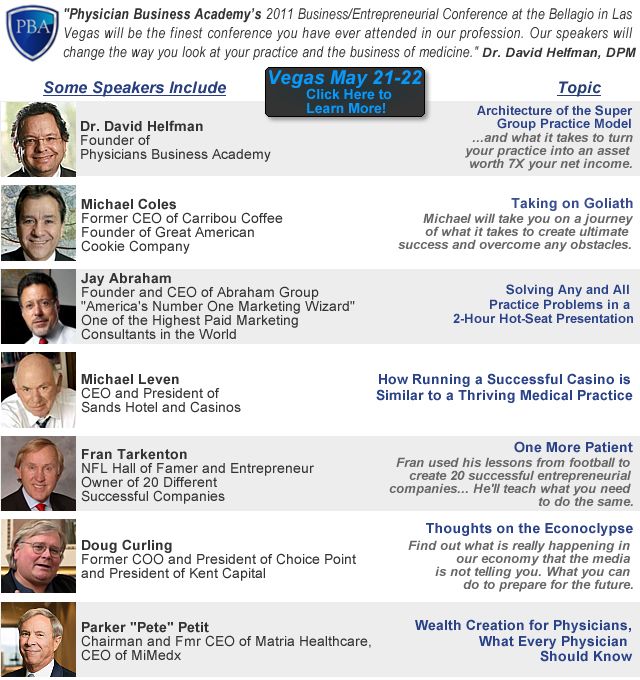 RESPONSES / COMMENTS (NON-CLINICAL) - PART 2
RE: TrakNet EMR (Jack Burgin, DPM)
From: Bob Hatcher, DPM
We completely agree with Dr. Burgin's assessment of TrakNet EMR. We are a three-doctor practice and switched early in 2010 to TrakNet. We were, in general, pleased with the medical record section but were extremely disappointed with the financial/scheduling piece. The program just doesn't seem to be robust enough for a larger or busier practice. I will not bore you with the details, but we are now back with our original program and humming along quite nicely, thank you. We have had NO success getting reimbursement for even a portion of our pain, though we felt the program was way oversold. No surprise there! I strongly recommend that larger practices carefully evaluate TrakNet before purchasing.
Bob Hatcher, DPM, Raleigh, NC, bob.rfc@intrex.net
MEETING NOTICES - PART 3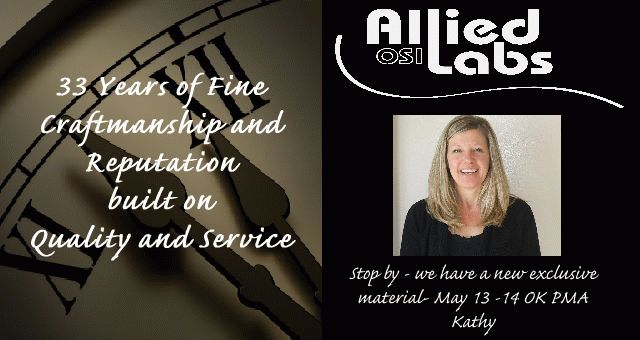 PODIATRY MANAGEMENT'S

AFFORDABLE

ONLINE CME
You can Earn 50 CPME-Approved CME Contact Hours Online
Earn 15 Contact Hours for only $149
(Less than $10 per credit)
http://www.podiatrym.com/cme.cfm
NY Podiatrists can take up to 25 credits per three-year cycle
Choose any or ALL (50 CME Contact Hours) from the 30+ CME Category 1 articles posted
You Can Now Take Tests and Print Your CME Certificates Online
CLASSIFIED ADS
PRACTICE FOR SALE - MISSION VIEJO, CA
Relocating to Tulsa. Great opportunity to buy my office. Located on Mission Regional Hospital Campus. Gross income 2010 was $340,000. Approximately 1300 sq ft with 3 treatment rooms, digital x-ray and fully computerized. Only 3 years old. Will consider all offers. 949-702-1052. David Stoller, DPM (Family Footcare) david@missionviejofootcare.com
PRACTICE FOR SALE - NORTHWEST SUBURBS, CHICAGO, IL
Great Opportunity! Present owner to stay on for transition. Average 20% growth over 3 years while open only 4 half days a week. Excellent growth potential with increased hours. Perfect for a new practitioner or a 2nd location. contact podiatrynwsuburbs@gmail.com for information.
PRACTICE FOR SALE - MARYLAND, DC SUBURBS
Great opportunity. Well established and equipped practice for sale. Office includes state licensed Ambulatory Surgical Center. Present owner is retiring but will stay on as needed for smooth transition. Average gross over past 3 years is $575 K. dpmpracticeforsale@yahoo.com
SPACE AVAILABLE- NYC & LI
Office to sublet and share - East 60th Manhattan, and Plainview long island. access to an MRI, Joint Commission certified operating rooms, digital x-ray, diagnostic ultrasound, and access to a multi-specialty ambulatory surgical center. Turn-key operation - no investment needed 516 476-1815 PODO2345@AOL.COM
ASSOCIATE POSITION – NEW JERSEY
Associate wanted full-time, for practice in East Orange NJ PSR 24-36 trained. Must be motivated to grow practice, especially build wound care and surgical services. Buy-in possible after the 1st year. send CV to Drfoot44@gmail.com
ASSOCIATE POSITION - NEW YORK CITY & QUEENS
One of the fastest growing podiatry practices in New York City and Queens seeks a podiatrist who participates with HealthFirst, Fidelis, and other Medicaid plans. Preferably a Spanish speaking podiatrist. Contact me at Podocare@aol.com
ASSOCIATE POSITIONS - NW INDIANA, CHICAGO AREA
2 Full-Time positions open - One for Northwest Indiana and one for the Chicagoland area. Must have 2-year surgical residency. Must be motivated and a self-starter. State License required. If interested email: f-massuda@footexperts.com
ASSOCIATE POSITION - CT - (FAIRFIELD AND NORTH HAVEN)
Join one of the largest podiatric groups in Connecticut. Well-established and progressive offices, including EMR, digital x-ray, vascular and NCV studies, Pinpointe and CO2 lasers, diagnostic ultrasound and electrical stimulation therapy. You can expect a full schedule of patients the day you start, and a very competitive salary. For more info www.greatfootcare.com. Send resume to Dr.Kassaris@yahoo.com
ASSOCIATE POSITION - SOUTH/CENTRAL PENNSYLVANIA
PSR-24/36 trained individual for busy practice in family-friendly college town. Seeking personable, ethical, motivated individual to join our well established practice providing all aspects of podiatric care. Competitive salary and benefits package. Reply with letter, CV and photo to Jagerone@aol.com.
PM News Classified Ads Reach over 12,500 DPM's and Students
Whether you have used equipment to sell or our offering an associate position, PM News classified ads are the fastest, most-effective way of reaching over 12,500 DPM's. Write to bblock@podiatrym.com or call (718) 897-9700 for details. Weekly ad rates start as low as $109 for a 50-word ad THIS OFFER DOES NOT APPLY TO BUSINESSES PROVIDING PRODUCTS OR SERVICES. Note: For commercial or display ads contact David Kagan at (800) 284-5451.
Disclaimers
Acceptance and publication by this newsletter of an advertisement, news story, or letter does not imply endorsement or approval by Kane Communications of the company, product, content or ideas expressed in this newsletter. Any information pertaining to legal matters should not be considered to be legal advice, which can only be obtained via individual consultation with an attorney. Information about Medicare billing should be confirmed with your State CAC.
---
THIS MESSAGE IS INTENDED ONLY FOR THE USE OF THE INDIVIDUAL OR ENTITY TO WHICH IT IS ADDRESSED AND MAY CONTAIN INFORMATION THAT IS PRIVILEGED, CONFIDENTIAL AND EXEMPT FROM DISCLOSURE.
---
If the reader of this message is not the intended recipient or an employee or agent responsible for delivering the message to the intended recipient, you are hereby notified that any dissemination, distribution, or copying of this communication is strictly prohibited. If you have received this communication in error, please immediately notify me and you are hereby instructed to delete all electronic copies and destroy all printed copies.
---
DISCLAIMER: Internet communications cannot be guaranteed to be either timely or free of viruses.
Guidelines
To Post a message, send it to: bblock@podiatrym.com
Notes should be original and may not be submitted to other publications or listservs without our express written permission.
Notes must be in the following form:
RE: (Topic)
From: (your name, DPM)
Body of letter. Be concise. Limit to 250 words or less). Use Spellchecker
Your name, DPM City/State
Subscribers are reminded that they have an ethical obligation to disclose any potential conflicts of interest when commenting on any product, procedure, or service.

Barry H. Block, DPM, JD
---
Browse PMNews Issues
Previous Issue | Next Issue