Browse PMNews Issues
Previous Issue | Next Issue
PM News
The Voice of Podiatrists

Serving Over 12,500 Podiatrists Daily

May 13, 2011 #4,159

Publisher-Barry Block, DPM, JD

A service of Podiatry Management http://www.podiatrym.com
E-mail us by hitting the reply key.
COPYRIGHT 2011- No part of PM News can be reproduced without the
express written permission of Kane Communications, Inc.
PODIATRISTS IN THE NEWS
CA Podiatrist Discuesses Plantar Fasciitis
As we step through spring and head into summer, many people might be dealing with excruciating heel pain. Podiatrists say it's the number-one foot complaint among their patients. One local doctor says most people can stop the pain without surgery. Dr. Franklin Kase, a foot specialist at Providence Saint Joseph Medical Center, says if people knew what causes heel pain, or plantar fasciitis, they would know how to alleviate and prevent it.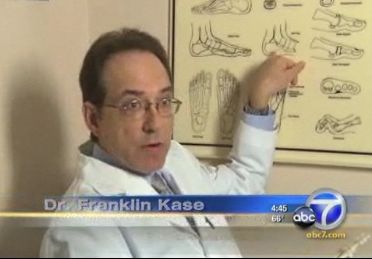 Dr. Franklin Kase
"You get this inflammatory process developing right at the insertion of the plantar fascia to the bottom of the heel right here," said Kase. And that's where most people feel the excruciating pain. Kase advises patients to wear shoes with solid heel support that bend at the front. And you shouldn't be able to twist it much. "If you don't have that, what happens is you compensate by breaking down the midsection of your foot or you can develop pain in your knees as well," said Kase.
Source: Denise Dador, KABC-TV [5/10/11]
DOX PODIATRY – Electronic Medical Records
START OFF THE NEW YEAR RIGHT: 1st MONTH FREE
Over 500 Podiatry Offices and Growing
Call 877-270-3518
PRACTICE LIKE THE BEST
MAKE MORE MONEY - SAVE TIME - DOX PODIATRY
DOX Podiatry is the leading web-based EMR solution designed by Podiatrists for Podiatrists that enables you to make more money in less time. Let us show you how in a quick, 40 minute, web-based demonstration.
• COMPLETE PODIATRY SPECIFIC MEDICAL DATABASE
• NO CUSTOMIZATION REQUIRED • EVERYWHERE ACCESS
• READY TO USE DAY ONE • CERTIFIED SAFE & SECURE
http://www.DoxEmr.com
$44,000 Economic Stimulus Article at: http://doxemr.wordpress.com/
CALL 1-877-270-3518 OR EMAIL INFO@DOXEMR.COM
PROFESSIONAL DISCIPLINE
More Medical Licenses Taken Away, Fewer Disciplinary Actions in 2010, FSMB Finds
Although the number of medical licenses taken away in 2010 was up 4.5% over 2009, the total number of disciplinary actions taken by state medical boards fell 1.2%, according to the Federation of State Medical Board's (FSMB) annual summary of state board actions. According to the report, which compiles the disciplinary actions taken by 70 state medical and osteopathic boards, 1,815 physicians and other medical professionals had their licenses revoked, suspended, or mandatorily retired in 2010, compared with 1,736 in 2009.
State boards took 5,652 total disciplinary actions—including probations ordered, licenses modified, or penalties and reprimands issued—in 2010, compared with 5,721 in 2009, according to the Federation's summary.
Source: Andis Robeznieks, Modern Healthcare [5/11/11]
QUERY (MEDICAL-LEGAL)
Query: Podiatrist's Responsibility When Taking Patients' Blood Pressures
What would happen if a non-primary care physician discovered that a patient's blood pressure was mildly "temporarily" elevated, and the patient went on to have a cardiovascular incident? Would that podiatrist be held liable for not intervening?
Elliot Udell, DPM, Hicksville, NY
RESPONSES / COMMENTS (CLINICAL) - PART 1
RE: Ultrasound-Guided Popliteal Infusion, Post-Bunion Surgery (Brian Kiel, DPM)
From: Charles Morelli, DPM
For complicated midfoot and rearfoot procedures where post-op anesthesia and pain management is a concern, we will ask the anesthesiologist to give this block. It is done easily in the OR, and I don't see any reason for needing to perform this under ultrasound guidance. But then again, there are quite a few practitioners who use this modality for giving plantar injections for heel pain as well as for other similar conditions. Why is ultrasound used? I think we all know the answer.
Charles Morelli, DPM, Mamaroneck, NY, podiodoc@gmail.com
RESPONSES / COMMENTS (CLINICAL) - PART 2
RE: Dorsalis Pedis Artery Aneurysm (Cedric Cooper, DPM)
From: Bryan C. Markinson, DPM
Dr. Cooper reports a very interesting case of a dorsalis pedis artery aneurysm. In reading the post, I think I might have proceeded differently. In his exam, he reports that the lesion could be trans-illuminated and was also pulsatile. He then indicates that he did an excisional biopsy. I don't think that is what he did. The very next sentence reports that he aspirated serous fluid and blood from the lesion, diagnosed an aneurysm, and sent the patient to the vascular surgeon for successful excision of the lesion.
After determining that the lesion was fluid-filled AND PULSATILE, I would have gone right to imaging and NOT aspirated the lesion. There is a reasonable chance of hemorrhage (or clot formation which) due to the aspiration, depending on whether or not the lesion was venous or a very fragile thin-walled artery. A Doppler may have helped as venous lesions may not be (but could be) pulsatile, but characteristic sounds help differentiate an artery from a vein.
Another non-invasive clinical test looks for Branham's sign. If this lesion had been an arterio-venous fistula, compression of the dorsalis pedis artery proximal to it would induce a bradycardia. Additionally, I wonder if the patient was screened for aneurysms in the usual places?
Bryan C. Markinson, DPM, NY, NY, Bryan.Markinson@mountsinai.org
RESPONSES / COMMENTS (MEDICARE)
RE: OIG to Hold Free Provider Compliance Training Webcast on May 18, 2011
From: Paul Kesselman, DPM
OIG will offer a free, live webcast of its HEAT Provider Compliance Training to be held at the Department of Health and Human Services on Wednesday, May 18, 2011 from 8:30am-1:00pm EST. For those unable to watch the live webcast, a video of the training will be available for online viewing on or before May 31, 2011.
Hear from Inspector General Daniel Levinson and other government experts as they educate local healthcare providers and compliance officers about the realities of Medicare fraud and the importance of implementing an effective compliance program. For information regarding viewing the free webcast and to download program materials, click here.
Paul Kesselman, DPM, Woodside, NY, pkesselman@pol.net
RESPONSES / COMMENTS (OBITUARIES)
RE: The Passing of Rob Roy McGregor, DPM
From: Lloyd Smith, DPM
Dr. McGregor, affectionately known as Rob Roy, was a pioneer in the world of podiatric sports medicine and diabetes. He was a past president of the Massachusetts Podiatric Medical Society. He was one of my early mentors as I explored the issues of sports injuries, running biomechanics, and how to understand, evaluate, and treat runners. He was a kind man dedicated to his family and his profession. He will be missed.
Lloyd S. Smith, DPM, Newton, MA
RESPONSES / COMMENTS (NON-CLINICAL) - PART 1
RE: Vibram Fivefingers Shoes (John Hart, DPM)
From: Brad Shollenberger, DPM
I recently treated a 30 year old female runner who started running this past fall with Vibram FiveFingers. She reduced her initial miles as recommended, and within 2-3 weeks was experiencing significant dorsal midfoot pain. Her PCP ordered a bone scan before referring her to me. This showed uptake at the 4th tarso-metatarsal joints B/L. Follow-up x-rays in my office confirmed stress fractures with subsequent remodeling. Due to the B/L nature, I placed her in surgical shoes, with restricted activity, and she was able to return to light running (in conventional running shoes) in 10 weeks.
Personally, I think Vibram FiveFingers should be reserved for Halloween costumes.
Brad Shollenberger, DPM, Reading, PA, nohav@aol.com
RESPONSES / COMMENTS (NON-CLINICAL) - PART 2
RE: Adam Smith's "The Wealth of Nations" (David Helfman, DPM)
From: Dwight L. Bates, DPM
Recently, I borrowed The Wealth of Nations from the public library by mistake. It was the only book I had, so I read it. It is wonderful. Smith described exactly what is going on today. You can predict the future and position yourself accordingly if you read what Smith wrote.
Dwight L. Bates, DPM Athens, TX, dlbates04@yahoo.com
RESPONSES / COMMENTS (NON-CLINICAL) - PART 3
RE: TrakNet EMR
From: Brooke Weaver
Like everyone else, we faced the EHR decision. It wasn't the enticement of the money offered, but more the fear of the fee cut if we did not have appropriate software that made us commit to a new product. We had been a Medinotes/Lytec user since the beginning, and the thought of changing was a bit intimidating. We liked what we had and we knew the ins and outs of the program, so changing was not high on the list of things we really wanted to do.
After careful consideration, we did choose Traknet, and we have to say that we are very pleased we did. Having trainers available to us who came from a Medinotes/Lytec background helped tremendously, especially...
Editor's note: Ms. Weaver's extended-length letter can be read here.
MEETING NOTICES - PART 2
YOU CAN'T MAKE THESE THINGS UP
RE: This Patient Was Really "Ticked" Off
Always check between the toes. I found this in the first web space on one of my diabetic patients; he didn't know it was there.
Interdigital Tick
It is a tick.

Calvin Britton, DPM, North Little Rock, AR
CLASSIFIED ADS
SPACE AVAILABLE- NYC & LI
Office to sublet and share - East 60th Manhattan, and Plainview long island. access to an MRI, Joint Commission certified operating rooms, digital x-ray, diagnostic ultrasound, and access to a multi-specialty ambulatory surgical center. Turn-key operation - no investment needed 516 476-1815 PODO2345@AOL.COM
ASSOCIATE POSITION – IOWA CITY AREA
Modern practice seeking a well-trained (PSR 24/36) associate. Excellent opportunity for an energetic, hardworking individual with strong surgical and medical skills. Solid referral network and 13 years of growth. Come live in the Iowa City area and enjoy the quality of life and stability of a Big Ten University community. Competitive salary and benefit package available. If interested, fax CV to 319-354-1014 or e-mail to dave@341foot.com
POSITION AVAILABLE - LONG ISLAND PRACTICE (NASSAU COUNTY)

looking for part time associate for 8-12 hours/week with room to grow. Please email pittpod@gmail.com with interest (write 'position available' in subject line).
ASSOCIATE POSITION - SW FLORIDA
Huge opportunity. Are you an outstanding person? Would you like the freedom to utilize your talents to the max? Opportunity awaits right candidate. Excellent mix of office/surgery motivated/experienced staff. Full Time Associate PSR 12-36. Great Salary/Benefits, Bonus Package, Unlimited Potential, Buy-In Opportunity. Email resume to podiatry22@yahoo.com
ASSOCIATE POSITION - TAMPA BAY, FL
Associate with PSR 24+, needed for a dynamic practice. Well-established high-tech with specialties in sports medicine, surgery, and wound care. No nursing homes or HMOs. E-mail: flpodiatrist@tampabay.rr.com
ASSOCIATE POSITION – NEW YORK
Well-established, multi-doctor podiatry practice with offices in Putnam and Westchester counties. Compensation based on productivity. Excellent opportunity for recent residency graduate to build skills and learn practice management. Full-time preferred but right part-time candidate will be considered. Email cover letter and CV to: Podiatry2011@gmail.com
ASSOCIATE POSITION - WA (KIRKLAND, SEATTLE, EVERETT, AND REDMOND)
Join one of the fastest growing podiatry practices in Washington state. Must be motivated to grow practice. Competitive salary and benefits. For more information go to seattlefootdoctor.com. Send resume to seattlefootdoctor@yahoo.com
ASSOCIATE - POSITION - SOUTHEAST GEORGIA & SOUTH CAROLINA
Seeking recent residency graduate to join practice. Must be PSR-24/36 trained. Multiple locations. Full range of services with new facility. E-mail to melissafoot@pol.net
ASSOCIATE NEEDED - MIAMI, FL
Full-time. Very Busy practice. Rearfoot/forefoot/wound care. Salary + % gross. Send CV to footdoctorinmiam@aol.com
ASSOCIATE POSITION - NEW YORK CITY & QUEENS
One of the fastest growing podiatry practices in New York City and Queens seeks a podiatrist who participates with HealthFirst, Fidelis, and other Medicaid plans. Preferably a Spanish speaking podiatrist. Contact me at Podocare@aol.com
ASSOCIATE POSITIONS - NW INDIANA, CHICAGO AREA
2 Full-Time positions open - One for Northwest Indiana and one for the Chicagoland area. Must have 2-year surgical residency. Must be motivated and a self-starter. State License required. If interested email: f-massuda@footexperts.com
ASSOCIATE POSITION - CT - (FAIRFIELD AND NORTH HAVEN)
Join one of the largest podiatric groups in Connecticut. Well-established and progressive offices, including EMR, digital x-ray, vascular and NCV studies, Pinpointe and CO2 lasers, diagnostic ultrasound and electrical stimulation therapy. You can expect a full schedule of patients the day you start, and a very competitive salary. For more info www.greatfootcare.com. Send resume to Dr.Kassaris@yahoo.com
PRACTICE FOR SALE - NORTHWEST SUBURBS, CHICAGO, IL
Great Opportunity! Present owner to stay on for transition. Average 20% growth over 3 years while open only 4 half days a week. Excellent growth potential with increased hours. Perfect for a new practitioner or a 2nd location. contact podiatrynwsuburbs@gmail.com for information.
PRACTICE FOR SALE - MISSION VIEJO, CA
Relocating to Tulsa. Great opportunity to buy my office. Located on Mission Regional Hospital Campus. Gross income 2010 was $340,000. Approximately 1300 sq ft with 3 treatment rooms, digital x-ray and fully computerized. Only 3 years old. Will consider all offers. 949-702-1052. David Stoller, DPM (Family Footcare) david@missionviejofootcare.com
PRACTICE FOR SALE - MARYLAND, DC SUBURBS
Great opportunity. Well established and equipped practice for sale. Office includes state licensed Ambulatory Surgical Center. Present owner is retiring but will stay on as needed for smooth transition. Average gross over past 3 years is $575 K. dpmpracticeforsale@yahoo.com
PM News Classified Ads Reach over 12,500 DPM's and Students
Whether you have used equipment to sell or our offering an associate position, PM News classified ads are the fastest, most-effective way of reaching over 12,500 DPM's. Write to bblock@podiatrym.com or call (718) 897-9700 for details. Weekly ad rates start as low as $109 for a 50-word ad THIS OFFER DOES NOT APPLY TO BUSINESSES PROVIDING PRODUCTS OR SERVICES. Note: For commercial or display ads contact David Kagan at (800) 284-5451.
Disclaimers
Acceptance and publication by this newsletter of an advertisement, news story, or letter does not imply endorsement or approval by Kane Communications of the company, product, content or ideas expressed in this newsletter. Any information pertaining to legal matters should not be considered to be legal advice, which can only be obtained via individual consultation with an attorney. Information about Medicare billing should be confirmed with your State CAC.
---
THIS MESSAGE IS INTENDED ONLY FOR THE USE OF THE INDIVIDUAL OR ENTITY TO WHICH IT IS ADDRESSED AND MAY CONTAIN INFORMATION THAT IS PRIVILEGED, CONFIDENTIAL AND EXEMPT FROM DISCLOSURE.
---
If the reader of this message is not the intended recipient or an employee or agent responsible for delivering the message to the intended recipient, you are hereby notified that any dissemination, distribution, or copying of this communication is strictly prohibited. If you have received this communication in error, please immediately notify me and you are hereby instructed to delete all electronic copies and destroy all printed copies.
---
DISCLAIMER: Internet communications cannot be guaranteed to be either timely or free of viruses.
Guidelines
To Post a message, send it to: bblock@podiatrym.com
Notes should be original and may not be submitted to other publications or listservs without our express written permission.
Notes must be in the following form:
RE: (Topic)
From: (your name, DPM)
Body of letter. Be concise. Limit to 250 words or less). Use Spellchecker
Your name, DPM City/State
Subscribers are reminded that they have an ethical obligation to disclose any potential conflicts of interest when commenting on any product, procedure, or service.

Barry H. Block, DPM, JD
---
Browse PMNews Issues
Previous Issue | Next Issue