Browse PMNews Issues
Previous Issue | Next Issue
PM News
The Voice of Podiatrists

Serving Over 13,500 Podiatrists Daily

August 04, 2012 #4,532

Publisher-Barry Block, DPM, JD

A service of Podiatry Management http://www.podiatrym.com
E-mail us by hitting the reply key.
COPYRIGHT 2012- No part of PM News can be reproduced without the
express written permission of Kane Communications, Inc.
ANNUAL SURVEY NOW ONLINE - WIN VALUABLE PRIZES
We encourage you to participate in this important survey at  www.podiatrym.com/survey Completing this anonymous survey provides us with valuable data, which we will publish in the February 2013 issue of Podiatry Management. It also makes you eligible to win thousands of dollars of valuable prizes. Enter by completing this anonymous survey.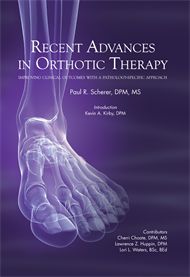 Recent Advances in Orthotic Therapy

This week's prize is a copy of Recent Advances in Orthotic Therapy by Dr. Paul Scherer (Value - $129.95)..  
This is also your opportunity to vote for the next DPM and Non-DPM inductees into the PM Podiatry Hall of Fame.
PODIATRISTS IN THE NEWS
GA Podiatrist Discusses 4 Features to Look For in Summer Footwear
Podiatrist Dr. Rami Calis explains that during the summer, people tend to be more active. "Unfortunately, the shoewear that goes along with a lot of the summer activity tends to be less supportive, so people become more prone to injuries like heel pain on the bottom or the back of the heel."
Dr. Rami Calis
Dr. Calis suggests four features of shoes that you should consider having to prevent these aches. "One is have something around the ankle to hold the shoe in place. Two, have some sort of arch in the shoe if possible. Three, would be a thicker rubber sole to give you some shock absorption and four, to have a slightly deeper heel cup to hold your heel in position."
Source: Susan Hendricks, CNN [7/31/12]
INTERNATIONAL PODIATRISTS IN THE NEWS
UK Podiatrist Discusses Treatment of Neuromas
A neuroma is an excruciating condition which occurs when a nerve gets trapped between the bones of the foot, resulting in pain on the ball of the foot and at the base of the toes. More than a million Britons are affected: high heels and hormonal changes, such as menopause, can exacerbate the problem. Treatments include supports worn inside the shoe and injections of steroid, alcohol, and liquid nitrogen into the nerve.
Mike O'Neill
But if these don't work, it's possible to have a 15-minute operation, where surgeons remove a fingernail-sized portion of the nerve. Studies show it's effective in 80   per cent of cases. "Patients who have suffered years of excruciating pain can find the problem has gone for good," says Mike O'Neill, podiatrist and spokesman for the College of Podiatry. "But in 20 per cent of cases, the nerve stump can regrow, so it has to be done again."
Source: Carol Davis, Daily Mail [7/30/12]
PODIATRISTS AND SPORTS MEDICINE
MD Podiatrist Discusses Foot & Ankle Injuries in Olympic Athletes
From plantar fasciitis to Lisfranc injuries to ankle sprains and stress fractures, Olympic athletes, including Jason Burnett, Jon Horton, Chellsie Memmel, Sam Mikulak, McKayla Maroney, and others have dealt with their fair share of injuries as they prepared for and now compete in the Summer Games.
Dr. Timothy Swartz
According to Maryland foot and ankle surgeon and Fellow member of ACFAS, Timothy Swartz, DPM, FACFAS, "One of the most common athletic foot injuries, plantar fasciitis, is a painful injury that is most commonly found in those who are on their feet a lot, like athletes. It can be caused by abnormally high or low arches, insufficient support in footwear, or simply putting too much strain on one's feet."
Source: Sacramento Bee [7/31/12]
PODIATRISTS IN THE COMMUNITY
Phoenix Magazine Names Top Docs
Phoenix Magazine selected this year's Top Docs through a peer-review survey of over 5,000 area physicians. The surveys asked the doctors to nominate peers who, in their judgment, are the best in their field.
Dr. Lewis Freed
The following podiatrists were selected as Top Docs 2012 by Phoenix Magazine: Drs. Kris DiNucci, Alan Discont, Albert Eulano, Mark Forman, Lewis Freed (received most votes), J Timothy Harlan, Daniel Schulman, Michael Sekosky, Kerry Zang, and Larry Zonis.
Source: Phoenix Magazine
QUERIES (NON-CLINCAL)
Query: Source for Looking up Deceased Patients?
We will be moving our office in the next few months and want to send out notices to our patients. We do not want to send out announcements to patients or their spouses who may be deceased. Besides calling Medicare to find this information using their IVR system, is there another way to find out if Medicare patients are deceased, such as PDF files or similar?
J. Ressler, DPM Lauderhill, FL
CODINGLINE CORNER
Query: Coding a Bunionectomy - Osteotomy - Implant
I performed a decompression 1st metatarsal osteotomy/bunionectomy followed by inserting a titanium hemi-implant at the base of the proximal phalanx. This patient has CIGNA insurance.
How should I code the procedure(s)? Bunionectomy with osteotomy (CPT 28296) plus insertion of an implant (CPT 28293); or as an osteotomy of the 1st metatarsal (CPT 28306) plus CPT 28293?
PM News Subscriber
Response: You cannot bill CPT 28296 plus CPT 28293 since you would be billing for 2 bunionectomy procedures on one foot...something you did not do. Your coding should be:
CPT 28293 - bunionectomy with implant
CPT 28306-59 - osteotomy, 1st metatarsal
Harry Goldsmith, DPM, Cerritos, CA
Editor's note: Dr. Goldsmith is a featured speaker (and available for your questions) at the Codingline-PM News Coding & Practice Management Workshop, August 20-22 (following the APMA Annual Meeting) at the Greenbrier - www.podiatrym.com/greenbrier.cfm
Codingline subscription information can be found here
APMA Members: Click here for your free Codingline Silver subscription
RESPONSES / COMMENTS (CLINICAL)
RE: Chronic Diabetic Ulcer (Kel Sherkin, DPM)
From: Howard J. Bonenberger, DPM
Dr. Sherkin's patient probably has some degree of structural or functional hallux limitus. The long hallux may be due in part to a long first metatarsal. These same lesions and hallux IPJ hyperextension are often seen in the non-diabetic who has these 1st MTPJ dorsiflexion limitations. Until these are addressed, re-ulceration will persist and may eventually lead to an osteomyelitis. If not already done, I suggest diagnostic studies to rule out chronic osteomyelitis as well.
Howard J. Bonenberger, DPM, Nashua, NH, howardbon@aol.com
RESPONSES / COMMENTS (NON-CLINICAL)
RE: Affordable Care Act (Obamacare) Perk (Joel Lang, DPM)
From: Russ Barone, DPM
This one really struck a nerve with me. May I suggest that as a retired podiatrist, Dr. Lang finds the time to start an insurance company and pay for healthcare claims. He could determine the premiums, the payouts, the deductibles, co- pays and his own salary. It is possible that he would generate so much business with such a large volume of customers and followers; he could be a very generous insurance company. Even people with a serious pre-existing condition could say come on in. He will pay your bills! Just the magnitude of your number of clients would allow for a "Cadillac policy" for everybody. This would allow you to keep the premiums very low. What would your salary be Dr. Lang?
What did Pelosi say?: We need to pass it to see what's in it! Well, on page 58 the law says: "The government will have real-time access to an individual's bank account and will have the authority to...
Editor's note: Dr. Barone's extended-length letter can be read here.
MEETING NOTICES - PART 1
RESPONSES / COMMENTS (NEWS STORIES)
RE: CA Podiatrist Says Team Approach Saves Limbs and Lives (Lee Rogers, DPM)
From: Elliot Udell, DPM
The core of this discussion is whether lower extremity amputations are of themselves a cause of increased mortality independent of underlying vascular pathology which contributed to the need for the amputation. Dr. Rogers cites increased mortality associated with hip fractures and speculates that sedentary lifestyle may be the cause of this increased mortality and the same would apply to amputees.
In a letter to PM News, I postulated that the increased mortality may be independent of the amputation because patients with diabetes in need of an amputation have severe systemic vascular disease which in itself may be a cause of increased mortality. There have been many papers published over the years which cite an...
Editor's Note: Dr. Udell's extended-length letter appears here.
MEETING NOTICES - PART2
PODIATRY MANAGEMENT'S AFFORDABLE ONLINE CME
You can Earn 50 CPME-Approved CME Contact Hours Online
Earn 15 Contact Hours only $169
(Less than $12 per credit) http://www.podiatrym.com/cme.cfm
All required credits can be taken online for AL, AK, AR, CA, CO, CT, DE, GA, HI, IN, KS, KY, LA, ME, MD, MI, MN, MI, NV, NJ, NM, ND, OH, OR, RI, SC, SD, VA, WV, WI, & WY
Partial required credits can be taken online for AZ, FL, ID, IL, IA, MO, MT, NH, NY, NC, OK, PA, PR, TN, TX, UT, VT, WA, and DC
Choose any or ALL (50 CME Contact Hours) from the 30+ CME Category-1 articles posted
CLASSIFIED ADS
ASSOCIATE POSITION - LOUISVILLE, KY
Immediate position for established practice in excellent location with option to buy. All phases of podiatry with good mix of patients. Two local residency programs with foot and ankle and trauma privileges. Office has EMR qualifying for meaningful use in the first year. PADnet vascular testing. Send resume to: samuel10530@yahoo.com.
ASSOCIATE POSITION - NORTHERN VIRGINIA
Small, high-volume, non-surgical conservative care practice in Northern Virginia looking for hard-working, caring full-time podiatrist. Must enjoy, respect benefits of palliative care, diabetic foot care, foot biomechanics. Experience good. Great attitude better. Must be team player, practical, flexible problem-solver. Looking for someone committed to grow practice. Not looking for equity partner now, but if you prove yourself with great performance and attitude, a partner would be welcome. Send resume and CV to karenafp@gmail.com
ASSOCIATE POSITION - WASHINGTON, DC
Prominent two office (3 practitioner) podiatric medical group seeking well rounded, personable individual with good medical and surgical skills. Must be 24/36 month trained, board qualified or certified foot and ankle surgeon. Salary with benefits package. Serious inquiries to ponyrunner66@gmail.com
ASSOCIATE POSITION - MANHATTAN
Podiatrist needed for busy state-of-the-art offices in Manhattan. Offices are located near Penn and Grand Central Station. 10+ years experience only and an out-of-network doctor for most insurances. Please forward your information and CV to: roni@myfcny.com
ASSOCIATE POSITION – NORTHERN CALIFORNIA/BAY AREA
We're looking for someone entrepreneurial who can help grow our practice. Must have great people skills, clinical/surgical skills, and positive demeanor. California license required. Send your CV and cover letter to cvpodiatrist@gmail.com
ASSOCIATE POSITION - YONKERS, NY
Immediate part-time associate position now available. Appx: 3 1/2 days per week with room to grow. Practice is a good balance of all aspects of podiatric foot care, including surgery. Perfect opportunity for new graduate, or experienced podiatrist. Looking for the right person to transition into vacancy that will be left by current associate leaving the area and you will have an immediate, full schedule of patients. Over 25 year well-established practice with large referral base, and both hospital and surgery center privileges available. Interested persons please forward CV and brief summary of surgical log to: Podiodoc@gmail.com914.584.1434
ASSOCIATE POSITION - OHIO
Ohio practice with excellent reputation and patient base seeks to hire a Podiatric Surgeon. The offices are state of the art including Digital X-Ray, EMR, Diagnostic ultrasound, Padnet Vascular Testing, CO- 2 Lasers all aspects of DME. The base salary is $120,000 with a bonus structure and benefits also would like to have this individual buy into the practice eventually. Please send CV to: Ohiopodiatrist@aol.com
ASSOCIATE POSITION - BAKERSFIELD, CA
IMMEDIATE OPENING: Office and hospital-based podiatry group in Bakersfield, CA seeks highly trained surgical associate to join us. Prefer surgeon with trauma and Charcot reconstructive experience. Staff privileges with 5 local hospitals. Offering health insurance, CME allowance and competitive salary. Must be PSR 24/36 trained, ethical and thoughtful when treating patients. Please forward CV and letter of intent to: modpm@aol.com.
ASSOCIATE POSITION WEST COAST FLORIDA
Outstanding opportunity for PSR-36 graduate to join successful group podiatry practice. Seeking a sociable, articulate graduate who is confident in foot and ankle surgery but also enjoys all phases of podiatry. Long-term opportunity for the right candidate with generous pay and benefits. Reply to: jwicks@cortezfootandankle.com
ASSOCIATE POSITION – BROOKLYN, NY
Full-time position available with excellent salary in a state-of-art-office. Please email your resume to: irenefootcare@gmail.com
ASSOCIATE POSITION - SEATTLE, WA AREA
A well-established, solo-physician practice seeking a Full-Time Associate Podiatrist. Applicant should be: well trained physician, personable and motivated individual with sound surgical skills. Applicant must have completed a 24-36 month residency. Practice offers a state-of-the-art practice setting, with a good general mix of all aspects of podiatric medicine and surgery. Competitive salary and benefits. Partnership opportunities available. E-mail your letter of interest with resume to: seattlefootdoctor@yahoo.com
ASSOCIATE POSITION - MANHATTAN
Well-established successful Park Avenue podiatry practice is recruiting skilled and well trained DPM with a minimum of 3 years of experience. Must be experienced in rear and forefoot reconstruction. Must be self- motivated, and great with patients. State-of-the-art practice facilities and technologies which include: in-office physical therapy, digital x-ray, diagnostic ultrasound, and electronic medical records. MRI, and private operating room. All interested candidate email CV to: institutebeaute885@gmail.com
ASSOCIATE POSITION - NASSAU COUNTY, NEW YORK
Exciting Opportunity! Associate position. Must be Board Qualified. Joining all Board Certified Doctors in foot surgery and reconstructive rear-foot and ankle surgery. Respond to:Podiatryoffice@doctor.com
ASSOCIATE POSITION - NJ
Immediate opening for full-time or 2 part-time DPMs for diversified practice that features most all phases of podiatric medicine and surgery. Full-time candidate must be ABPS Board Certified in Foot Surgery or PSR 24/36 Bd Qualified in RRF. Competitive salary and bonus. Great working conditions and area. Realistic Partnership opportunity. Send resume to:MonmouthDPM@aol.com
ASSOCIATE POSITION - NEW YORK CITY & QUEENS
High Income Potential. One of the fastest growing podiatry practices in New York City and Queens seeks a hard-working podiatrist who participates with HealthFirst, Fidelis, and other Medicaid plans. Contact me at: Podocare@aol.com
EQUIPMENT FOR SALE - USED PODIATRIC LASERS
Great price, great outcome. Stop wasting money on expense lasers. Personally owned and used few hours in my office,. 10 and 30 watts lasers. Two handpieces in one. First one for plantar fasciitis, Achilles tendonitis, arthritis, pain, inflammation. 2nd handpiece for surgical ablation and fungus toenail conditions. Portable fast and very cost-effective:footcare@comcast.net
EQUIPMENT FOR SALE
Retiring from practice. Equipment For sale. Mini x-ray. One year old Ultrasound with MS arterial/venous X-ray plates. Great condition Ritter chairs. Drills, surgical tools. So much. Just ask, I probably have it: Footcare@comcast.net
PRACTICE FOR SALE - SOUTHWEST FL
multilocation multidoctor practice in beautiful Southwest Florida . Practice has grossed over seven figures consistently and currently shows 10-15% growth in revenues with increase in new patients and patient visits. EHR is already implemented with meaningful use criteria met. Practice has been professionally evaluated by Provider Resources. Only serious inquiries to this email address. This is a great practice in Paradise and a good opportunity for the right doctor or doctors. Email to: practiceforsaleswfla@gmail.com.
PRACTICE FOR SALE – KANSAS SOUTHWEST
For sale multi-location practice in beautiful Southwest Kansas. Practice has 10-15% growth in revenues with increase in new patients and patient visits. EHR is already implemented with meaningful use criteria met. Recently added new office space with digital x-ray. Only surgical podiatrist in 2 of 3 locations. Practice has been professionally evaluated by Provider Resources. Only serious inquiries to this email address. This is a great practice, a great location and opportunity for the right doctor. mcrosby@picagroup.com
PRACTICE FOR SALE - NEW ROCHELLE, NY
Flexible terms. Stable location, medical co-op, 24 year practice with a stable established patient base. Great opportunity for a self motivated podiatrist wanting immediate income and future stability. Call 551-574-0776 for details.
PRACTICE FOR SALE - BALTIMORE, MARYLAND
Established 40+ year old well-rounded practice of both surgical and non-surgical care with special emphasis on sports medicine. Medicare and BS/private insurance base, no Medical assistance. Needs to transition to a confident well trained individual. Purchase can include building. Contact: podiatrypracticesale@gmail.com
SPACE AVAILABLE - NYC & LI
Office to sublet and share - East 60th Manhattan, and Plainview, Long Island. access to an MRI, Joint Commission certified operating rooms, digital x-ray, diagnostic ultrasound, and access to a multi-specialty ambulatory surgical center. Also availability E 22nd between 2nd and 3rd and E 70th off 3rd. Turn-key operation - no investment needed 516 476-1815 PODO2345@AOL.COM
WANTED LOCUM TENENS - CAPE COD, MASSACHUSETTS
Busy general group practice in beautiful Brewster Massachusetts in need of help. We are one practitioner down due to medical leave during our busy season. Stay one month or three offering housing and top salary. Possibility to lead to full time Associate/Partnership. Please email your interest to: ltboudreau@gmail.com
PM News Classified Ads Reach over 13,500 DPM's and Students
Whether you have used equipment to sell or our offering an associate position, PM News classified ads are the fastest, most-effective way of reaching over 13,500 DPM's. Write to:bblock@podiatrym.com or call (718) 897-9700 for details. Weekly ad rates start as low as $115 for a 50-word ad. THIS OFFER DOES NOT APPLY TO BUSINESSES PROVIDING PRODUCTS OR SERVICES. Note: For commercial or display ads contact David Kagan at (800) 284-5451.
Disclaimers
Acceptance and publication by this newsletter of an advertisement, news story, or letter does not imply endorsement or approval by Kane Communications of the company, product, content or ideas expressed in this newsletter. Any information pertaining to legal matters should not be considered to be legal advice, which can only be obtained via individual consultation with an attorney. Information about Medicare billing should be confirmed with your State CAC.
---
THIS MESSAGE IS INTENDED ONLY FOR THE USE OF THE INDIVIDUAL OR ENTITY TO WHICH IT IS ADDRESSED AND MAY CONTAIN INFORMATION THAT IS PRIVILEGED, CONFIDENTIAL AND EXEMPT FROM DISCLOSURE.
---
If the reader of this message is not the intended recipient or an employee or agent responsible for delivering the message to the intended recipient, you are hereby notified that any dissemination, distribution, or copying of this communication is strictly prohibited. If you have received this communication in error, please immediately notify me and you are hereby instructed to delete all electronic copies and destroy all printed copies.
---
DISCLAIMER: Internet communications cannot be guaranteed to be either timely or free of viruses.
Guidelines
To Post a message, send it to: bblock@podiatrym.com
Notes should be original and may not be submitted to other publications or listservs without our express written permission.
Notes must be in the following form:
RE: (Topic)
From: (your name, DPM)
Body of letter. Be concise. Limit to 250 words or less). Use Spellchecker
Your name, DPM City/State
Subscribers are reminded that they have an ethical obligation to disclose any potential conflicts of interest when commenting on any product, procedure, or service.

Barry H. Block, DPM, JD
---
Browse PMNews Issues
Previous Issue | Next Issue