Browse PMNews Issues
Previous Issue | Next Issue
PM News
The Voice of Podiatrists

Serving Over 12,000 Podiatrists Daily

September 03, 2010 #3,948

Publisher-Barry Block, DPM, JD

A service of Podiatry Management http://www.podiatrym.com
E-mail us by hitting the reply key.
COPYRIGHT 2010- No part of PM News can be reproduced without the
express written permission of Kane Communications, Inc.
PODIATRISTS IN THE NEWS
Hammertoes Pose Risk for Diabetics: MO Podiatrist
Dr. Jason Denton with Foot Healers says hammertoes are among the most common toe deformities; and they can develop at any age. He tries conservative measures first. Moving to a wider or deeper shoe sometimes helps. There is a splint that combines a pad under the toes with a strap over the top to align all the toes in the same plane. If those don't work and the toe is still flexible, he can do a brief office surgery in which he makes a small stab incision on the underside of the toe and snips the tendon that is pulling up, allowing the toe to release and flatten out.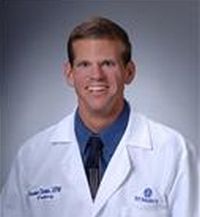 Dr. Jason Denton
Denton says rigid hammertoes, those that won't flatten at all, usually require surgery. That surgery is more involved and includes bone work and sometimes pins to stabilize the joint while it heals. "The big worry with hammertoes is with diabetics, who can develop an ulcer on top of the toe where it rubs because of decreased sensation," he explains. "They may think it's a corn, but there is an ulcer underneath that may not heal. I try to get them into diabetic shoes early on. A custom insert can be helpful to accommodate a hammertoe or other foot deformity."
Source: Mary Jo Blackwood, RN, MPH, Ladue News [8/26/10]
WI Podiatrists Part of APMA Award-Winning Poster
The Wisconsin Neuropathy Center and its associates at Aurora Health Center were awarded 1st place at the recent 2010 Annual Scientific Meeting of the APMA in Seattle, Washington. The group presented a poster entitled, "Combination Electroanalgesia Therapy (CET) to Treat Pain Associated with Diabetic Peripheral Neuropathy (DPN)." The authors include Cynthia Cernak, DPM, Elizabeth Marriott, MD, Jeremy Fleischmann DPM, John Martini, MD, Briana Silvani, R.NSC.T, R.EDT, Brittany Bach, RN, Christine Diab, RN, and Michael McDermott.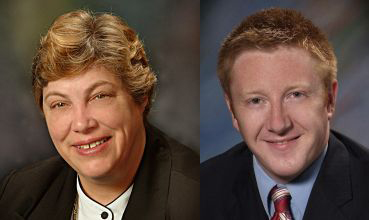 Dr. Cynthia Cernak and Jeremy Fleischman
The purpose of the study was to evaluate the safety and efficacy of combining local anesthetic injections with specific parameter electroanalgesia that uses varied amplitudes and frequencies of electronic signals for the treatment of DPN. This study suggests that alternative treatment options may benefit patients suffering from DPN.
PODIATRISTS IN THE COMMUNITY
MA Podiatrist Exhibits Photographs - Donates Orthotics
In an exhibit this month at the Cooley Dickinson Hospital in Northampton, area podiatrist Louis J. DeCaro will combine his avocation - a lifelong passion for photography - with his vocation. Opening today will be "Passing Perspectives," a selection of DeCaro's favorite photography. The proceeds from the sale of the signed, limited edition framed prints will be used to purchase orthotics for children in the Valley who cannot afford them. Orthoses, devices worn in shoes which support and aid the biomechanical shortcomings of the foot type, are often not covered by health insurance policies, DeCaro says.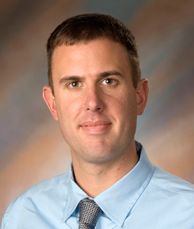 Dr. Louis J. DeCaro
"Throughout my life, I have had a passion for photography and have chronicled my travels with a camera. I have chosen to blend my two passions in life ... into a worthwhile endeavor," DeCaro said. For every print sold, DeCaro will purchase three pairs of littleSTEPS pre-fabricated UCB-type orthotics, which DeCaro helped design. The device is meant to help children with conditions such as flat feet.
Source: Kathleen Mellen, Hampshire Gazette [9/2/10]
ON THE LECTURE CIRCUIT
Armstrong Keynotes New Zealand Podiatry Symposium
David G. Armstrong, Professor of Surgery and Director of the Southern Arizona Limb Salvage Alliance (SALSA) joined a standing room only crowd at the Te Papa National Museum in Wellington, New Zealand for this year's New Zealand Podiatry Symposium. His workshops and keynote focused on techniques for limb salvage and the ever increasing role of podiatry on that team. "I think the data supporting the role of podiatric medical and surgical care in people with diabetes is finally marrying with the enthusiasm that many have shown for it over the past generation." noted Dr. Armstrong.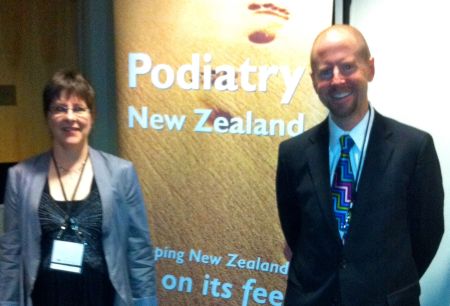 Fiona Angus, Conference Organizer and Dr. David G. Armstrong
"We see now that care by podiatrists as part of the team can reduce amputation risk by up to two thirds. These data are now consistent in nationwide studies as well as those in individual centers of excellence. This is truly an exciting time to be working in this area, as we're seeing the hard work that came before by so many people pay off for the patients we serve." Armstrong also highlighted the historic dual issue of the Journal of Vascular Surgery and Journal of the American Podiatric Medical Association, released today online and in print as an example of unprecedented team efforts.
PUBLISHED PODIATRISTS
FL Podiatrist Publishes Book on Fibromyalgia Syndrome
Dr. Howard G. Groshell, Jr., podiatrist, author, and founder of Fibromyalgia Free Life, LLC. recently published East Meets West From the Bottom Up, a book about treating fibromyalgia syndrome. The book introduces Dr. Groshell's expertise in integrating both Eastern and Western Medicine. The book includes a thorough self-help, step-by-step protocol, giving patients the ability to correct their pain.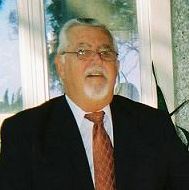 Dr. Howard G. Groshell, Jr.,
Los Angeles award-winning author Megan Rellahan (Edgar Hernandez POW: An American Hero) co-wrote the book with Dr. Groshell, spending the entire first year collecting data and interviewing former patients in order to present another rarity that you won't find in many other books about fibromyalgia -- longitudinal case studies. The correlation between podiatry and treating fibromyalgia is profound, said Rellahan.
RESPONSES / COMMENTS (CLINICAL) - PART 1
RE: Manipulation Videos
From: Howard Dananberg, DPM
I have had numerous requests for lower extremity demo videos and these are now posted and can be accessed by clicking here.

Howard Dananberg, DPM, Bedford, NH howiedbpg@aol.com
RESPONSES / COMMENTS (CLINICAL) - PART 2
RE: Keller with Chondroplasty (Jeffrey M. Kittay, DPM)
From: S. Jefffrey Siegel, DPM, Dwight L. Bates
I'm old school as well. I completely understand Dr. Kittay's post - but let me tell you I have been using the combination of both titanium hemi with graft jacket re-surfacing. Part of the procedure employs using a conical reamer to re-create the conical shape of the 1st met. head and subsequent pin-point bleeding. The GraftJacket is then stretched over the met head and anchored in place with fiber wire. The synthetic graft is converted to a fibrous buffer - which is an excellent interface between the metal and the bone. Plus, the conical shapes of the met. head allows an unrestricted ROM of the joint. I have done around 25 procedures and removed one GraftJacket because it wasn't stretched tight enough and was bunching up dorsally. Biopsy confirmed fibrocartilage metamorphosis of the GraftJacket.

S. Jefffrey Siegel, DPM, Philadelphia, PA, Heeldoc1@aol.com
I am not yet convinced that an implant of the base of the proximal phalanx functions well over time. "This new implant will work." is what the manufacturers have been saying since I began following the problem in 1976. To my knowledge, none have been shown to function well. I personally had a modified Keller procedure with a capsular inter-positional flap 20 years ago, and it functions very well.

Dwight L. Bates, DPM, Dallas, TX, dlbates04@yahoo.com
RESPONSES / COMMENTS (NON-CLINICAL) - PART 1
RE: Ultrasound Training Course (Gerald Mauriello, Jr., DPM, MA)
From: Multiple Respondents
We have been training other podiatrists to do basic and advanced ultrasound at our office. Today, there are three physicians coming to observe diagnostic ultrasounds and ultrasound-guided injections. If you are interested, please contact me. We can have, at most, three physicians observe at a time. Residents are welcome. However, if we get too many requests, we will consider a class, and schedule 15-20 actual patients for the day of the class.
Kenneth Meisler, DPM, Martin Wendelken, DPM, NY, NY, kenmeisler@aol.com
Please note that the New Jersey Podiatric Medical Society over the years has offered many courses in untrasonography. Additionally, our fall seminar scheduled for October 6th in Manalapan will offer a lecture by Dr. Randy Cohen of the New York College of Podiatric Medicine entitled "Ultrasonography in Podiatry." The cost for a non-member is $469 and you may contact the executive office, if interested, at 732-967-9003.
Herman Hammerschmidt, Executive Director, New Jersey Podiatric Medical Society, hhammerschmidt@NJPMS.com
The SALSA Fellowship: Applications for 2011-2012 Academic Year
The fellowship's central aim is to train and develop future leaders in this field. The Southern Arizona Limb Salvage Alliance (SALSA) in the Department of Surgery, University of Arizona, is currently accepting applications for fellows for the 2011-12 academic year.
The Southern Arizona Limb Salvage Alliance (SALSA) in the Department of Surgery, University of Arizona, is currently seeking qualified applicants for the position of Diabetic Foot Fellow for the July 2011-2012 academic year. Foci of fellowships, depending on the applicant, range from basic research to clinical research to robust reconstructive foot and ankle surgical training in limb salvage techniques in a uniquely integrated "toe and flow" service model. Most candidates combine a hybrid of clinical and research foci.
Ideal candidates should possess an already strong academic background with a keen interest in academic development, inpatient and outpatient care, and research. While preference is given to podiatrists, we train and have trained fellows from a variety of medical, surgical, and research backgrounds.
This fellowship was developed to meet the unique and varied health, education and research needs of the field of diabetic foot care. SALSA and University Medical Center provides care for patients throughout the Southwest, with regular out of state and international consultations. SALSA is one of the most dynamic and productive clinical/research teams in the world dedicated to the diabetic foot, wound healing, and limb salvage.
Graduates of Armstrong-led fellowship programs include many of the leading clinicians and researchers in the field, worldwide.
Applicants should forward a letter of intent (preferably via email) with their curriculum vitae to the attention of: David G. Armstrong, Professor of Surgery, Director, SALSA
Department of Surgery University of Arizona College of Medicine
1501 North Campbell Avenue PO Box 245072 Tucson, Arizona, 85724-5072
dga@email.arizona.edu
RESPONSES / COMMENTS (NON-CLINICAL) - PART 2
RE: Ribotsky Videos
From: Nicholas Sol, DPM, MBA
I've just watched Dr. Ribotsky's short three video series: The Economy, Crisis Anticipation, and Business is a Sport and I'm recommending them to all DPM's. I've had the good fortune to attend several of Dr. Ribotsky's lectures over the years, and I've always come away with "pearls" to use in my practice. These videos are free but they're worth paying for. This was the most productive 40 minutes I've had in a long time. Thank you, Dr. Ribotsky. Well done.
Nicholas Sol, DPM, MBA, Colorado Springs, CO, drsol@thewalkingclinic.com
RESPONSES / COMMENTS (NON-CLINICAL) - PART 3 (CLOSED)
RE: The Residency Shortage
From: Hal Ornstein, DPM, Dennis Shavelson, DPM
Yes, we need solutions, but the purpose of this post is not to weigh in on the debate. I propose that we reach out and help our colleagues who graduate podiatry school without a residency to spend a year in a practice management preceptorship while they reapply for a position. The American Academy of Podiatric Practice Management would like to coordinate an effort to help these graduates and match them with a great educational opportunity before they get a residency.
Currently, a recent graduate who will enter his residency in a year is in my office spending his days learning all aspects of running a practice. The model is simple: work as an assistant, optimally in all areas of the practice for a salary of $20,000. Graduates should not feel that they are being short-changed with this amount, since we are reaching out to provide them with a great opportunity, and this should not cost us money. By doing an analysis, we considered this a break-even situation for us, since he is able to cover staff when they are out, and there is some increase in production by having a practice advocate.
I would love to hear from all who would open their doors to graduates during this difficult time. Please e-mail your name and full contact information, and we will work to coordinate all this in the near future. For each year you help a graduate, you will be given a thank-you with complimentary membership in the American Academy of Podiatric Practice Management (AAPPM). The only requirement to be an AAPPM member is to be a member of the American Podiatric Medical Association.
Hal Ornstein, DPM, Howell, NJ, hornstein@aappm.org
Perhaps, what we need are fellowship or precepteeship programs prior to a surgical residency, or for those not surgically inclined. A podiatry college graduate in limbo would get on-site focused training in some "non-surgical" area of our scope such as wound care, integrative podiatric medicine, or biomechanics. This would provide that student advanced training for practice, and would also give residencies added incentive for considering that student for a slot after the program. These programs could be set up very quickly, and they would address the immediate needs of the weakest of our flock. I am willing to offer a 3-6 month fellowship in biomechanics in NYC starting ASAP to any of our "lost" graduated DPM's. Perhaps, other programs can be set up in other areas.

Dennis Shavelson, DPM, NYC, NY, drsha@lifestylepodiatry.com
Editor's note: This topic has been temporaily closed and no additional letters will be accepted at this time.
MEETING NOTICES - PART 2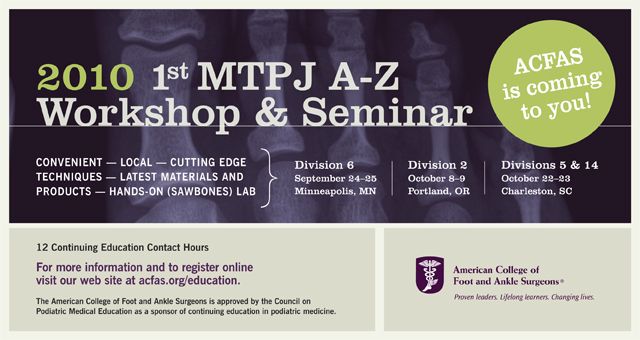 RESPONSES / COMMENTS (NEWS STORIES)
RE: Cosmetic Foot Surgery Debate Continues
From: Robert Chelin DPM
I have been using dermal fillers for many years and with great success. The products have gotten better and more durable. My best success to date has lasted 18 months and the patient is still pain-free from her metatarsal pain. It was just only yesterday (1980's) when I was first exposed to fillers. I attended a satellite presentation which took place in several cities around the USA. We were introduced to fillers using placental tissue components. These fillers were expensive and the durability was for a maximum of six months. Like many things in podiatry, there has been great evolution of both the equipment and products we use.
As far as cosmetic surgery on the foot, as long as good surgical principles and good patient selection are used, I only see additional positive publicity and exposure for the profession. The foot is ours and if we give up just another piece of what we do best, then we will be left very little territory to work with. As many podiatrists have abandoned basic foot care, the foot care nurses have slowly stepped in. As we are abandoning orthotics, the pedorthists and orthotists are taking it. If we abandon the cosmetic care of the foot, then the dermatologists or the plastic surgeons will take it. I have seen this happen in my own city. We are the experts when it comes to the foot, so who is more qualified to provide all aspects of knowledgeable and safe foot care?
Robert Chelin DPM, Toronto, Canada, ft-biz@rogers.com
CLASSIFIED ADS
ASSOCIATE POSITION – KENTUCKY

Very well established podiatry practice in Louisville, KY seeks a motivated, ethical practitioner trained in all phases of podiatry including routine care, surgery and wound care to join 2 other podiatrists. By joining our practice you will receive a competitive salary with a bonus structure and benefits. Our practice is equipped with DME, PadNet, Gait Scanner and on site retail store. There is a huge potential to grow your practice with our ideally located facility that has strong affiliation with leading area hospitals as well as 2 local residency programs. For immediate consideration, please forward CV to Samuel10530@yahoo.com
IMMEDIATELY AVAILABLE- ASSOCIATE POSITION -CT (FAIRFIELD AND NORTH HAVEN)
Great opportunity. Join one of the largest podiatric groups in Connecticut. Well-established and progressive offices. Electronic medical records, digital x-ray, diagnostic ultrasound, Padnet vascular studies, nerve conduction studies, pinpoint and CO2 lasers, electrical stimulation and ultrasound therapies. Seeking a well-trained, personable, and highly motivated individual. Please send resume and current photo to dr.kassaris@yahoo.com
ASSOCIATE POSITION - BLOOMFIELD, NEW JERSEY
Part-time office, part of larger practice looking for associate with well-rounded podiatric skills. Board qualified a must. Ground position leading to partnership. Please email CV to doccapo@yahoo.com
PODIATRY POSITION AVAILABLE – WISCONSIN
Affinity Medical Group, an integrated health care organization in East Central Wisconsin, is seeking a BC/BE Podiatrist for our Appleton location. This is a General Podiatric practice opportunity including routine care, sports medicine, and surgery. The Appleton area offers a unique quality of life, combining a family centered, university community with all season recreation, a nationally acclaimed educational system, and a diverse and growing economy and population. For information, contact or send your CV, to: Sara Roth, Affinity Medical Group, Physician Recruitment, Phone: 800-722-9989; Fax: 920-727-4350; E-mail: sroth@affinityhealth.org Visit our website at: www.affinityhealth.org EOE.
ASSOCIATE POSITION - SW FLORIDA GOLF, BOATING & BEACHES

Great opportunity to join a well established podiatry practice. Excellent mix office/surgery, motivated experienced staff. Seeking full-time Associate PSR 12-36. Salary $100 Thousand + bonus package with benefits, early buy-in available to right candidate. Email resume to capecoralpodiatry@live.com or fax to 239-573-9201

MANHATTAN - FULL-TIME POSITION
Available for a Board certified/qualified podiatrist (PSR-24, PM&S-36 ). Located in Downtown Manhattan in a multi-specialty Orthopaedic office. We have a high-volume practice that treats routine care, trauma, sports-related injuries, hospital consults, and ER Consults. Contact fscudese@seaportortho.com

ASSOCIATE POSITION - FREDERICK, MARYLAND

Fredericks premier group practice is located only 45 minutes from both DC and Baltimore. Immediate opening for a minimum PSR 36 Podiatrist for full time position. We have it all: EMR, digital x-ray, ultrasound, ASC, etc. Excellent salary with bonus structure and benefits. Please email resume to docsbnb@aol.com
FULL-TIME ASSOCIATE NEEDED FREDERICK/HAGERSTOWN, MARYLAND
Reconstructive Foot & Ankle Institute, LLC needs full-time DPM at least PMS 36 to join premier group in Frederick/Hagerstown, MD. ASC, EMR, DR-digital radiography and ultrasound, Vascular/nerve testing, DME, retail store, strong hospital affiliations, salary, bonus and benefits. Respond to drmichaels@rfainstitute.com
PRACTICE & STATE LICENSED ASC FOR SALE (MARYLAND, DC SUBURB)
Full-time 38 yr old podiatry practice with state licensed surgical center. Fully equipped with digital x-ray, diagnostic ultrasound, 2 orthotic scanners, computer network, and well-equipped surgical suite. Retiring owner will stay on as needed for transition. Email dpmpracticeforsale@yahoo.com
PRACTICE FOR SALE – MASSACHUSETTS
Solo Practice Grossing over $700K yearly 4 days a week. Mostly surgical with heavy emphasis on peripheral nerve patients and pediatrics. General bread and butter podiatry as well. No Medicaid very little Medicare. Very modern office. 30 minutes north of Boston. Modern new equipment (digital x-ray, ultrasound, computer network, etc.). Great referral network. Website included. Option to buy the condo 3500sq ft. Have PICA practice evaluation to show you. Call 978-944-7789 for details.
MEDICAL SPACE AVAILABLE- MANHATTAN
Multispecialty Medical Building with 24/7 doorman. Prime Luxury Building and Location, Gramercy, Stuyvesant, Peter Cooper Area. 305 Second Avenue (17th-18th). Prior tenants past 23 years; podiatrist, dentist (plumbing/electric intact), internist. Ideal for podiatry, co-share with dentist, MD, etc. (flexible lease terms). E-Mail; jbdrun@aol.com Phone; 480-951-2480.
PM News Classified Ads Reach over 12,000 DPM's and Students

Whether you have used equipment to sell or our offering an associate position, PM News classified ads are the fastest, most-effective way of reaching over 12,000 DPM's. Write to bblock@podiatrym.com or call (718) 897-9700 for details. THIS OFFER DOES NOT APPLY TO BUSINESSES PROVIDING PRODUCTS OR SERVICES. Note: For commercial or display ads contact David Kagan at (800) 284-5451
Disclaimers
Acceptance and publication by this newsletter of an advertisement, news story, or letter does not imply endorsement or approval by Kane Communications of the company, product, content or ideas expressed in this newsletter. Any information pertaining to legal matters should not be considered to be legal advice, which can only be obtained via individual consultation with an attorney. Information about Medicare billing should be confirmed with your State CAC.
---
THIS MESSAGE IS INTENDED ONLY FOR THE USE OF THE INDIVIDUAL OR ENTITY TO WHICH IT IS ADDRESSED AND MAY CONTAIN INFORMATION THAT IS PRIVILEGED, CONFIDENTIAL AND EXEMPT FROM DISCLOSURE.
---
If the reader of this message is not the intended recipient or an employee or agent responsible for delivering the message to the intended recipient, you are hereby notified that any dissemination, distribution, or copying of this communication is strictly prohibited. If you have received this communication in error, please immediately notify me and you are hereby instructed to delete all electronic copies and destroy all printed copies.
---
DISCLAIMER: Internet communications cannot be guaranteed to be either timely or free of viruses.
Guidelines
To Post a message, send it to: bblock@podiatrym.com
Notes should be original and may not be submitted to other publications or listservs without our express written permission.
Notes must be in the following form:
RE: (Topic)
From: (your name, DPM)
Body of letter. Be concise. Limit to 250 words or less). Use Spellchecker
Your name, DPM City/State
Subscribers are reminded that they have an ethical obligation to disclose any potential conflicts of interest when commenting on any product, procedure, or service.

Barry H. Block, DPM, JD
---
Browse PMNews Issues
Previous Issue | Next Issue