Browse PMNews Issues
Previous Issue | Next Issue
PM News
The Voice of Podiatrists

Serving Over 12,000 Podiatrists Daily

September 22, 2010 #3,964

Publisher-Barry Block, DPM, JD

A service of Podiatry Management http://www.podiatrym.com
E-mail us by hitting the reply key.
COPYRIGHT 2010- No part of PM News can be reproduced without the
express written permission of Kane Communications, Inc.
PODIATRISTS IN THE NEWS
FL Podiatrist Provides Tips on Race Preparation
The Susan G. Komen 3-day Race for the Cure is just a little more than a month away. Thousands of people will contribute their time, hearts, money, and feet to fighting breast cancer. Dr. Jeff Kopelman is a podiatrist from St. Petersburg shared some tips with Good Day on how to get your feet ready for the race.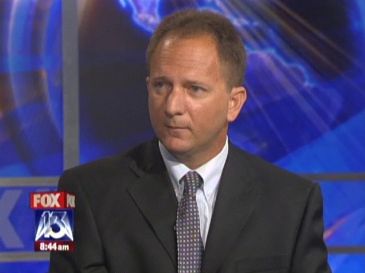 Dr. Jeff Kopelman
"First of all, it's good to get into shape before the event so that your body is used to it. Wear a supportive shoe and make sure that it's not a brand new shoe because you want to be comfortable if you are walking for three days, says Dr. Kopelman.
Source: My Fox, Tampa Bay, FL [9/17/10]
PODIATRISTS AND SPORTS MEDICINE
Barefoot Running Only Growing Online: CA Podiatrist
While most would consider the barefoot running movement a growing trend, Kevin Kirby, DPM, MS, associate professor at the Department of Applied Biomechanics for the California School of Podiatric Medicine at Samuel Merritt University explained that barefoot running is only growing online, where there are numerous websites and blogs dedicated to the movement. Kirby contends that the movement online has not translated to the tracks and pavement of the outdoors. "It is a virtual movement," he said. "People are talking about it, but not actually doing it."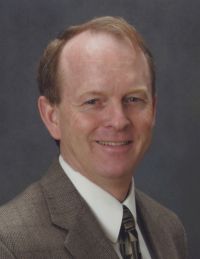 Dr. Kevin Kirby
What if a habitually shod runner came into Kirby's office armed with clinical research that suggested barefoot running was the healthier choice and wanted to make the switch? "As a health professional, I could not ethically recommend it because there is too much risk of catastrophic injury," Kirby explained. "But, if they were to run barefoot, I would advise them to start out slow and on a safe surface. If you have been running with shoes your entire life, as most people have, you are not going to be able to go out on the asphalt and run five miles without getting blisters or abrasions. You must toughen your feet up. You should find a nice park with soft grass or maybe sand on a beach."
Source: Anthony Calabro, O&P Business News [9/15/10]
AMBULATORY SURGICAL CENTER NEWS
Two Podiatrists Named to ASC Physician Leaders List
Becker's ASC Review yesterday published a list of 106 physician leaders who have made significant contributions to the Ambulatory Surgical Center (ASC) industry. Among those listed are two podiatrists:
Thomas Miller, DPM is a board-certified podiatrist at the Surgery Center of Beaufort in South Carolina. A member of the Podiatry Associates of Beaufort, Dr. Miller earned his doctorial degree from Ohio College of Podiatric Medicine in Cleveland and completed his residency in podiatric surgery from Northwest General Hospital in Knoxville, TN. He is also affiliated with Beaufort Memorial Hospital, a Duke Medicine affiliate.
Dr. James Rust
James W. Rust, DPM has been in private practice since 1988. In 1991, he joined Atlantic Podiatry Associates in Daytona Beach, FL, where he currently practices. He also works with Twin Lakes Surgical Center in Daytona Beach and serves on the faculty at Florida Sate University College of Medicine. He treats all aspects of podiatric care, including sports medicine and diabetic foot care in the office and hospital setting. Dr. Rust received his doctorial degree from the William M. Scholl College of Podiatry Medicine at Rosalind Franklin University of Medicine and Science in Chicago.
Source: Rachel Fields, Becker's ASC Review [9/20/10]
HEALTHCARE NEWS
Practices Hiring Despite Drop in Patient Visits
Doctor visits are down. But hiring in physician offices is up. Experts suspect that this seemingly counterintuitive staffing trend is the result of practices adding clinical professionals to stay financially viable in this economic downturn, while preparing for health system reform implementation.
Preparing for the implementation of health system reform is playing a role, because hiring physicians and other types of clinicians can take six months to a year or more. Some practices are starting this process to be ready to treat the extra patients expected to have insurance when the law is fully in place in 2014.
Source: Victoria Stagg Elliott, AM News [9/20/10]
PRACTICE MANAGEMENT TIP OF THE DAY
Check Your Leadership Style
Which best describes your understanding of your role as a leader: a failure preventer or a success ensurer? The difference: If you see your role as preventing failure, you arrive at work thinking, "How can I make sure my staff do their jobs right?" and "How can I keep them from messing up today?" Your most frequent compliment might sound like this: "Way to go; you didn't make any mistakes today."
A success-oriented leader, on the other hand, shows up at work with goals like these: "What can I do to put my people over the top today?" and "How can I make staff feel excited about their work?" As a result, success-oriented leaders usually have more motivated and productive staffers.
Source: Adapted from Smart Moves for People in Charge, Sam Deep and Lyle Sussman. Addison-Wesley Publishing Co. via Communication Briefings
QUERY (NON-CLINICAL)
Query: Power Naps
Has anyone tried afternoon "power naps" -- which are purported to not only refresh and re-energize us, but also to greatly increase our productivity?
Bob Levoy, Great Neck, NY
Codes for Podiatric Medicine and More! 2011 (23rd Edition)
Volume One, ICD-9-CM Codes for Podiatric Medicine and More! 2011 (23rd Edition) includes E codes, V codes, and more; is available beginning October 1, 2010. Volume Two, CPT, HCPCS, Diabetes Coding, Wound Care Coding, DMERC and Diabetes Shoe Program information, modifiers, etc., will be delivered beginning January 1, 2011. An optional CD is available with purchase of manuals. $85 for each two-volume set (postage is included in price). CDs $15 each with paid manual order.
This is the publication that thousands of podiatrists have been using for 23 years. Comprehensive. Don't forget, I'm available to answer your coding questions with your paid subscription!
For an order form: Fax: 619-294-964 Email: mtaubman@san.rr.com Mail: Martin R. Taubman, DPM, MBA, 3330 3rd Avenue #402, San Diego, CA 92103. Or click on this website for more information.

RESPONSES / COMMENTS (CLINICAL) - PART 1
RE: LFTs for Lamisil (Doug Mason, DPM)
From: David Secord, DPM
I've written hundreds of prescriptions for Lamisil over the years and decided not to place that same number of patients on Lamisil - either because of prior hepatic function issues or contraindications to treatment (Coumadin or questionable renal function). I thought it interesting when the FDA changed the requirement to do peri-treatment LFT's. This folly was illustrated in 2004, when a patient I'd treated for a month on Lamisil came in to receive the second month's Rx (and they'd only receive that Rx if they did the repeat CBC/LFT) and was doing well. The CBC and LFT were both completely normal without change in values from baseline.
About three months later, folks from the FDA and Novartis came into my office to talk to me about this patient, as she had gone into fulminate hepatic failure two weeks after starting the second month's treatment. I was told that (as of 2005) there had been 18 million prescriptions for Lamisil, and that this woman made the 9th case of hepatic failure, hence the FDA and Novartis folks in my office. I was told that the only reason I wasn't on the lawsuit was because I defied the FDA guidelines and did a follow-up CBC/LFT, and the results showed no reason to discontinue the treatment or be concerned.
A year later, this patient came into the office for another problem other than onychomycosis, and you could see the icterus at the sclera of her eyes from about 100 feet away - a year later. There is no such thing as a free lunch, especially when using any prescription medication. The best we can do is to weigh benefits and potential complications, including liver failure, inform the patient, perform due diligence, and go from there. I continue to write for Lamisil. I continue to do pre-treatment and peri-treatment CBC with diff/LFT lab value analysis and continue to see nails become clear. I don't do pulse dosing with Lamisil, although I do it with Sporonox, and I don't let the hype and tort attorney television ads determine my treatment regimen.
David Secord, DPM, Corpus Christi, TX, secord@medscape.com
Post Graduate Fellowships
University of Texas Health Science Center San Antonio
Research - The primary purpose of this fellowship is to provide the Podiatric Surgeon who has completed a minimum of a three year residency, and who is committed to a part-time/full-time academic career in Podiatry, further education on research of the Diabetic Foot. The fellow is expected to complete several clinical or basic research projects during the term. This fellowship is a two-year experience during which the Fellow will develop a rational approach to research of the Diabetic Foot and have the opportunity to earn a masters degree in Clinical Investigation. The Fellow will function as an Instructor/clinical.
Reconstructive Foot and Ankle Surgery - This fellowship is a one-year experience during which the Fellow will develop a rational approach to revisional and reconstructive foot and ankle surgery. The Fellow will function as an Instructor/clinical and participate in the teaching of Podiatric medical students and residents, and have ample opportunity to be involved in clinical and basic research projects. The fellowship will provide the Podiatric Surgeon, further expertise in Charcot reconstruction, plastic surgery (diabetic soft tissue reconstruction), trauma and deformity correction.
Duration: 2 years (7/1/11 – 6/30/13) and 1 year (7/1/11 – 6/30/12) Application Deadline: 12/1/2010 Interviews: December 9–12, 2010 Stipend: $44,100/Year. Requirements: Completion of 3-year residency; a commitment to a part-time/full-time academic career in Podiatric Medicine and Surgery. Texas License eligible & ABPS Board Qualification eligible in Foot & Rearfoot/Ankle Surgery (Test dates & Application Deadlines TBA).
Submit a CV and letter of interest to: Thomas Zgonis, DPM, FACFAS, Associate Professor, Chief and Fellowship Director, University of Texas Health Science Center San Antonio 7703 Floyd Curl Drive (MSC 7776) San Antonio, Texas 78229-3900 Email: Zgonis@uthscsa.edu Phone: (210) 567-5152 Fax: (210)567-5153.
All faculty appointments are designated as security sensitive positions.
University of Texas Health Science Center San Antonio is an equal opportunity/affirmative action employer.
CODINGLINE CORNER
Query: Coding Bilateral Surgery
I would appreciate help coding the following bilateral surgery:
1) Akin hallux phalangeal osteotomies using EasyClip staples and K-wire fixation, bilateral;
2) Arthroplasties (hammertoe corrections), 2nd digit, distal interphalangeal joint followed with K-wire fixation, bilateral; and
3) Tenotomies, flexor digitorum longus, 2nd digit, bilateral.
Robin Kubik, CPC, Brighton, MA

Response: Based on your procedure description, I would bill:
CPT 28310 x2 (osteotomy, phalanx, great toe)
CPT 28285 x2 (hammertoe, correction; 2nd toes)
The flexor tenotomy of the same toe should not be billed since it would be bundled with the hammertoe repair allowance.
Howard Zlotoff, DPM, Camp Hill, PA
Codingline subscription information can be found here
APMA Members: Click here for your free Codingline Silver subscription
DOX PODIATRY – Electronic Medical Records
SEPTEMBER ONLY SPECIAL: 50% OFF 2010
Over 500 Podiatry Offices and Growing
Call 877-270-3518
PRACTICE LIKE THE BEST
MAKE MORE MONEY - SAVE TIME - DOX PODIATRY
DOX Podiatry is the leading web-based EMR solution designed by Podiatrists for Podiatrists that enables you to make more money in less time. Let us show you how in a quick, 40 minute, web-based demonstration.
• COMPLETE PODIATRY SPECIFIC MEDICAL DATABASE
• NO CUSTOMIZATION REQUIRED • EVERYWHERE ACCESS
• READY TO USE DAY ONE • CERTIFIED SAFE & SECURE
http://www.DoxEmr.com
$44,000 Economic Stimulus Article at: http://doxemr.wordpress.com/
CALL 1-877-270-3518 OR EMAIL INFO@DOXEMR.COM
RESPONSES / COMMENTS (CLINICAL) - PART 2 (CLOSED)
RE: Recalcitrant Ingrown Nails (Barry Mullen, DPM)
From: Geoffrey Bricker, DPM
The post from Dr. Mullen was very interesting and I will keep his suggestions in mind. I had a surgical matricectomy and never took a pain pill. If one does a scalpel procedure, I suggest 0.1 ml. of dexamethasone phosphate in each border and soak in 1/8 strength Dakin's solution (2 tablespoons of bleach in 1 gallon of water) for one week. I have also seen matricectomies I did 25 years ago without recurrence. Do whatever works in your hands; I only suggested trying it.
Geoffrey Bricker, DPM, Springfield, MO, geoffreybricker1@msn.com
RESPONSES / COMMENTS (NEWS STORIES) (CLOSED)
RE: Foot Surgery by CA Podiatrist Saves HS Baseball Career (Charles Reilly, DPM)
From: Charles Reilly, DPM
Please accept my apology if my post regarding Dr. Roth appeared to question the quality or value of PM News. Contrary to that interpretation, I find your publication very informative and educational. It allows busy practitioners to stay current with the medical, surgical, political, and other ongoing trends taking place in our profession. I also appreciate that podiatrists must promote the merits of what we bring to our patients and medical community. I have received numerous e-mails from reputable colleagues who also share my "concerns" as I stated in my post. I do not want to detract from your mission. The response to "my concerns", whether for or against, certainly proves the readership that PM News attracts.

Charles Reilly, DPM, pododoc1@msn.com
Editor's note: Apology accepted. Journalistic responsibility dictates that PM News not be judgmental on the selection of individuals featured for "Podiatrists in the News." We encourage all podiatrists to forward us URLs when they or colleagues appear in the media.
MEETING NOTICES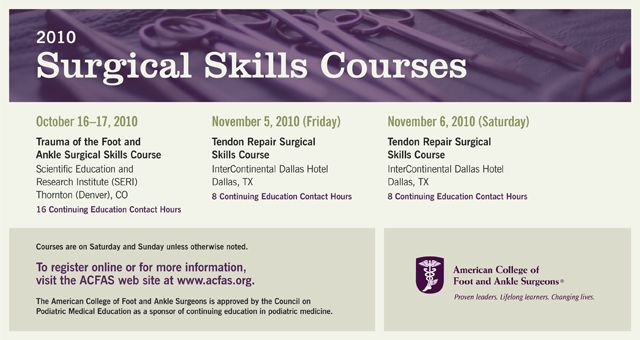 CLASSIFIED ADS
ASSOCIATE POSITION – LONG ISLAND, NY

Associate full-time. Well-established, busy, well-rounded podiatry practice looking for a motivated podiatrist. Suffolk Co. LI NY. Board eligible, Board certified PSR-24/36 trained. Fax resume to 631-581-0857
ASSOCIATE POSITION - WEST COAST, FLORIDA

Outstanding opportunity for PSR-36 graduate to join successful group podiatry practice in Summer 2011. Seeking a sociable, articulate graduate who is confident in rearfoot and ankle reconstructive cases but also enjoys all phases of podiatry. Long-term opportunity for the right candidate with generous pay and benefits. Reply to jwicks@cortezfootandankle.com

ASSOCIATE WANTED - DELRAY BEACH FLORIDA AVAILABLE IMMEDIATELY

Rapidly growing well established practice seeking part-time leading to full-time. PSR 12-36. Great opportunity for highly motivated, personable individual. Please reply by emailing a CV to nursebsf@aol or fax (561) 498-9068.

ASSOCIATE POSITION - TEXAS

IMMEDIATE OPENING for motivated podiatrist with good people skills. Associateship leading to PARTNERSHIP for the right applicant. Northside San Antonio Texas practice. Attractive office and beginning income. Current TEXAS license a must. CV and letter of interest to sadpmoffice@gmail.com
ASSOCIATE POSITION - FREDERICK, MARYLAND
Well-established group practice is located only 45 minutes from both DC and Baltimore. Immediate opening for a minimum PSR 36 Podiatrist for full time position. We have it all: EMR, digital x-ray, ultrasound, ASC, etc. Excellent salary with bonus structure and benefits. Please email resume to docsbnb@aol.com
ASSOCIATE POSITION - MASSACHUSETTS
Well established, multi-office, group practice, North of Boston, seeking a well-trained (PSR 24/36) Associate to start July, 2011. This is an excellent opportunity for an energetic, hardworking individual with strong surgical and medical skills, desiring a fast-track opportunity for partnership. Our practice is well rounded in all aspects of forefoot/rearfoot reconstructive surgery, pediatrics, sports medicine and general care. Competitive salary and benefit package available. Send a cover letter, CV, and two letters of reference to: drfleishman@nefootankle.com. Visit our website at www.nefootankle.com for more information about our practice.
ASSOCIATE POSITION - BLOOMFIELD, NEW JERSEY
Part-time office, part of larger practice looking for associate with well-rounded podiatric skills. Board qualified a must. Ground position leading to partnership. Please email CV to doccapo@yahoo.com
PART-TIME, LICENSED PODIATRIST - WEST BLOOMFIELD, MICHIGAN
Immediate opening for treating patients in a nursing facility setting. If interested, please e-mail drteetime@aol.com
IMMEDIATELY AVAILABLE- ASSOCIATE POSITION -CT (FAIRFIELD AND NORTH HAVEN)
Great opportunity. Join one of the largest podiatric groups in Connecticut. Well-established and progressive offices. Electronic medical records, digital x-ray, diagnostic ultrasound, Padnet vascular studies, nerve conduction studies, pinpoint and CO2 lasers, electrical stimulation and ultrasound therapies. Seeking a well-trained, personable, and highly motivated individual. Please send resume and current photo to dr.kassaris@yahoo.com
PRACTICE FOR SALE - MARYLAND, DC SUBURB
Great opportunity. Retiring after 38 years in practice at the same location. Practice is fully equipped with digital x-ray, diagnostic ultrasound, computer network, orthotic scanner and state licensed ambulatory surgical center that is fully equipped. Owner will stay on as needed for easy transition. dpmpracticeforsale@yahoo.com

PRACTICE FOR SALE – MASSACHUSETTS
Solo Practice Grossing over $700K yearly 4 days a week. Mostly surgical with heavy emphasis on peripheral nerve patients and pediatrics. General bread and butter podiatry as well. No Medicaid very little Medicare. Very modern office. 30 minutes north of Boston. Modern new equipment (digital x-ray, ultrasound, computer network, etc.). Great referral network. Website included. Option to buy the condo 3500sq ft. Have PICA practice evaluation to show you. Call 978-944-7789 for details.
AMBULATORY SURGICAL CENTER PRIVILEGES AVAILABLE - NJ
Privileges available in a new 2 ORs. New certified multi-specialty ambulatory surgical center in Fairlawn, NJ - 8 minutes to the George Washington bridge. Specializing in podiatric surgery. Center will pick up and return patient home. Syndication is available. Center will accommodate doctors in Manhattan, Queens, Brooklyn, Bronx, Staten Island, and long Island. Will assist in getting NJ License. Call for information (516)476-1815 e-mail podo2345@aol.com. To view center, go to FAIRLAWNASC.SHUTTERFLY.COM
MEDICAL SPACE AVAILABLE- MANHATTAN
Multispecialty Medical Building with 24/7 doorman. Prime Luxury Building and Location, Gramercy, Stuyvesant, Peter Cooper Area. 305 Second Avenue (17th-18th). Prior tenants past 23 years; podiatrist, dentist (plumbing/electric intact), internist. Ideal for podiatry, co-share with dentist, MD, etc. (flexible lease terms). E-Mail; jbdrun@aol.com
PM News Classified Ads Reach over 12,000 DPM's and Students

Whether you have used equipment to sell or our offering an associate position, PM News classified ads are the fastest, most-effective way of reaching over 12,000 DPM's. Write to bblock@podiatrym.com or call (718) 897-9700 for details. THIS OFFER DOES NOT APPLY TO BUSINESSES PROVIDING PRODUCTS OR SERVICES. Note: For commercial or display ads contact David Kagan at (800) 284-5451.
Disclaimers
Acceptance and publication by this newsletter of an advertisement, news story, or letter does not imply endorsement or approval by Kane Communications of the company, product, content or ideas expressed in this newsletter. Any information pertaining to legal matters should not be considered to be legal advice, which can only be obtained via individual consultation with an attorney. Information about Medicare billing should be confirmed with your State CAC.
---
THIS MESSAGE IS INTENDED ONLY FOR THE USE OF THE INDIVIDUAL OR ENTITY TO WHICH IT IS ADDRESSED AND MAY CONTAIN INFORMATION THAT IS PRIVILEGED, CONFIDENTIAL AND EXEMPT FROM DISCLOSURE.
---
If the reader of this message is not the intended recipient or an employee or agent responsible for delivering the message to the intended recipient, you are hereby notified that any dissemination, distribution, or copying of this communication is strictly prohibited. If you have received this communication in error, please immediately notify me and you are hereby instructed to delete all electronic copies and destroy all printed copies.
---
DISCLAIMER: Internet communications cannot be guaranteed to be either timely or free of viruses.
Guidelines
To Post a message, send it to: bblock@podiatrym.com
Notes should be original and may not be submitted to other publications or listservs without our express written permission.
Notes must be in the following form:
RE: (Topic)
From: (your name, DPM)
Body of letter. Be concise. Limit to 250 words or less). Use Spellchecker
Your name, DPM City/State
Subscribers are reminded that they have an ethical obligation to disclose any potential conflicts of interest when commenting on any product, procedure, or service.

Barry H. Block, DPM, JD
---
Browse PMNews Issues
Previous Issue | Next Issue