Browse PMNews Issues
Previous Issue | Next Issue
PM News
The Voice of Podiatrists

Serving Over 11,000 Podiatrists Daily

October 16, 2009 #3,676

Publisher-Barry Block, DPM, JD

A service of Podiatry Management http://www.podiatrym.com
E-mail us by hitting the reply key.
COPYRIGHT 2009- No part of PM News can be reproduced without the
express written permission of Kane Communications, Inc.
PODIATRISTS IN THE NEWS
Soft Surfaces Reduce the Chance of Injury: NJ Podiatrist
Increasing mileage increases your chances of sports injury. "If you can't run on back-to-back days, there's something wrong," says John F. Connors, DPM, a podiatric physician who treats world-class runners. Watch for pains that get worse with each workout, and persistent swelling in the knees, ankles, or feet. For prevention: Go soft.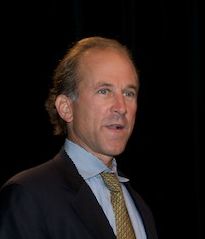 Dr. John Connors
Hard, uneven surfaces compound your risk of nagging sports injuries like shinsplints. "The only time you see a Kenyan runner on the road is on race day," says Dr. Connors. Find surfaces like grass, dirt, wood chips, or a track.
Source: Men's Health [10/13/09]
DOX PODIATRY – Electronic Medical Records
Over 500 Podiatry Offices and Growing
OCTOBER SPECIAL – First 90 DAYS FREE*
Call 877-270-3518
PRACTICE LIKE THE BEST
MAKE MORE MONEY - SAVE TIME - DOX PODIATRY
DOX Podiatry is the leading web-based EMR solution designed by Podiatrists for Podiatrists that enables you to make more money in less time. Let us show you how in a quick, 40 minute, web-based demonstration.
• COMPLETE PODIATRY SPECIFIC MEDICAL DATABASE
• NO CUSTOMIZATION REQUIRED • EVERYWHERE ACCESS
• READY TO USE DAY ONE • CERTIFIED SAFE & SECURE
http://www.DoxEmr.com
$44,000 Economic Stimulus Article at: http://doxemr.wordpress.com/
* CALL 1-877-270-3518 OR EMAIL INFO@DOXEMR.COM
AT THE COLLEGES
CSPM Students Use Simulation Teaching Tools
Students from the California School of Podiatric Medicine (CSPM), a school within Samuel Merritt University, are incorporating simulated learning methods into the curricula. As part of their podiatric surgical rotation, thirteen third-year students from the school's Doctor of Podiatric Medicine (DPM) program travelled to the laboratories of Pacific Medical Inc. in Tracy, California, where they participated in a full-day of hands-on surgical training with instrumentation provided by Arthrex Corporation. The cadaveric surgical skills learning center incorporates new, state-of-the-art technology in surgical procedures.
CPMS Students and faculty use surgical instrumentation
"The goal of this program is to provide students with a strong foundation in surgical skills as part of their surgical rotation," explains William M. Jenkin, DPM, Chair and Professor, Department of Podiatric Surgery at CSPM. "As a result of this educational experience, students are better prepared and confident to meet the challenges of performing and practicing surgical skills during clinical rotations in their third and fourth years which will better prepare them for residencies."
Editor's note: For complete story, Click here
PATIENT PRIVACY
FL Podiatrist Fears Loss of Doctor-Patient Confidentiality
The federal Department of Health and Human Services is working to create health information exchanges, which would make records electronically accessible across offices or hospitals. "All of a sudden that doctor-patient confidentiality is gone," says Tampa podiatrist, Dr. Ira Shandles. He says he could end up with access to patient information he doesn't want or need.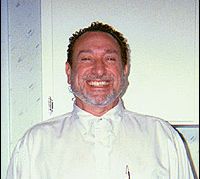 Dr. Ira Shandles
"All of those patients' medical records, not just things relevant to the treatment," Shandles says. So he does it the old fashioned way, keeping records under lock and key.
Source: Kerry Kavanaugh, ABC News [10/14/09]
MEDICAID NEWS
Medicaid Pay Could be Cut Again When Stimulus Money Runs Out
Federal stimulus funding has helped state Medicaid programs avoid drastic reductions in eligibility and physician fees, but program directors already are contemplating such cuts when the additional federal support runs out at the end of next year.
States faced unprecedented financial pressures in fiscal 2009, which ended on June 30 for most states. They experienced a surge in new Medicaid enrollees and a historic decline in tax revenues. States coped by trimming or freezing Medicaid fees and restricting benefits, among other actions, according to a ninth annual survey of state Medicaid directors, released Sept. 30 by the Kaiser Family Foundation and Health Management Associates. Thirteen states have reduced Medicaid rates for physicians in fiscal 2010, the most since at least 2004.
Source: Doug Trapp, AMNews [10/12/09]

Reduce Your Costs Substantially Without Hurting Your Practice!
Solo practitioners across the country have reduced their staffing costs substantially by having the Appointment Desk Company's staff take their incoming calls and schedule their patients' appointments. This allows them to run their practice efficiently with just one staff person.
The courteous, capable personnel at the Appointment Desk Company can not only book your appointments, but because they are knowledgeable about your practice, will save additional staff time by screening your calls, answering questions about your practice, and forwarding as appropriate. A password-protected calendaring system is included for your staff. All for as little as $290 a month & no long-term contract!
We remotely schedule appointments for podiatrists and other doctors across the U.S. Call us today at 888.244.5150 to discuss how we can help you or visit appointmentdesk.us
PRACTICE MANAGEMENT TIP OF THE DAY
Turn Around a Problem Employee
Before you decide to show a problem employee the door, use this last-ditch tactic:
Describe your management goal. Say something like this: "I want the people who work for me to be excited about their jobs, to love coming to work, and to bring all their passion and skills to work every day."
Personalize it. Say: "I don't see that happening with you. So I am wondering if this is the place where you want to be. Is this a job that you can bring your talent, passion and skills to every day?"
Empower the employee. Emphasize that the choice is not yours to make: "Only you can answer that. Do you need some time to think about it, or are you ready to answer that question now?"
If the employee wants to stay, say "Great; let's look at what needs to happen." Then move on to discussing goals, improvements and accountability. If the employee decides to leave, discuss the best way—and time—to end the relationship amicably.
Source: Adapted from "Firing Without the Headache or Heartache," Anne Warfield, Impression Management Professionals via Communication Briefings
QUERIES (CLINICAL)
Query: Cryoablation for Plantar Fibroma

What experiences have other docs had with cryoablation for plantar fibromas? I have had the CryoStar unit recommended. Is there FDA approval and literature references for this application?

Greg Caringi, DPM, Lansdale, PA

RESPONSES / COMMENTS (CLINICAL)
RE: Curamedix Extracorporeal Pulse Activation (John Moglia, DPM)
From: Ira Meyers, DPM, Amol Saxena, DPM
I have been using Curamedix EPAT for 8 months. Results are similar to high energy ESWT and it is a lot easier to administer and much less expensive. I ended up purchasing the unit partly to use on my own recurring overuse/running injuries (infrapatella tendinopathy, insertional hamstring strain), and have found it very helpful. Unfortunately, it is not helpful on my current injury--lateral malleolar fracture.
Ira Meyers, DPM, Huntingdon Valley, PA, idmrun@aol.com
Editor's Note: Dr. Saxena's extended-length letter can be read at: http://www.podiatrym.com/letters2.cfm?id=29637&start=1
RESPONSES / COMMENTS (NON-CLINICAL) - PART 1
RE: EBM and the Cost of Orthoses (Mr. Jeff Root)
From: Paul Kesselman, DPM
For the most part, I would have to echo the sentiments of Jeff Root in his previous letter concerning evidence-based medicine and orthotics. Part of the difficulty is designing an objective study which can factor in or out an innumerable number of variables. Some other difficult variables are patient compliance, the wide range of subjective complaints and symptoms offered by patients and ultimate diagnoses.
The one issue I would like to take exception with is...
Editor's Note: Dr. Kesselman's extended-length letter appears at: http://www.podiatrym.com/letters2.cfm?id=29631&start=1
RESPONSES / COMMENTS (NON-CLINICAL) - PART 2
RE: Kudos to Avon Walk-a-Thon Volunteers
From: Richard Goldstein, DPM
This past Saturday, I once again had the pleasure of volunteering at the Avon 3-day Breast Cancer walk-a-thon, a great event for a great cause. As you would expect, the podiatry tent was probably the busiest tent in the medical area. Most of the walkers completed 27 miles on Saturday, and despite their injuries, had a strong desire to continue their walk to completion with 13 more miles on Sunday.
I think that PM News readers should be aware of, and commend Dr. Howard Baskin and Dr. Michael Barkin who head the podiatry section of this event. These two doctors work tirelessly organizing and implementing a successful and gratifying experience, not only for the walkers, but for the volunteers as well. The day of the walk, they spend countless hours on Randall's Island and sleep there to man the tent early in the morning, so that these walkers may continue on their journey.
I am certain that so many people would not be able to continue their walk if it were not for the podiatry tent. I highly recommend those able, to volunteer at next year's walk; it is a rewarding experience.

Richard Goldstein, DPM, New York, NY, Doc4foot@aol.com
RESPONSES / COMMENTS (RECENTLY POSTED ARTICLES)
RE: A Comparison of Negative Casting Techniques Used for the Fabrication of Custom Ankle-Foot Orthoses (Michael Turlik, DPM)
From: Robert Bijak, DPM
Dr. Turlick makes one of the bravest, scientifically-based statements I've heard. To go against popular dogma that orthoses are so advantageous is corroborated by scientific studies. The medical community and the insurance companies realized long ago the weak science behind orthotics. They literally weren't buying it. This stands the murky alchemy of podiatric biomechanics on its head and rightfully shows if we are to be doctors, let's let this type of treatment return to C. PEDS and shoe salesmen. As students, many of us looked at each other incredulously when trying to bisect a heel or use a tractograph in school. The reproducibility was laughable, yet an industry and many podiatric fortunes are founded on this myth. The Emperor wears no clothes.
Robert Bijak, DPM, Clarence Center, NY, rbijak@aol.com
MEETING NOTICES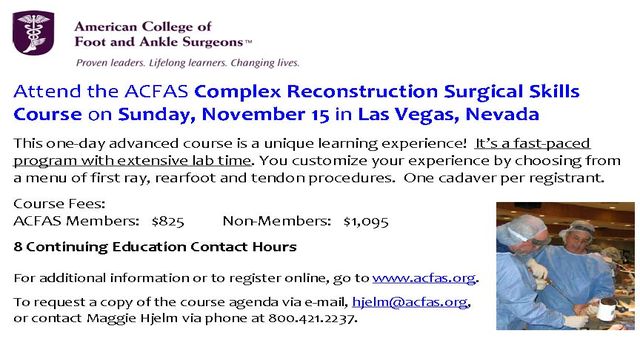 RESPONSES / COMMENTS (HEALTHCARE LEGISLATION)
RE: Obama's Healthcare Plan
From: Narmo L. Ortiz, Jr., DPM
I have read with interest the many postings from different colleagues, most of them offering economical and administrative explanations on the makeup and operations of both the U.S. and Canadian healthcare systems, as well to comparisons from the European models. Unfortunately, no matter who is wrong or right in any of these debates, the reality is that the true nature of most human beings is to follow Nature's survival of the fittest and of its own interests.
Yes, we will continue to contribute money to those who legislate and supply us with the illusion of getting a piece of the pie while they themselves get their own privileges and empowerment. That has been, is, and will be the reality of any government of the world, be it capitalist, socialist, communist, totalitarian, or monarchic. That is the history of humanity and our status quo.
I believe in healthcare for all mankind, but I also believe in being responsible for your own well-being. How to balance those two issues to make a working model for healthcare reform is the biggest challenge of all.
Narmo L. Ortiz, Jr., DPM, Cape Coral, FL, nlortizdpm@embarqmail.com

PODIATRY MANAGEMENT'S

AFFORDABLE

ONLINE CME
You can Earn 30 CPME-Approved CME Contact Hours Online
Earn 15 Contact Hours for

only $139
(Less than $14 per credit)
http://www.podiatrym.com/cme.cfm
Choose any or
ALL (30 CME Contact Hours)
from the 20 CME
articles posted
You Can Now Take Tests and Print Your CME Certificates Online
CLASSIFIED ADS
ASSOCIATE POSITION - AUSTIN AND SAN ANTONIO AREAS
Seeking well-trained ABPS board certified/qualified foot surgeons for surgical practice with national foot/hand/orthopedic surgery group. Excellent salary/benefits. Email CV and cover letter to: slb99@pdq.net
ASSOCIATE POSITION - MANHATTAN, KANSAS
Seeking full-time associate to start January 2010. Will start with full schedule. Must be dependable, honest, ethical individual. E-mail CV/resume to: mtrandpm@cox.net
EQUIPMENT FOR SALE - MINXRAY P200R24 X-RAY UNIT
Unit was bought brand new in 2003 and, in April 2009, we stopped using it because another doctor joined the practice with an extra x-ray machine. Asking for $4K, OBO. Pictures are available. E-mail: mtrandpm@cox.net

SEEKING ASSOCIATE - MIAMI FL
Buy-in and purchase if you are interested. Well-rounded practice (EMR, Digital X-R) seeing 250+ pts/wk .30 yrs same location. Competitive salary +benefits + incentives. I am winding down my practice after 30 yrs. Will feed you my surgical load until you generate your own. Send resume to doctorinhialeah@aol.com

ASSOCIATE POSITIONS - INDIANA/OHIO
PrimeSource Healthcare is a leading provider of mobile, on-site healthcare services at long-term and skilled nursing facilities. Our exceptional growth has created an immediate need for traveling, independent contractors of podiatry services in Indiana/Ohio. Earn between $175k and $225k per year. E-mail CV to kwright@pshcs.com. Visit us at pshcs.com.
ASSOCIATE POSITION - CHICAGO AREA
Join one of the most successful, long-established podiatry practices in the Chicago area, with excellent salary and benefits. We have an immediate opening for a full-time podiatrist in a multi practice location in Chicago. Must have two years of surgical residency. Please e-mail resume to fmassuda@footexperts.com
DIABETIC RURAL OUTREACH PROGRAM - FLORIDA AND GEORGIA
Seeking DPM to join our program due to a high demand for Podiatric Care to off-site settings in SNF, ALFs and House Calls. Applicants must be willing to travel and must have experience. Current State License, Medicare and Medicaid numbers required. Seeking highly motivated individuals who can be team players, yet work independently. Must have strong work ethic and excellent communication skills. APPLY: Fax CV to: 866-258-9993 include 3 professional references. Please provide the geographic area where you can provide services. Further information call 800-779-8551 or email: info@DROPInternational.org. Visit our website
LOCUM TENENS/ASSOCIATE—PHOENIX
Busy multi-location practice in South East Valley seeks immediate well-trained personable individual. Part time Locum position may lead to permanent part-time, full-time, and buy- in potential if desired. Please send letter of interest and C.V. to AzToesRus@aol.com
ASSOCIATE POSITION - FREDERICK, MD

Well-established and growing 2 office state-of-the-art practice located in medical/professional buildings. EMR, Digital X-ray, Ultrasound, DME provider, etc. Competitive Base Salary plus bonus, malpractice, health insurance, etc. PSR 24 minimum/Board Qualified or Certified with ability and desire to take ER call. If interested, forward CV to DOCSBNB@aol.com
PRACTICE FOR SALE - FLORIDA—CENTRAL/SOUTH
Turn-key operation grossing $570,000 annually based on one full-time doctor. Great opportunity for growing the top-line. Surgery is only 14% of the professional man-hours; it can significantly increase income. Medicare makes up 64% of revenues. Seller will assist with transition. Call 863-688-1725, ask for Chas.
OFFICE SPACE/ MRI RENTAL – NYC, LI
Turn-key space available, daily, monthly; East 60th off Park Ave, East 22nd St. off 3rd Ave, Hicksville and/or Plainview Long Island. JACHO-certified operating rooms available, as well as all surgical equipment and anesthesia. Extremity MRI Rental. Stark compliant. All exams read by board certified radiologist. Call for details. 516 476-1815
PM News Classified Ads Reach over 11,500 DPM's and Students

Whether you have used equipment to sell or our offering an associate position, PM News classified ads are the fastest, most-effective way of reaching over 11,500 DPM's. Write to bblock@podiatrym.com or call (718) 897-9700 for details. THIS OFFER DOES NOT APPLY TO BUSINESSES PROVIDING PRODUCTS OR SERVICES. Note: For commercial or display ads contact David Kagan at (800) 284-5451
Disclaimers
Acceptance and publication by this newsletter of an advertisement, news story, or letter does not imply endorsement or approval by Kane Communications of the company, product, content or ideas expressed in this newsletter. Any information pertaining to legal matters should not be considered to be legal advice, which can only be obtained via individual consultation with an attorney. Information about Medicare billing should be confirmed with your State CAC.
---
THIS MESSAGE IS INTENDED ONLY FOR THE USE OF THE INDIVIDUAL OR ENTITY TO WHICH IT IS ADDRESSED AND MAY CONTAIN INFORMATION THAT IS PRIVILEGED, CONFIDENTIAL AND EXEMPT FROM DISCLOSURE.
---
If the reader of this message is not the intended recipient or an employee or agent responsible for delivering the message to the intended recipient, you are hereby notified that any dissemination, distribution, or copying of this communication is strictly prohibited. If you have received this communication in error, please immediately notify me and you are hereby instructed to delete all electronic copies and destroy all printed copies.
---
DISCLAIMER: Internet communications cannot be guaranteed to be either timely or free of viruses.
Guidelines
To Post a message, send it to: bblock@podiatrym.com
Notes should be original and may not be submitted to other publications or listservs without our express written permission.
Notes must be in the following form:
RE: (Topic)
From: (your name, DPM)
Body of letter. Be concise. Limit to 250 words or less). Use Spellchecker
Your name, DPM City/State
Subscribers are reminded that they have an ethical obligation to disclose any potential conflicts of interest when commenting on any product, procedure, or service.

Barry H. Block, DPM, JD
---
Browse PMNews Issues
Previous Issue | Next Issue