Browse PMNews Issues
Previous Issue | Next Issue
PM News
The Voice of Podiatrists

Serving Over 12,500 Podiatrists Daily

November 24, 2010 #4,019

Publisher-Barry Block, DPM, JD

A service of Podiatry Management http://www.podiatrym.com
E-mail us by hitting the reply key.
COPYRIGHT 2010- No part of PM News can be reproduced without the
express written permission of Kane Communications, Inc.
PODIATRISTS IN THE NEWS
GA Podiatrist Points Out Dangers to Feet at Airport Security
When you're on the run to catch your flight you could be putting your feet in danger. You know the drill. Before going through security at the airport, you have to remove your shoes. But it may be risky. Podiatrist Dr. Perry Julien says some foot problems can be passed from one person to another. "There are so many things that could happen with somebody walking barefoot around those terminals. Conditions such as athlete's foot, bacterial infections, even warts."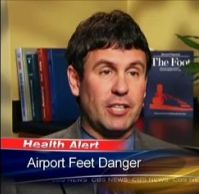 Dr. Perry Julien
Dr. Julien says cover your feet. "I think as long as there is some barrier, certainly a thicker sock would be helpful, but even a nylon hose is a better barrier than being barefoot." Walking around shoeless at airport security exposes your feet to other hazards. "My biggest concern is somebody dropping a bag on somebody's foot without the protection of footwear." A good reason to stay "on your toes."
Source: KYTX [11/20/10]
DOX PODIATRY – Electronic Medical Records
NOVEMBER SPECIAL: 1st MONTH FREE
Over 500 Podiatry Offices and Growing
Call 877-270-3518
PRACTICE LIKE THE BEST
MAKE MORE MONEY - SAVE TIME - DOX PODIATRY
DOX Podiatry is the leading web-based EMR solution designed by Podiatrists for Podiatrists that enables you to make more money in less time. Let us show you how in a quick, 40 minute, web-based demonstration.
• COMPLETE PODIATRY SPECIFIC MEDICAL DATABASE
• NO CUSTOMIZATION REQUIRED • EVERYWHERE ACCESS
• READY TO USE DAY ONE • CERTIFIED SAFE & SECURE
http://www.DoxEmr.com
$44,000 Economic Stimulus Article at: http://doxemr.wordpress.com/
CALL 1-877-270-3518 OR EMAIL INFO@DOXEMR.COM
AT THE COLLEGES
OCPM Featured in National Documentary
The Ohio College of Podiatric Medicine has partnered with The Profile Series to develop a documentary that will be a part of an international syndicated, 30-minute film episode. This full-length feature segment will be broadcasted on major networks such as Bravo and Discovery and will be seen in over 200 cities and 127 countries. This episode will take an in-depth look at health and wellness, which will include the field of podiatry and will highlight OCPM. An announcement will be made when the 30-minute episode will run.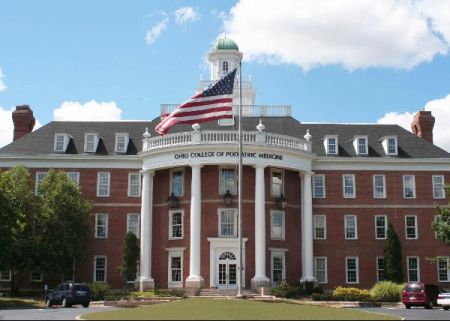 The Ohio College of Podiatric Medicine
Along with the documentary, OCPM was provided with a 9-minute exclusive video piece on the college. This video captures an overview of OCPM with an emphasis on the teaching areas within the college.
Superior Quality - Better Bottom Line
Improve your patients care and at the same time your bottom line by switching to Orthofeet:
• Unmatched Protection: 1. Soft, foam-padded lining with seamless design. 2. Non-binding upper construction without any overlays across the bunions, or any stiff materials at the toe area.
• Unique Features: Orthofeet offers a variety of functional features you won't find anywhere else:
Tie-Less Lace, Easy Slip-On®; Two-Way Strap System; Fisherman sandals with stretch; Prefab diabetic orthotics with an Arch Filler; Ergonomic Sole DesignTM .
• $1.00 per claim - Medicare Billing: Eliminate "Medicare denial" errors, and get your claims paid fast using Orthofeet third party billing company.

Orthofeet Shoes = Superior Patients Care + Better Bottom Line:
Shoes - $45 to $55; Prefab Inserts - $9.95; Custom Inserts - $23; Toe-Filler - $75.00;
Try & compare: Get the first 10 pairs at Half Price!!!
www.orthofeet.com 800-524-2845
APMA COMPONENT NEWS
APMSA Urges Profession's Intervention to Avert Residency Crisis
With 3 months until the CASPR/CRIP match, the APMSA alerts the profession of the current projected residency data as of 11/15/2010:

Class of 2011 Applicants: 534
Prior graduate applicants: 42
Approved CPME positions: 525
Active positions in CASPR: 501
Projected shortage: 75 positions
Editor's Note: See Zackary B. Gangwer's ( APMSA President) note in the letters section below.
PODIATRISTS IN THE COMMUNITY
FL Podiatrist Receives Rising Star Award
Dr. Gideon J. Lewis, a board-certified foot and ankle surgeon, has been named the 2010 recipient of the University of Central Florida College of Medicine Rising Star Award. Dr. Lewis, a Winter Park resident, graduated from UCF with his bachelor's degree in Molecular Biology in 2000. He received his Doctor of Podiatric Medicine from the California College of Podiatric Medicine in 2004.
Dr. Gideon J. Lewis
Dr. Lewis is very active in the Central Florida community, directing the UCF pre-medical surgical internship program, serving on the board of directors for the Kerosene Lamp Foundation (Adonal Foyle and Dwight Howard's non-profit organization), and training the Florida Hospital foot and ankle surgical residents as an attending physician.
Source: Winter Park/Maitland Observer [11/10/10]
MEETING NEWS
Another Record-Breaker for Desert Foot
The 7th Annual Desert Foot High Risk Diabetic Foot Conference concluded this weekend at the Fairmont Princess in Scottsdale. It was three days of fast-paced diabetic limb salvage science and clinical wound care technology, originally presented for the VA and now, developed by PRESENT e-Learning Systems into a larger program for the multidisciplinary diabetic limb care community. The conference had over 700 attendees this year, 40% more than last year, including 60 nurses and 40 MDs. Sold out this year, Desert Foot is already making plans to expand for more attendees next year.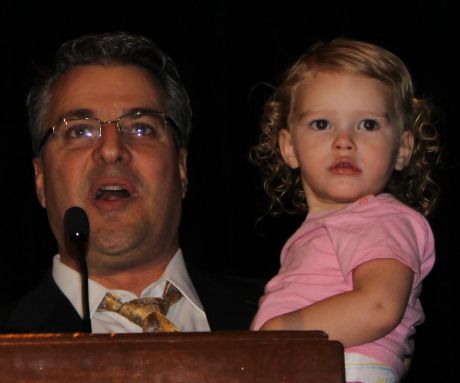 Desert Foot Conference manager Michael Shore, DPM holds the granddaughter of Co-Chair Jeffrey Robbins, DPM's during the Lifetime Achievement Award ceremony.
Conference Chairman Robert Frykberg, DPM, MPH and Co- Chairs Jeffrey Robbins, DPM, (Posters), Dane Wukich, MD (Orthopedics) and Cynthia Fleck, RN, MBA (Nursing), put on a fascinating program utilizing a renowned international faculty. An Abstract/Poster competition, sponsored by conference Grand Sponsor Advanced BioHealing, received over 50 submissions. Generous prizes were awarded in both residents and non-residents categories.
QUERIES (NON-CLINICAL)
Query: Template for Credit Card on File
I would like to start implementing keeping credit cards on file, and I am looking for a concise form to include in my "new patient packet." Does anyone have any sample handouts (financial policy) that they give to patients explaining their credit card policy?
Joe Gonzalez, DPM, East Lansing, MI
CODINGLINE CORNER
Query: Surgery Nerve Block and Cast Application
A colleague suggested that giving a local nerve block and/or applying a below-the-knee cast (or splint) at surgery could be billed and reimbursed as separate procedures. I've read on this forum that those procedures are considered to be included in the surgical procedure for Medicare patients, and thus should not be billed separately.
My colleague has challenged me to find where this is stated in print with CMS. I have not been able to find anything. Can someone provide some insight on the subject, and perhaps a reliable reference?
Alan MacGill, DPM, Boca Raton, FL
Response: Look no further than the CPT book before the surgery section and before the casting section. A cast applied at the time of surgery is considered to be included in the procedure allowance, and is not payable.
"A physician who applies the initial cast, strap, or splint and also assumes all of the subsequent fracture, dislocation, or injury care cannot use the application of casts and strapping codes as an initial service, since the first cast/splint or strap application is included in the treatment of fracture and/or dislocation codes..."
Subsequent medically-necessary cast applications are payable.
Tony Poggio, DPM, Alameda. CA
Codingline subscription information can be found here
APMA Members: Click here for your free Codingline Silver subscription
RESPONSES / COMMENTS (CLINICAL)
RE: Circulation to Toes, Post-Op (Stephen Pirotta, DPM)
From: Makabis Yousefpour, DPM
I would get a vascular consultation as soon as possible. That would be my first step. Second, did you use any K-wires? If so, you may consider removing them. I have previously used Nitrostat paste, applied to the toes every three days. This increases the local flow. You may also consider the use of vasodilators, however, ask for a medical consult prior to placing the pt on them as these could lead to decrease in BP. I would also consider HBO therapy at this time. However, make sure the patient has good TCO2, which your vascular consult should be able to detect.
Makabis Yousefpour, DPM, Los Angeles, CA, makdpm@yahoo.com
RESPONSES / COMMENTS (NON-CLINICAL) - PART 1
RE: APMSA Urges Profession's Intervention to Avert Residency Crisis
The projected shortage of 75 plus residency positions for 2010-2011 is astronomical and of the utmost priority for the APMSA and the profession. This astounding 75 position shortage equates to more than two whole colleges' entire 2011 graduating classes, ¼ of all colleges of podiatric medicine in this cycle, or 14% of all graduates not receiving a residency. This is shocking and unacceptable and an issue that the APMSA considers a crisis for the entire profession. This crisis for the 2010/2011 CASPR cycle will continue to exponentially magnify if not immediately resolved.
Unlike the past, today's graduating podiatrist cannot obtain a license or hospital privileges without a residency. Add to this the approximate average debt burden of $148,000, payable upon graduation. It is inconceivable not to provide residency training for every qualified student.
We urge the profession to help, in any capacity, to avert this crisis. Please call the Residency Hotline today at 1-800-372-0775. On behalf of the APMSA's 2,500 student members, thank you for your help with this most urgent issue for the profession.
Zackary B. Gangwer, APMSA President
RESPONSES / COMMENTS (NON-CLINICAL) - PART 2
RE: Foot And Ankle Hardware and Airport Security (Charles Morelli, DPM)
From: Michael S. Downey, DPM, Michael Rothman, MS, DPM
Airport metal detectors may or may not detect implantable metallic devices. Over the years, my patients have had varying experiences when going through airport metal detectors. Certainly, larger metallic implants are more likely to set off the metal detectors, as the total mass of the metal is what is currently measured. If the implanted metal sets off the metal detector, a secondary screening method is mandated. The secondary screening method typically involves the use of a metal detecting hand wand or a pat down to confirm that the metal is indeed inside the body.
Although physicians can provide wallet-sized cards to their patients with pacemakers or implanted metallic devices to alert security personnel, security personnel will handle the patient the same regardless of whether they present such a card or not. This policy is only logical as otherwise terrorists carrying metallic devices would simply get identification cards to avoid security checks. Therefore, I do not currently provide such cards to my patients, but tell them that if the metal detector goes off, they should alert security personnel as to where in their body the metal is located to assist in the mandated secondary screening process. To my knowledge, there is no current way to avoid this process.
Michael S. Downey, DPM, Philadelphia, PA, Dowpod@aol.com
Having an artificial knee and the associated ID card that came with it, I can tell you the card is of no use for TSA clearance. They don't even want me to show them the scar. I am taken aside wanded with a metal detector and patted down. As to the amount of metal, my wife's Star-Edwards mitral valve does not set off alarms. With the new full body scanners and the more invasive pat down, everyone will be searched, hardware or not.
Michael Rothman, MS, DPM Chicago, IL, michael_rothman@comcast.net
RESPONSES / COMMENTS (NEWS STORIES)
RE: Pain-killers Darvon, Darvocet Withdrawn at FDA Request
From: Sloan Gordon, DPM
As all of us should know by now, propoxyphene, which has been linked to heart problems, has been withdrawn from the U.S. market by the manufacturer per FDA instruction. A couple of colleagues called me this morning to ask for "substitutes", and I compiled a short list that may be useful.
Mild Pain: Acetaminophen, Ibuprofen and other NSAIDs, nambutone, celecoxib, diclofenac, Toradol* (ketorolac), (* I give most of my patients on NSAIDs Zegerid (TM) available OTC from most drugstores.)
Moderate Pain: Codeine, hydrocodone in combination with acetaminophen, Ultram/Tramadol
Severe Pain: Stadol nasal spray (butorphanol), Fentanyl patch, Narcotics (e.g. oxycodone + acetaminophen)
Sloan Gordon, DPM, Houston, TX, sgordondoc@sbcglobal.net
MEETING NOTICES - PART 1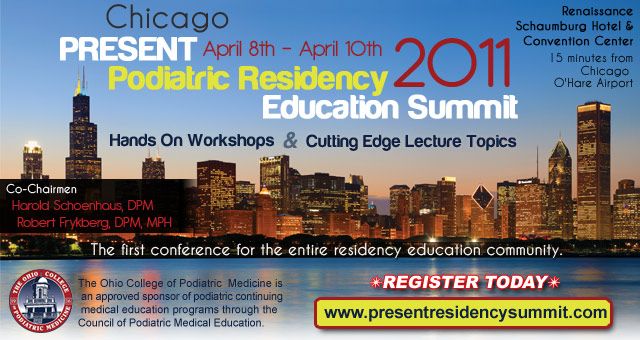 RESPONSES / COMMENTS (MEET THE MASTERS) - PART 1
RE: Harold Schoehaus on Meet the Masters
From: Luke Hunter
As a current 4th year student, I can agree with Dr. Schoenhaus when he says more time should be spent in the hospital (or in any clinical setting) rather than the classroom. However, speaking from my own experience, not all hospital environments are as educational as some of the courses/workshops I've taken in school. Just having exposure to patients and pathology doesn't always mean it's educational. If it's not tied together with appropriate guidance from an attending/resident, the educational benefit is diminished. I believe there needs to be less time spent in the classroom and more of an intermediate period from the classroom to the hospital, more of an introduction to the needed clinical skills we will see as future residents. That way we can maximize (or be primed for) the educational benefit that a hospital can offer.
As for some schools having too many students, I see too many students who are "pushed" through the educational system, being given too many chances after too many failures. Sub-standard students should be culled after the first year, before they incur too much debt (and remember these substandard students will eventually become our colleagues and represent our profession). However, it's almost immoral to try to fail students in the 3rd and 4th years. What profession can they now enter that will allow them to pay back the 100K loans that they have already incurred? This is a very prickly issue, but if this year's 50-80 residency spots shortage is any gauge of the current problem, then something needs to be done soon. I can foresee future applicants being hesitant to take a risk in getting an education for a profession that they might not be able to enter afterwards.
Luke Hunter, Chicago, IL, aggieluke@gmail.com
MEETING NOTICES - PART 2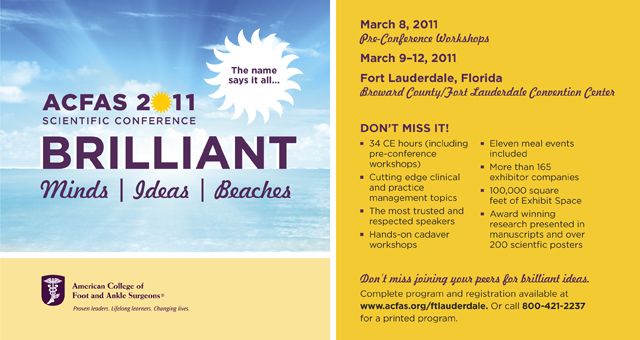 RESPONSES / COMMENTS (MEET THE MASTERS) - PART 2
RE: Leonard Levy on Meet the Masters
From: Richard M. Maleski, DPM
I agree with Dr. Levy that the first thing our profession needs to do is to develop a plan for investigating the possibility of a dual DPM/MD degree. That is, a plan for INVESTIGATING the possibility and not necessarily for trying to implement such a change. I'm not sure that our academic and post-graduate programs are designed to educate podiatrists to the specifics that MD's are educated to. The same can be said that allopathic students are not trained to the specificity that our students are in foot pathology.
One way to find out would be to have a random group of podiatry students from all of the DPM schools take the National Boards that allopathic students take, e.g. at the end of the 2nd and 4th academic years. If we find that our students are being educated so that they could function as MD students at those corresponding educational levels, then our profession may find that it is desirable to pursue such a change. However, if our students have not been given this type of education, and our entire educational process would need to be changed, and in the process we'd lose our identity and our educational advantages in the fields of anatomy, biomechanics, etc., then we may decide that we should pursue continued excellence in our own discipline. I think that such testing could be done confidentially and "in-house" so that the results could be safeguarded.
Discussing the pro's and con's of a degree change without knowing what would be required to make such a change is fruitless.
Richard M. Maleski, DPM, Pittsburgh, PA, maleski@zoominternet.net
PODIATRY MANAGEMENT'S

AFFORDABLE

ONLINE CME
Now More CMEs Available Than Ever!!!
You can Earn 50 CPME-Approved CME Contact Hours Online
Earn 15 Contact Hours for

only $139
(Less than $10 per credit)
http://www.podiatrym.com/cme.cfm
Choose any or
ALL (

5

0 CME Contact Hours)
from the 20 CME
articles posted
You Can Now Take Tests and Print Your CME Certificates Online
CLASSIFIED ADS
PODIATRIST NEEDED, NY (ALBANY/HUDSON)
2 hours North of NYC. Busy podiatric practice all phases of podiatry. Full-time position available immediately/possible part-time considered. competitive salary, fringe benefits package. NYS license required. If interested e-mail resume to footspecialistassopc@yahoo.com or fax to 518-828-9510 or call 518-869-5799 ask for Lori.

PART-TIME / FULL-TIME PODIATRIST NEEDED ASAP - CHICAGO
Part-time podiatrist needed for 2 offices in Chicago with an average of 20 hours/week. Must have Illinois license. Must have completed 2 years of surgical residency. If qualified, email to: f-massuda@footexperts.com
ASSOCIATE POSITION - LEADING TO PARTNERSHIP - MARYLAND/DC
High volume, state-of-the-art podiatric practice in prestigious Montgomery County Looking for a highly motivated, well trained podiatric physician to help manage a very busy in-patient and out-patient based practice. Minimum of PSR-36 with interest in hindfoot surgery, ankle reconstruction, and complex wound care. Salary and benefits are commensurate with the position...and exceptional opportunity for the right individual. Please send CV and a letter of interest to adassili@gmail.com

ASSOCIATE POSITION - TAMPA BAY AREA
Excellent opportunity to join a well established multi-office group practice in the Tampa Bay area starting July 1, 2011. We are seeking a hard-working, ethical and outgoing physician with Florida license. Salary commensurate with training plus benefits. Please email or fax CV. podiatryfl@yahoo.com 813-254-8262.

ASSOCIATESHIP - MARYLAND
A great opportunity to join and gain ownership interest of a well established, diversified practice in Maryland. 2-year residency needed, EHR, ultrasound, ASC, hospital close by with wound care center. Fax resume to 410-749-6807.
ASSOCIATE POSITION - MICHIGAN - (OAKLAND COUNTY)
Outstanding opportunity for associate in well established practice, general & surgical podiatry forefoot, rearfoot & ankle (full or part-time). Well-trained, responsible, motivated with good communication skills, ABPS qualified or better. Send CV & letter of interest to: PodiatristWanted@AOL.com. All replies kept strictly confidential

ASSOCIATE POSITION - LOUISIANA
Associate position in busy multi-office practice. Must be highly motivated, hardworking and have good people skills. Residency training required. Competitive salary and benefit package. For more information please submit CV and specify your current location and availability. Confidentiality assured. E-mail dpmposition@gmail.com
ASSOCIATE POSITION - NEW MEXICO
Well established, multi-office practice in sunny Albuquerque, NM
is seeking a well-trained (PSR 24/36) associate to start July 2011. Travel required one day/week. Utilize your talent with our "Leg Law" as well as our state-of-the-art practice including digital x-rays, diagnostic ultrasound, PADNet, and an in-office surgical suite. Send your cover letter, CV and 2 letters of reference to: familyfootww@yahoo.com. Visit our website at www.newmexicopodiatry.com

ASSOCIATE POSITION – IOWA CITY AREA
Modern practice seeking a well-trained (PSR 24/36) associate to start immediately. Excellent opportunity for an energetic, hardworking individual with strong surgical and medical skills. Solid referral network and 13 years of growth. Come live in the Iowa City area and enjoy the quality of life and stability of a Big Ten University community. Competitive salary and benefit package available. If interested, fax CV to 319-354-1014 or e-mail to dave@341foot.com

ASSOCIATE POSITION - NAPLES, FLORIDA
Great opportunity for PSR- 24/36 BE/BC podiatrist with strong surgical skills to join multi-office multi-doctor practice. Hospital privileges available at 648 bed hospital system, 200 bed hospital system and multiple surgical centers. Florida has a great scope of practice law and we rotate for ER call at all 4 hospitals. Candidate needs to be ethical and motivated. Established practitioner or new practitioner OK. Fax CV to (239)566-8778 or Email CV to Drgordon@gulfcoastfootcare.com
IMMEDIATELY AVAILABLE- ASSOCIATE POSITION - DAYTON, OHIO
Join a well-established modern practice with an excellent reputation and referral base. Base salary $100,000 and benefits with a bonus structure. EMR, diagnostic ultrasound, all aspects of DME, Padnet vascular studies, and CO2 lasers. We seek a surgeon that is well trained, personable and motivated to join our group of 3 Podiatric Surgeons. Would like this individual to buy in the practice eventually. Please send resume and photo to ohiodoctors@aol.com
PART-TIME/FULL-TIME PODIATRIST NEEDED - INDIANA
Part-time full-time Podiatrist needed for our Indiana offices. Must have Indiana license. Must have completed two years of surgical residency. If qualified email to f-massuda@footexperts.com
WOUND CARE TISSUE HEALING FELLOWSHIP
St. Johns Episcopal Hospital in Far Rockaway, NY currently has one opening for its 12 month CPME-approved Wound Care and Tissue Healing Fellowship beginning immediately. St. John's Episcopal Hospital has a major wound care/hyperbaric oxygen center. Fellows are trained in all aspects of wound care including certification in hyperbaric medicine. Surgical residency training required. Competitive salary and benefits. Please contact Lloyd Bardfeld, DPM, Director: Wound Care Tissue Healing Fellowship, 516-592-7075, tnddawg@aol.com

TRAUMA FELLOWSHIP - FOOT & ANKLE
Broadlawns Medical Center in Des Moines, IA is currently accepting applications for its 12 month trauma surgery fellowship beginning August 1, 2011. Fellowship to include advanced techniques in all foot and ankle surgery with an emphasis on lower extremity trauma, reconstruction & total joint replacement. Residency training required. Competitive salary and benefits. Please submit a letter of interest, CV, and 3 letters of recommendation to: Ben Olsen, DPM, Director: Foot and Ankle Trauma Fellowship, Broadlawns Medical Center, 1801 Hickman Road, Des Moines, IA 50314, 515-282-7927, bolsen@broadlawns.org
PRACTICE FOR SALE - MARYLAND, DC SUBURB
Own your own practice and be your own boss.Great opportunity. Retiring after 38 years in practice at the same location. Practice is fully equipped with digital x-ray, diagnostic ultrasound, computer network, orthotic scanner and state licensed ambulatory surgical center. Owner will stay on as needed for easy transition. dpmpracticeforsale@yahoo.com
PM News Classified Ads Reach over 12,500 DPM's and Students

Whether you have used equipment to sell or our offering an associate position, PM News classified ads are the fastest, most-effective way of reaching over 12,500 DPM's. Write to bblock@podiatrym.com or call (718) 897-9700 for details. THIS OFFER DOES NOT APPLY TO BUSINESSES PROVIDING PRODUCTS OR SERVICES. Note: For commercial or display ads contact David Kagan at (800) 284-5451.
Disclaimers
Acceptance and publication by this newsletter of an advertisement, news story, or letter does not imply endorsement or approval by Kane Communications of the company, product, content or ideas expressed in this newsletter. Any information pertaining to legal matters should not be considered to be legal advice, which can only be obtained via individual consultation with an attorney. Information about Medicare billing should be confirmed with your State CAC.
---
THIS MESSAGE IS INTENDED ONLY FOR THE USE OF THE INDIVIDUAL OR ENTITY TO WHICH IT IS ADDRESSED AND MAY CONTAIN INFORMATION THAT IS PRIVILEGED, CONFIDENTIAL AND EXEMPT FROM DISCLOSURE.
---
If the reader of this message is not the intended recipient or an employee or agent responsible for delivering the message to the intended recipient, you are hereby notified that any dissemination, distribution, or copying of this communication is strictly prohibited. If you have received this communication in error, please immediately notify me and you are hereby instructed to delete all electronic copies and destroy all printed copies.
---
DISCLAIMER: Internet communications cannot be guaranteed to be either timely or free of viruses.
Guidelines
To Post a message, send it to: bblock@podiatrym.com
Notes should be original and may not be submitted to other publications or listservs without our express written permission.
Notes must be in the following form:
RE: (Topic)
From: (your name, DPM)
Body of letter. Be concise. Limit to 250 words or less). Use Spellchecker
Your name, DPM City/State
Subscribers are reminded that they have an ethical obligation to disclose any potential conflicts of interest when commenting on any product, procedure, or service.

Barry H. Block, DPM, JD
---
Browse PMNews Issues
Previous Issue | Next Issue