Browse PMNews Issues
Previous Issue | Next Issue
PM News
The Voice of Podiatrists

Serving Over 11,000 Podiatrists Daily

September 03, 2009 #3,639

Publisher-Barry Block, DPM, JD

A service of Podiatry Management http://www.podiatrym.com
E-mail us by hitting the reply key.
COPYRIGHT 2009- No part of PM News can be reproduced without the
express written permission of Kane Communications, Inc.
Educate your patients about all your services! With The CaerVision Podiatry Network.
You perform surgeries and treat many conditions … but few patients know. Why not tell them while they wait? For only 30 cent/hour ($50/month)*, you can educate your patients on all the services you offer … AND get referrals. Grow your business with the most cost effective practice building tool – The CaerVision Podiatry Network. info@caervision.net or call us at 888-841-2237. Online: www.caervision.com *Internet and equipment required. (Mention Code #PMN0730)
PODIATRISTS IN THE NEWS
MO Podiatrist Discusses Heel Pain
An aching or stinging sensation in the heel is among the most common patient concerns, says Dr. John Holtzman, a podiatrist with Missouri Foot and Ankle in St. Louis. "People who spend a lot of time standing on hard floors, especially without properly supportive shoes, and athletes who put a lot of pressure on their feet from running or jumping, often report heel pain," he says. The causes vary, and determining the underlying problem is the first step.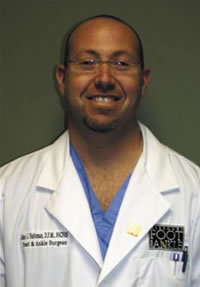 Dr. John Holtzman
Most heel pain is caused by plantar fasciitis, an inflammation of the tissue band (fascia) connecting the heel bone to the base of the toes. "People often notice pain from plantar fasciitis when they stand up first thing in the morning," Holtzman says. This is because the plantar fascia tends to contract when pressure is removed from the foot. Standing up requires the plantar fascia to stretch, irritating the inflamed tissues.
If left untreated, plantar fasciitis can result in heel spurs, which are calcium deposits that form on the heel bone and appear as bony protrusions in x-rays. These spurs also can cause heel pain. Holtzman says other potential culprits include bursitis, an inflammation of the fluid-filled sac (bursa) that lies between the Achilles' tendon and heel bone, and other inflammatory conditions, such as arthritis.
Source: Connie Mitchell, Ladue News

MEDICARE NEWS
Half of Large Practices Net Bonuses From Medicare P4P Demo
The Obama White House has indicated it will continue the move toward more pay-for-performance in Medicare, despite mixed results for physicians in the P4P demonstrations it inherited from the previous administration. On Aug. 17, the Centers for Medicare & Medicaid Services disclosed findings from three ongoing programs -- including first-year results from a small-practice demonstration -- and announced the start of three new value-based purchasing demonstrations.
Third-year results were revealed for the Physician Group Practice Demonstration, which is in its fifth year of operation and is slated to end March 31, 2010. Although CMS has extended the demonstration twice beyond its initial three-year limit, the agency said it does not anticipate extending the program again.
All 10 of the large physician groups participating in the program achieved benchmark performances on at least 28 of 32 quality-of-care measures, which cover diabetes, congestive heart failure, coronary artery disease, hypertension and cancer screening. Groups can receive up to 80% of the savings they generate for Medicare by reducing medical complications and hospitalizations. But only five groups in the third year received performance bonuses, totaling $25.3 million. One group that achieved benchmark performances on all 32 measures -- Park Nicollet Health Services in St. Louis Park, Minn. -- did not receive a bonus.

Source: Chris Silva, AMNews [8/3109]
DOX PODIATRY – Electronic Medical Records
Over 500 Podiatry Offices and Growing
SEPTEMBER SPECIAL – First 90 DAYS FREE*
Call 877-270-3518
PRACTICE LIKE THE BEST
MAKE MORE MONEY - SAVE TIME - DOX PODIATRY
DOX Podiatry is the leading web-based EMR solution designed by Podiatrists for Podiatrists that enables you to make more money in less time. Let us show you how in a quick, 40 minute, web-based demonstration.
• COMPLETE PODIATRY SPECIFIC MEDICAL DATABASE
• NO CUSTOMIZATION REQUIRED • EVERYWHERE ACCESS
• READY TO USE DAY ONE • CERTIFIED SAFE & SECURE
http://www.DoxEmr.com
$44,000 Economic Stimulus Article at: http://doxemr.wordpress.com/
* CALL 1-877-270-3518 OR EMAIL INFO@DOXEMR.COM
SUCCESS TIPS FROM THE MASTERS
Editor's Note: PM News is proud to present excerpts from Meet the Masters. Full versions of these interviews will appear in Podiatry Management Magazine.
Bret Ribotsky, DPM: How would you say you define success today?
Lowell Weil, DPM: Success can be in many different forms. It can be a financial success, it can be self-esteem. I think when we wrap it all up together, success is being very happy of what you do, waking up in the morning and saying I enjoy going to wherever I am going to work. It's being with people who are not only a lot of fun but, are productive mentally, stimulating, and at the same time it's being able to make a good living and be your own boss, where you can't get dinged in this type of economy. That to me is success, and having respect from your family, being able to have everyone around you say that this is a person who really cares about what he or she is doing.
Meet the Masters is broadcast each Tuesday Night at 9 PM (EST). This week's guest is PM Hall of Famer, Stanley Kalish, DPM, an internationally noted surgeon, teacher, and inventer. You can register for this event by clicking here.
QUERIES (CLINICAL)
Query: Non-Fixated Osteotomies
Are any of my colleagues still performing non-fixated lesser metatarsal osteotomies in selected cases? Can these non-fixated osteotomies still be defended as being within "standard of care"?
Arden Smith, DPM, Great Neck, NY
PODIATRY BILLING SERVICES
Medical Practice Consulting Group provides billing services to solo and group podiatry practices. In today's economic climate it is important for every practice to save time and money, while still achieving maximum reimbursement.
MPCG provides full-service medical billing handling the process from start to finish. We enter all demographics and charges, transmit claims electronically, post payments, send statements to patients, place follow-up calls on unpaid claims, and provide detailed monthly reports to client.
Our practice management system is included in our service allowing our clients to remain in control and save money on software. Our clients receive the above services for a flat percentage of net collections that is below industry average. Call (866) 505-6724 for more information or to setup a no-obligation meeting. References available upon request. Visit our website at www.mpcg.org
QUERIES (NON-CLINICAL)
Query: Can Solo or Small Group Practices Survive?
Can the solo, or small group private practice with its rising overhead expenses survive outside of the current "fee for service" model?
Arden Smith, DPM, Great Neck, NY
Editor's comment: There is a significant difference between a solo and a small group practice. In every PM Annual Practice Management survey in the past decade, podiatrists in group practices have earned over $10,000 more per practitioner than those in solo practices. We expect that differential to grow even more in the coming years. Solo practitioners are slowly, but surely, becoming extinct, but will likely still survive (while group practices flourish) for the foreseeable future.
New! ALL-IN-ONE TOOLKIT FOR HIPAA, HITECH, RED FLAG RULE
2009 HIPAA HITECH security breach enforcement begins in September 2009. Breaches of 500 records mandate PUBLIC DISPLAY of your name in major media and on the/ HHS website.Penalties for willful neglect of HIPAA/HITECH regulations are now mandatory, from $10,000 to $50,000. Criminal prosecution is now part of the law. So are mandatory audits.
We have decided to expand our Toolkit to comply to HIPAA / HITECH and Red Flag Rule requirements in one bundled package, to provide safe, all-in-one, turn-key compliance for all of the new regulations.
Staff can implement in hours • Complete Documentation for Regulatory Audits • Includes policies for Safe Harbor from public reporting in a breach • FREE updates for 3 years
Buy it now at: www.PhysicianRedFlagRule.com Only $137
RESPONSES / COMMENTS (NON-CLINICAL)
RE: Dealing With Depressed Patient (Donna M Alfieri, DPM)
From: Elliot Udell, DPM
Many people with emotional disorders such as clinical depression tend to hide them from doctors who are not directly involved in addressing these disorders. The fact that this patient opened up to you, Dr. Alfieri, says some very positive things in the way you relate to your patients. The ultimate therapeutic goal, from a podiatric perspective is to refer her to a mental health professional. As you discovered, making a mental health referral is perhaps the most difficult referral to make. Patients perceive of such referrals as: being made wrong, perceived as being crazy, not taken seriously, etc.
The way to handle it from the perspective of a podiatrist is to "be with the patient" and listen carefully to her story. Something is generating these feelings and she may need to express it and to your credit feels comfortable expressing it to you. Once she feels convinced that you care about her and calms down, the next step is to explain to her that you want her to see a mental health professional in the same way you would want her to see an endocrinologist if she had diabetes. It's important to have the names and phone numbers of these professionals in your community. I published more than one paper on this topic, and may even have notes from a formal course I gave at the Pennsylvania College as part of their psych program. If you or any reader is interested, I will send copies of what I have.

Elliot Udell, DPM, Hicksville, NY, Elliotu@aol.com
SafeStep Is Exclusive Podiatric Distributor of the Arizona AFO
$50 OFF Your First Order
SafeStep features free electronic billing to Medicare and other insurance carriers as well as customized Medicare compliance documentation.
Call or e-mail for order forms and free mailing labels.

www.safestep.net 866.712.STEP info@safestep.net
RESPONSES / COMEMNTS (NON-CLINICAL) - PART 1
RE: Membership in Medical Discount Buying Group (Mark Aldrich, DPM)
From: Chris Mahaffey, CAE, Michael Forman, DPM
The ACFAS group purchasing program is with E-Surg/Amerinet, the largest medical supplies distributor in the nation. We have no affiliation with MDBG whatsoever. ACFAS members can access this service at amerinet.esurg.com/acfas or call Michelle Brozell at ACFAS for more information, 773-693-9300 x1312.
Chris Mahaffey, CAE, Executive Director, ACFAS, Mahaffey@acfas.org
Our office uses MDGB for most purchases. They have contracts with many suppliers such as Meyer Distributors. They generally save us money, although we continue to shop for price. We are quite satisfied and feel that we save money.

Michael Forman, DPM, Cleveland, OH, IM4MAN@aol.com
MEETING NOTICES - PART 1
REGISTER ONLINE BEFORE SEPT. 9 AND SAVE $50
GEORGETOWN UNIVERSITY HOSPITAL
2009 DIABETIC LIMB SALVAGE CONFERENCE
JW Marriott Pennsylvania Avenue, Washington, DC
24-26 September 2009
• Register online now at DLSConference.com and save
• Join 1,400+ colleagues • 60+ faculty • 75+ exhibitors
• Expanded live cases from Georgetown ORs • Earn 28 CMEs
Co-Chairmen: • John S. Steinberg, DPM • Christopher E. Attinger, MD
• Richard F. Neville, MD
337-235-6606 • 337-235-7300 (fax)
NEW ! ADVANCED PERIPHERAL NERVE 3 DAY WORKSHOP + SYMPOSIUM
EARLY REGISTRATION EXTENDED TO SEPT 5!
Looking for something different for CME? Enhance your practice with peripheral nerve treatment of the lower extremity.
September 23-27, 2009 - Omni Hotel, Ft. Worth, Texas
Sponsored by the Association of Extremity Nerve Surgeons. Open to DPMs, MDs & DOs.
Up to 37 ACCME Credits provided by approved provider New Hampshire Medical Society.

Program Options :
Sept. 23- 25 = 3 day Hands-On Advanced Workshop with cadaver, didactic and live surgery (3 spaces left)
Sept. 25-27 = Annual Symposium with graft/ conduit lab, lectures, legal & research updates, round tables.
Location: 30 minutes from DFW airport in the heart of historic downtown & stockyards.
Go to www.aens.us to download brochure or call 512-494-1125 info@aens.us
RESPONSES / COMMENTS (NON-CLINICAL) - PART 2
RE: Podiatric Surgeons and Generalists (Arden Smith, DPM)
From: Eric M. Hart, DPM, Elliot Udell, DPM
I've heard the same type of comment from orthopedic surgeons who specialize in foot and ankle care--many of them feel that podiatrists should ALL fill this role of a generalist. I've also heard the same comment from podiatrists who are well-trained in more complex foot and ankle surgery and would like to see greater surgical numbers. I strongly believe that all podiatrists should be surgically trained with uniform residencies, but it is reasonable that some of us may be better suited for certain cases and that's where we need to do a better job of simply referring to one another.
I'd like each of us to ask ourselves "who" we would have perform our foot or ankle surgery when and if it was needed. This came up in my residency training, when I saw a podiatrist attending ask a local foot and ankle surgeon to fix their simple ankle fracture. There were plenty of local podiatrists who would have done an excellent job, but were not asked to do it. I'm sure that case sent a message to every surgical tech, nurse, anesthesiologist, scheduler, and orthopedist in the OR that day. If we talk the talk, we have to be willing to walk the walk.

Eric M. Hart, DPM, Bismarck, ND, erichartdpm@gmail.com
Dr. Smith's suggestion that podiatry become subspecialized in the way general dentists are toward oral surgeons is an ideal scenario which would be good for the public and ultimately good for our profession. I too have been in practice for over 30 years and one of the great failings I've seen of surgical specialists within our profession is that they know how to accept a referral from their non-surgical colleagues but don't have the foggiest idea how and when to send the patient back to the referring general podiatrist.
To the contrary, most will keep the patient forever. I have witnessed this too many times with too many well known surgical podiatrists who should know better. An oral surgeon will not do cavities because he or she knows that if he does not send the patient back to the general dentist, that will be the last time he will see a referral from that dentist. The same holds true with general surgeons and primary care practitioners. It would be nice if we could mimic these other professional relationships. They are grounded in good business sense. Perhaps our practice management societies and surgical societies can devote time to teaching their members rudiments of making and accepting referrals from other podiatrists.

Elliot Udell, DPM, Hicksville, NY, Elliotu@aol.com

MEETING NOTICES - PART 2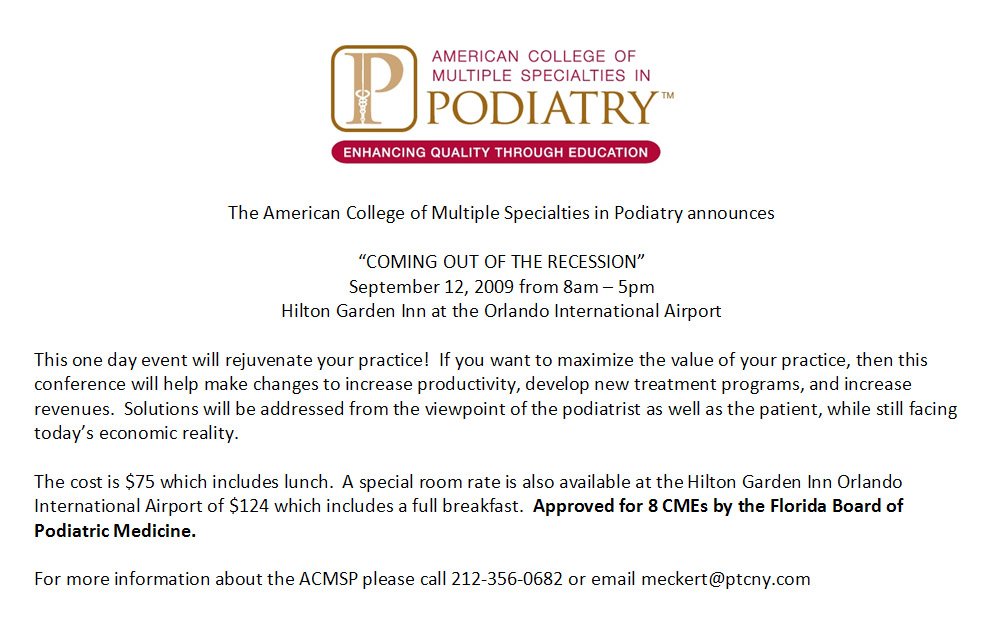 RESPONSES / COMMENTS (NEWS STORIES) - PART 1
RE: APMA Demands Retraction From Arizona Congressman
From: David Kleinbrodt, DPM
On Fox News with Neil Cavuto, Rep. John Shadegg (R-AZ) likened podiatry to acupuncture and aromatherapy, and said it was "an esoteric demand that no one wanted or needed." I hope everyone here writes this congressman a letter. Click here to send your letter.
David Kleinbrodt, DPM, Woodland Hills, CA, dgkdpm@yahoo.com
CODINGLINE CORNER
CURRENT TOPICS BEING DISCUSSED ON CODINGLINE'S LISTSERV INCLUDE:
o Getting Paid for Wound Supplies
o Coding/Modifier Issues
o Need for DME ABN with SNF Patient?
o Bunionectomy-Hammertoe Coding...
o Coding Amputations Within the Foot
Codingline subscription information can be found here
RESPONSES / COMMENTS (NEWS STORIES) - PART 2
RE: Addante Receives FIP Lifetime Achievement Award
From: Howard Dananberg, DPM
As his first resident, I would like to congratulate Joe on an award that was long overdue. He certainly marched to the tune of his own drummer, and along the way, conveyed a self-confidence to young podiatrists, making them extremely proud of who they were and what they did. The self-assurance that he instilled in me has lasted throughout my career and I have always thanked him for that. By taking his enthusiasm overseas, his efforts have surely advanced podiatric medicine, podiatric surgery, and podiatric psyche in Europe.
Howard Dananberg, DPM, Bedford, NH, howiedbpg@aol.com
PODIATRY MANAGEMENT'S

AFFORDABLE

ONLINE CME
You can Earn 30 CPME-Approved CME Contact Hours Online
Earn 15 Contact Hours for

only $139
(Less than $14 per credit)
http://www.podiatrym.com/cme.cfm
Choose any or
ALL (30 CME Contact Hours)
from the 20 CME
articles posted
You Can Now Take Tests and Print Your CME Certificates Online
CLASSIFIED ADS
ASSOCIATE POSITION - DALLAS/FORT WORTH AREA
Seeking well-trained ABPS board certified/qualified foot surgeon for surgical practice with national foot/hand/orthopedic surgery group. Excellent salary/benefits. E-mail CV and cover letter to: slb99@pdq.net
ASSOCIATE POSITION - CHICAGO AREA
Join one of the most successful, long-established podiatry practices in the Chicago area, with excellent salary and benefits. We have an immediate opening for a full-time podiatrist in a multi practice location in Chicago. Must have two years of surgical residency. Please e-mail resume to fmassuda@footexperts.com
LOCUM TENENS POSITION – PHOENIX, AZ
Locum Tenens position available in West Valley Phoenix office beginning September 15th. Salary negotiable. One to two days a week in a friendly and casual office. Please direct all inquiries to drlaurel@cox.net.
ASSOCIATE POSITION - MARYLAND
Full time, hard-working, happy and personable Foot Surgeon needed for busy and growing practice in Frederick and Hagerstown Maryland. PM&S-36 or more required. We have a well-rounded, high tech practice with all types of pathology encountered in our two offices and in two local hospitals as well as our on-site accredited and certified ASC. Very competitive compensation. Please send your CV to drmichaels@rfainstitute.com
ASSOCIATE POSITION – NORTH CAROLINA
Very busy practice in Western North Carolina, seeking Full-time Associate with hospital and surgical training. If interested please fax resume to 828-252-2272 or e-mail to mfas828@aol.com
EQIPMENT FOR SALE - ORTHOTIC FABRICATION SYSTEM
Amfit Orthotic Insole Fabrication System with Footfax SL Contact digitizer- For Sale Machine, Laptop, rolling bag, small inventory of shoes, insoles, all cords, parts and hardware Asking $10k.OBO! Please contact Jeff at Jhunt@psbank.net for further information, pictures.
PRACTICE FOR SALE - FLORIDA—CENTRAL/SOUTH
Turn-key operation grossing $570,000 annually based on one full-time doctor. Great opportunity for growing the top-line. Surgery is only 14% of the professional man-hours; it can significantly increase income. Medicare makes up 64% of revenues. Seller will assist with transition. Call 863-688-1725, ask for Chas.
NEEDED CHICAGO -- NW IND & BALTIMORE/WASHINGTON, DC PODIATRISTS
Home Physicians, a medical group specializing in house calls is looking to hire podiatrists in Chicago, Northwest Indiana, and Baltimore, MD. Full and part-time positions are available. Competitive Compensation including malpractice. Contact Scott Schneider. Phone-773-342-4201 FAX 773-486-3548-E-Mail sschneider@homephysicians.com Visit our website
ASSOCIATE POSITION - NEW JERSEY

Established successful practice in Central New Jersey seeking PT/FT Associate. PSR 24/36. Please forward CV to rpg145@gmail.com or fax 908 753-0199.
ASSOCIATE POSITION WANTED- METRO NEW YORK AREA
Associate position wanted for full-time or part time. Diverse practice to include general podiatry, as well as surgery. Hospital privileges available. E-mail CV along with cover letter to rrranch7@yahoo.com
ASSOCIATE POSITION - FREDERICK, MD
Well-established and growing 2 office state-of-the-art practice located in medical/professional buildings. EMR, Digital X-ray, Ultrasound, DME provider, etc. Competitive Base Salary plus bonus, malpractice, health insurance, etc. PSR 24 minimum/Board Qualified or Certified with ability and desire to take ER call. If interested, forward CV to DOCSBNB@aol.com

ASSOCIATE POSITION - BOSTON, MA

Associate wanted, Full-time or part-time, for busy long time, well established, and well-rounded practice. Good mix of general podiatry and surgery. Office will generate approximately 100+ surgical cases per year. Must have surgical background, ABPS Qualified minimum needed to obtain hospital privileges. Associate position is open for partnership or purchase. Contact robert.nunberg@comcast.net
PM News Classified Ads Reach over 11,500 DPM's and Students
 
Whether you have used equipment to sell or our offering an associate position, PM News classified ads are the fastest, most-effective way of reaching over 11,500 DPM's. Write to  bblock@podiatrym.com or call (718) 897-9700 for details. THIS OFFER DOES NOT APPLY TO BUSINESSES PROVIDING PRODUCTS OR SERVICES. Note: For commercial or display ads contact David Kagan at (800) 284-5451 Ext 110
Disclaimers
Acceptance and publication by this newsletter of an advertisement, news story, or letter does not imply endorsement or approval by Kane Communications of the company, product, content or ideas expressed in this newsletter. Any information pertaining to legal matters should not be considered to be legal advice, which can only be obtained via individual consultation with an attorney. Information about Medicare billing should be confirmed with your State CAC.
---
THIS MESSAGE IS INTENDED ONLY FOR THE USE OF THE INDIVIDUAL OR ENTITY TO WHICH IT IS ADDRESSED AND MAY CONTAIN INFORMATION THAT IS PRIVILEGED, CONFIDENTIAL AND EXEMPT FROM DISCLOSURE.
---
If the reader of this message is not the intended recipient or an employee or agent responsible for delivering the message to the intended recipient, you are hereby notified that any dissemination, distribution, or copying of this communication is strictly prohibited. If you have received this communication in error, please immediately notify me and you are hereby instructed to delete all electronic copies and destroy all printed copies.
---
DISCLAIMER: Internet communications cannot be guaranteed to be either timely or free of viruses.
Guidelines
To Post a message, send it to: bblock@podiatrym.com
Notes should be original and may not be submitted to other publications or listservs without our express written permission.
Notes must be in the following form:
RE: (Topic)
From: (your name, DPM)
Body of letter. Be concise. Limit to 250 words or less). Use Spellchecker
Your name, DPM City/State
Subscribers are reminded that they have an ethical obligation to disclose any potential conflicts of interest when commenting on any product, procedure, or service.

Barry H. Block, DPM, JD
---
Browse PMNews Issues
Previous Issue | Next Issue