OCPM Alumni Association Welcomes 260 at BBQ
The 2nd Annual Ohio College of Podiatric Medicine (OCPM) Alumni Association Open House and BBQ, co-chaired by Dr. Brian Weiss, Class of 1983 and Dr. Kelly Whaley, Class of 1997, was a huge success! This year OCPM welcomed over 250 guests! Guests enjoyed a great buffet of BBQ ribs, BBQ chicken, brisket, corn on the cob, baked beans, and bread pudding catered by Famous Dave's BBQ.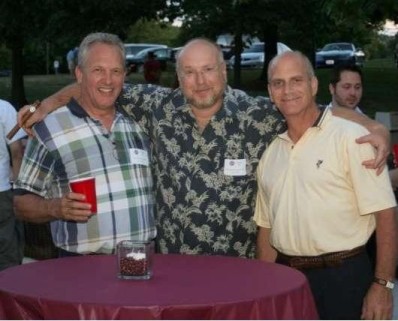 Drs. David Hintz, Paul Lieberman, and Mr. James Smalley (photo courtesy of Joan Lannoch, OCPM)
In addition, alumni and students enjoyed a variety of outdoor games, including corn hole, croquet, and badminton. Once the sun started to set, many OCPM alumni, students and BBQ guests took the opportunity to karaoke. Stellar performances of the event included Dr. Michael Canales, OCPM Class of 2004, with a rendition of an Eminem song, as well as great performance of "Friends in Low Places" by several OCPM students. All alumni, students, and guests who were in attendance had a great time as they enjoyed the beautiful weather, great food, and fantastic company.
Source: Footsteps (OCPM) [August 2008]