Browse PMNews Issues
Previous Issue | Next Issue
PM News
The Voice of Podiatrists

Serving Over 11,000 Podiatrists Daily

March 28, 2009 #3,504

Publisher-Barry Block, DPM, JD

A service of Podiatry Management http://www.podiatrym.com
E-mail us by hitting the reply key.
COPYRIGHT 2009- No part of PM News can be reproduced without the
express written permission of Kane Communications, Inc.
Aetrex Evolution-Rx Program
The Aetrex Evolution –Rx adds patient services, state-of-the-art technology and significant incremental revenue to your practice. This extraordinary program features Aetrex's patented iStep SP5000 scanner that quickly determines foot type, pressure distribution and foot size. This information is then utilized to help determine the ideal footwear and foot orthotics for you patients.
Since the Evolution-Rx was introduced doctors have successfully integrated the technology into their practice and seen substantial increases in revenue and patient satisfaction. To view a demonstration of the technology, or to schedule a presentation in your office click here.
PODIATRISTS IN THE NEWS
Get Your Feet Ready Before Going on Vacation: MD Podiatrist
Before you go on vacation, make sure that your feet are in good condition. Everyone has saved and worked hard for that vacation. Why would you want to take a painful, pre-existing condition on a trip with you? Identify what's bothering you and seek attention from a podiatrist before you go." says Ira Gottlieb, DPM, head of the Chesapeake Foot and Ankle Center.
Megan Pringle interviews Dr. Ira Gottlieb
"When you get ready to travel, you want to ready for the amount of walking you will be doing," says Gottlieb. "We suggest that you start an exercise program 3-4 weeks before leaving. This will get your bones, joints, and ligaments ready.
Source: Tia Craddock, Good Morning Maryland (ABC News) [3/24/09]
Custom made Birkenstock, Naot and Bite Orthotic Sandals
From Langer Biomechanics
The Right Products - For the Right Reason - at Exactly the Right Time
Langer Biomechanics is very pleased to re-introduce a bigger and better custom made orthotic sandal program. Birkenstocks are back and are being joined by a large selection of Naot sandals and clogs and several sport sandals from Bite. Patient's who wear orthotic sandals and clogs are more compliant and practices that dispense them are more profitable. Better outcomes…higher profits….get with the program, the Langer Custom Sandal Program. Click here for an introductory discount coupon and additional information, or call 800-645-5520.
Langer Biomechanics – Where knowledge makes the difference and technology makes it work
AT THE COLLEGES
CSPM Holds 13th Annual White Coat Ceremony
On March 13, 2009 the California School of Podiatric Medicine (CSPM), Samuel Merritt University (SMU), held its thirteenth annual White Coat Ceremony for the class of 2012. Thirty nine first-year podiatry students in the Doctor of Podiatric Medicine (DPM) program gathered at the Health Education Center on the Oakland Campus. In the presence of families, guests, faculty members and CSPM leaders the students formally received the symbolic white coat.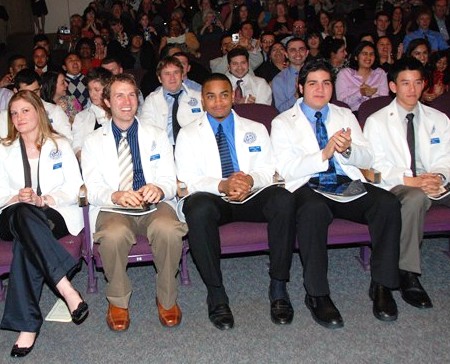 CSPM Students at White Coat Ceremony
"This year's White Coat Ceremony gave our class the opportunity to thank our families and faculty for all the support and guidance they have given to lead us to this remarkable point in our lives," said Mark Razzante, first-year podiatric student. "The ceremony not only signified the transition of classroom to clinical education, but it provided a moment where our class exhibited unity and maturity."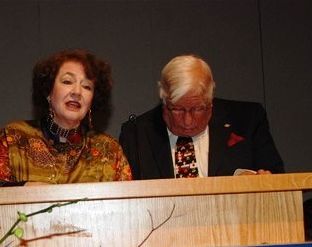 Dr. Sandra and Arnold Gold
The keynote address was delivered by Drs. Arnold Gold and Sandra Gold, the co-founders of the Arnold P. Gold Foundation, a public organization dedicated to fostering humanism in medicine. The White Coat Ceremony was originated in 1993 at Columbia University by Dr. Arnold Gold.

........Great Looking STRETCHABLE SHOES – For Only $42 a pair
Orthofeet is adding unique Mary-Jane shoes to its large selection of stretchable shoes. Thanks to their innovative design Orthofeet stretchable shoes integrate an attractive look with ultimate comfort and protection:
Innovative Toe-Box construction - allows unrestricted stretch at the entire forefoot area including the tip of the shoe.
New Stretchable Materials with great elasticity eliminate pressure points, and enhance comfort.
Seamless lining, padded with foam, offers unmatched protection .
Washable - A large selection of elastic shoes made of synthetic, washable materials.
For more information click here
Fit your diabetic patients with the FINEST SHOES & INSERTS, and SAVE!!!
Try & compare. Get the first 10 pairs at 50% Discount!!!
www.orthofeet.com 800-524-2845
E-HEALTH NEWS
Health IT Seen as Key to Long-Term-Care Reform
Health information technology is a key tool in improving the quality of long-term-care services, witnesses testified before the Senate Finance Healthcare Subcommittee. Upcoming reform efforts to overhaul the healthcare system provide an opportunity to improve the quality of long-term-care services, said Ray Scheppach, executive director of the National Governors Association. "Standards are needed to enhance quality measurement," he said, adding that measurements, standards and processes to coordinate care could lead to the development of different reimbursement models that would more effectively reward long-term-care providers and customize care for patients.
Cost-effective proposals to improve quality in long-term-care services do exist, said Joshua Wiener, senior fellow and program director for aging, disability and long-term care at RTI International. These include establishing a Medicaid pay-for-performance demonstration for nursing homes, and increasing support for integrated data systems that cut across provider settings, he suggested. Sen. Jay Rockefeller (D-WV), who chairs the subcommittee, held the hearing to underscore the lack of progress made over the past 20 years in reforming long-term-care benefits and services.
Source: Jennifer Lubell, Modern Healthcare [3/26/09]
NEUREMEDY™ FOR NEUROPATHY
Join the hundreds of podiatrists who have made Neuremedy
their first option in the management of peripheral neuropathy.
New scholarly, double-blind study documents the efficacy of
the active ingredient in Neuremedy, benfotiamine, in the
treatment of peripheral neuropathy.
Click here for more details.
Increase your practice income.
Dispense Neuremedy from your office.
866-634-2745 neuremedy.com
PRACTICE MANAGEMENT TIP OF THE DAY
Give Yourself a Career Checkup
Do you sometimes wonder why you are not moving ahead as fast as you would like to? Follow these simple improvement strategies to move your career in the right direction:
• Listen more than you speak. You will find it hard to gain input, buy-in and commitment when you operate only in "talk" mode.
• Plan time to plan. Start each day with a 15-minute meeting with yourself. Identify priority tasks so you stay focused on them. Spend time writing and revising your long-term goals too. That keeps you from engaging in frantic firefighting as your deadlines sneak up on you.
• Learn to debrief. Build on your experience and knowledge—and that of your team members—by forming the "post-mortem" habit. Following each project, meeting or presentation, ask two questions: "What can I/we learn from that?" and "How can I/we improve the next time?"
• Increase your self-awareness. Discover how others perceive you, by asking how your words and actions affect others. Seek feedback from all around you: your employees, patients, and peers.
Source: Adapted from "Use a Review of Last Year to Help Guide Career Resolutions for 2009," Maureen Moriarty, The Seattle Post-Intelligencer, via Communication Briefings
PRESENT for BOARD REVIEW
PASS THE BOARDS !
Study at your own pace from your home or office, using state of the art online technology, for certification or recertification exams. Comprehensive curriculum of 138 lectures by the most well respected teachers in the country. Get your best chance of passing the Boards. Includes Boards by the Numbers at no additional cost, and mentoring lectures that teach effective strategies for answering difficult oral and text questions.
• Maximize the efficiency of your Board Review efforts utilizing state-of-the-art rich e-learning technology
• Instant CME credit for all lectures
• Most comprehensive board review available
Call 888 802-6888 or go to our website and join the many of your colleagues who are already using this revolutionary teaching tool
QUERIES (CLINICAL)
HAV Surgery, Type-3 Ehlers-Danlos Syndrome
My patient requires a Youngswick-type procedure for hallux limitus. She is a 35 year old, black, with Type-3 EDS and no other medical issues. She is not taking any prescribed or OTC medications. Any feedback on potential risks and complications would be appreciated.
David Cohen, DPM, Baltimore, MD
MedTemps© EASY-TO-USE, Speech Recognition enabled EMR for $799
Trigram Technology MedTemps© enables rapid patient charting, document creation right in Microsoft Word. A podiatrist can create any type of medical report in Microsoft Word, save it to a secure industry standard SQL database, and any authorized member of your staff can retrieve the report at the moment it is needed. Copy-forward clinical data from past visits into the current session to speed charting. Assign, track, and respond to tasks in any busy office setting made more efficient by intuitive staff inter-communications right in Microsoft Office.
Combine MedTemps© with Vista speech recognition or Dragon NaturallySpeaking and a Trigram Technology medical language model and you will be creating documents in minutes and eliminating transcription costs! Contact Trigram Technology to setup a live online demo. Call 714-379-2191 or email joe@trigramtech.com Free Installation and Training for PM News users THIS MONTH ONLY!!!
QUERIES (NON-CLINICAL)
Query: Extra-Depth Scuba/Swim Fins
I have a patient who is looking for swim fins that would have room for his hammertoes/MTP contractures. He has not had luck at the major sporting goods stores. He is going to investigate this at a diving specialty shop, but I would also appreciate any info. this group could share.
John P. McLoughlin, DPM, Boston, MA
Dr. Comfort Shoes: The Finest Quality Diabetic Footwear Period!
When you put your patients in Dr. Comfort Shoes, you're giving them the highest quality footwear available and adding significant value to your practice.
Here are some of the reasons why Dr. Comfort is the best value in diabetic shoes:
• Free returns
• We provide marketing for you, with over 20,000 discrete referrals every year.
• We advertise in over a dozen diabetic and consumer publications each month.
• There's no need for a large inventory – our fitting center contains every size and style.
Call 800-556-5572 or email Dr. Comfort now to experience exceptional quality and profitability with our exclusive turn-key program.
CODINGLINE CORNER
Query: Qualified Routine Foot Care Revisits
When I see a patient and debride mycotic nails and calluses (qualified foot care), can I get reimbursed seeing/treating that patient on the 61st day, or have to wait until the 62nd day?
When I see a patient and debride mycotic nails and calluses (qualified foot care), but another podiatrist sees them for routine foot care (and bills Medicare) one month after I do, does the 61 day global period begin when I originally billed it as routine foot care, or does the 61 day global period get reset at the time the other podiatrist billed it? Example: I saw and cared for a patient on January 1. I plan on seeing that patient again 61 days from January 1 (approximately the beginning of March). If another podiatrist sees the patient and performs (and bills for) routine foot care on February 1st, when can one expect Medicare to reimburse another debridement - March 1st or April 1st?
Mark Gasparini, DPM, Massapequa, NY
Response:The LCD for routine foot care and nail debridement published by NGS, the carrier for New York, clearly states that care will be paid for only once every 60 days. "More frequent services will be denied." A patient can only receive covered routine foot care every sixty-one days.
Mark Schilansky, DPM, Catskill NY
Codingline subscription information can be found at:
http://www.codingline.com/subscribe.htm
MEETING NOTICES - COLLEGES
REGISTER NOW FOR THE OCPM SOUTHERN EXPOSURE SEMINAR!
The 4th Annual Southern Exposure Seminar, presented by The Ohio College of Podiatric Medicine, will be held Thursday – Sunday, April 23 – 26, 2009 at its new location, the Great Wolf Lodge Convention Center in Cincinnati, Ohio. With a new, expanded venue and an all-star lineup of guest speakers including Allen Jacobs, DPM; Warren Joseph, DPM; Doug Richie Jr., DPM; Bradley Bakotic, DO; and Stephen Pomerantz, MD, this year's Southern Exposure Seminar offers 26 CME hours.
To register for Southern Exposure or for more information, please visit ocpm.edu/SE2009 or call (216) 916-7547.
RESPONSES / COMMENTS (CLINICAL) -
RE: Recurrent Verruca, Possible Carcinoma [Zacharia Facaros, DPM]
From: Multiple Respondents
Here's a photo of a similar case of mine. This was diagnosed as a verrucous carcinoma.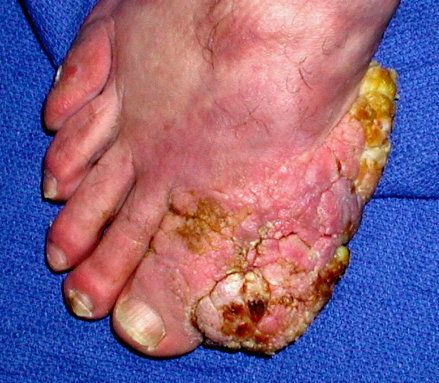 Verrucous Carcinoma
I referred the patient to a surgical oncologist who performed a forefoot amputation. The patient is doing well after ten years.
Pete Harvey, DPM, Wichita Falls TX, pmh@wffeet.com
I have seen this reaction a couple of times with TMA patients. I have tried everything from banana peels to papain urea mixtures. I acknowledge that the biopsy returns verruca. Carcinoma is a real concern, but I have never seen one convert. On one patient, it just went away a year or so after the wound was resolved. It may just be me, but I would ignore the verruca (do a a biopsy and watch for the development or conversion to carcinoma of course) and just work to get the wound well. Make sure your osteomylitis has been properly addressed.

Please avoid Bleomycin. It can make general anesthesia and hyperbaric oxygen therapy very dangerous. If you treat this patient with Bleomycin, he may never be able to undergo hyperbaric therapy. If it is not too much trouble, I would like to know what you end up doing and how it works out.
Wm. Barry Turner, DPM, Royston, GA, claret32853@gmail.com
I wrote some articles that may help regarding hyperplasic changes in a diabetic ulcer from insufficient off-loading, see: Dermatol Surg. 2005 Oct;31(10):1376 J Foot Ankle Surg. 2004 Nov-Dec;43(6):441

Regarding verrucous carcinoma, see: J Foot Ankle Surg. 2001 Jul-Aug;40(4):225-31
Steven Miller, DPM, Chicago, IL, miller613@hotmail.com
REGISTER NOW FOR THE
SCHOLL COLLEGE SHOWCASE COURSE: LIMB SALVAGE AND DIABETES
In its mission to advance current knowledge regarding assessment and treatment of the diabetic foot and its related diseases/complications, Scholl College and its research program Center for Lower Extremity Ambulatory Research (CLEAR) are presenting a collaborative effort of its faculty to present the various aspects of Limb Salvage and Diabetes. The first Scholl College Showcase CE program, held Saturday, May 2, 2009, provides an overview of the affects of diabetes on the foot, with various treatment options and research findings, to new advances in diabetic foot healing. Course speakers will include Warren Joseph, DPM, Adam Fleischer, DPM, Beth Jarrett, DPM, Charles Witt, DPM, and Stephanie Wu, DPM. Student research projects will be on exhibit. A real bargain ($89 prior to April 20, 2009) for 8 CE hours with continental breakfast and lunch provided. To register or to obtain more information, click on LIMB SALVAGE AND DIABETES or call 847-578- 8410 or e-mail ellie.wydeven@rosalindfranklin.edu.
RESPONSES / COMMENTS (NON-CLINICAL)
RE: PM News Marks Issue #3,500 & 15th Anniversary [Marlene Reid, DPM]
From: Lynn Homisak, Richard Mann, DPM
Add me to the list of people who appreciate what Barry Block has done to connect all of us within our profession! I can't think of a better way to honor him than as Marlene Reid suggested in her post...by giving to the APMA Educational Foundation (9312 Old Georgetown Rd., Bethesda, MD 20814). If everyone who subscribes to PM News gave even $1 (a drop in the bucket!!!), it would amount to an $11,000 donation! Now, imagine if we donated $1 for every Anniversary year? $15 x 11,000 = $165,000! Imagine if...? I think we should stop imagining and make it happen...who will join me?

Lynn Homisak, Seattle, WA
I just wanted to add my name to the chorus of congratulatory wishes to Barry Block, David Kagan, and the rest of the staff at PM News on their 3,500th issue. Thank you for creating this extremely informative, useful, entertaining and engaging tool. It makes us better doctors. The profession has benefited greatly from your efforts. Well done gentlemen.
Richard Mann, DPM, Delray Beach, FL
PODIATRY MANAGEMENT'S AFFORDABLE ONLINE CME
You can Earn 30 CPME-Approved CME Contact Hours Online
Earn 15 Contact Hours for only $139
(Less than $14 per credit)
http://www.podiatrym.com/cme.cfm
Choose any or ALL (30 CME Contact Hours) from the 20 CME articles posted
You Can Now Take Tests and Print Your CME Certificates Online
CLASSIFIED ADS
ASSOCIATE NEEDED - MIAMI DADE FLORIDA
Partnership/buy out opportunity for the right candidate. Well-established modern practice. EMR , digital x-rays, gait scan etc. Excellent hospital privileges. SALARY...two options. $50,000 starting, 40% of everything you generate over $120,000, 50% over $200,000, 55% over 250,000 and 60% of everything you generate over $350,000. Want a fixed salary instead? $80,000 a year. I feed you patients and provide an excellent well-trained staff. Contact doctorinhialeah@aol.com
PRACTICE FOR SALE - CENTRAL FL
Practice sale, in beautiful, high quality of life, growing area; 2000 sf bldg. fully equipped/ designed for podiatry; excellent location, features & exposure; near hospital, wound and HBO center. Great opportunity for expansion; good insurance climate. 352-357-7499 / E-mail: windnwave@earthlink.net
PRACTICE FOR SALE-SOUTHEAST MICHIGAN-BRIGHTON
Great opportunity. Established 11 years. Excellent location. Large illuminated sign on busy main road. Mid to high income growth area. Supplies, furniture, and equipment included: X-Cell X-Ray w Hope Autoprocessor, Pelton-Crane Autoclave, Parks Lab, Bircher, Burton Floor Light, OR with Lighting, bone instruments and power equipment, Midmark Chairs. Quality 1,350 sf build-out. convenient parking. Must sacrifice. Call (248) 565-5266. Docpod@aol.com
NEEDED CHICAGO -- NW IND & BALTIMORE/WASHINGTON, DC PODIATRISTS
Home Physicians, a medical group specializing in house calls is looking to hire podiatrists in Chicago, Northwest Indiana, and Baltimore, MD. Full and part-time positions are available. Competitive Compensation including malpractice. Contact Scott Schneider. Phone-773-342-4201 FAX 773-486-3548-E-Mail sschneider@homephysicians.com Visit our website
PODIATRIST NEEDED FOR MIAMI-DADE COUNTY
Multi office practice needs doctor of podiatry for full time and/or part time for private office, clinics, and nursing homes. Great opportunity to grow with and unlimited income potential. Offices in Miami, Hialeah, Westchester, and Cutler Ridge. Email to feetdoctor@aol.com
ASSOCIATE POSITION – VICTORIA, CANADA
Beautiful Victoria, B.C. Canada on the ocean, fast growing area. Associate for multi-office full scope practice. Licenser exam to be given in June 2009. Reply to dr.cole@shaw.ca
ASSOCIATE POSITION NEW YORK
Podiatrist needed for private clinic setting in N.Y.C. All RFC, no stress, $40+/hr. Great opportunity to earn some easy extra money. For more info. And details call (917) 880-6639 or e-mail: hansfeet@aol.com
PRACTICE FOR SALE - FLORIDA—CENTRAL/SOUTH
Turn-key operation grossing $570,000 annually based on one full-time doctor. Great opportunity for growing the top-line. Surgery is only 14% of the professional man-hours; it can significantly increase income. Medicare makes up 64% of revenues. Seller will assist with transition. Call 863-688-1725, ask for Chas.
ASSOCIATE WANTED - FLORIDA
Associate needed for a dynamic multi-doctor practice in the Tampa Bay area. Partnership opportunity for the right candidate. Preference given to a PSR 24+ resident completing their education this spring/summer, and must have a Florida license. Well-established practice, high tech with EMR and digital x-rays, with specialties in sports medicine, surgery and wound care. No nursing homes or HMO's. Excellent hospital privileges available. Choose an area of practice concentration that you are passionate about and enjoy a lifestyle for yourself and your family that is second to none. E-mail: kimvelez@tampabay.rr.com

ASSOCIATE NEEDED - MIAMI DADE FLORIDA
Partnership/buy out opportunity for the right candidate. Well-established modern practice. EMR , digital x-rays, gait scan etc. Excellent hospital privileges. SALARY...two options. $50,000 starting, 40% of everything you generate over $120,000, 50% over $200,000, 55% over 250,000 and 60% of everything you generate over $350,000. Want a fixed salary instead? $80,000 a year. I feed you patients and provide an excellent well-trained staff. Contact doctorinhialeah@aol.com
ASSOCIATE POSITION - CHANDLER/GILBERT/PHOENIX, ARIZONA
Seeking a well-trained, ethical and hard working graduate of a PSR 24+/36 Residency to join our growing multi-location practice. This is a practice with a nice mix of 35% surgery/trauma, 20% diabetic/wounds, 25% biomechanics, 20% pediatric. ER Call. Opportunity for partnership at 2 surgery centers. Very modern offices with EMR, U/S, Digital X-Ray, ESWT, Vascular Testing Machine. Excellent referral base, and a well-trained staff. Board eligible/certified a plus. Competitive salary, bonus structure, benefits. Please e-mail CV and references to FootAnkleAZ@aol.com
OFFICE SPACE/ MRI RENTAL – NYC, LI

Turn-key space available, daily, monthly; East 60th off Park Ave, East 22nd St. off 3rd Ave, and Plainview Long Island. JACHO-certified operating rooms available, as well as all surgical equipment and anesthesia. Extremity MRI Rental. Stark compliant. All exams read by board certified radiologist. Call for details. 516 476-1815
ASSOCIATE POSITION - CHICAGO AREA
Join one of the most successful, long-established podiatry practices in the Chicago area, with excellent salary and benefits. We have an immediate opening for a full-time podiatrist in a multi practice location in Chicago. Must have two years of surgical residency. Please e-mail resume to f-massuda@footexperts.com
CASE CONSULTING
Dennis Shavelson, DPM is now accepting referrals of difficult cases involving biomechanics, surgical complications, non-healing wounds diagnostic and treatment dilemma's and subtalar stenting from DPM'S. Full reporting with second opinion only, rapid return after care and assumption of care options. Medicare and Out-of-Network Only. (212) 288-3668 or drsha@lifestylepodiatry.com
PM Classified Ads Reach over 11,500 DPM's and Students
Whether you have used equipment to sell or our offering an associate position, PM News classified ads are the fastest, most-effective way of reaching over 11,500 DPM's. Write to bblock@podiatrym.com or call (718) 897-9700 for details. THIS OFFER DOES NOT APPLY TO BUSINESSES PROVIDING PRODUCTS OR SERVICES. Note: For commercial or display ads contact David Kagan at (800) 284-5451 Ext 110.
Disclaimers
Acceptance and publication by this newsletter of an advertisement, news story, or letter does not imply endorsement or approval by Kane Communications of the company, product, content or ideas expressed in this newsletter. Any information pertaining to legal matters should not be considered to be legal advice, which can only be obtained via individual consultation with an attorney. Information about Medicare billing should be confirmed with your State CAC.
---
THIS MESSAGE IS INTENDED ONLY FOR THE USE OF THE INDIVIDUAL OR ENTITY TO WHICH IT IS ADDRESSED AND MAY CONTAIN INFORMATION THAT IS PRIVILEGED, CONFIDENTIAL AND EXEMPT FROM DISCLOSURE.
---
If the reader of this message is not the intended recipient or an employee or agent responsible for delivering the message to the intended recipient, you are hereby notified that any dissemination, distribution, or copying of this communication is strictly prohibited. If you have received this communication in error, please immediately notify me and you are hereby instructed to delete all electronic copies and destroy all printed copies.
---
DISCLAIMER: Internet communications cannot be guaranteed to be either timely or free of viruses.
Guidelines
To Post a message, send it to: bblock@podiatrym.com
Notes should be original and may not be submitted to other publications or listservs without our express written permission.
Notes must be in the following form:
RE: (Topic)
From: (your name, DPM)
Body of letter. Be concise. Limit to 250 words or less). Use Spellchecker
Your name, DPM City/State
Subscribers are reminded that they have an ethical obligation to disclose any potential conflicts of interest when commenting on any product, procedure, or service.

Barry H. Block, DPM, JD
---
Browse PMNews Issues
Previous Issue | Next Issue