Browse PMNews Issues
Previous Issue | Next Issue
PM News
The Voice of Podiatrists

Serving Over 11,000 Podiatrists Daily

July 09, 2009 #3,592

Publisher-Barry Block, DPM, JD

A service of Podiatry Management http://www.podiatrym.com
E-mail us by hitting the reply key.
COPYRIGHT 2009- No part of PM News can be reproduced without the
express written permission of Kane Communications, Inc.
Copper Sole Socks from Aetrex Improves Skin
"I recommend Aetrex Copper Sole socks to all my patients. The copper fibers remain active for the life of the sock and copper ions are the only technology that actually improves the appearance of the skin." Richard Zatcoff, DPM Simpsonville, SC
Aetrex socks with Copper Sole Technology are unsurpassed in comfort, performance and protection. Copper Sole Technology has been lab tested and clinically proven to help prevent bacteria, fungi and odor as well as improve skin texture and appearance. Copper ions are imbedded in Cupron yarn to eliminate 99.9% of the bacteria and fungi in the sock.
Socks for both genders are available in crew, ankle and low cut styles in dress, athletic, non binding and in compression.
To order the Aetrex product catalog go to www.aetrex.com/RX or call 800-526-2739.
INTERNATIONAL PODIATRISTS IN THE NEWS
Canadian Podiatrist Discusses Salon Public Safety Measures
Robert Chelin, president of the Federation of International Podiatrists, says he has treated many patients with infections resulting from botched pedicures. Experts like Chelin are looking to government regulation to enforce three standards in the industry that are required in other health professions -- training, sterilization, and proper instrumentation.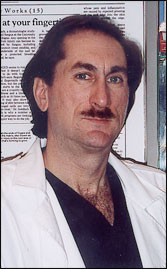 Dr. Robert Chelin
Chelin says more questions need to be asked by both the patron and the pedicurist. Patrons should ask the employees to sterilize the nail kit, or put together their own kit and bring their own polish. At the very least, he says, people should bring their own base coat. And it's important not to shave for a few days before a pedicure because it opens your hair follicles to infection.

Source: Sunny Freeman, The Canadian Press, [7/8/09]
Love At First Fit…
Testimonial: You are geniuses of shoe design. Your shoes have changed my life. For years I searched for shoes that would fit my wide toe area and narrow heel - a frustrating combination. There was no such thing, even among "walking shoe" brands. As soon as I tried on Orthofeet it was love at first fit. I now have five pairs, and for over a year wear your brand exclusively. At age 60 plus I can out-walk everyone I know, even those a third my age." - Vivian Imperiale.
Improve patients' satisfaction, and at the same time, increase your profit center:
Shoes - $42 to $52; Prefab Inserts - $8.95;
Custom Inserts - $23.00; Toe-Filler - $75.00;
Special Offer: Get the first 10 pairs at Half Price!!!
www.orthofeet.com 800-524-2845
AT THE COLLEGES
SMU Students Mentor At-Risk Teens about Pursuing a Career in Healthcare
For the next five weeks, several Samuel Merritt University podiatric students have volunteered to tutor more than three dozen middle and high school students from the Oakland Unified School District area about basic vital signs, diabetes, and healthy living. The program, called Youth in Medicine, allows at-risk students between the age of 11-15 to have an up-close look at how simulation-based education, human anatomy with lab, and clinical skills are integrated into academic programs at the University.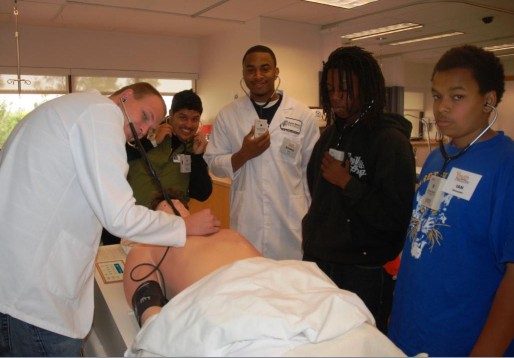 (L-R) Dr. James Townson, Arthuaro Diaz (SMU student), Dr. Barrie Buey, Donnie Jones (SMU student) and teenager Ian Alexander
Nishi Singh, a second-year DPM student, says working with the teens and explaining about anatomy, podiatry, histology, and operating room situations allows her to practice her communications and teaching skills. "Many of us can relate to these kids and their background," says Singh. "They are all very intelligent and curious about what has led us to study podiatric medicine. I know by exposing them to all of this at their young age, we are having a positive impact."
Custom made Birkenstock, Naot and Bite Orthotic Sandals
From Langer Biomechanics
The Right Products - For the Right Reason - at Exactly the Right Time
Langer Biomechanics is very pleased to re-introduce a bigger and better custom made orthotic sandal program. Birkenstocks are back and are being joined by a large selection of Naot sandals and clogs and several sport sandals from Bite. Patient's who wear orthotic sandals and clogs are more compliant and practices that dispense them are more profitable. Better outcomes…higher profits….get with the program, the Langer Custom Sandal Program. Click here for an introductory discount coupon and additional information, or call 800-645-5520.
Langer Biomechanics – Where knowledge makes the difference and technology makes it work
MEDICARE NEWS
ICD-10 Will Reduce Payment Errors and Claims Denials and Help Fraud Investigators
Payment errors should be reduced significantly under ICD-10 diagnosis and procedure codes, which must be implemented by Oct. 1, 2013. Experts say that improvements over ICD-9 — including less ambiguity, more specificity, standardized terminology and combination codes — will help hospitals improve their compliance. But at the same time, fraud investigators may also benefit from ICD-10 when it's deployed with electronic anti-fraud tools.
"This is a boon for compliance," said Rita Scichilone, director of practice leadership at the American Health Information Management Assn. (AHIMA). With 35% of overpayments identified during the recovery audit contractor (RAC) pilot related to coding errors, the new system could have a huge ripple effect, Scichilone said at a recent audioconference sponsored by the Health Care Compliance Assn.
Source: Nina Youngstrom, Report on Medicare Compliance [7/2/09]
Dr. Comfort
Having a high quality, streamlined and profitable diabetic footwear program in your practice is a critical service for your patients and an important source of revenue for you.
Why choose Dr. Comfort?
1. Highest Quality Products in the Industry
2. Dr. Comfort's Streamlined Approach to providing footwear
3. The Inherent Value and Profitability of Dr. Comfort
Call 800-556-5572 or email Dr. Comfort now to experience exceptional quality and profitability with ease.
MEDICARE DEMANDS FOR REPAYMENT OF OVERPAYMENTS
Part 4 - Now let's ask and answer some key questions. By David Mullens, DPM, JD
1. How is a Medicare overpayment "recouped" by the contractor?
"Recoupment is a term-of-art that means the contractor (e.g. Palmetto GBA) withholds future Medicare payments until the demanded overpayment and accrued interest are paid. When Palmetto gets a check from the provider for the full overpayment demand amount (don't ever do this!), that is not a recoupment. When Palmetto gets a check from the provider for a negotiated, reduced amount (this should be a last resort), that is not a recoupment. A recoupment only occurs when Medicare takes your future earnings to pay the overpayment + accrued interest amount.
Here is the surprise. Allowing recoupment is the best course of action when you have a defensible case, because the ALJ will make the contractor refund the full amount taken from you along with the accrued interest for each and every claim on which you prevail.
2. Why should you NEVER respond by writing the check for the full overpayment demand amount, even when the amount is small?
If you were an employee at Medicare, sending out demands for repayment of overpayments to providers, and a provider responded immediately to your demand by writing out a check for the full amount of your demand, what would you think? That's right. You would think that a provider knows he/she is "guilty" and that is the reason the provider paid immediately and without protest.
Even if you think the amount in question is so small that it is not worth the fight, your implied admission of guilt inherent in the immediate and full payment of a demanded overpayment jumps off your check and screams: "I'm guilty, I'm guilty and there is more money where that came from! So please, audit me again and again, and I will send you check after check…"
The SOS Podiatric Staff Training Workshop Tour
It is coming down the track, bound for a city near YOU!!
* Baltimore, MD – July 24, 2009 *Boston, MA – August 14, 2009 * Bellevue, WA – August 28, 2009 * Charlotte, NC – Sept. 18, 2009 * Pittsburgh, PA – October 2, 2009 * NY/NJ Metro area – October 23, 2009 * Dallas, TX – November 13, 2009 * Los Angeles, CA – December 4, 2009
LET THE SOS EXPRESS TRAIN TAKE YOU TO THE LIGHT AT THE END OF THE TUNNEL…DON'T GET LEFT BEHIND. Meet your Conductor, Lynn Homisak, PRT "ALL ABOARD!" Doctors, Receptionists, Clinical Staff, Managers welcome
Click HERE for more information…including Dates, Locations, Ticket Prices, Agenda, Topics SEATS ARE LIMITED…REGISTER NOW!
SOS Healthcare Management Solutions, LLC – 1-866-832-6767 – www.soshms.com
QUERIES (CLINICAL)
Query: Recurrent Bunion
I am interested in surgical treatment options for a 70 y.o. active female with painful recurrent bunion deformity. PMH includes asthma, osteoarthritis of the knees with right knee replacement scheduled for this September. She had previously undergone a left bunionectomy in 1984 and now has had progressive dorsal and medial bunion pain x 3 years.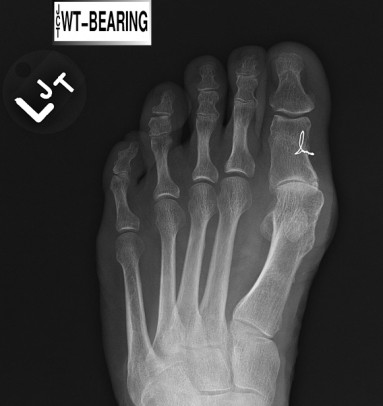 Recurrent Bunion
She has limited dorsiflexion (40 degrees) at 1st MTPJ with hypermobile 1st ray. She has not had symptomatic relief with orthosis and is quite active, but has worsening discomfort. Any suggestions?

Richard Frost, DPM, Spokane, WA
Red Flag Rule Compliance Deadline: August 1, 2009
The Times: "100,000 records stolen from local Orthopedic Associates…"
Evening TV News: "Hundreds of records breached from local DPM"
7 MILLION records were stolen in 2008.
Imagine if YOU were next.
These doctors thought they were "low risk", right up until they headlined their local news. A 3-page sample policy won't be a defense if this happens to you.
The ONLY Turn-Key Defensible Toolkit on the Market
•Risk Assessment •Pre-written Policies •Staff Execute Easily in Hours
• Staff SELF-Training • Contracts/Reports/Forms • SAFE compliance
Special offer $127 until July 15th at www.PhysicianRedFlagRule.com
QUERIES - (NON-CLINICAL)
Query: KTP Laser
I am looking to buy a laser for treatments of warts. I am interested in a KTP laser. Does anyone have experience with this laser?
Frank Harton, DPM, Holland, MI
PODIATRY BILLING SERVICES
Medical Practice Consulting Group provides billing services to solo and group podiatry practices. In today's economic climate it is important for every practice to save time and money, while still achieving maximum reimbursement.
MPCG provides full-service medical billing handling the process from start to finish. We enter all demographics and charges, transmit claims electronically, post payments, send statements to patients, place follow-up calls on unpaid claims, and provide detailed monthly reports to client.
Our practice management system is included in our service allowing our clients to remain in control and save money on software. Our clients receive the above services for a flat percentage of net collections that is below industry average. Call (866) 505-6724 for more information or to setup a no-obligation meeting. References available upon request. Visit our website at www.mpcg.org
RESPONSES / COMMENTS (CLINICAL) - PART 1
RE: Skin Lesion Associated With Heel Pain (Harry Cotler, DPM)
From: Samuel B. Pearlstein, DPM
In your differential, please include pressure urticaria. If the OTC insoles produced excessive pressure at the site that is irritated, I am unsure if a custom-molded orthotic would be any more beneficial than the OTC device.

Samuel B. Pearlstein, DPM, Fayetteville, NY, sbpdpm@hotmail.com
MEETING NOTICES
IPMA 2009 Annual Meeting
Rosemont, IL September 11-13, 2009—Earn up to 23 CME hours.
The Illinois Podiatric Medical Association will host its Annual Meeting and Hugar Golf Classic September 11-13, 2009. This meeting will begin with the Hugar Golf Classis and dinner on September 10th, Traditions at Chevy Chase Golf Course. Program sessions will be held Friday & Saturday, September 11 & 12 at the Wyndham O'Hare Hotel. On Sunday, September 13th, IPMA will feature its 1st Arthroscopic Cadaver Skill Lab at the Orthopedic Learning Center. Visit the website today: www.ipma.net to complete your registration and get in on the Super Saver and Early Bird registration rates. Questions call 312-427-5810 and ask for Hosanna Smith or Christopher Hurst.
RESPONSES / COMMENTS (CLINICAL) - PART 2 - CLOSED
RE: Surgical Closure of First Metatarsal Growth Plate to Correct For a High IM Angle
From: Barry Mullen, DPM, Thomas Brosky II, DPM
I agree with those colleagues who stated this particular child is too close to pedal skeletal maturity for an effective IM angle reduction by epiphyseodesis. In addition, an 11 year old presenting with a relatively high IM angle and atavistic 1st metatarsal-cuneiform articulation does signify forefoot hypermobility as Dr. Morelli so eloquently stated. As such, I agree with his opinion that a Lapidus fusion is the procedure of choice here.
While SCARF osteotomies have their place in hallux valgus correction, they don't address hypermobility, and would likely not adequately address this juvenile bunion deformity. I'd just wait about 6 months to a year until the 1st metatarsal growth plate closes, and then do the fusion. I'd also check to see if this patient harbors the various determinants for ligamentous laxity. My hunch is she does.
Barry Mullen, DPM, Hackettstown, NJ, yazy630@aol.com
I believe we owe it to our patients to treat them like family. If this were your son or daughter, would you perform an unpredictable epiphysiodesis? The answer is NO. A CBWO has been done historically with much more predictable results. Keep it simple on this type of deformity.
Thomas Brosky II, DPM, Oakwood, GA, drbrosky@gmail.com
A Call for Your Support!
NWPF Yucatán Pediatric Seminar, NOVEMBER 18-21, 2009
NORTHWEST PODIATRIC FOUNDATION FOR EDUCATION & RESEARCH
The NWPF is hosting a special fundraising seminar for the Yucatán Crippled Children's Project. This 12 year old humanitarian program aids the needy Yucatán children.
Location: Hyatt Regency, Mérida, Yucatán
Meetings: November 19-21; Thursday 8 Am-6 PM; Friday & Saturday 8 AM-3:30 PM
20 educational hours on pediatric lower extremities.
Tuition Fees: $480 Before 10/27/09 and $530 After 10/26/09
A Special Group Tour to the Ancient Mayan City of Chichén-Itzá will be held Wednesday November 18th! Speakers: Drs. Brad Bakotic, Harry Burke, Mary Crawford, G. Dock Dockery, Richard Goad, Byron Hutchinson, Keith Kashuk, Stephen Mariash, Aldolfo Rocha, Arturo Rios, Charles Southerland and others.
Register online here or e-mail podfound@aol.com (866) 286-6973
RESPONSES / COMMENTS (NON-CLINICAL) - PART 1
RE: CryoProbe Hand-Held Device (Michael A. DeVito, DPM)
From: Multiple Respondents
CryoProbe can be purchased straight from Cryosurgical Concepts. Go to cryo-surgical.com for more info. The vice-president is a retired podiatrist, Dr. Sheldon Willens, and will be more than happy to answer any of your questions. Regarding pricing - there are now 3 different models of units and I believe 3 different types of cartridges, so it's best to get updated pricing directly from the source. I have the original model and I do like it. I don't find that it works all the time. However, I don't know any treatment that is effective on warts 100% of the time.

Jeffrey Kass, DPM, Forest Hills, NY jeffckass@aol.com
I have used a first generation CryoProbe for a couple of years now, and find it indispensable. Cartridges run about $3 or so. After trimming the wart's callus, I apply the probe's N2O and inform the patient that the area may be sore for a day or so. I'll often combine the treatment with QD home use of PlantarStat (TriPod Labs). It may take visits every few weeks for resolution, but so far my success rate is above 90%. Sure beats that old CO2 laser, whew what a stink! I highly recommend the CryoProbe.
Dan Waldman, DPM, Asheville, NC, dpmcareer@aol.com
I have been using the CryoProbe since 2007 with good results. It is much easier to use and keep than liquid nitrogen. The company stands behind the instrument, with excellent follow-up service. I believe that I paid somewhere in the neighborhood of $1,500. The cartridges are fairly reasonable. I purchased it from Dr. Sheldon Willens who demonstrates its use at a number of podiatric meetings.

Michael Forman, DPM, Cleveland, OH, IM4MAN@aol.com
• DESERT FOOT CONFERENCE 2009 •
6th Annual High Risk Diabetic Foot VA Conference
For podiatrists, nurses, wound care specialists - All welcomed
Weds, Nov 18 - Fri, Nov 20, 2009
The Buttes, a Marriott Hotel, in Tempe, AZ
14 hours state of the art CME from Frykberg, Armstrong, Robbins, Joseph, Wukich, Andersen, Halpern and more
Co-Chairmen • Robert Frykberg, DPM, MPH and Jeffrey Robbins, DPM
• Building interdisciplinary diabetic foot care teams • Improving self-management via educational interventions • Maintaining max functional potential after amputation • Review latest limb salvage research • Bring the family • programs for the kids • Escape your office routine to learn
Free for VA podiatrists, residents and other VA personnel. $150 for non VA podiatrists
LEARN MORE and REGISTER here or contact Nadine Taylor at 800-538-3375
RESPONSES / COMMENTS (NON-CLINICAL) - PART 2
RE: Medicare Demand For Overpayments (Bryan C. Markinson, DPM)
From: Lloyd S. Smith, DPM
I know and respect Dr. Mullens. His comments are on target and reflect a well-documented effort by CMS to target all provider groups that have demonstrated patterns of fraud and abuse. If anyone were to read the OIG work plans of the past 20 years.. I have read them all.. the things that podiatrists do are targeted and the word podiatry is often mentioned. I led an APMA meeting with the OIG regarding onychomycosis and its treatment. The APMA comments were ignored. If one were to review the current CMS proposed final rule, the pattern continues.

I do not feel that podiatry is being singled out but certainly feel that CMS and other insurance companies recognize that podiatrists can be reviewed with minimal effort and maximum recoupments. For those of us who work in small office practices, this threat is real and frequently felt, with requests for records and demands for substantial financial payments. Nothing in practice is more unnerving than this kind of letter. I know many of my fellow DPMs have felt this pain.
Lloyd S. Smith, DPM, Newton, MA, lloydpod@yahoo.com

CODINGLINE CORNER
CURRENT TOPICS BEING DISCUSSED ON CODINGLINE'S LISTSERV INCLUDE:
o Co-Pays in a Post Op Period
o ICD-9 Code for Melanoma
o Electronic Prescription Incentive Question
o Charcot Code Arthropathy ICD-9 Coding
o Patient Nursing Home Consultation
Codingline subscription information can be found here
RESPONSES / COMMENTS (NON-CLINICAL) - PART 3
RE: Sign of the Times
From: Peter Bregman, DPM
An elderly veteran came to see me yesterday. I had not seen him in a few years. He had been seeing my associate who usually performs the diabetic "routine" foot care in the office. The patient wanted to see me instead of my associate. When I saw him, he said that the other doctor did not want to handle his ingrown toenail that had been bothering him for years. So, I performed a partial matrixectomy and debrided the rest of his nails, and we talked baseball.
Just before I performed the procedure, he tried to pay me an extra $50.00 for seeing him instead of his having to see my associate. I told him that was silly and to put his money away. He then took out $20, and before I could stop him, placed it down on my sterile field. I gave that back to him and used a new sterile field, and told him that he did not have to pay me extra. I thanked him for his service to this country.
I bring this up because I think the man lived in a time when doctors were thought of as healers and not so much as the business people that we have to be sometimes. Even though I have only been in practice for 13 years, I feel that a lot of people treat doctors like car dealers rather than the healers that most of us attempt to be. I wonder where we are headed now?
Peter Bregman, DPM, Tewksbury, MA, footguru@comcast.net
PODIATRY MANAGEMENT'S

AFFORDABLE

ONLINE CME
You can Earn 30 CPME-Approved CME Contact Hours Online
Earn 15 Contact Hours for only $139
(Less than $14 per credit)
http://www.podiatrym.com/cme.cfm
Choose any or ALL (30 CME Contact Hours) from the 20 CME articles posted
You Can Now Take Tests and Print Your CME Certificates Online
CLASSIFIED ADS
ASSOCIATE POSITION - CHICAGO AREA

Join one of the most successful, long-established podiatry practices in the Chicago area, with excellent salary and benefits. We have an immediate opening for a full-time podiatrist in a multi practice location in Chicago. Must have two years of surgical residency. Please e-mail resume to f-massuda@footexperts.com
PRACTICE FOR SALE - FLORIDA—CENTRAL/SOUTH
Turn-key operation grossing $570,000 annually based on one full-time doctor. Great opportunity for growing the top-line. Surgery is only 14% of the professional man-hours; it can significantly increase income. Medicare makes up 64% of revenues. Seller will assist with transition. Call 863-688-1725, ask for Chas.
OFFICE SPACE/ MRI RENTAL – NYC, LI

Turn-key space available, daily, monthly; East 60th off Park Ave, East 22nd St. off 3rd Ave, Hicksville and/or Plainview Long Island. JACHO-certified operating rooms available, as well as all surgical equipment and anesthesia. Extremity MRI Rental. Stark compliant. All exams read by board certified radiologist. Call for details. 516 476-1815
ASSOCIATE POSITION – MARYLAND
Maryland Eastern Shore Practice has opening for associate with ownership interest. MCR approved ASC, EMR, Ultrasound, Flouro, with Hospital Privileges available. E-mail CV to: patimmons@comcast.net
NEEDED CHICAGO -- NW IND & BALTIMORE/WASHINGTON, DC PODIATRISTS
Home Physicians, a medical group specializing in house calls is looking to hire podiatrists in Chicago, Northwest Indiana, and Baltimore, MD. Full and part-time positions are available. Competitive Compensation including malpractice. Contact Scott Schneider. Phone-773-342-4201 FAX 773-486-3548-E-Mail sschneider@homephysicians.com Visit our website
PRACTICE FOR SALE - ALABAMA, GULF COAST
Established 26 year old practice. Owner desires to sell and relocate. Operated 25 hours per week. Mixture of surgery and general podiatry. MD referrals. Surgery center and hospitals in close proximity. Highly profitable. Priced to sell. Will lease office to buyer. Call Mike Crosby at 888-776-2430 or email mcrosby@providerresources.com
PRACTICE FOR SALE – NEW YORK CITY
NY Manhattan, prime location. Upper East Side, 23. Y.O. practice, high visibility-traffic area next to post office, street level, All phases of Podiatry, NO surgery, retiring due to disability. call 516-759-4062 or Paulfxfeet@aol.com
ASSOCIATE POSITION AVAILABLE-MIDTOWN MANHATTAN

Looking for Full-time associate to work in well established practices in midtown Manhattan and Forest Hills. Immediate opening for PSR 24-36 surgically trained Podiatrist. Great opportunity with competitive salary along with malpractice benefits. Position includes Saturday office hours. Please send CV to slurie@papapc.net
PM News Classified Ads Reach over 11,500 DPM's and Students
Whether you have used equipment to sell or our offering an associate position, PM News classified ads are the fastest, most-effective way of reaching over 11,500 DPM's. Write to bblock@podiatrym.com or call (718) 897-9700 for details. THIS OFFER DOES NOT APPLY TO BUSINESSES PROVIDING PRODUCTS OR SERVICES. Note: For commercial or display ads contact David Kagan at (800) 284-5451 Ext 110.
Disclaimers
Acceptance and publication by this newsletter of an advertisement, news story, or letter does not imply endorsement or approval by Kane Communications of the company, product, content or ideas expressed in this newsletter. Any information pertaining to legal matters should not be considered to be legal advice, which can only be obtained via individual consultation with an attorney. Information about Medicare billing should be confirmed with your State CAC.
---
THIS MESSAGE IS INTENDED ONLY FOR THE USE OF THE INDIVIDUAL OR ENTITY TO WHICH IT IS ADDRESSED AND MAY CONTAIN INFORMATION THAT IS PRIVILEGED, CONFIDENTIAL AND EXEMPT FROM DISCLOSURE.
---
If the reader of this message is not the intended recipient or an employee or agent responsible for delivering the message to the intended recipient, you are hereby notified that any dissemination, distribution, or copying of this communication is strictly prohibited. If you have received this communication in error, please immediately notify me and you are hereby instructed to delete all electronic copies and destroy all printed copies.
---
DISCLAIMER: Internet communications cannot be guaranteed to be either timely or free of viruses.
Guidelines
To Post a message, send it to: bblock@podiatrym.com
Notes should be original and may not be submitted to other publications or listservs without our express written permission.
Notes must be in the following form:
RE: (Topic)
From: (your name, DPM)
Body of letter. Be concise. Limit to 250 words or less). Use Spellchecker
Your name, DPM City/State
Subscribers are reminded that they have an ethical obligation to disclose any potential conflicts of interest when commenting on any product, procedure, or service.

Barry H. Block, DPM, JD
---
Browse PMNews Issues
Previous Issue | Next Issue